Food & Travel: Betel Box Bistro & Backpackers
[Media Invite]
Was kindly invited by
Jerome
of
The Long and Winding Road
to join him and some bloggers for a tasting at the
Betel Box Bistro
at
Joo Chiat Road
. I've only recently started exploring for good Vietnamese food so i'm not particularly familiar with the place. I was surprised to see that Betel Box is just located opposite
Long Phung
, my current favorite Viet place in Singapore. Perhaps another hidden gem? Read on to find out.
Our meal was lovingly prepared by
Uncle Ben
, a shy man of few words but with superb culinary skills. He has helmed the kitchens of Sheraton and Novotel in Bahrain, Kuwait and Bangkok and has cooked for their royalties too. I was honored to be joined by some of my idol food bloggers around- Catherine of
Camemberu
and Philip the
Keropokman
. Finally a chance to meet them! Fan girl moment!! Grandson of
Chew Joo Chiat
, Uncle Philip was also present. :)
Some fresh and spicy
sambal belachan
to go with our dishes. We hardly touched them because the food was very well flavored. Something to note, the dishes shown here are about 2.5 times the normal portion to accommodate our large group. Typical dish serves 2-4person. Prices are for normal sizes unless stated otherwise.
Kacang Botol
($6) is a Peranakan favorite: Four angled beans tossed with Betel Box Bistro's spicy sambal sauce. Very refreshing cold salad with a light bitterness from the vegetables and acidity of the piquant chili.
Ngoh Hiang
($15) than the
Hae Cho
($16). Both are essentially made of the same ingredients: homemade minced pork, prawns and water chestnut wrapped in beancurd skin and deep fried. The pork content in the first is higher and the meat is seasoned with the fragrant Chinese five-spice powder. By contrast, the Hae Cho tasted a little bland and powdery.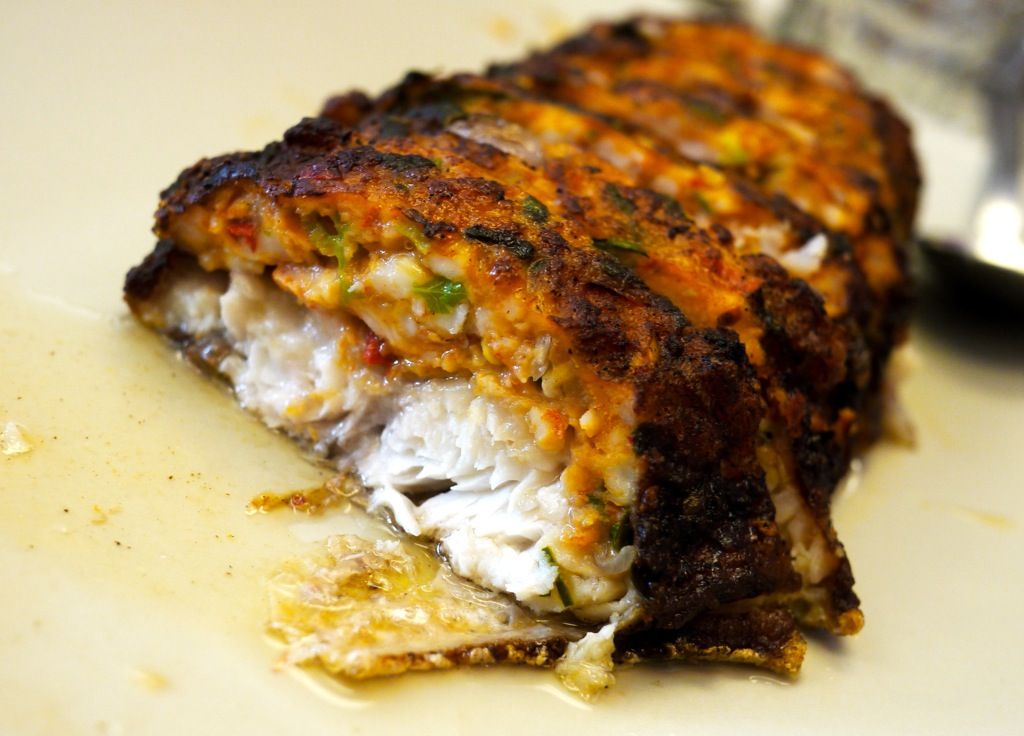 My favorite fish dish was the
Ikan Sumbat
(market price). Our $20 stuffed red snapper fish with meat and prawns fed the entire table and left us craving for more. The meat was really dense and juicy. The stuffing has the fragrance of otah without the spice and is also lighter on the coconut milk. Lemongrass, corriander and chili were used (i think). It's obvious why i write instead of cook.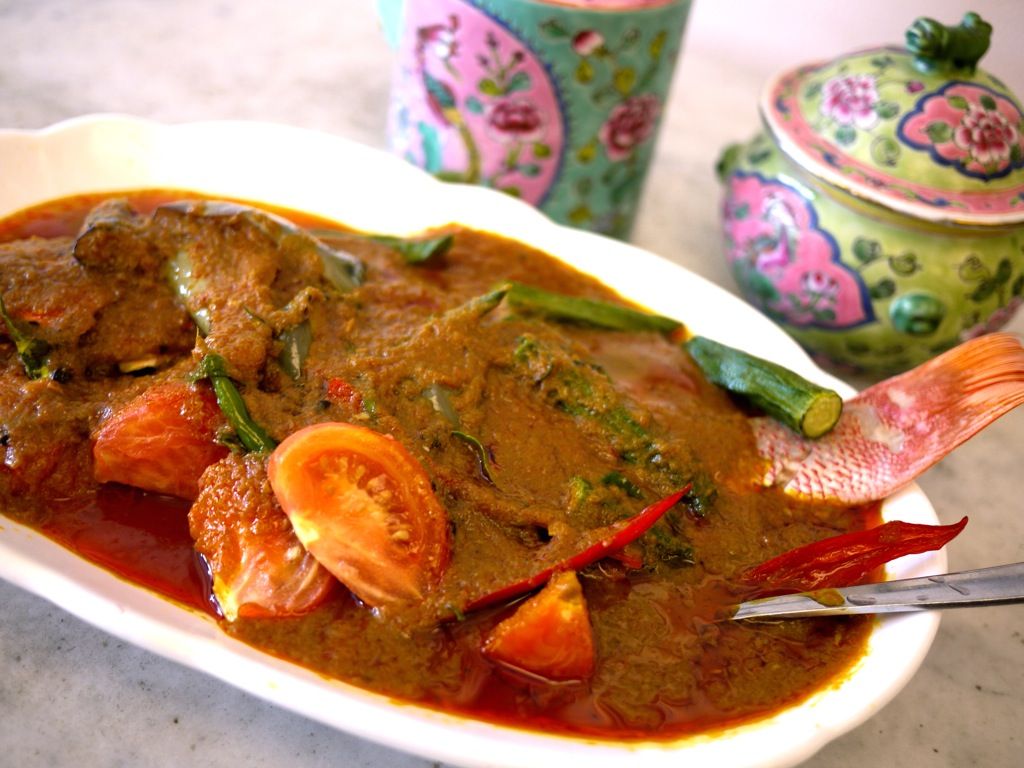 The
Assam Curry Fish Head
(market price) is a red snapper stewed with seasonal vegetables in piquant tamarind sauce. We had the whole fish for $35 but you have to place an order beforehand for this. It hits the right spicy and sour but i do like my assam with more kick. I'm a fiery one i guess. ;)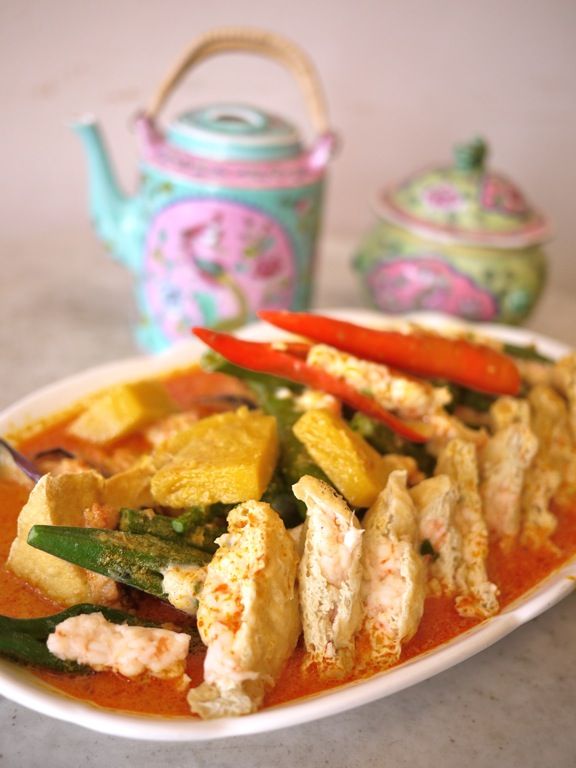 Nanas Yong Tau Foo
($15) is a special YTF (fish/prawn paste stuffed beancurd/vegetable dishes) cooked in pineapple coconut curry sauce. I found the curry and the fish/prawn paste lacking in taste.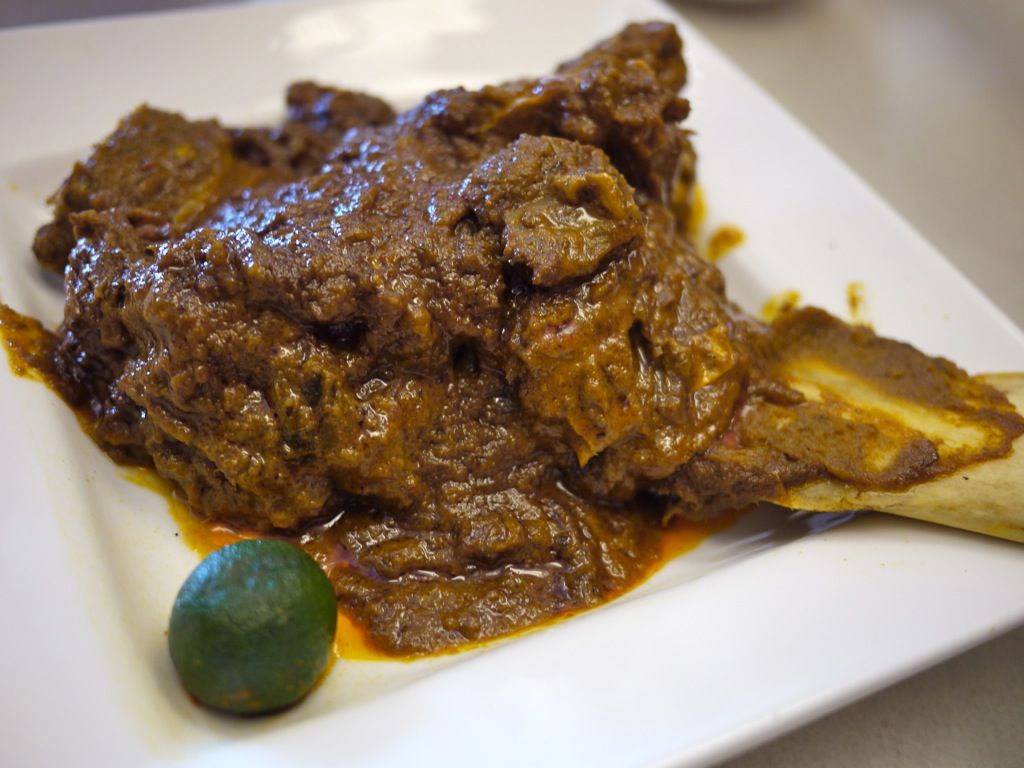 Dry Beef Curry Ribs ($15 onwards) is Uncle Ben's specialty. The braised beef ribs are seasoned in a dry curry sauce aka rendang. Our $35 9inch rib was absolutely tender and the meat fell apart with the tug of a fork. The rendang was a little mild, possibly due to the creamy coconut milk but it was still fantastic. Catherine and Belinda cleaned the entire rib while no one was looking. Haha.
The Babi Pongteh ($15)- Braised pork fillet in fermented soya bean sauce, was fine by this non-nonya girl. The meat was flavorful though not as melt-in-your-mouth as the beef rib. The other nonyas were a little more particular about this though.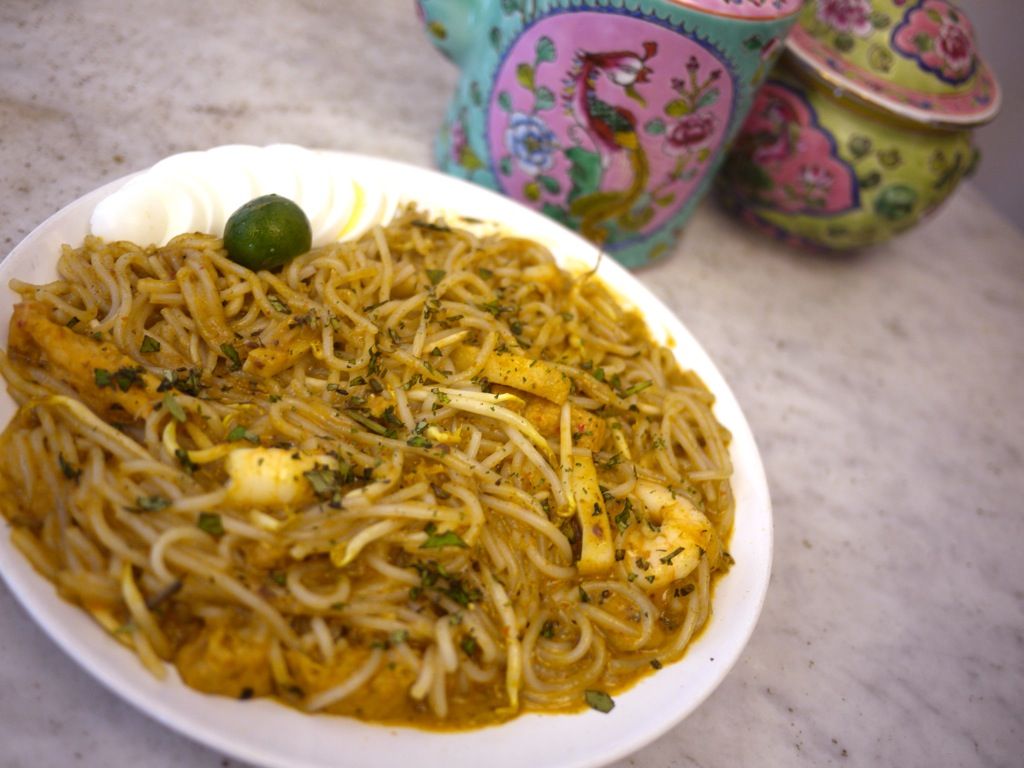 For carbs, i quite enjoyed the special Laksa Goreng ($10.90), a dry laksa (woke fried rice noodles) served with prawns, fishcake and bean puff (tau pok). The thick bee hoon was very smooth and i love the aromatic coconut taste! I carried on eating this after everyone has stopped.
The rain kept us indoors from our food walk so Tony decided to get us drunk on ciders at the hostel lounge instead. Not that i was complaining; I love me ciders. Kopperberg, Blumer's and Old Rascal are available here. Betel Box Bistro intends to expand their ciders and beer list and it looks really promising. Be sure to check it out soon!
Belinda: Drink more. Try the Elderflower with Lime! Try the Strawberry! Oh this one is nice too. Drink! Hic hic.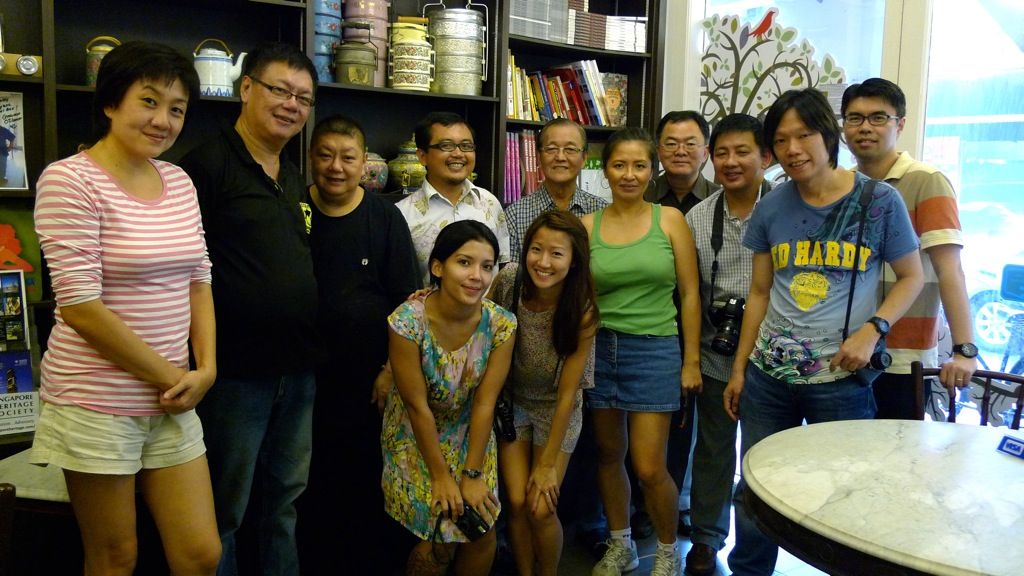 I had an enjoyable lunch with the group. That kinda left me in a food coma after and i didn't even wake for dinner. Top left and clockwise: Catherine, Uncle Victor, Uncle Ben, Tony, Uncle Philip, Belinda, Uncle Chun See, Jerome, David, Philip, Me and Juria. Thanks to Jerome and Betel Box for the invitation!
Be sure to check out this hidden gem in Joo Chiat! You will not be disappointed. :)
Betel Box Bistro
200
Joo
Chiat
Road, Singapore 427471
Tel: +(65) 6440-5540
Sun - Mon: 8am - 10pm
Tue: 8am - 12pm