French: Cocotte
It's been a while since i've gone out for brunch because my chauffeur has been away. I've been too lazy to go check out the out-of-the-way joints, very much preferring the convenience of Starbucks/Dean & Deluca which are near the yoga studio. Thankfully i have awesome girlfriends who are always willing to accommodate and accompany me so that i get to share more food posts with you guys. So here is a brunch review on Cocotte!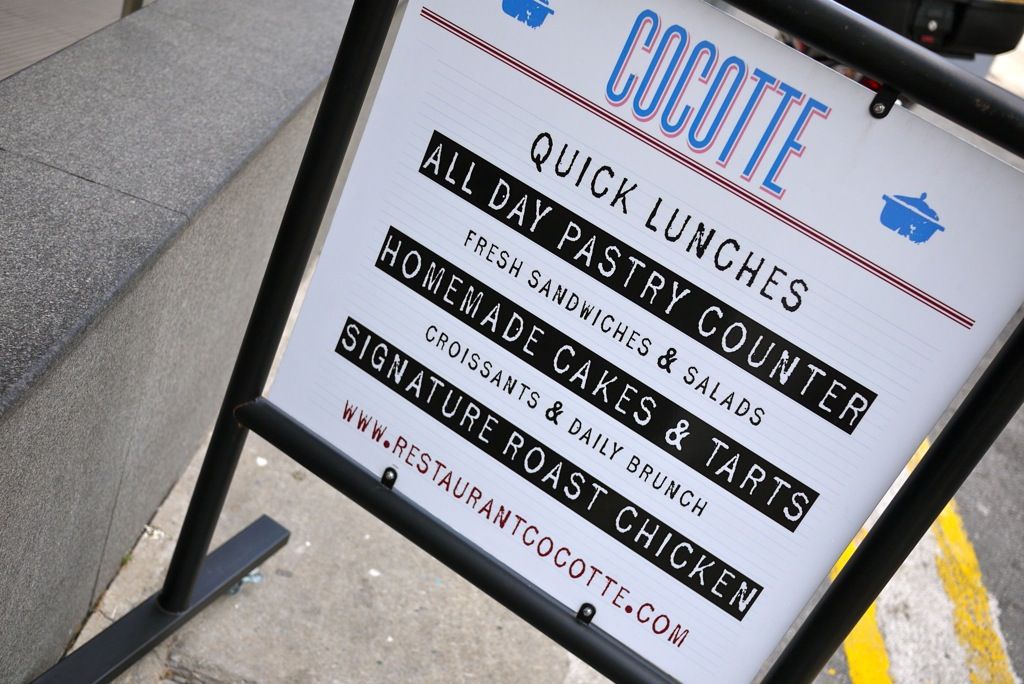 Cocotte is known for their French Country communal dining concept. I've heard many things about their signature chicken rotisserie ($60) but a chicken simply doesn't cut it for brunch for me. Eggs, bacon and sausages over anything any time. Well, apparently i think different from the rest of the diners who were there.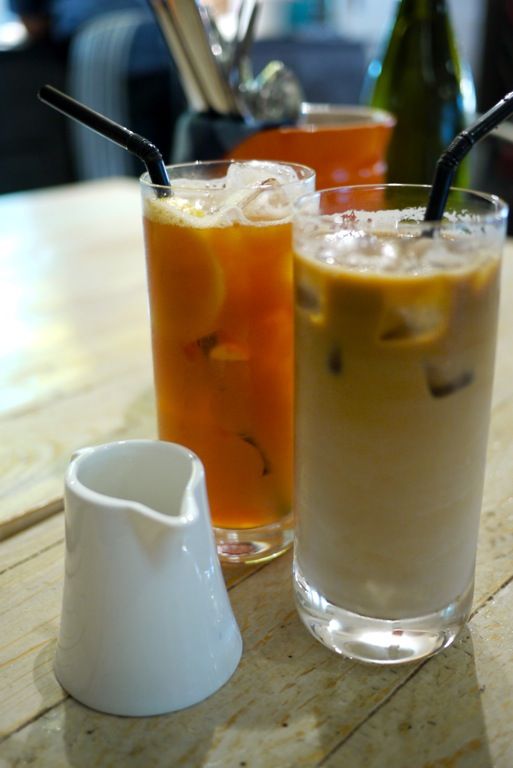 My Iced latte wasn't fantastic but well it's not a coffee joint so i've already lowered my expectations. The Homemade iced tea was so so as well.
I wanted to have the
Croque Monsieur
after reading about it on Daniel's blog but they have removed that item from brunch! :(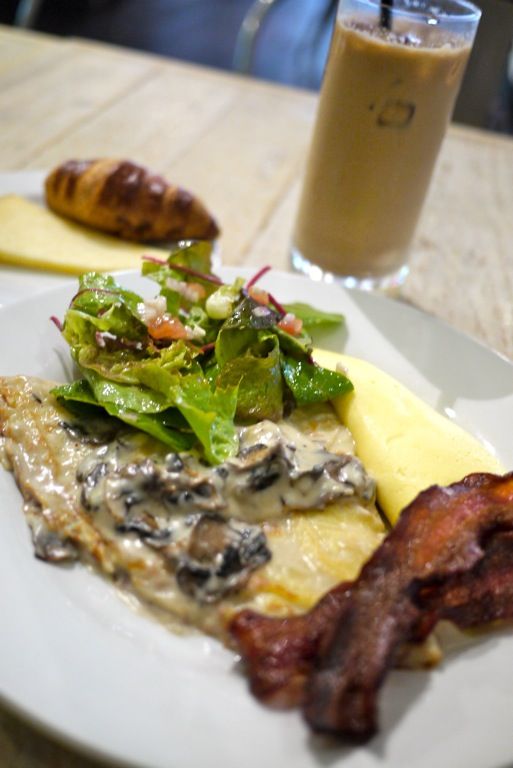 My only other option was to go for the
Big Plate
($24) because it has eggs and the full works. As i was sitting there, watching the cooks work in the kitchen while waiting for breakfast to be served, i kept wondering why i didn't see crepes on the menu though i could see them making it. The mystery was solved when my platter was served. My pre-coffee eyesight missed the creamy mushroom and cheese crepe that was stated on the dish description! Anyhoo, really creamy and slightly garlicky mushroom sauce with fluffy layered crepe. Very delicious and very french.
For my choice of eggs, I went with the French omelette instead of my usual scrambled. Though it looked really plain and sad looking, the texture was fabulous! A little spongey and airy on the outside but with the runny and creamy scrambled texture inside. If all omelettes were done like this.
The platter also included a mini baguette, which i changed for a mini croissant (buttery and flaky just the way i like it); bacon, mesclun salad and a slice of artisanal brie or cantal cheese. You could grab the croissant for breakfast as well, the plain ones go for $1.50 each. They also do chocolate for $1.70 each. I only wish that they were bigger.
W had the
Shredded Pork Confit Sandwich
($15) which was made from free-range Australian pork shoulder, wholegrain mustard dressing, fresh tarragon, parsley and cucumber, sandwiched in a toasted country baguette. I'm not a fan of this sandwich as the cool cucumber taste was overpowering for me. Also, it tasted more like a minced tuna sandwich than shredded pork sandwich. The baguette was pretty tough but it was nicely flavored, a little sour and very crunchy. You've been warned to use your hands.
We had to make space for desserts because we couldn't get the image of sweet bites out of our heads.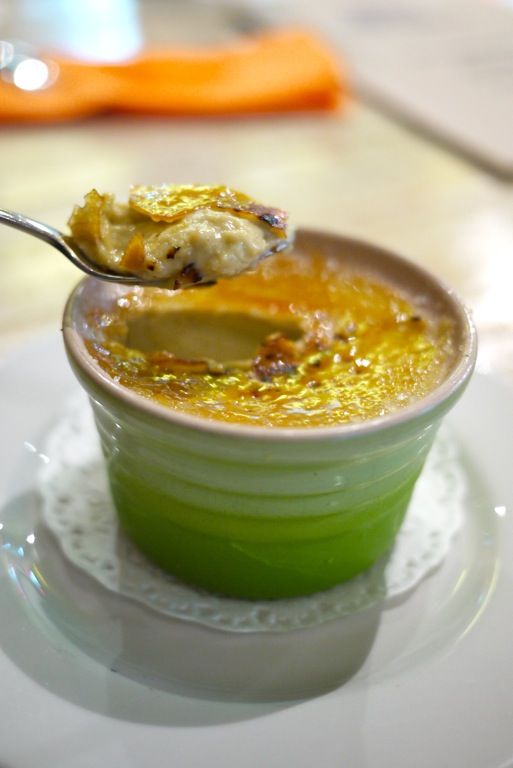 A first look at the
Earl Grey Creme Brûlée
($6) left us a little doubtful. The torching wasn't done properly and had left unmelted sugar granules along the edges. However, the dish redeemed itself with the intense flavor of the Earl Grey tea. I derived my caffeine high from this dessert instead of the latte i had. The dense and smooth flavorful custard made my day.
If you like a sharp
Citron Tart
($5), then Cocotte's would cut it (only by a quarter). What we didn't like was the high sugar content of this one. The main issue was the thin and slightly unbaked crust and the bad custard-to-tart ratio. The texture of the filling was also too gelatinous.
For the best citron tart imo, check out
Carpenter and Cook
.
Read my review here.
Cocotte
2 Dickson Road, Singapore 209494
Tel: +65 6298 1188
Brunch | Weekdays: 12 - 2.30pm; Weekends: 12 - 3pm
Dinner | Mon - Thu: 6.30 - 10.30pm; Fri - Sat: 6.30 - 11pm