Thai: KHA (closed)
When i dropped by KHA for the media tasting, I swear i was so full i wanted to die. Late brunch followed by desserts before more food is not a good idea before a media food event. BUT from the first mouth of papaya salad till dessert, i ate like a starving woman. That is how much i enjoyed the dishes at KHA. The spicy and refreshing Northeastern Thai 'Isaan' dishes were absolutely appetite inducing that i couldn't help myself but devour my food.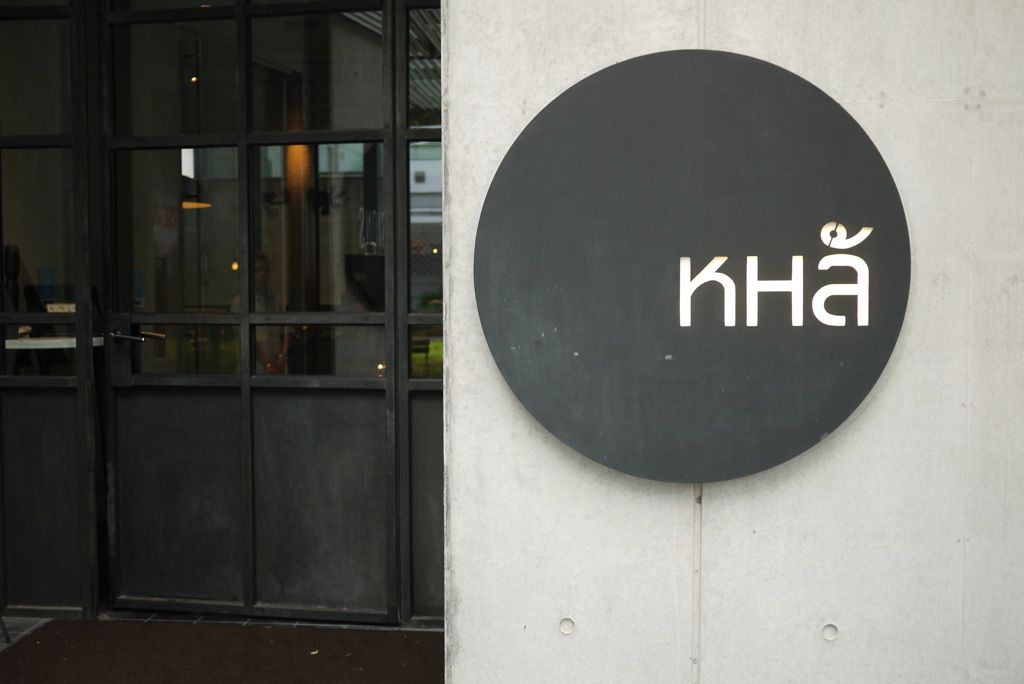 With Executive
Chef Adam Cliff
on board, protégé of the acclaimed Thai cuisine chef David Thompson, the award winning restaurant has taken on an edgier and modern outlook at its Martin No. 38 outpost in the
Robertson
enclave. I was looking forward to the dishes especially after knowing that his impressive CV included the only Michelin starred Thai resto
Nahm London
, as well as
Bo.Lan Bangkok
, which i didn't get to try on my last trip.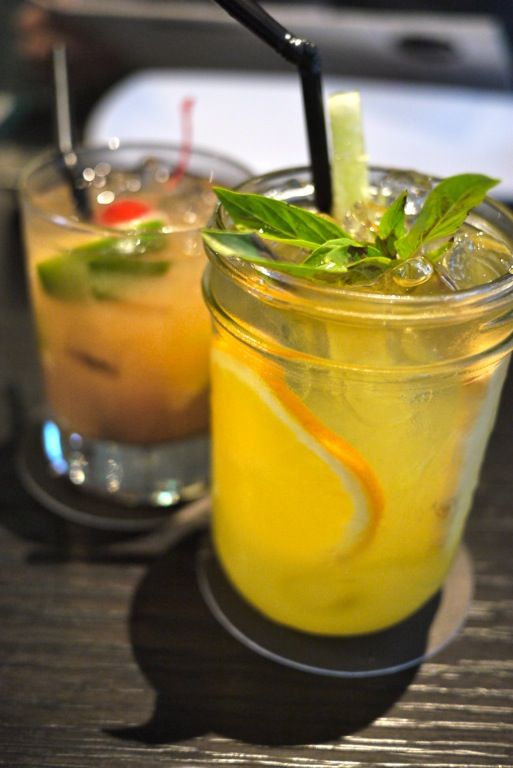 We started with cocktails ($12 each) (what's a meal without drinks right?) The
Thai Basil Cooler
, made from white wine, brandy, orange, ginger and thai basil, was light and cool tasting. I much preferred the
Tamarind Whiskey Sour
which was tangy, sweet and refreshing. Even if you don't like bourbon, you would like this. At least that's what my dining partner B said.
Green Papaya Salad
"Som Dtum Malakor" ($16) is a standard appetizer at any Thai restaurant. This was the silent killer. It looked absolutely harmless but the spiciness from the chili padi kicked in after a few seconds. I enjoyed the dried shrimps, tamarind and fish sauce combination though it could be a little more sour. Interesting side of candied pork which was a crunchy version of braised pork belly (kong ba).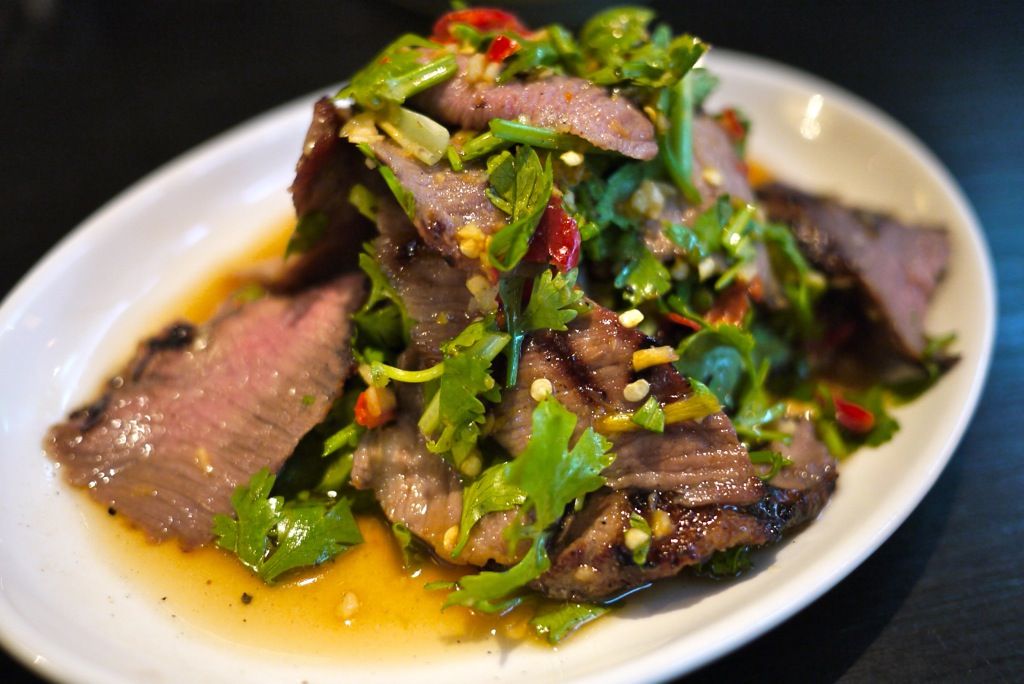 The
Iberico Pork
"Moo Yung" ($23) was absolutely delicious. The tender meat was first marinated in thai garlic, coriander and pepper, then chargrilled tossed with chopped chili, garlic and lime moorish. I kept coming back to this dish even as our table got piled with more food.
The
Fried Baby Squid
"Pla Mauk Tort" ($14) was cleaned up by the 2 of us. They remained crispy even till the end of our very long meal. This is the perfect beer snack with it's flavorful red tumeric and garlic seasoning.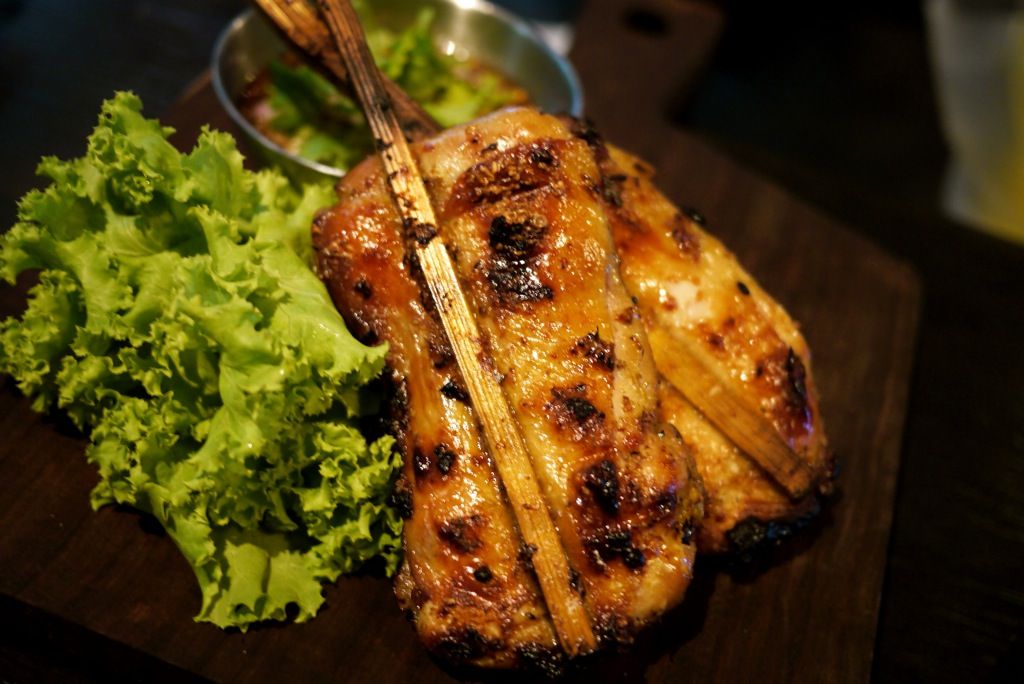 The "Gai Yung Esaan" ($15) was another dish that was polished clean. Chunky and juicy
Chicken thigh
marinated for 24 hours in garlic, pepper, coriander and grilled till crispy. The marinate was so good on its own it didn't even require the "jhim jeaw", a tamarind sauce with rice powder and coriander that tasted like a combination of maggi and marmite. Definitely one of my favorite dishes!
I liked the rendang coconut curry that the Tiger Prawns "Goong Golae" ($29) were wrapped in but the prawns were a little overcooked and not too fresh imo.
I don't like fish but i think i can add sea bass to the limited types of fishes that i eat, only because of KHA. The traditional dish of grilled
Salt-crusted whole seabass
"Pla Phao Glua" ($30) was rustic and homely. The fresh fish was stuffed with lemongrass, pandan and Thai basil stalk and then slow cooked over fire and served with a green chili dipping sauce. And it's only 30 bucks for a whole huge fish. Go easy on the sauce though as it's just a lil spicy.
If you like, you could have your mains with the various types of rice. I'd say stick with the regular fragrant rice though. I found the
Sticky Rice
"Khao Niew" ($4) a little too tough and dry.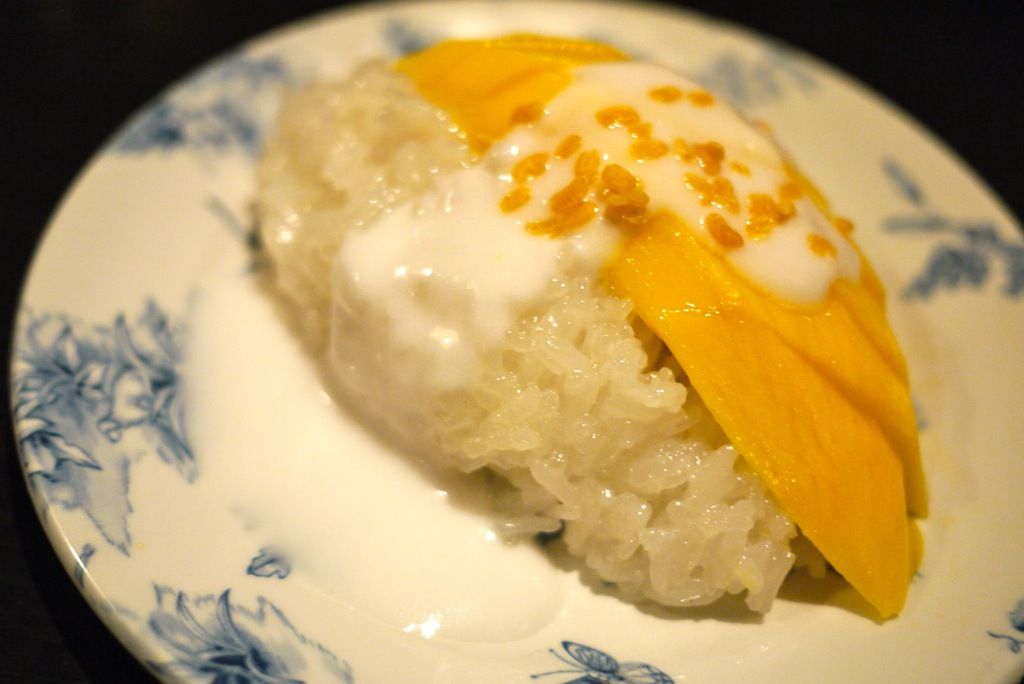 No matter how stuffed you are, you HAVE TO EAT desserts. I was first MIND BLOWN by the
Sweet Mango Sticky Rice
"Khao Niaw Mamuang" ($12). I've never tasted a mango sticky rice that is this good. Soft and sweet glutinous rice with juicy thai mango and the surprise was the salty coconut cream that accompanied it. Sweet and Savory! My favorite kinda food.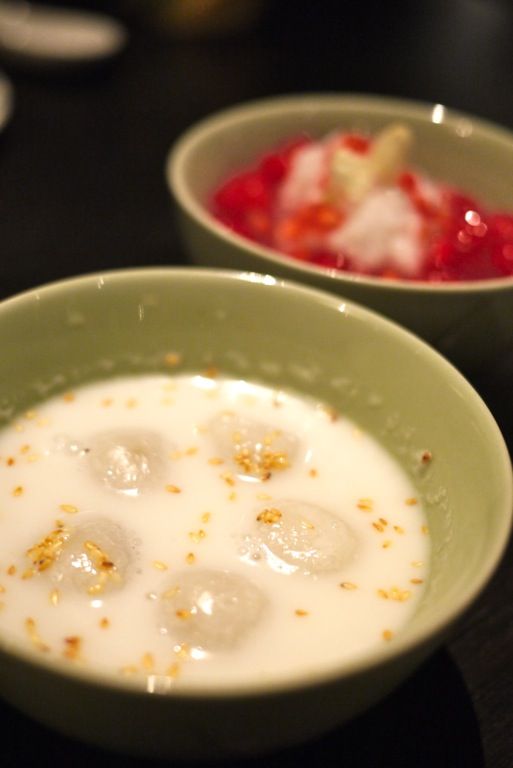 When i thought it couldn't get better, we had the MIND BLASTING
Warm Coconut Rice Dumplings
"Kanom Dtom" ($10). It doesn't sound at all appetizing on the menu but oh boy you can't miss this. Fireworks were going off in my mouth as i bit into the little rice dumplings stuffed with shredded coconut and gula melaka. And that salted coconut cream and fragrant roasted sesame were just fab with this. KHA has ruined rice dumplings for me forever. I'll never have another bowl of regular Tang Yuan anywhere else!
KHA
is definitely my other favorite Thai restaurant in Singapore, apart from the hawker style
Nakhon
(
Read review here
). In fact, B was so impressed that he brought his parents there the week after just to have the dishes again. Head on down to KHA. You wouldn't be disappointed.
KHA
38 Martin Road, Singapore 239059
Tel: +65 6476 9000
Daily: 12 - 3pm, 6 - 11pm