10 at Claymore: Timeless Plates of Pleasure
Had another great meal at 10 at Claymore, Pan Pacific Orchard again. I simply love their buffet spread because the dishes are always well prepared and Chef Chris is always creating new dishes to tempt my palate. This August and September, he goes old school with the simple but hearty Timeless Plates of Pleasure, prepared using
methods that were all the vogue in the '60s and '70s.
Slow Roasted Australian Master Kobe Wagyu Beef
'outside flat' with Mushroom Creme. Tender beef cubes with good marbling; there were sufficient fats to give it that juicy texture.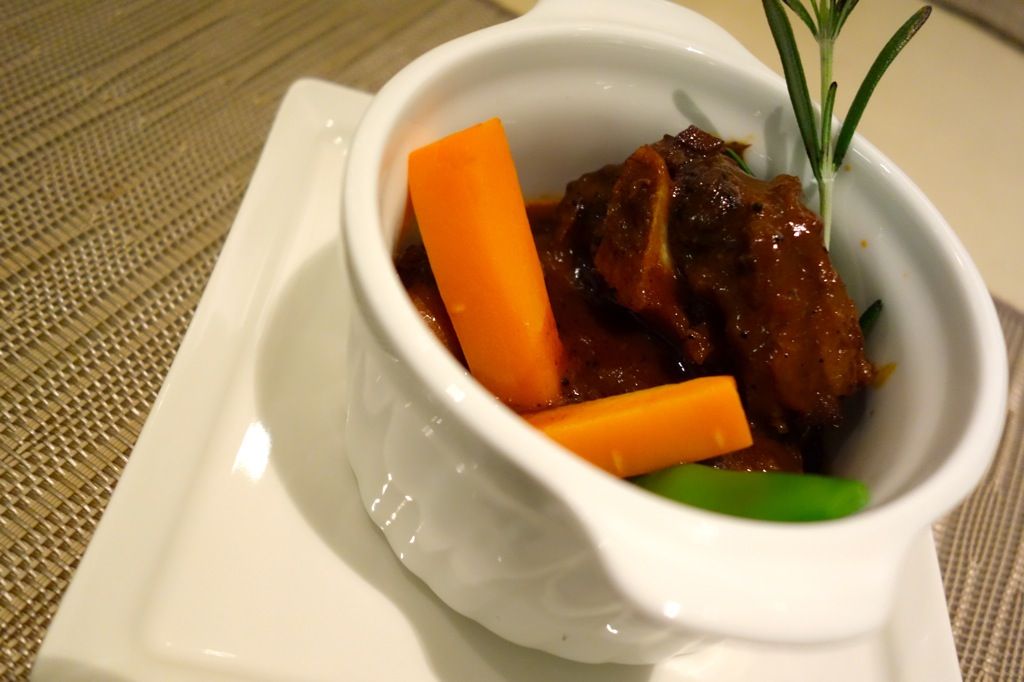 Braised New Zealand Lamb Shank
in a smooth Shiraz Reduction. The lamb shank had a firm but yielding texture. I was rather intrigue by the collagen bits as they were neither crunchy not overly gelatinous. The Shiraz reduction was smooth with a hint of smokiness.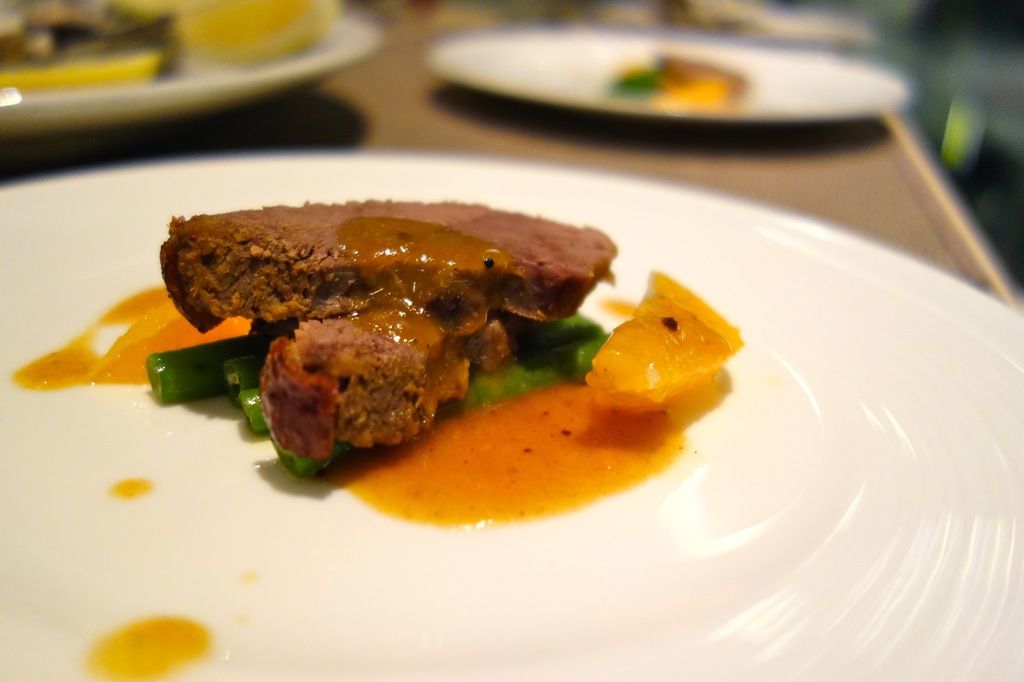 The
Pan-Seared Indo-China Duck Breast
in a tangy Citrus Honey Glaze was a little on the dry size but i liked the combination of orange with duck. This reminded me of the Singaporean roast meat stores and their pairing of roast duck with sweet plum sauce but this tasted much lighter.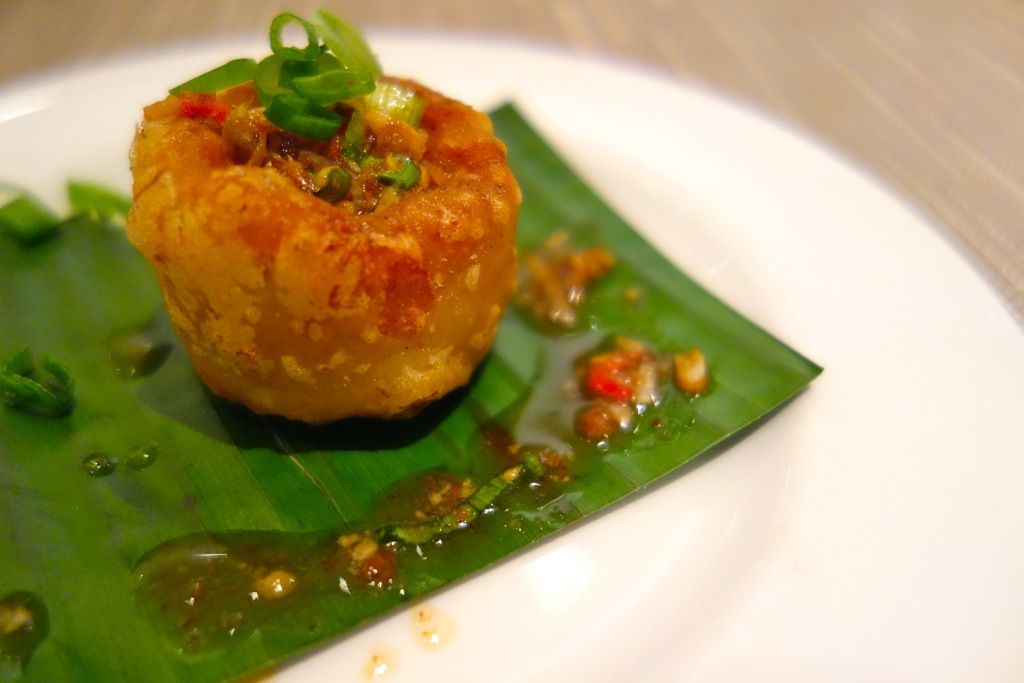 The
Canadian Hand-picked Scallop with imperial XO sauce
was quite a surprise. I was rather skeptical when it came deep fried. Why ruin a fresh scallop like that right? Then i took my first bite..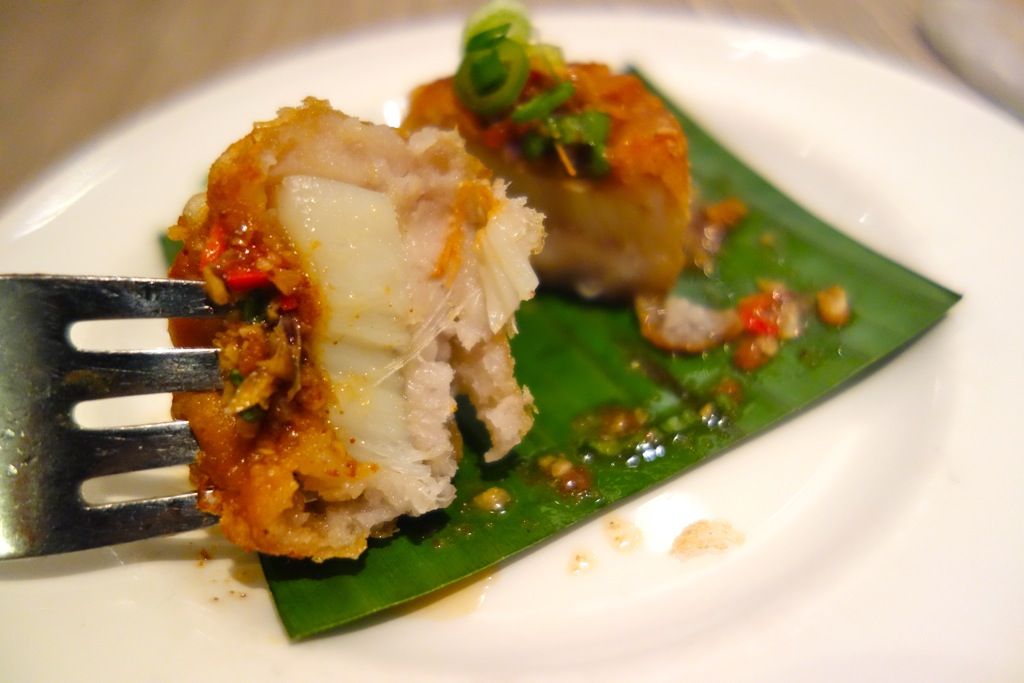 Turns out that it was a mini yam ring with a scallop center! Yam rings are my must order when i go to a Zi Char stall.
Pacific Ocean Depth Sea Perch with Chong Qing spiced bean gravy.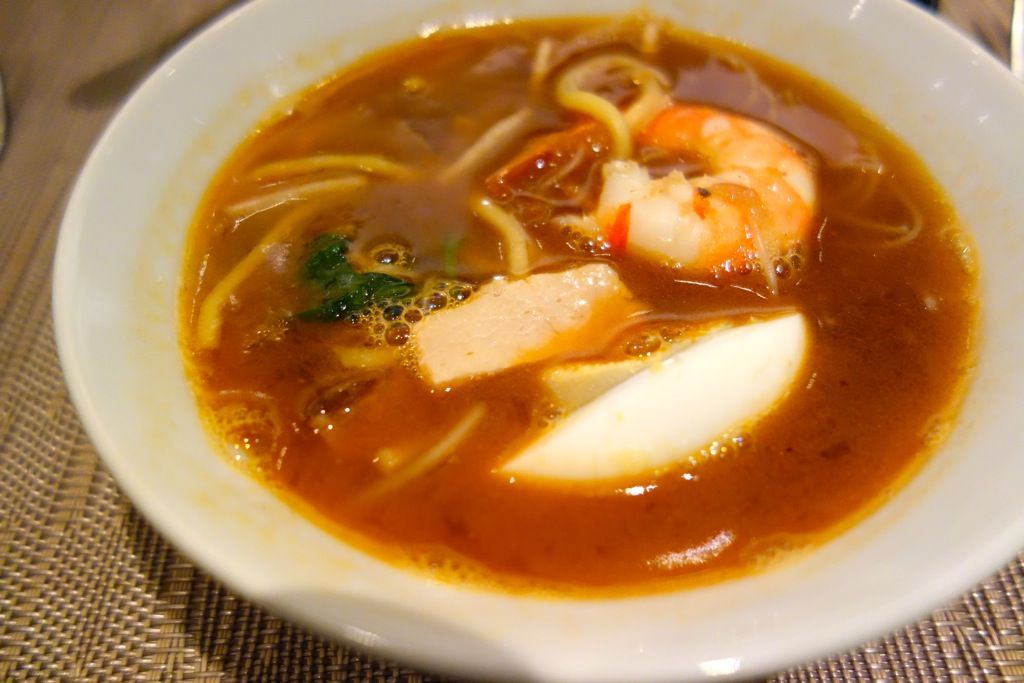 The
Penang Spicy Prawn Noodle
in spicy crustacean broth is the same that is served for High Tea (
read my review here
). Somehow this tasted better than what i had the previous time. Perhaps it's the amount of broth that is served in this one. Or that the soup has been stewing for longer hours. Whatever it is, it's yummy and that's all that matters. :)
As usual, the Timeless Plates of Pleasure are made to order and there is free flow of the dishes, along with the buffet spread. Wine pairing is also available and each glass is $10.
Don't miss the French and Canadian oysters. Very fresh and good.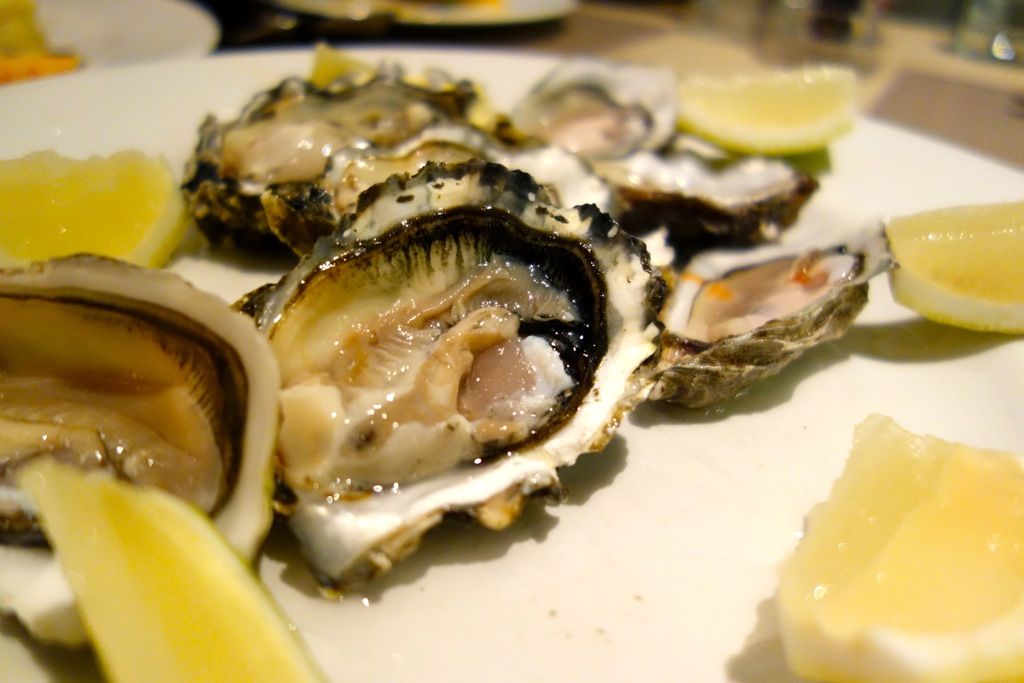 The dishes on the spread changes as well. I was very impressed with the
Northern Indian Lamb Curry
. 2 thumbs up!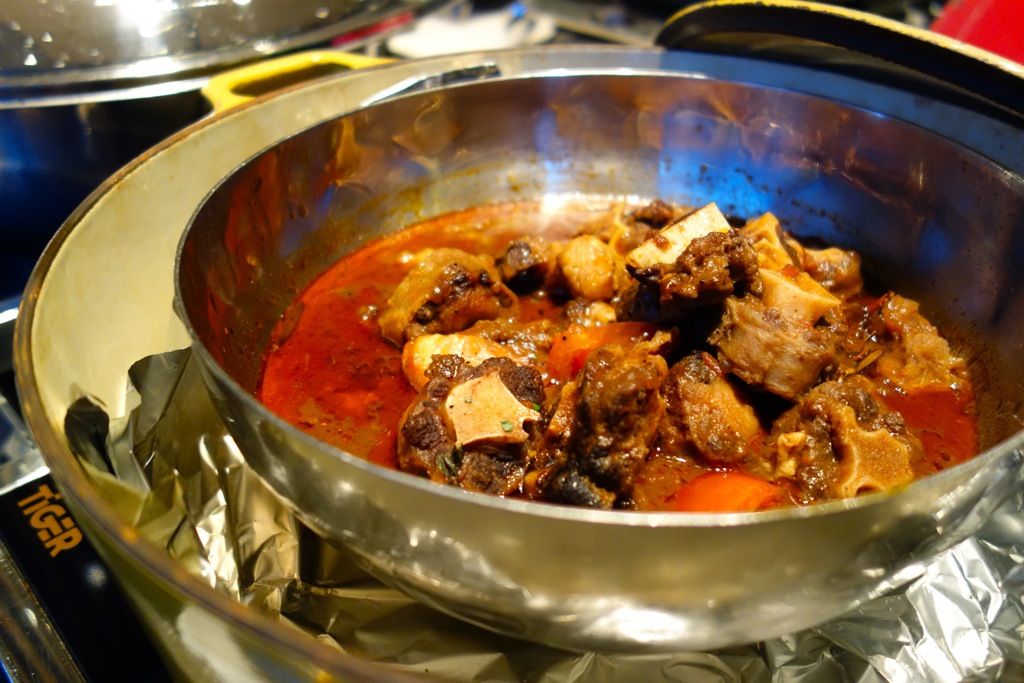 The
Pork Trotters in Vinegar
was very well seasoned. It was my first time eating this dish.
Do remember to save space for desserts. The crepes are a must eat. We had the Mao Shan Wang crepe again. Love love love. You gotta eat the
Croissant Bread Pudding
as well. I could devour the entire pan of it.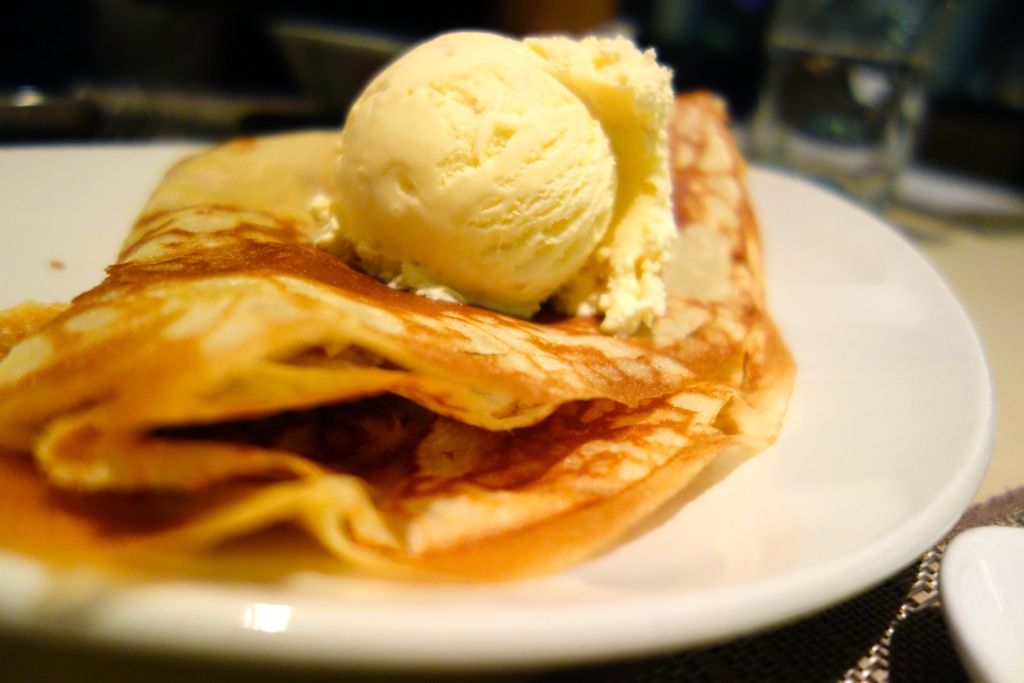 Promotion
As part of the National Day Celebrations, dinner will be served at $48 on the 8th and 9th of August 2013.

Regular Dinner Buffet prices are as follows:
Mon- Thu : $59
Fri - Sun: $62
Sunday Brunch: $68
Happy holidays!
10 at Claymore
Pan Pacific Orchard, Singapore
10 Claymore Road
Tel: +65 6737 0811