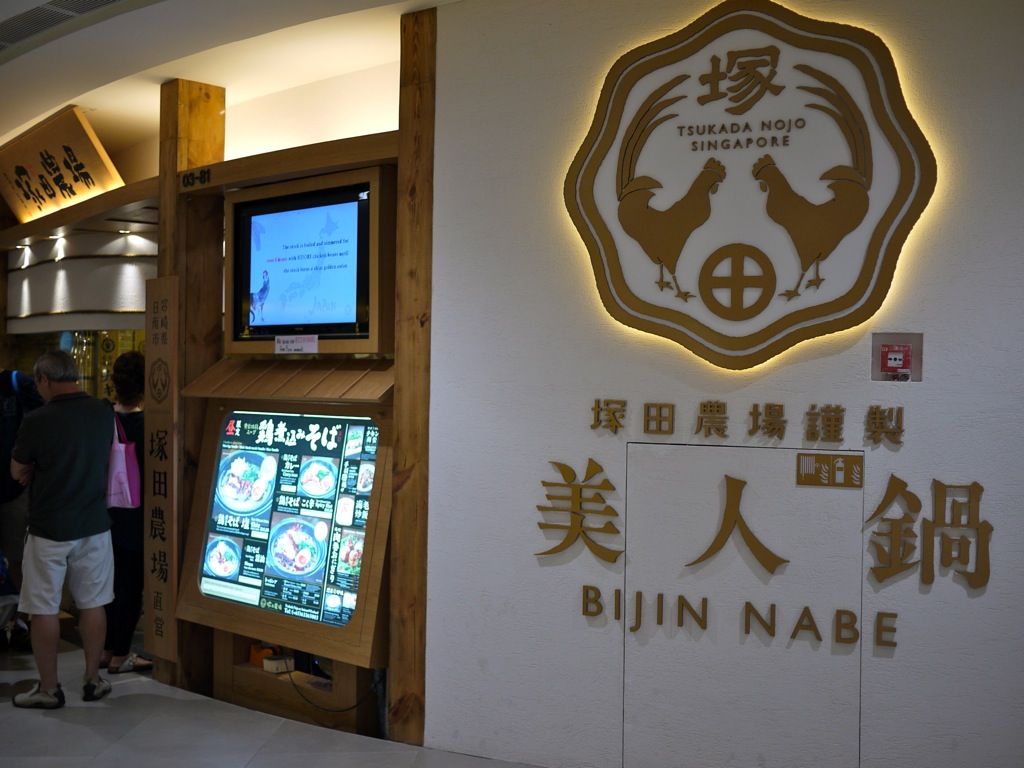 I've heard about Tsukada Nojo Bijin Nabe Japanese restaurant sometime back. I think it appeared under the beauty section of the magazine rather than the food. With Singaporean women so crazy about skin elasticity and botox, is it any wonder why the collagen based soups are so popular?
This skinnyfat girl here is not yet concerned about wrinkles on her face and gelatinous animal parts kinda scare me a little; hence i've only recently tried Tsukada Nojo. For $25 per pax, you'll get to enjoy the Bijin Nabe a.k.a. Beauty Pot with a variety of ingredients. These beancurd looking pudding are actually solidified collagen, which would melt to reveal chunky pieces of chicken, and also disintegrate into the tasty chicken broth. We didn't know that the Bijin Nabe was only served during dinner so we were left with only the ramen option.
The Japanese outlets uses free range chickens that are raised in a safe and controlled environment on the Miyazaki farms. Chickens are highly prized and known as Miyazaki Jitokko. Happy chickens make for rich milky and savory stock. Sadly, we don't get poultry imports from Japan so these birds are from Malaysia.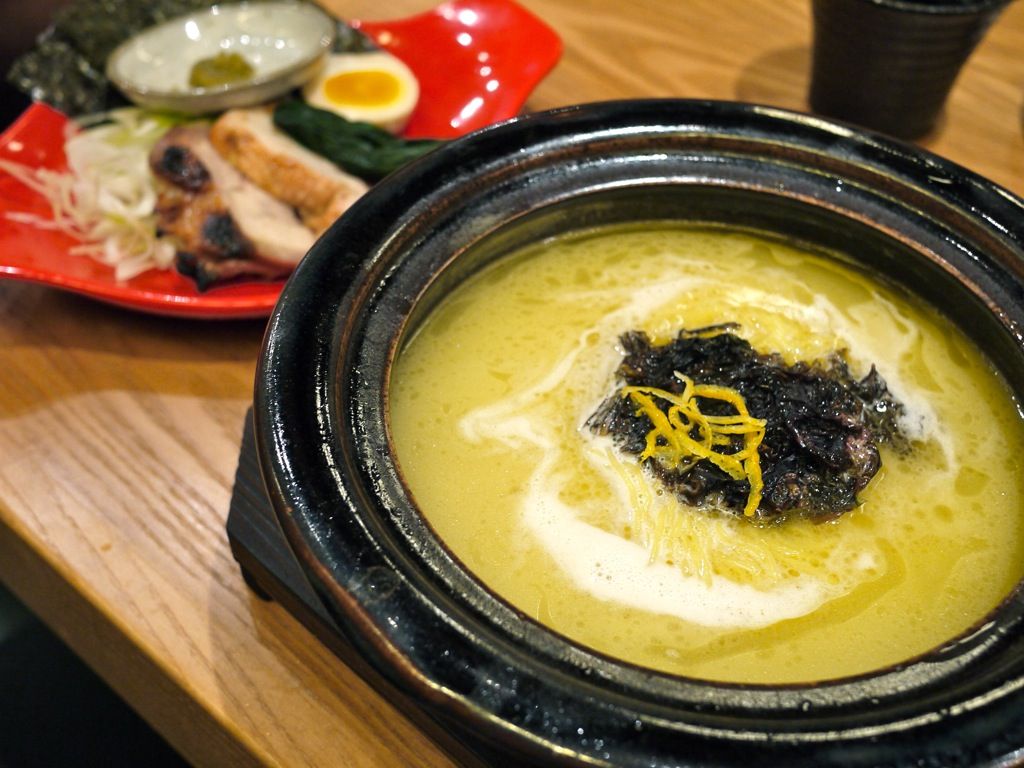 Nevertheless, chicken bones are stewed for over 8 hours to give it that golden broth that is rich in collagen aptly named the Golden Jidori Soup. Can you believe this soup base is only prepared with water, salt and bones.

We haven't tried the one in Japan so there isn't a baseline for comparison, but i must say that the soup was really tasty with a tinge of stickiness (probably the collagen). S had the thin springy noodles with his chicken ramen and I must say that this is waaaaay better than Marutama's.
I really enjoyed my Curry Ramen with the thick Mochi noodles. It's the slightly curly and yellow Sapporo kinda ramen but with more chewiness. I love that the curry is really thick and flavorful and more savory than the usual sweet and mild Japanese curry. If you like rich flavors, this comes highly recommended. The dry looking roast chicken slices served on the side surprised me with the light honey flavor and the tenderness of it. Eat it alone or warm it up in the sauce before you devour them.
Our supposed starter Nikumaki Onigiri, each the size of my fist, were served when we were halfway into our ramen. There's no way we would be able to finish the 2 huge bacon wrapped baked rice balls/rolls after our ramen and had no choice but to bring one home. This is more of a sweet dish than a savory one so it may not appeal to all.




The original flavored one is $3 while the others with toppings such as cheese, yuzu pepper & mayo and red chili oil costs $3.50. There was too little of the yuzu pepper mayo to make a distinction between the 2 onigiris. A bite of this is ok, not the entire bolus of rice.




I heard that the chicken wings are pretty swell. Shall try that with meal when my curry ramen craving kicks in.




Tsukada Nojo Restaurant
60A Orchard Road
The Atrium@Orchard
Tel: +65 6336 5003


Daily: 11:30am-4pm; 5-10pm

Reserve a table at the Chinatown Point Outlet here