Crossroads Cuisine at Nouri
I've heard interesting things about
Nouri
in the past year, prior to them earning their first Michelin star. Unfortunately (or fortunately), it took the star for us to check out Chef Ivan Brehm's
crossroads cooking
, only because we've been too busy with life (moving in, preparing to get married and all). In anticipation of the meal, I studied Chef Ivan's menu and i was very curious as to how our meal will turned out because of the strange mix of ingredients and flavors and how they don't conform to a type of cuisine.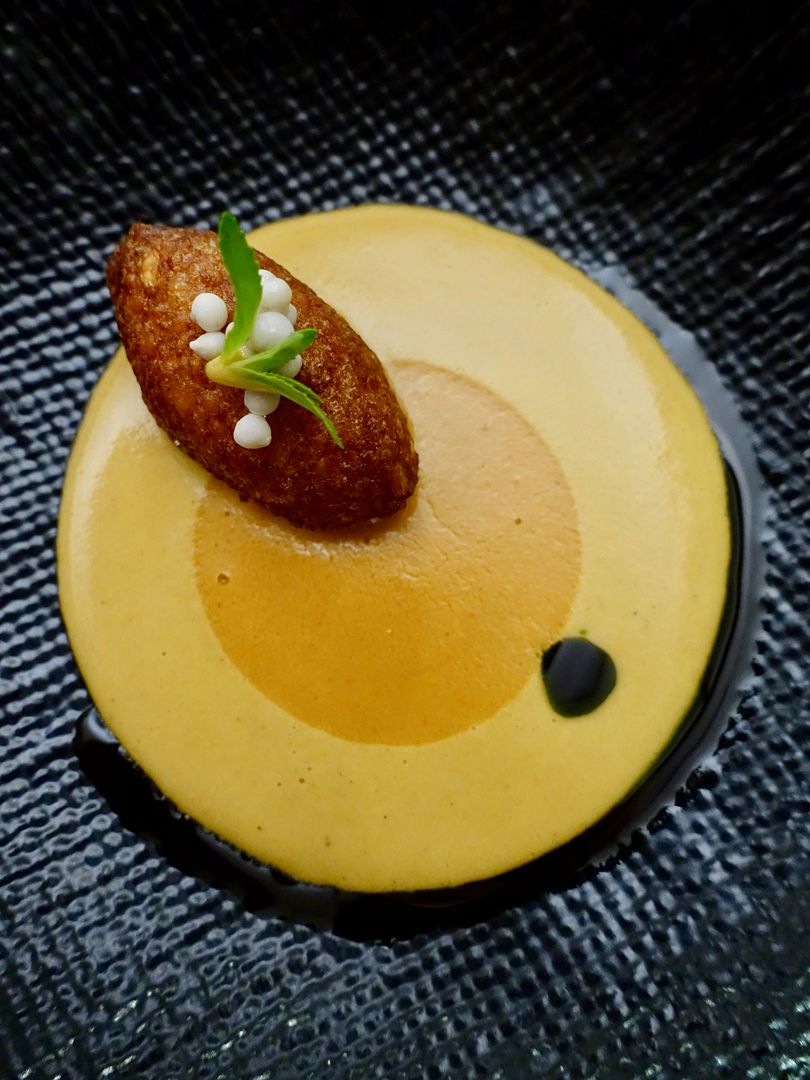 After polishing the pretty plates that Chef Ivan sent out and also listening to his stories behind the dishes, I guess we got a sense of what crossroads cooking means. At Nouri, you'll taste universally good food- no matter where you're from, or where the food takes inspiration from, you'll be able to identify familiar flavors that strike a chord or bring back some fond memories. Well at least that's what i took away from my meal.
For dinner, there's the option of a 5 or 7 course Chef Tasting Menu ($145/$175). Lunch tasting is also available at $85 for 5 course. The portions aren't very big, but our dinner party of 4 (3 boys and me) were rather satisfied at the end of our 5 course meal. Wine pairing is available at an additional $90 with some interesting pairing choices from lesser known regions and producers. We were very impressed with how knowledgeable the staff are of the food and wines served. A girlfriend who visited Nouri earlier noted that their sake pairing is excellent as well.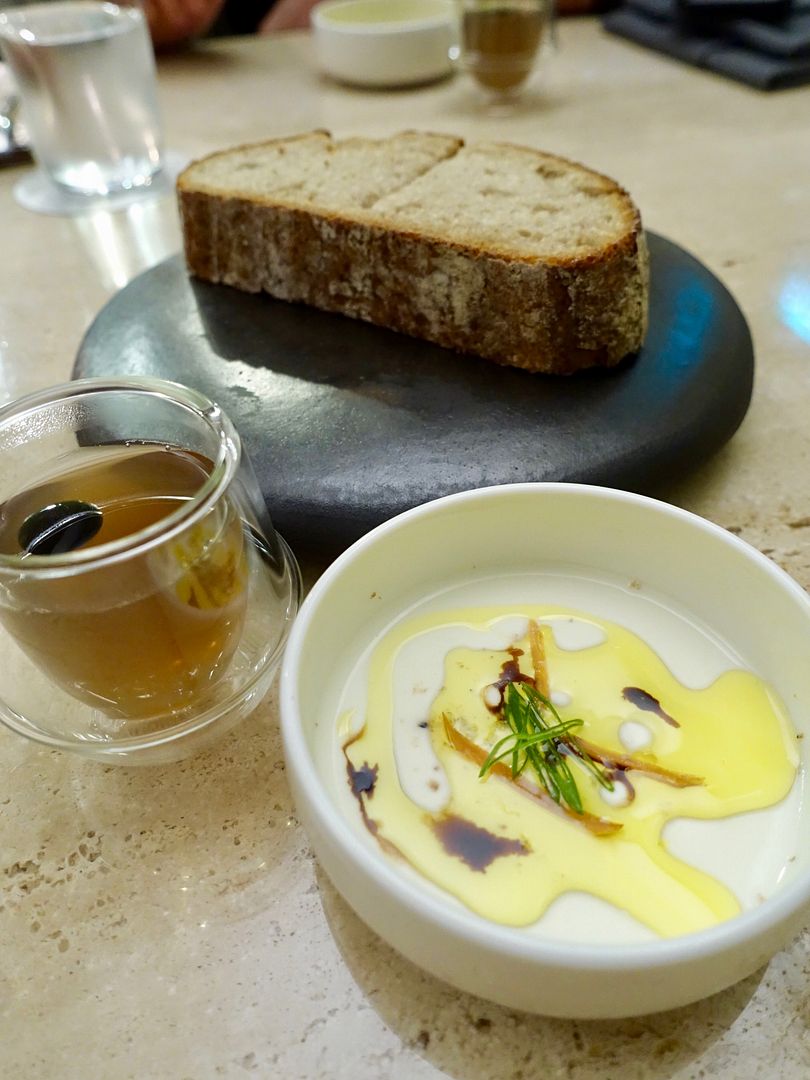 Dinner started proper with the
Bread and Broth
, featuring rye sourdough bread served with a bowl of silken cheese topped with extra virgin olive oil and 25 years old balsamic sauce; and a shot of bone and 7-vegetables broth.
I'm a bread and butter kinda girl, so i'd rather eat the slightly tangy tofu on it own. We're glad we asked for some butter because it's a special basil butter which was perfect for the house-baked sourdough. In fact, we had more bread because the butter was so good.


Next up is a snack of Watermelon kimchi served with bonito and hazelnut oil, topped with sustainable trout ikura. Since it was a snack, it was gone before i realized i did not take a picture of this refreshing crunch. Our first wine was an Austrian white which was crisp and light.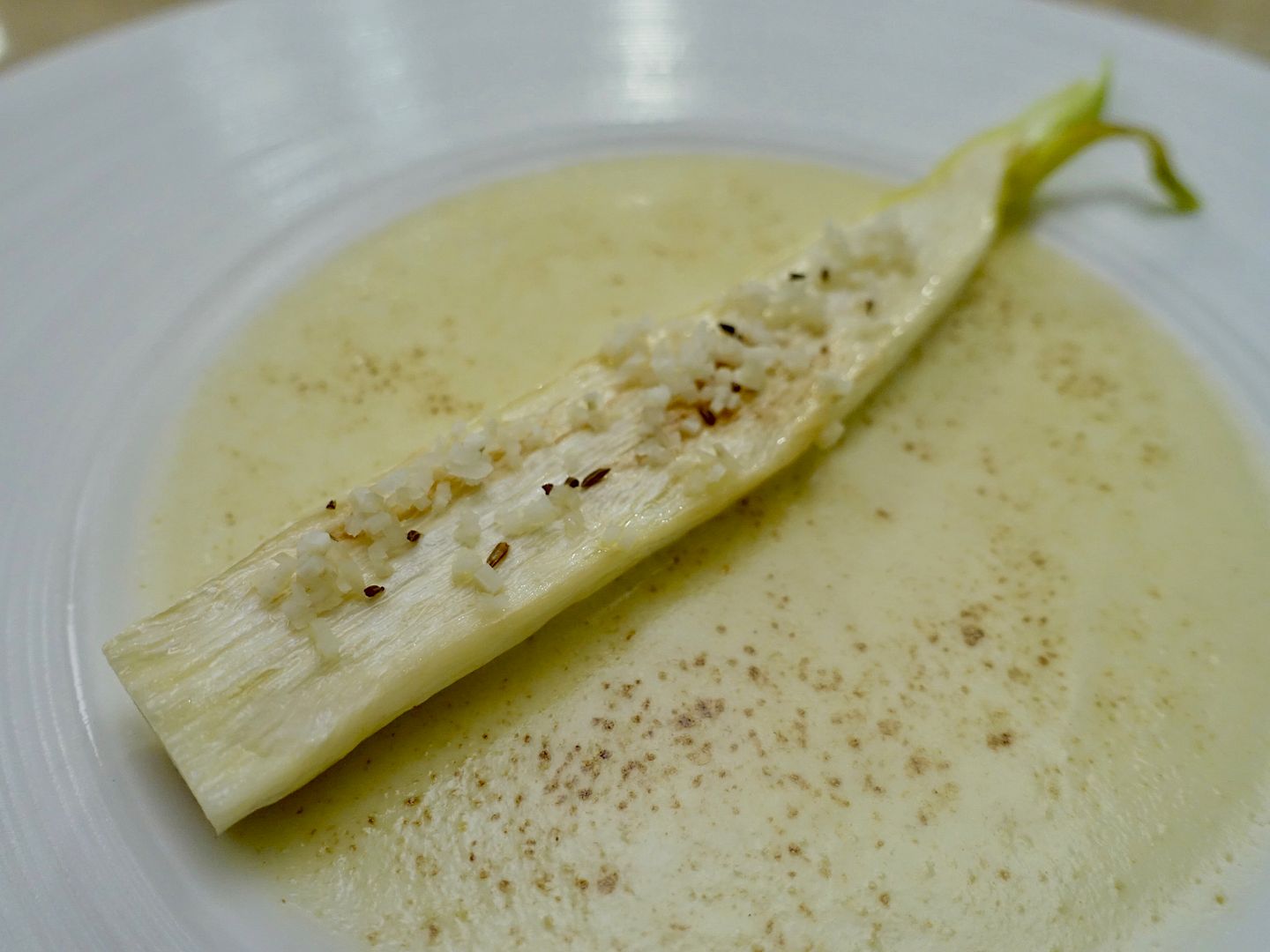 Then, the Wild Rice Stem- a steam roasted Makomotake (Manchurian wild rice), spiced buttermilk gratin, fermented burdock root and caraway. The Makomotake is grown not for its grains but for its stem, which has a crunchy snappy texture like asparagus. Flavoring the wild rice stem is the spiced buttermilk, which reminded me of creamed Indian paneer. The dish had a hint of Indian flavors to it due to the spices used. An Austrian Rose accompanied this dish.
Next up, the Kanzuri and Carabinero. Kanzuri is a type of fermented Japanese chilli and yuzu paste, from Niigata prefecture, and it gave the dish a nacho cheese flavor but with a refreshing yuzu twist. Aged carnaroli rice is used in the creamy risotto and topped with sweet deep-water scarlet prawns. I loved the umami in this dish but was also thankful that it wasn't too big a portion that i'd be sick of it. The pairing was an Italian orange wine, which we did not enjoy because we're just not fans of orange wines.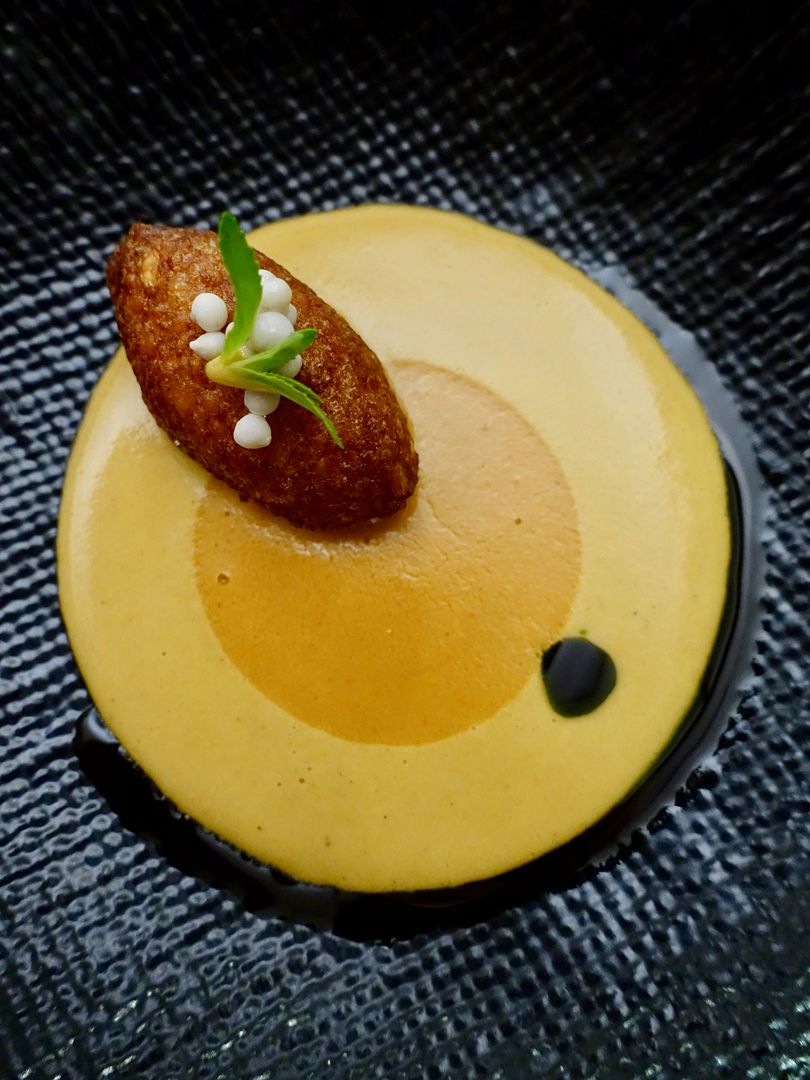 I couldn't stop admiring the Acarajé and Vatapá when it was served. Just look at how the colors pop on the plate! This Afro-Brazilian fritter is made of black beans and processed salted shrimps and served with a turmeric and coconut sauce, which reminded me of a very good Thai curry. I'm not sure what it was, it could be the grainy puffed rice texture, or the combination of flavors but the dish had a meaty and satisfying feel to it.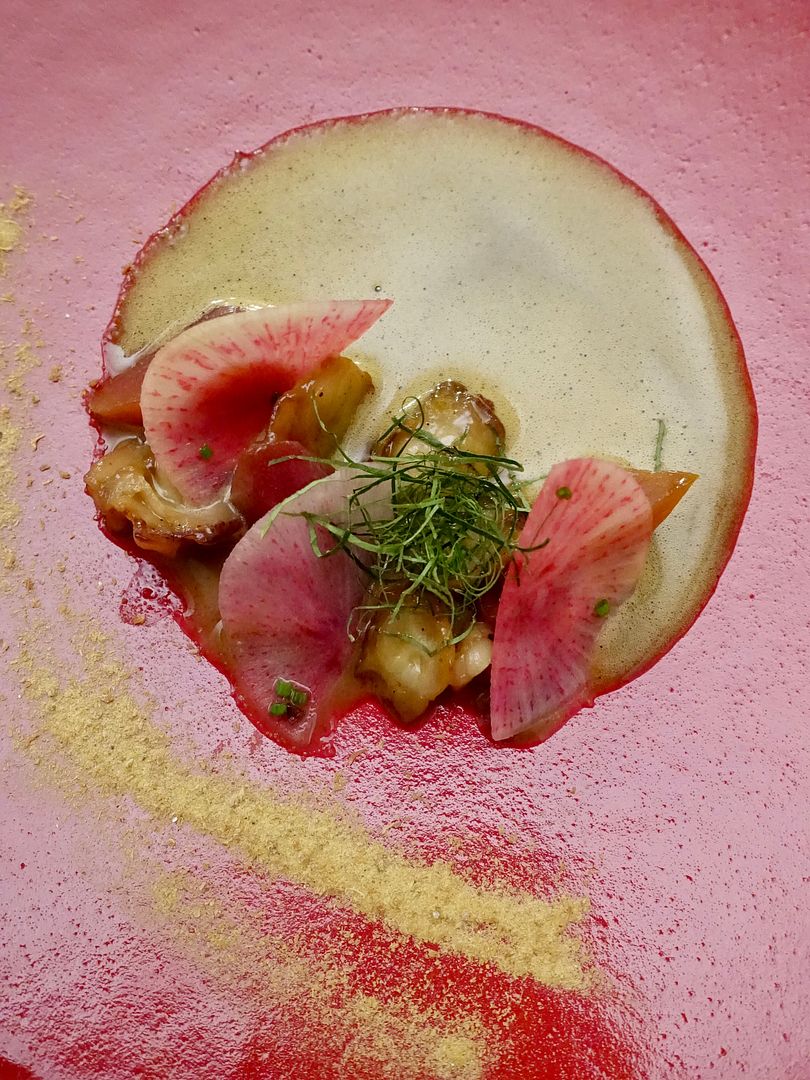 While we were waiting for our mains, Chef Ivan told us he wasn't satisfied with how the beef turned out for our main course so he was going to start over. To apologize for the wait, he served us another snack, an octopus, done the same way as their Black Pepper Crab- with watermelon radish, Kampot black pepper and Tahitian vanilla sauce. The sauce tasted very much like the local black pepper sauce used in Chinese zi char cooking with a tinge of sweetness.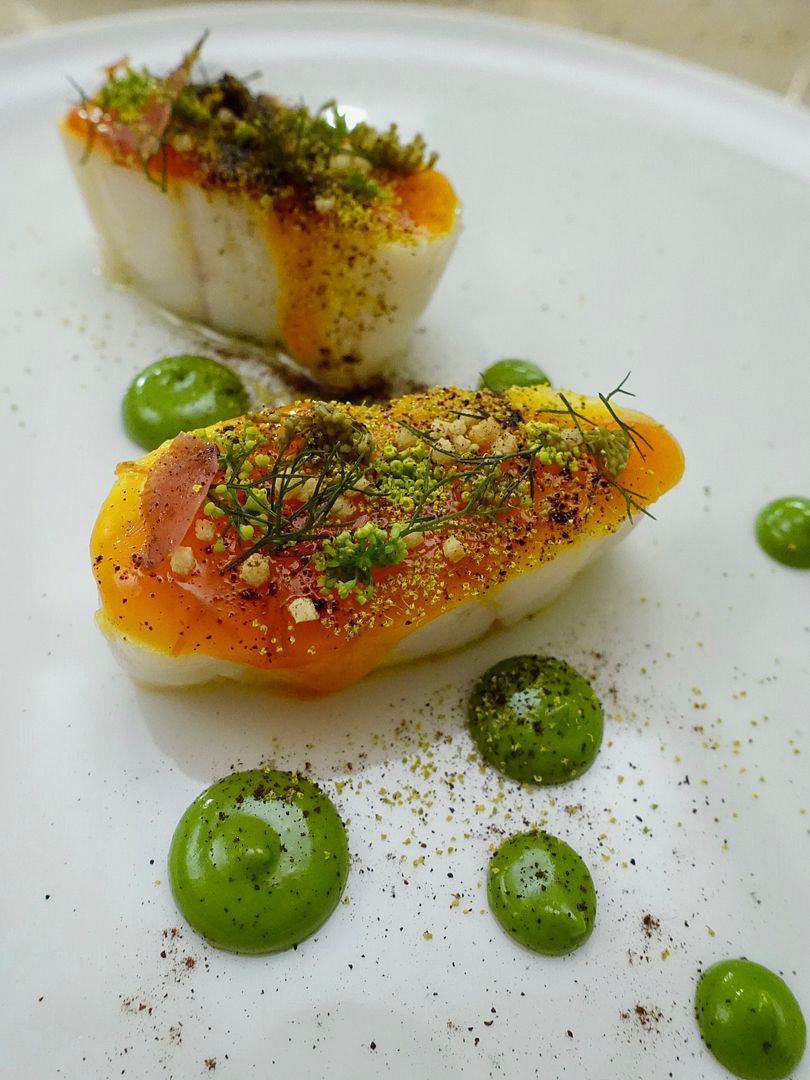 Since all the boys opted for beef, i decided to go with the Saffron Fish. Firm Raymond's black grouper is used in this dish and topped with an Iranian saffron gel, fennel rouille, pickled rosehip, and orange. Perfect choice if you prefer a main course that is lighter in flavors since this is herby and citrusy.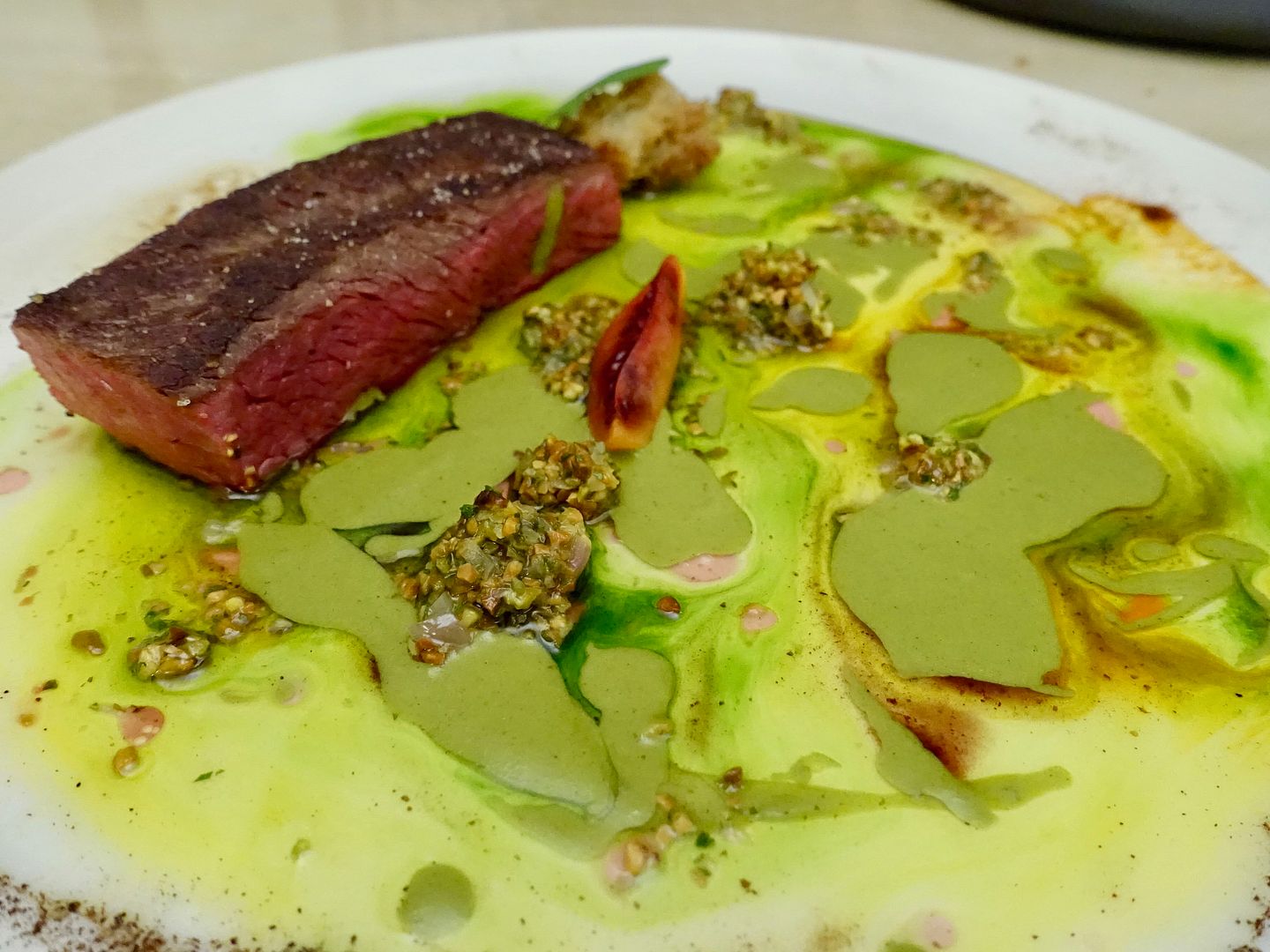 The
Beef with Oils
is a grass-fed wagyu rump cap with fermented jalapeño pepper paste, aromatic oils and panzanella. I loved the visuals of this dish, which reminded me of eutrophication. Maybe there was a message behind this dish. I thought the strong flavors of the sauce complemented the meat and i also loved the nuttiness that came from the pistachio.
To cleanse the palate, we had a citrusy Nasturtium marshmallow to prepare us for desserts.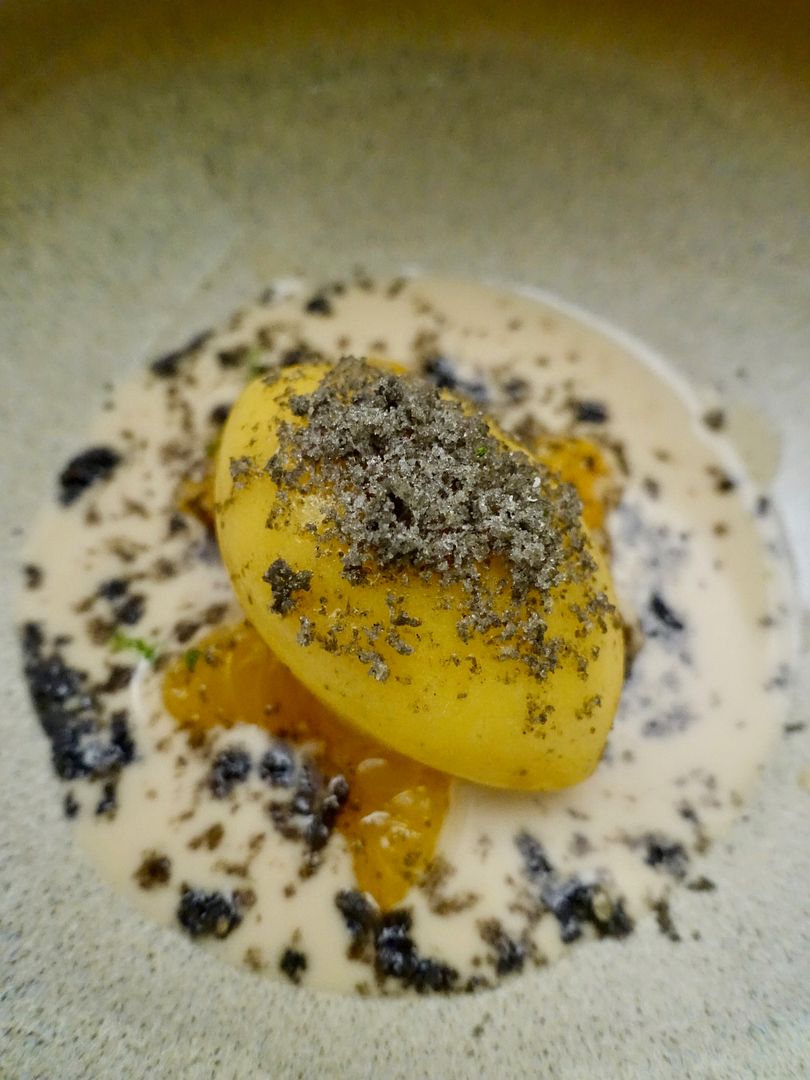 For dessert, we had the
Canton style Chilled Peanut Soup
. We were rather skeptical about the dessert because we Chinese go to proper Chinese Tang Shui houses for our desserts, but our wait staff swore that we would not regret it and indeed, it was the best peanut soup we've had. The peanut soup had all the oomph of a rich Cantonese peanut paste but none of that overwhelming thickness. The aged mandarin sorbet, with confit mandarin segments and halwa brought even more freshness to the dessert. I didn't think thatthis combination of citrus with peanuts would be so tasty.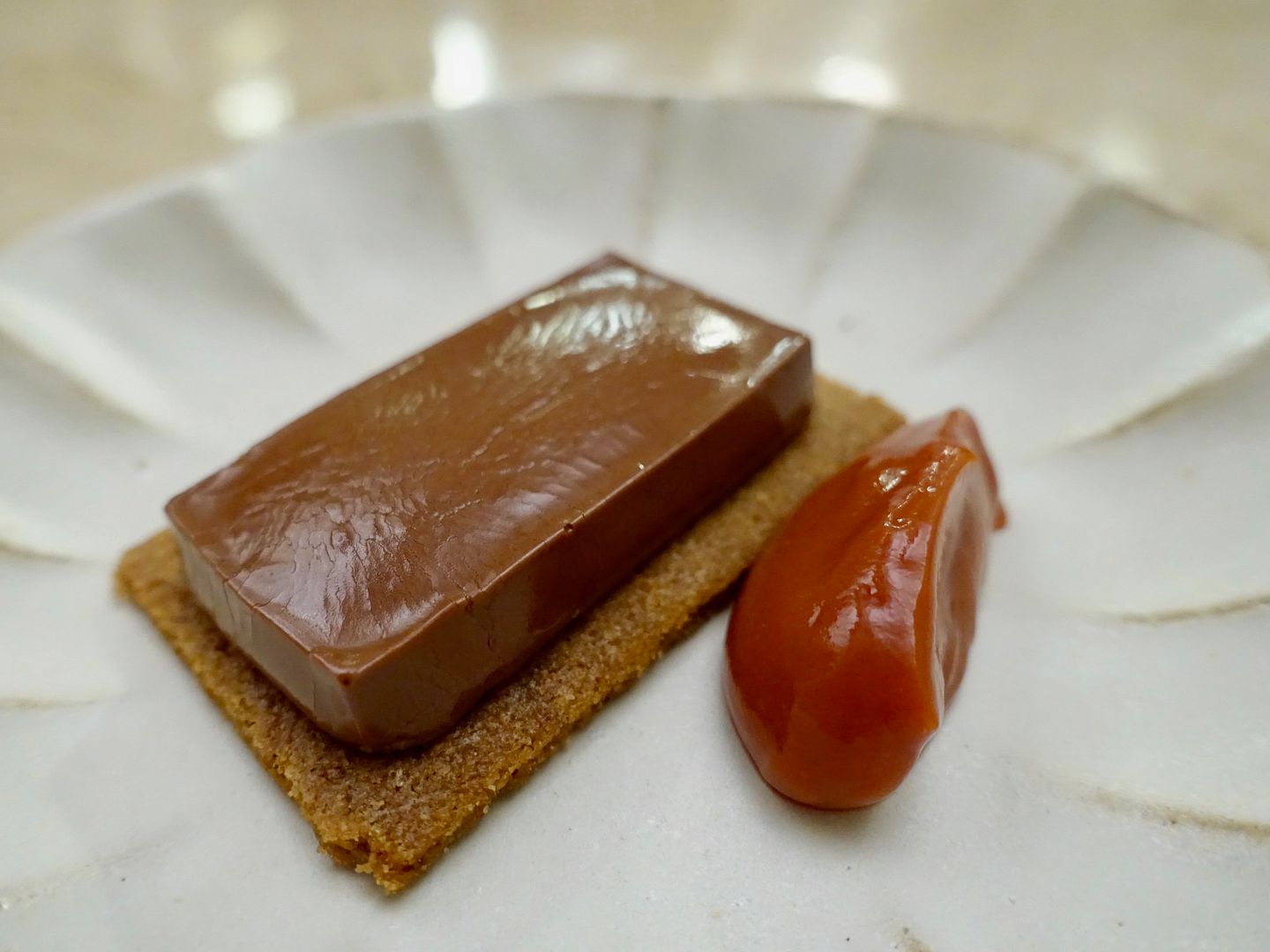 Because we were good kids (according to Chef), we were sent some post-dessert, a
single origin Pahang chocolate
on cracker, served at body temperature, with a dollop of a fermented fruit paste which has a tomato umaminess to it. I loved the creaminess of that chocolate and it was a delightful combination. A Sri Lankan Ceylon tea that comes paired with the snack helped to settle our tummies for the night.
I'm glad that
Nouri
got its first Michelin star because it's really one of a kind. Looking forward to more interesting dishes by Chef Ivan Brehm.
Nouri
72 Amoy Street, S(069891
Tel: +65 6221 4148