Amò
There was a time when we thought about fine Italian dining, the ilLido name would come up. I mean, that was before the booming food scene (i'm obviously not a young millenial). I remember dining at ilLido was a special affair- I parted with my hard-earned tuition money for a date at ilLido. How times have changed! Anyhow, now you don't have to break the bank and could enjoy the same great Italian fares at Amò, the smart-casual Italian eatery and bar by established restaurateur-chef Beppe De Vito of the ilLido Group.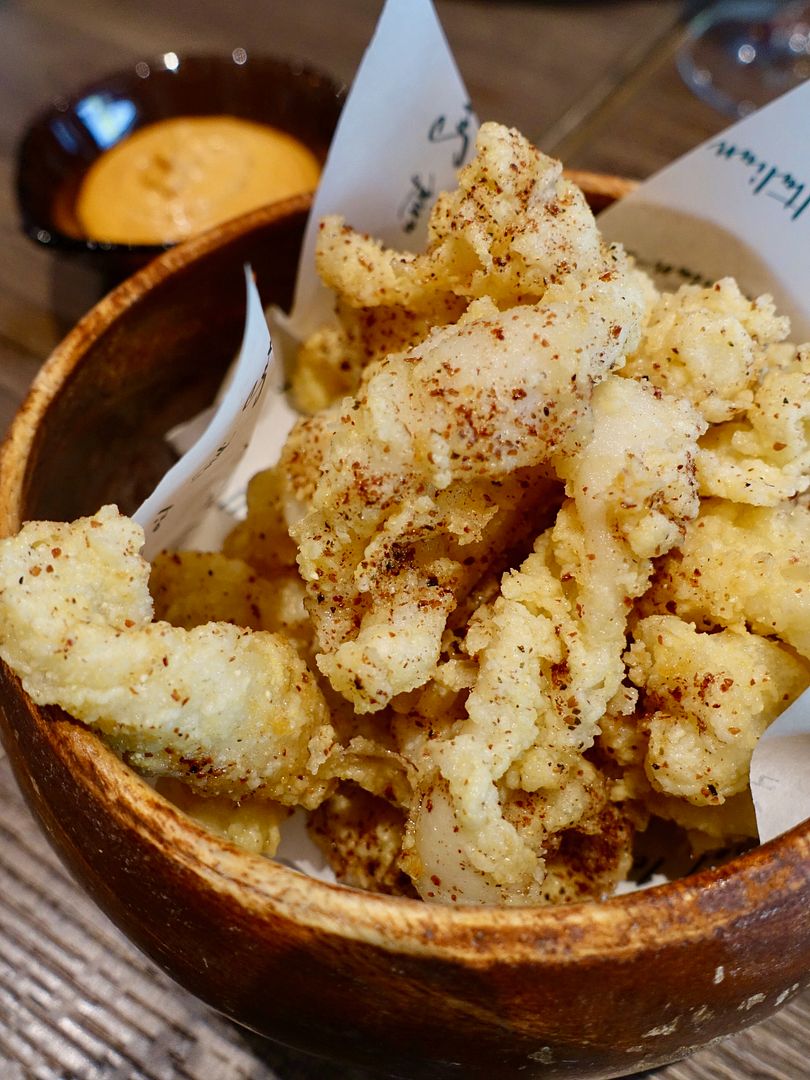 I very much preferred the casual-chic setting of Amò and also the central location at Hong Kong Street. We started our meal with a crispy calamari with sumac and sun-dried tomato aioli ($19). The sauce is what makes the dish, along with the crunchy batter.
Burrata
is always a good idea, and the one here is accompanied by an eggplant salad, walnuts and bottarga ($28).
Pizzas are the stars here at Amò, a result of the research on slow dough fermentation and cooking methods, as well as the best flour to use. Each pie is made from scratch and fired up in
an Italian-made stone wood-fired oven using specially-imported almond wood.
The result is a blistered crust and a thin and chewy dough.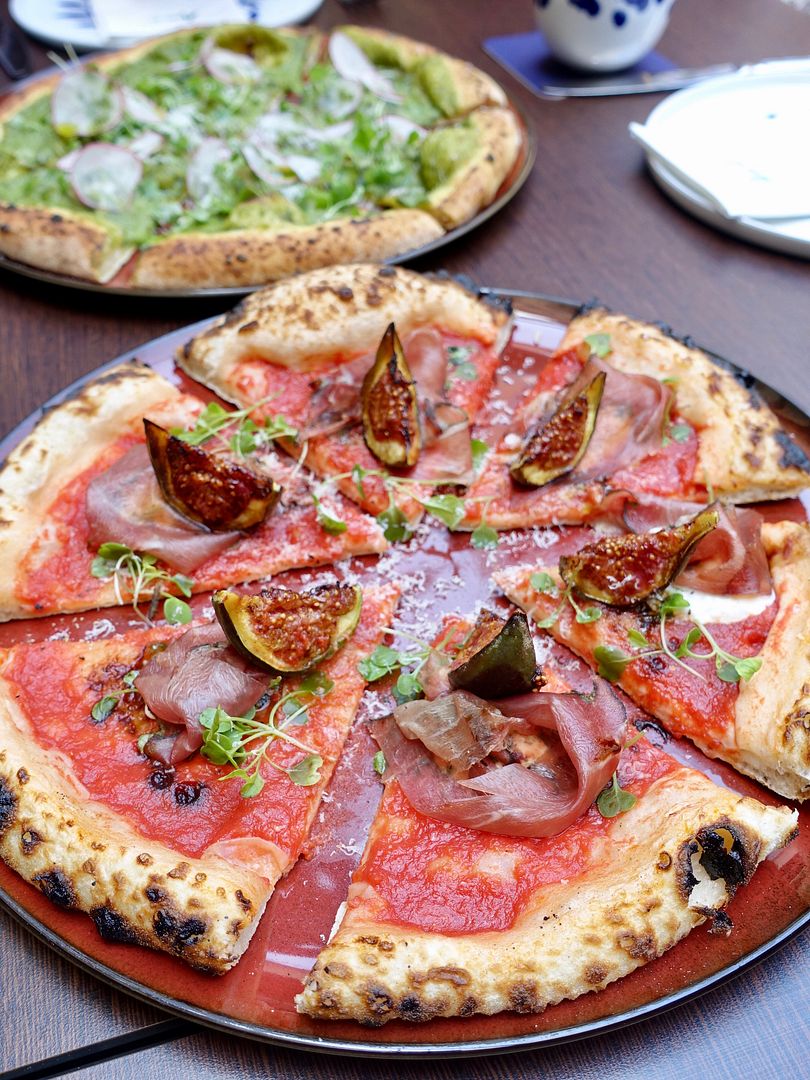 Served pre-sliced, each pizza piece is individually and beautifully garnished with an even distribution of toppings. The seasonal flavor we had was the
pizza with seasonal figs, Burrata, home-cured smoked ham and 25-year-old balsamic vinegar
. I'd imagine the plain ol Margherita
to be comforting too since the tomato base is a perfect harmony of acidity and sweetness.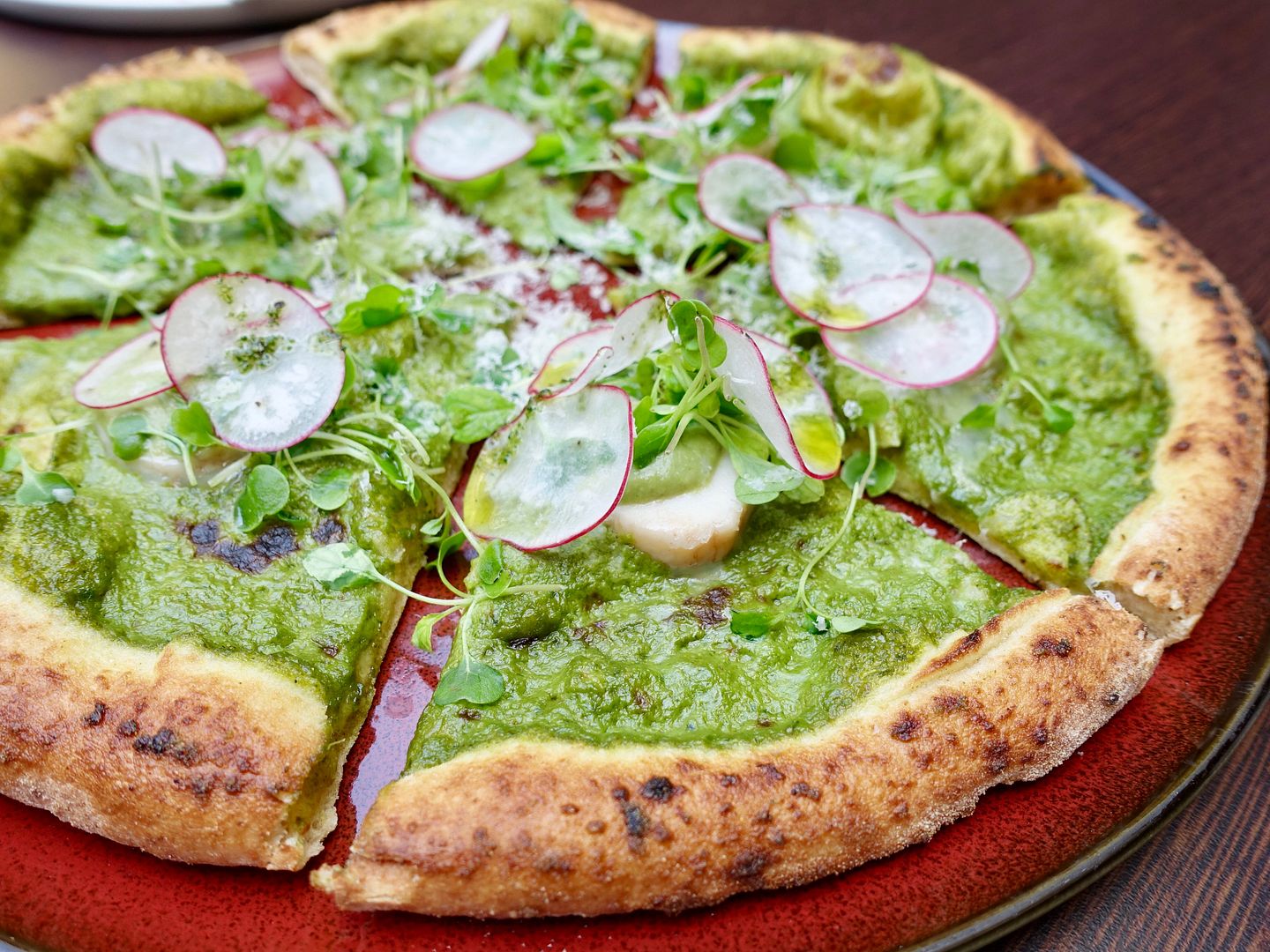 We also had one of Amò signature pizzas which is the
Bone Marrow, Wild Garlic Pesto and Anchovy Salsa Verde
($32). Classic Neapolitan-style pizzas such as the
Margherita DOP
($22) with buffalo mozzarella, San Marzano tomatoes and basil are also served.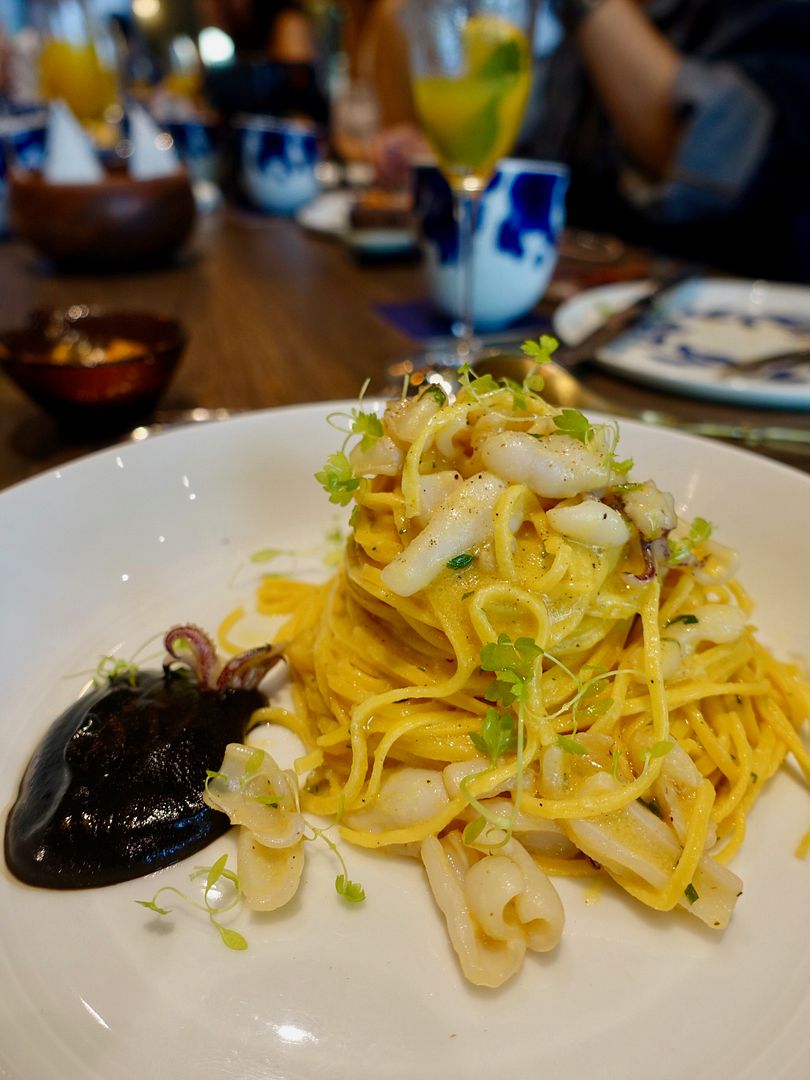 As part of the restaurant group who is behind some of Singapore's best pasta dishes, Amò has placed the same heavy emphasis on its homemade pastas, each freshly made with eggs and semolina. The Tagliolini with Spicy Young Cuttlefish and Squid Ink ($28) picked up the flavors of the seafood and the slightly spiced sauce perfectly.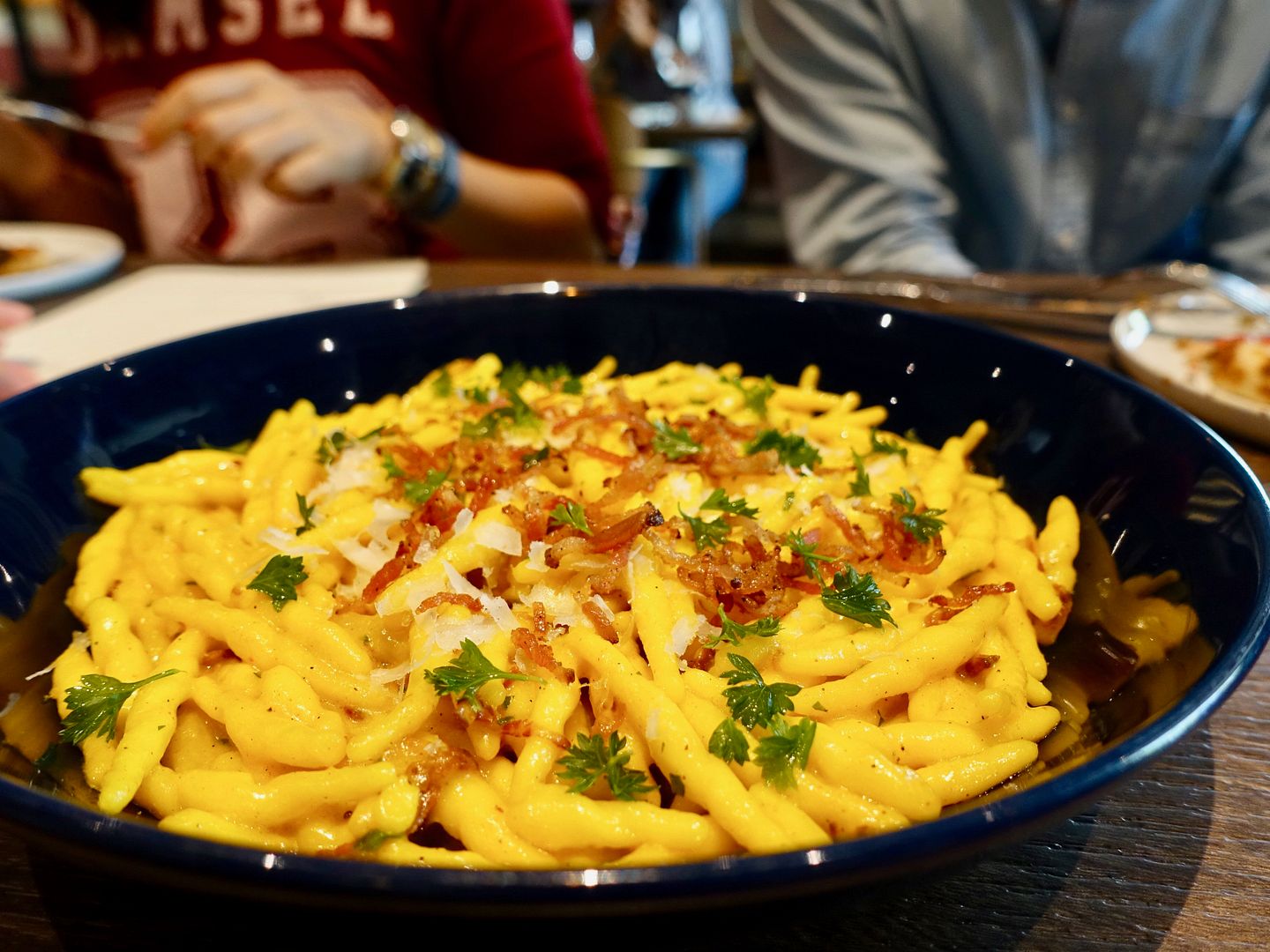 I'm not quite the fan of the twisties-looking Casarecce with Black Pepper, Guanciale and Saffron ($27). It's made up of doughy worms which were hardly flavored by the sad strips of cured pork cheek. Boring. Next please.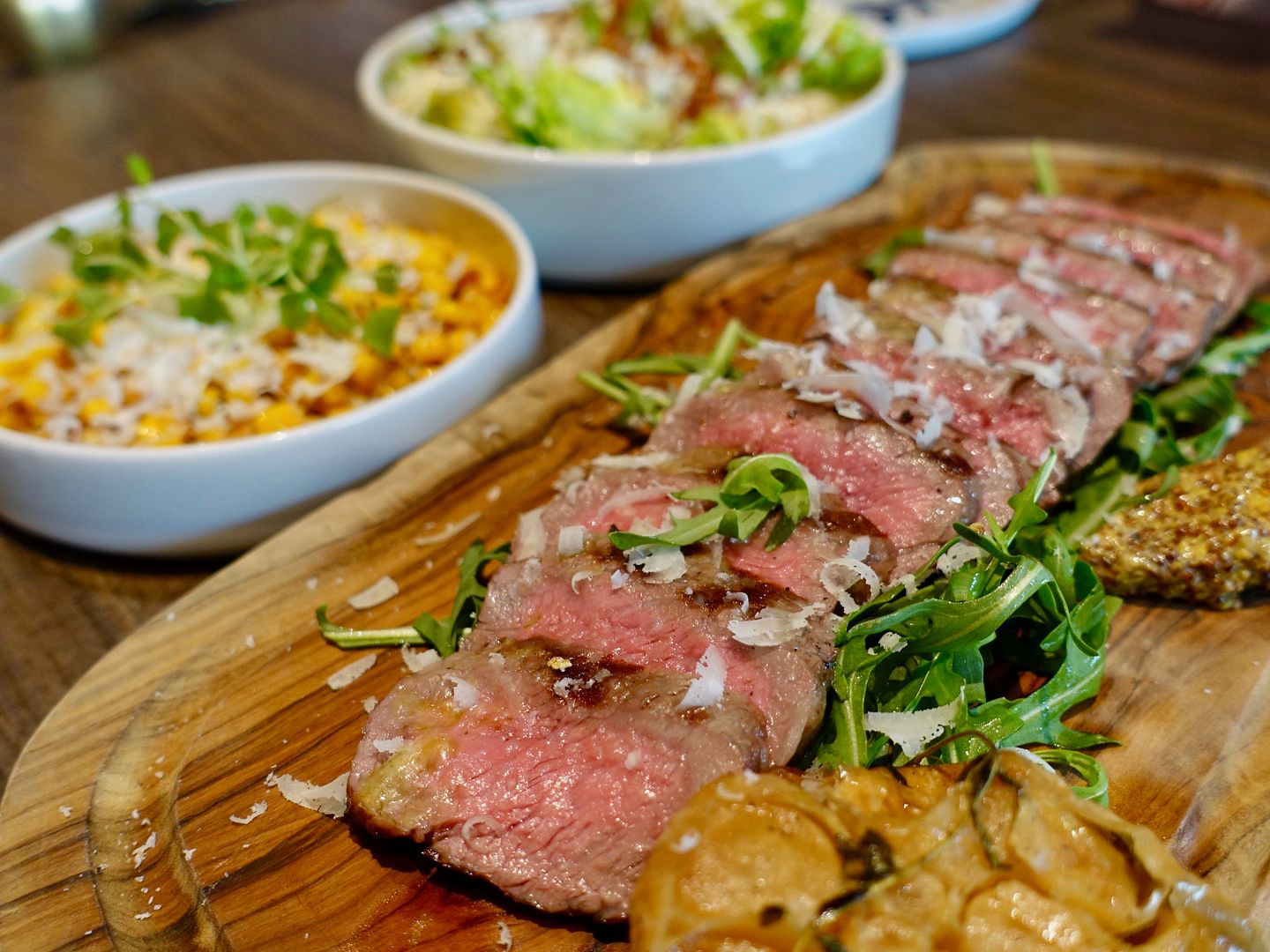 We'd never say no to a good piece of steak and the Grilled Angus Beef Tagliata with Rucola and Parmigiano Salad ($48) was the right choice. Choose from a selection of sides which include the Sweet Corn with Smoked Ricotta Cheese and Black Pepper ($9), and also the Baby Gem Lettuce with Crispy Pancetta and Anchovy Sauce ($12).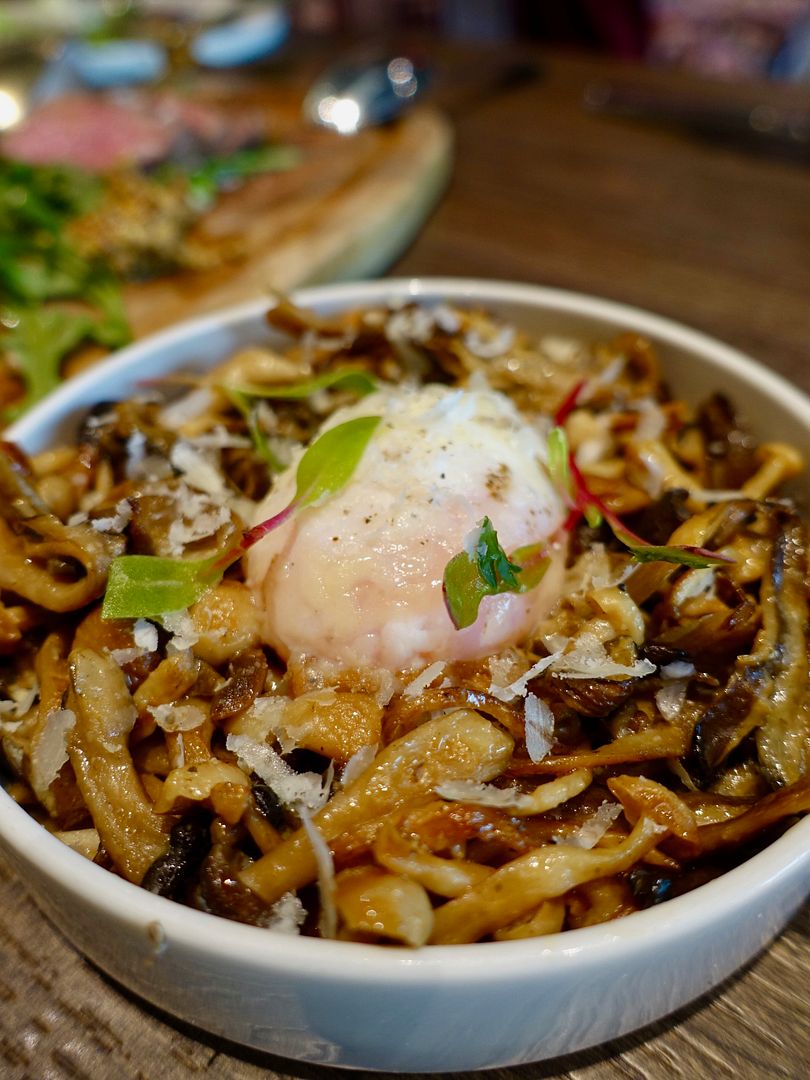 I'd recommend the Roasted Mushrooms with Egg Confit and Caramelised Onions ($9) as a side/starter. The earthiness was refreshing after all the carbs.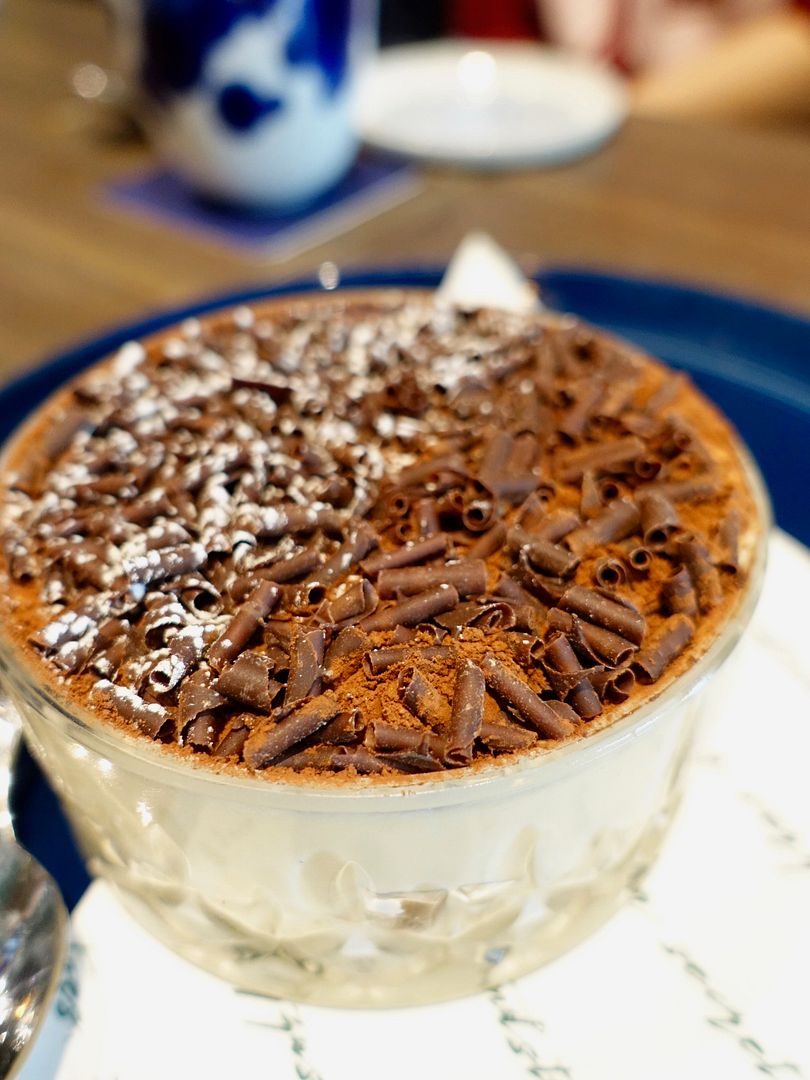 The Tiramisu ($15) at Amò is done right. How could they not? Dig into a light cream that is full of coffee and unfortunately not that much rum/coffee liqueur. Be careful not to inhale the cocoa powder while nibbling on the chocolate twirls though!
The Ricotta Cheese Castagnole with Moscato Sabayon ($15) paled in comparison to the tiramisu but i don't know many who can resist fried doughnut with custard.


What's really cool about Amò is that you can actually take home their pizza kits and make your own pies! The full kit includes: Amò's homemade pizza dough $8, Amò's homemade Chili Paste $12, Amò's Homemade Pumpkin Sauce $3, Amò's Homemade Tomato Sauce $3. It may not turn out as good as the ones at Amò but it's pretty fun making your own!
33 Hong Kong Street Singapore 059672
Daily: 12 - 3pm, 6 - 11pm