Little Fat Sheep Hotpot
For those who travel the world in search of great hotpot experiences, the name Little Sheep (小肥羊, or literally Little Fat Sheep) needs no further introduction with their outlets in Canada, China, Japan and the US. For the rest of us who prefer local food adventures, we'll be glad to know that they've finally come to Singapore, with their first outlet located at One Fullerton.
Given the glut of hotpot places opening in Singapore lately, our first impression was that Little Sheep needed to really bring their A game if they wanted to stand out from the crowd. After our first visit to their latest outlet, we were certain that Little Sheep is more than ready to take on the competition.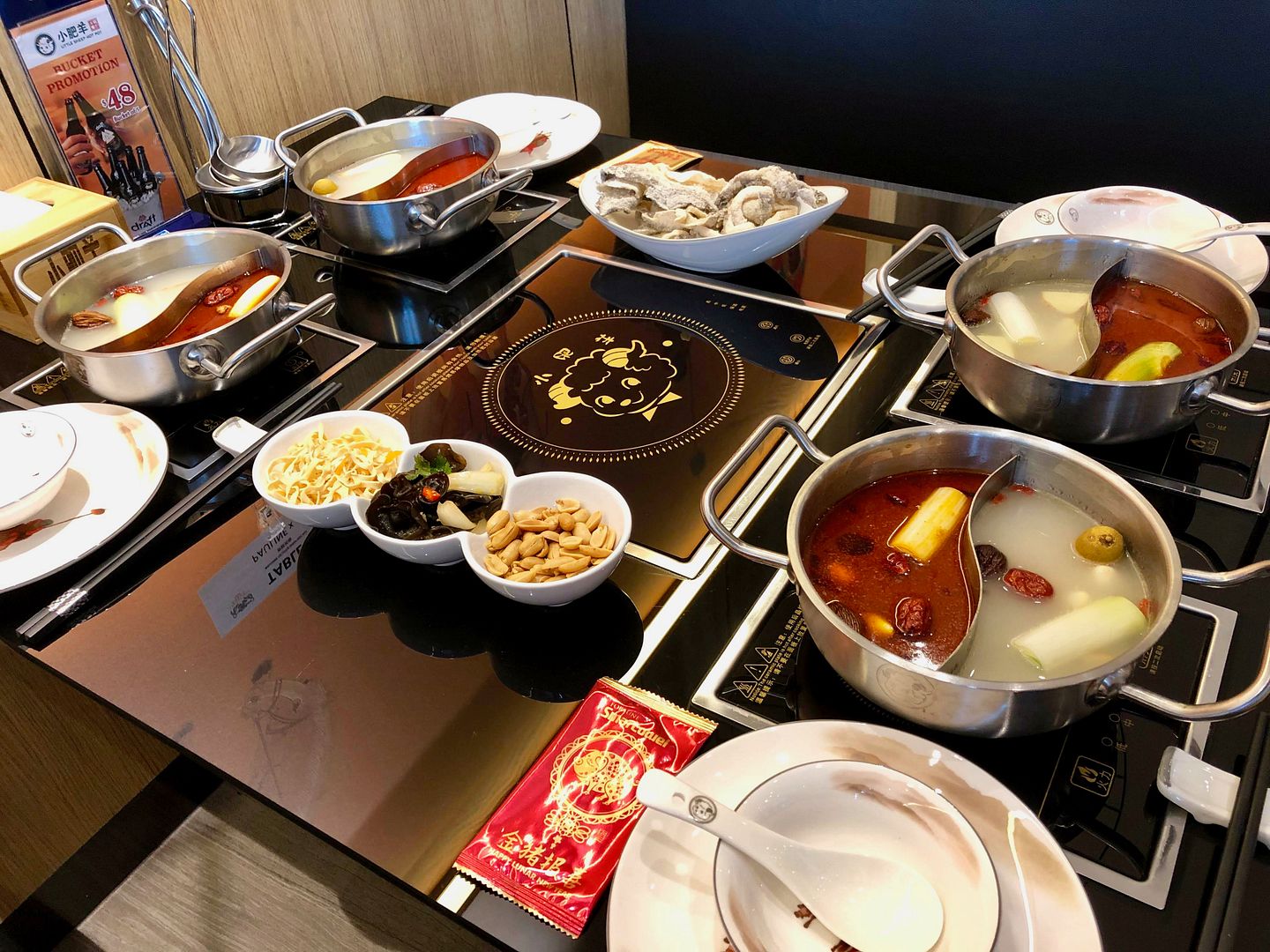 Established in 1999 and originating from Inner Mongolia, Little Sheep's offering focuses squarely on the quality of their broths and the freshness of their ingredients. Their signature broths include House Original White Soup ($9 for small / $20 for large) as well as a fierier House Spicy Mala Soup ($9 for small / $20 for large). I was particularly impressed by Little Sheep's Mala Soup, since it came with plenty of flavour without being too intense.
Little Sheep has a range of sauces similar to most other hotpot joints, along with some unique touches for those of us with more adventurous tastebuds (think lime juice, or fermented beancurd) to explore. However, the fact that all labels are in Chinese also means that patrons who don't read the language will face more challenges here – a key area of improvement for sure. Having said that, our servers were also more than happy to mix their house blends for us, even going as far as serving a special one meant for pairing with their fresh seafood.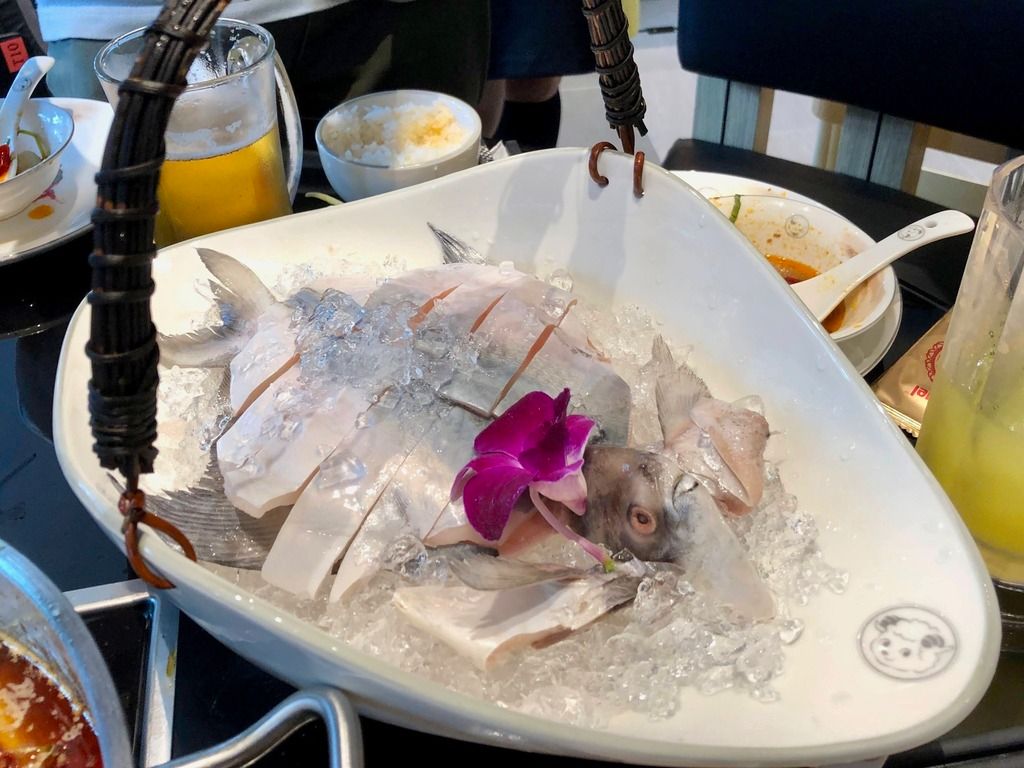 Most hotpot places serve reasonably fresh seafood, but the
White Pomfret
($22) served on ice gets top marks for presentation as well as quality. When we were done, our servers added the bones to the soup – although it's fairly common for fish head steamboat, it's less common to do that for hotpot (and for good reason – it takes up real estate in the pot and doesn't add much to the dining experience). Our recommendation? Skip adding the bones entirely – the soup doesn't need the boost!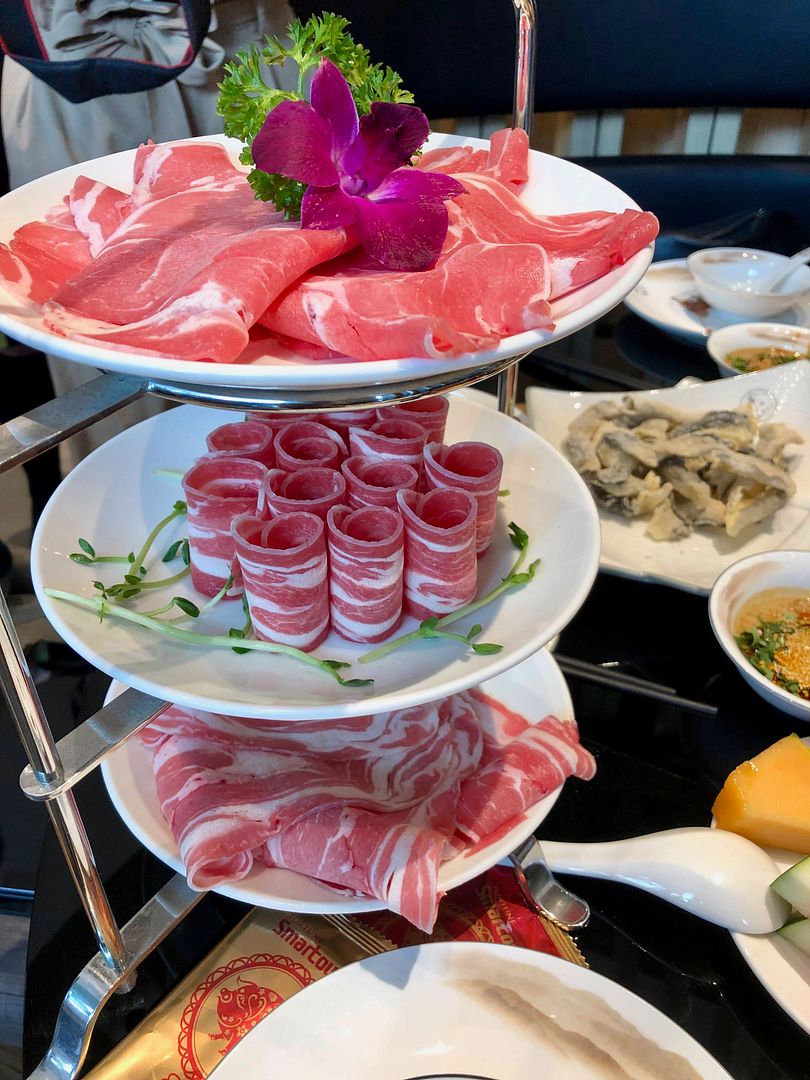 Little Sheep's main claim to fame (as the name suggests) is lamb, best represented by their 3-Tier Signature Lamb Platter ($36). The lamb is fresh and sliced thinly enough to cook within seconds in the pot, and was an absolute delight, even for those who don't usually enjoy lamb. We also didn't detect any of the gaminess or strong flavor typically associated with lamb, which made the meat even more enjoyable.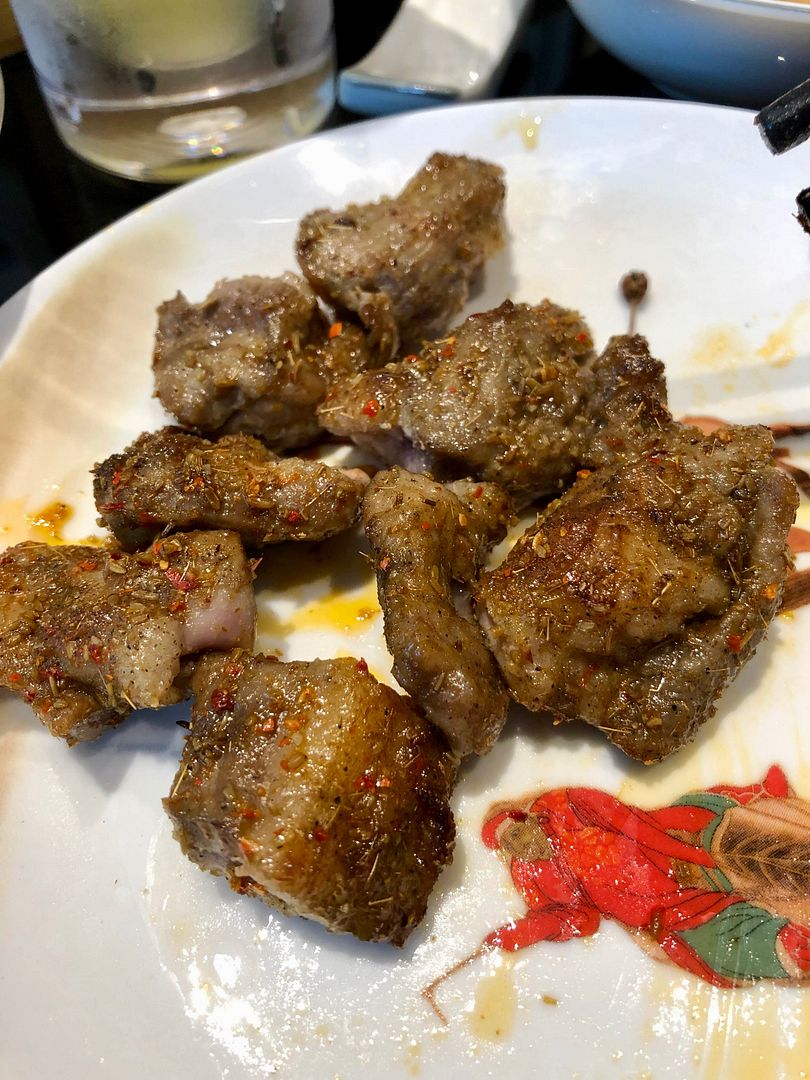 However, the real showstopper was clearly the Signature Lamb Kebab ($8). Heartily seasoned and served fresh from the grill, sliding the chunks of juicy lamb off large metal skewers made for a really fun dining experience, not to mention tasty. For a more adventurous experience closer to Little Sheep's Mongolian origins, put manners aside and consider eating your lamb right off the skewers!
No hotpot experience is complete without the usual meatballs and assorted dumplings, but Little Sheep once again takes it to the next level with their Handmade Prawn Paste ($9/$18) with bits of fresh prawn providing texture, as well as Juicy Beef Balls ($8) that squirt boiling soup if you're not careful while biting into them (yes, we're speaking from experience). Skip the dumplings unless you're a fan of starchy soup (it disintegrates) and save your stomach space for something a bit more exotic like the Handmade Snakehead Fish Paste ($9/$18), or even the Pork Aorta ($13) and Beef Tripe ($16).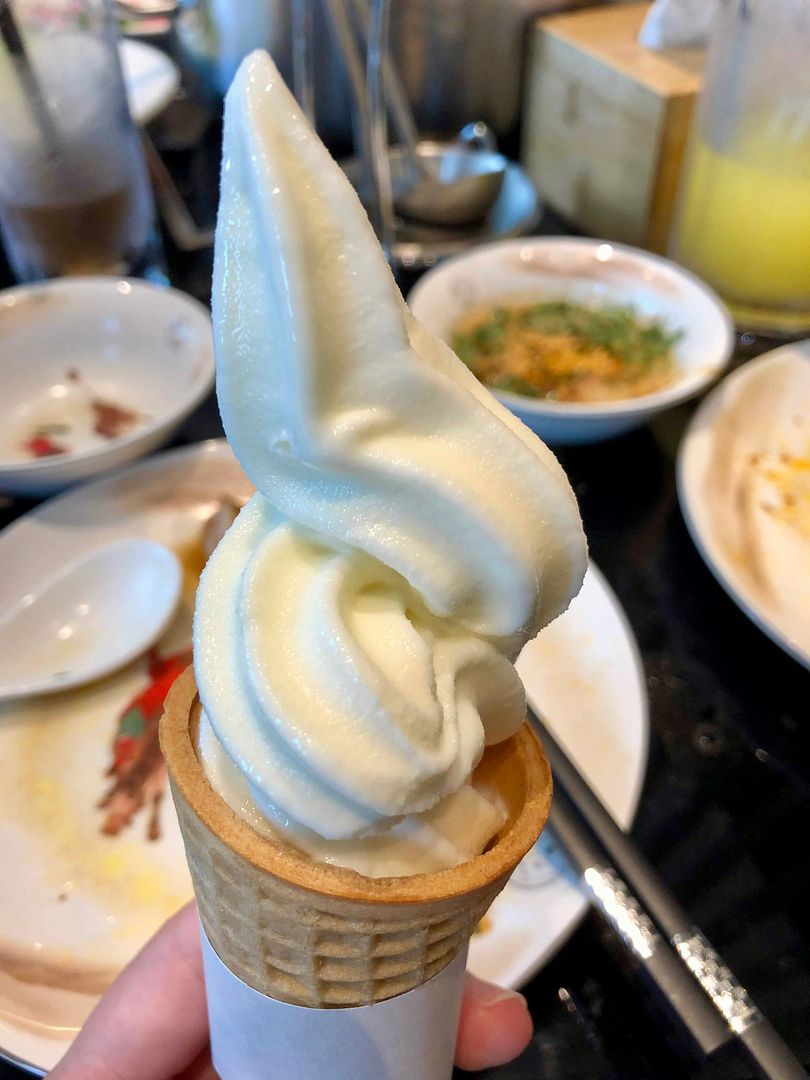 Finish off your meal with some of Little Sheep's complimentary soft serve (which we liked for not being too sweet), and walk off some of the calories along the Fullerton promenade – a really satisfying way to end off a satisfying hotpot experience.
-Ben
Little Sheep Hot Pot
One Fullerton #01-05
1 Fullerton Road, Singapore 049213
Daily: 11am - 11pm