Les Bouchons Sunday Riviera Brunch
How about brunching like the French this Sunday? Think alfresco dining on French classics, right next to the riverside. Les Bouchons Rive Gauche at Robertson Quay will provide that experience with their new 'Bouchons Riviera Brunch' menu that is designed by Head Chef Mickael Cornac. With 30 newly created all-time brunch favourites a selection of their signatures, you'd be spoilt for choice.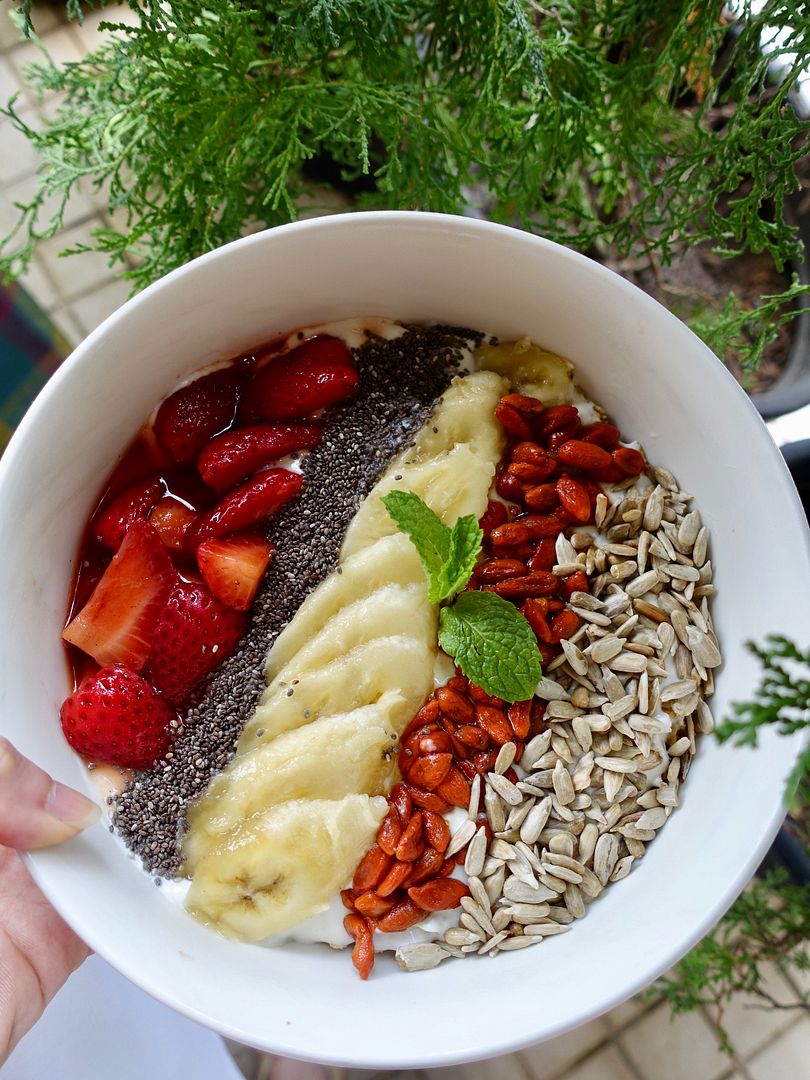 Start with something refreshing, like the Riviera Wellness Bowl ($18) which is packed with granola, honey yoghurt, goji berries, banana, strawberries and chia seeds. The strawberries have been cooked in balsamic vinegar for an extra tang. Order this to share as a starter, or for desserts even.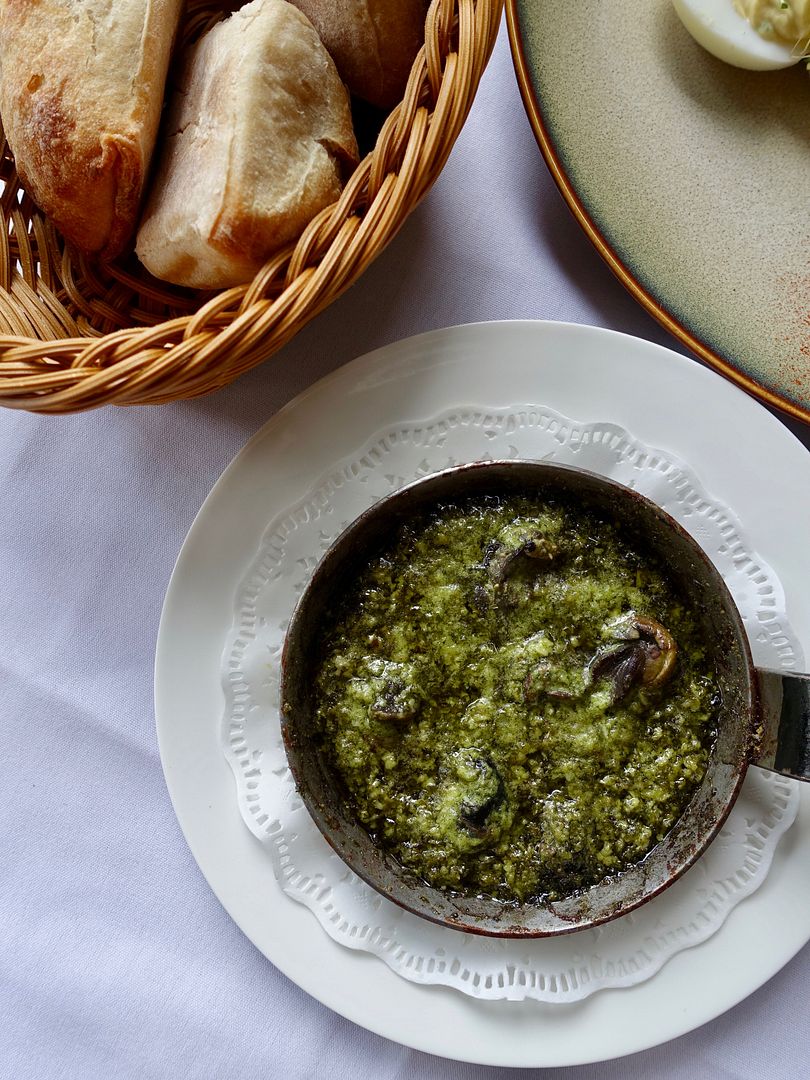 Other starters include the classic Eggs Mimosa ($14) and the Escargots De Bourgogne ($16). The eggs mimosa may sound very simple but if you only tried making it yourself, you'd know that it's a lot of work to cream those yolks. The Burgundy snails were shelled and cooked in a refreshing pesto, which made them perfectly easy to eat with the crusty warm bread buns.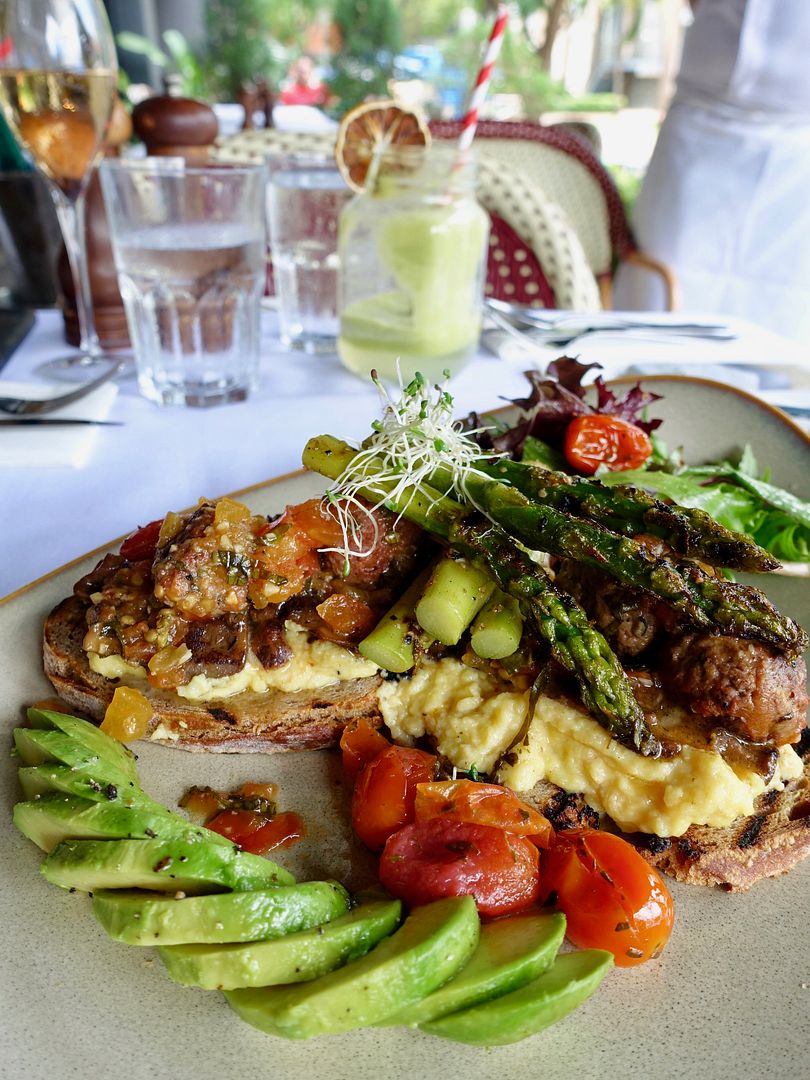 History has it that the concept of Sunday brunch came about as a means to overcome a British author's own hangover from the night before about 120 years ago. As a homage to this, the 'Bouchons Riviera Brunch' menu features the Gueule de Bois ($24) or more commonly referred to as the Bouchons Hangover Cure. But hang on, it's served with "Impossible" meatballs, scrambled eggs with truffle oil, sautéed porcini mushrooms, roasted cherry tomatoes and asparagus on a toasted sourdough bread. Talk about hearty and healthy hangover food! The portions are massive btw!
There's a rotating Bouchons Sunday Roast ($32) served with mushroom sauce and roasted baby potatoes and the roast changes weekly. We had roast lamb which has been marinated with capers, anchovies, mint and paprika. I didn't quite enjoy the powdery lamb but the mushroom sauce was a perfect earthy creaminess. I would drink the sauce as a soup.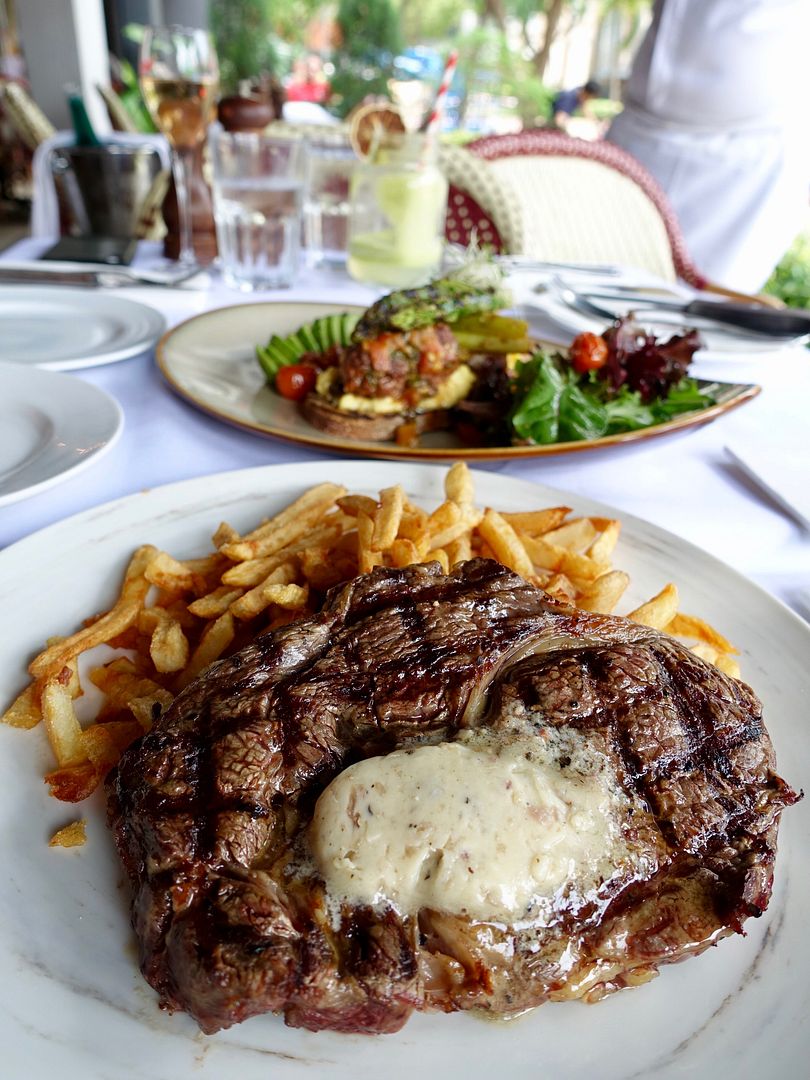 A safer bet would the Bouchons' signature steak frites! The Grilled Black Angus Rib Eye Steak ($39.80) is served with vigneron butter, mixed salad and free flow homemade french fries! The tender red meat was perfect with the butter but you can also flavor your meat with their their house-made condiments such as bearnaise and mayonnaise. I loved the intense potato flavor and the crispy edges of the fries.
For desserts, if you still have space that is, the Chocolate Brownie "Fait Maison" ($10) cannot be missed. A 66% Valrhona chocolate is used to give it a rich intensity. I liked that it wasn't too sweet.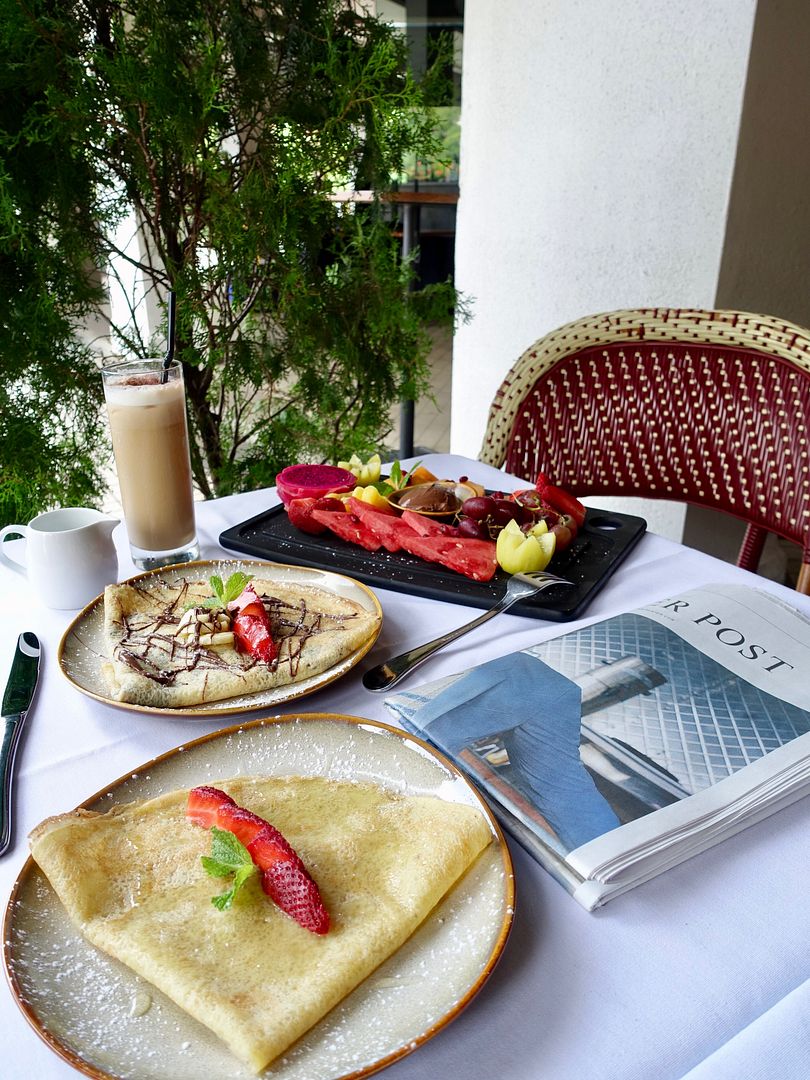 French crepes with choice of sugar, Nutella, banana or honey ($8) are also available.
Complementing its food menu, diners can experience brunch with a cocktail or champagne from the exclusive boutique collection of Champagne Jean Vesselle.
I'd recommend steak for Sunday brunch at Les Bouchons anytime, but pick a good day with cooler weather though!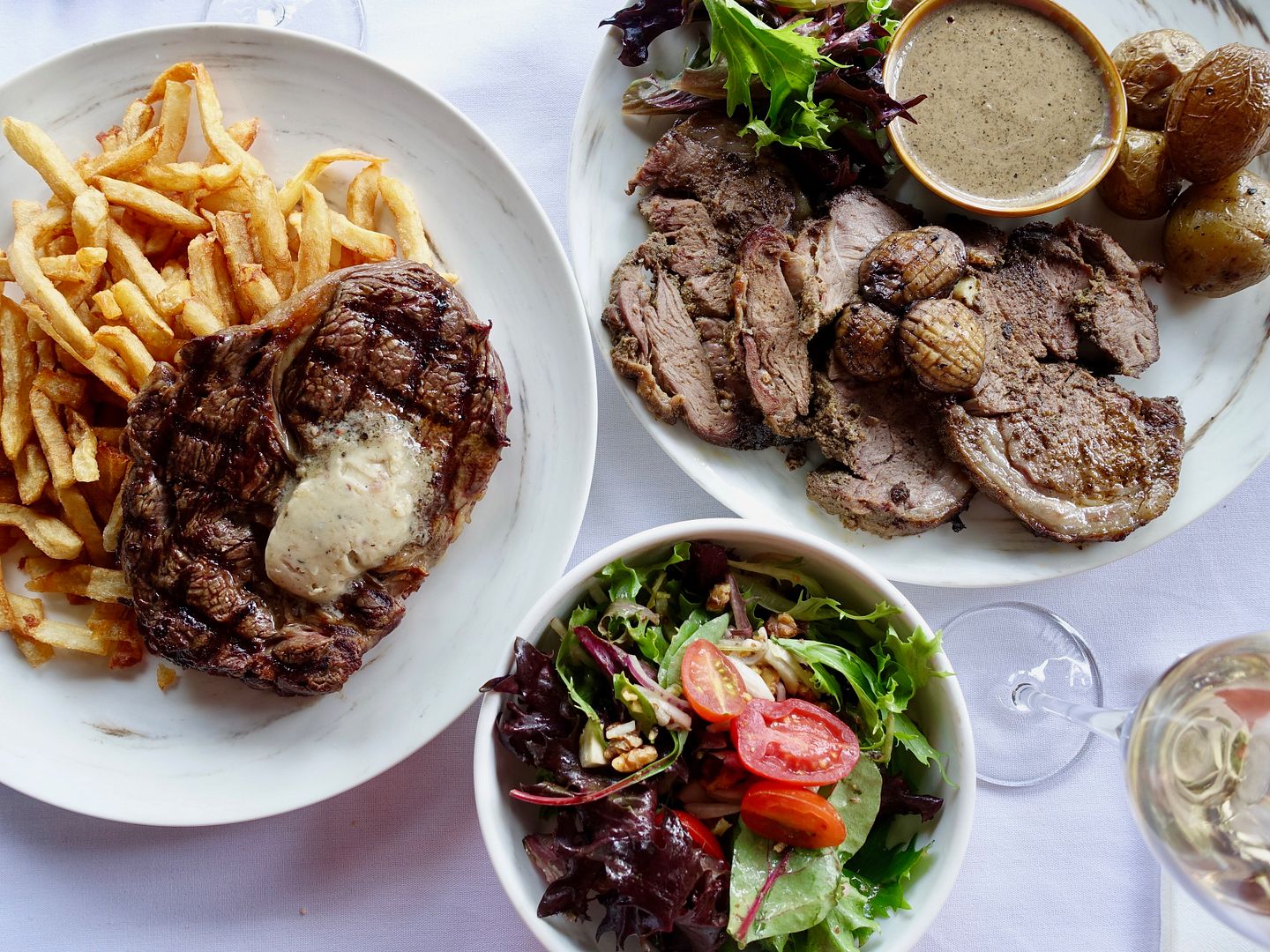 60 Robertson Quay, #01-02, Singapore 238252
Tel: +65 6733 4414
Sunday Brunch: 11.30am - 3.30pm