Sichuan Dou Hua- Colours of the Sea
There's nowhere else i'd head to for a good Sichuan meals but Si Chuan Dou Hua Restaurants and they've introduced a variety of seafood dishes "Colours of the Sea" which is available till 12 Jan 2020 at their three outlets. TOP of UOB Plaza and PARKROYAL on Beach Road are offering special a la carte and set menus, while PARKROYAL on Kitchener Road serves a buffet.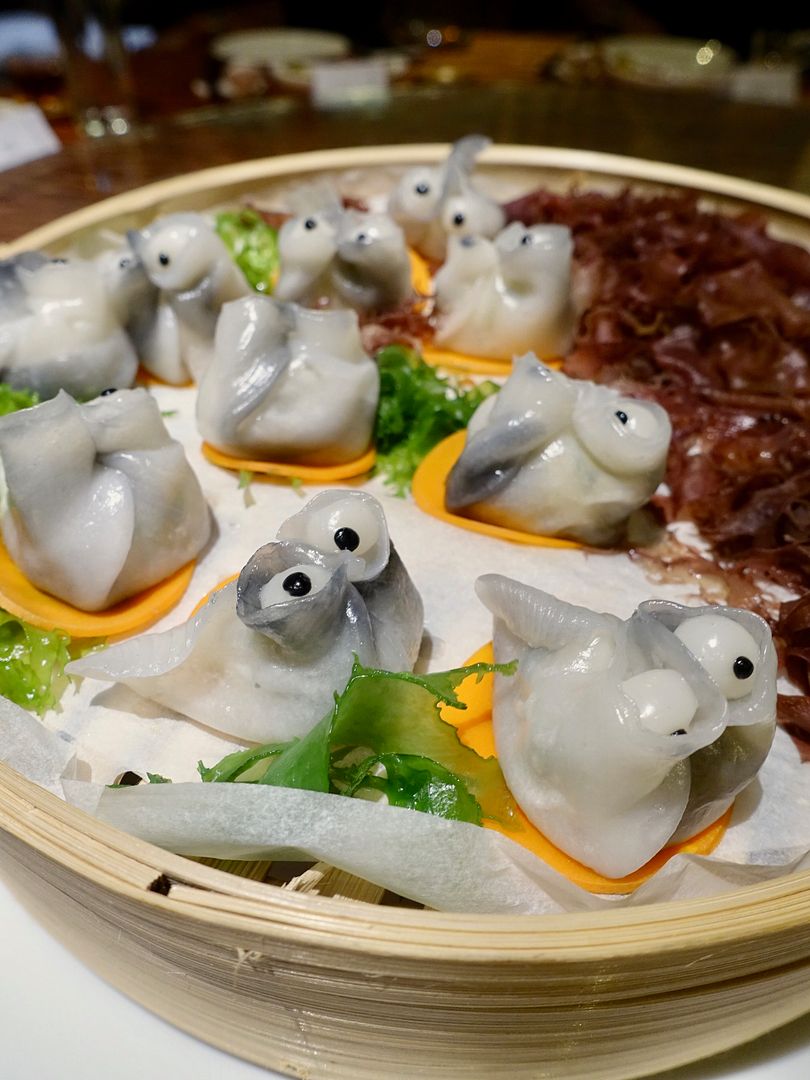 Did you know that Si Chuan Dou Hua Restaurant is
pufferfish
on its menu? Their fish is imported directly from Japan. Check out these cute
Steamed pufferfish dumpling
which is exclusively available at TOP of UOB Plaza, where you can also enjoy the rest of their delectable dimsum bites. Expect a refreshing sweetness in this dumpling.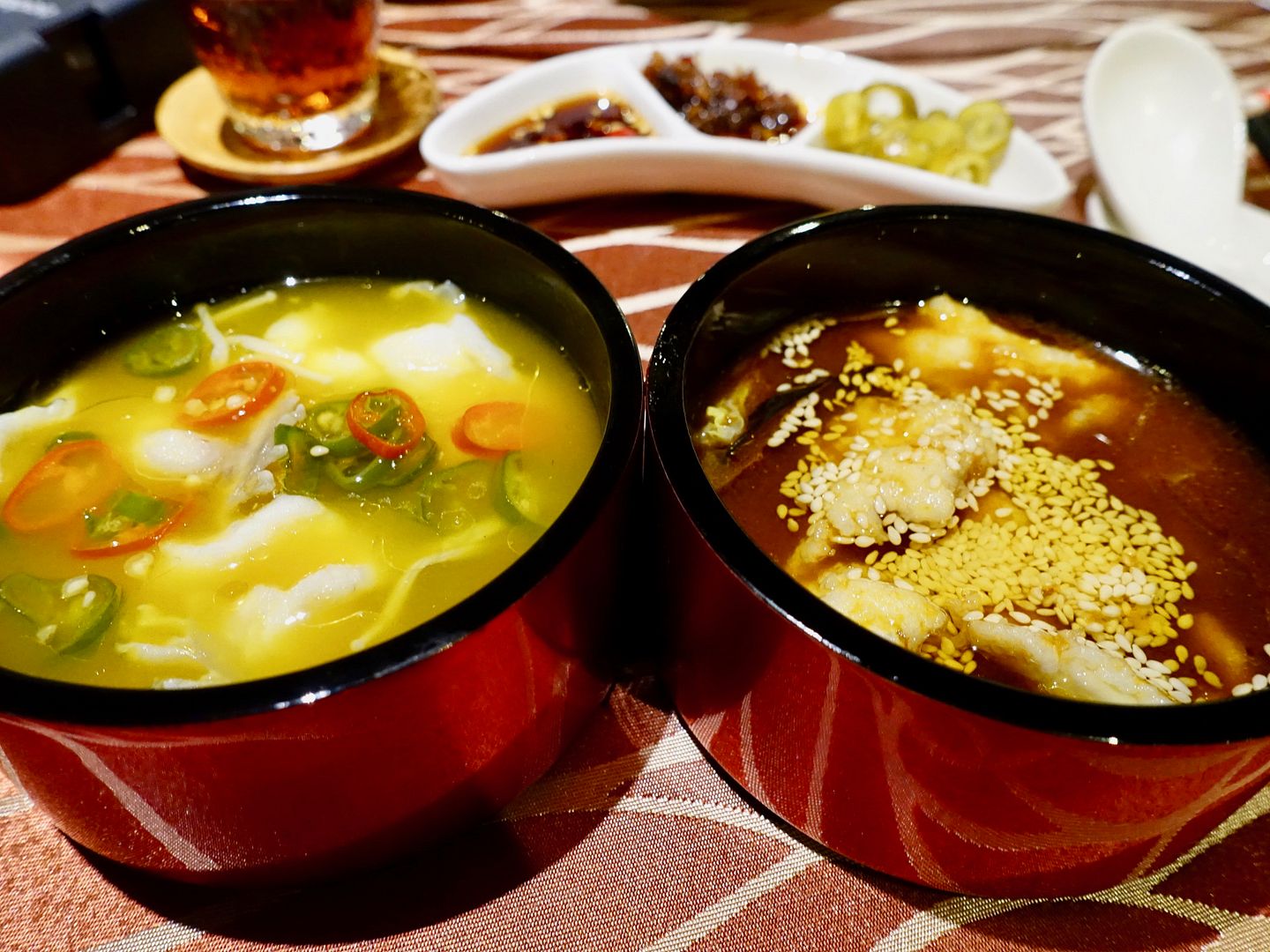 Another must try is the Sliced pufferfish with fresh chili and sesame (right). I love the blend of spices and the sesame fragrance in this one.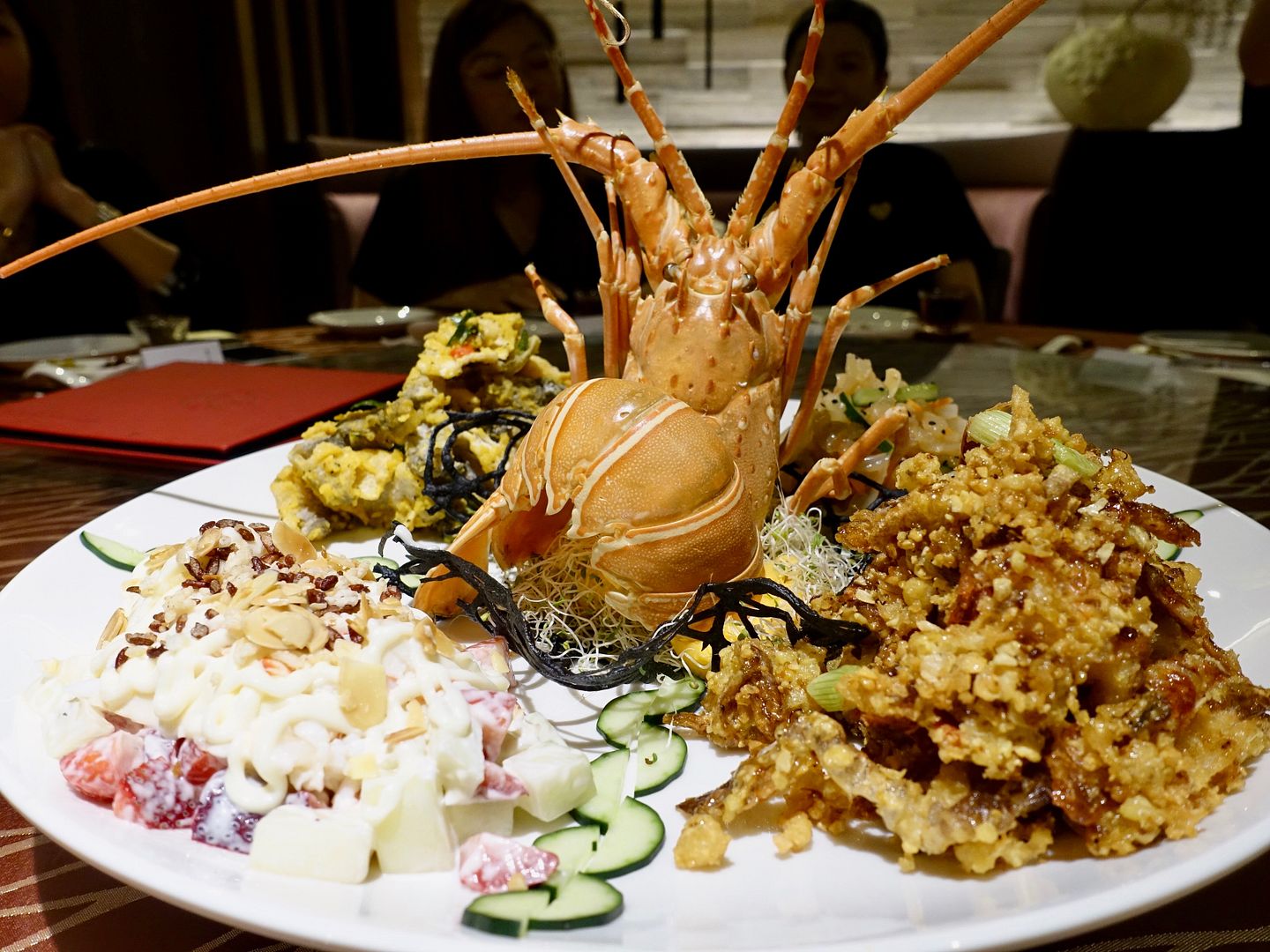 There's no such thing as regular seafood dishes at Si Chuan Dou Hua as we were wowed by the interesting combinations of flavors. In the seafood combination platter, what stood out was a crispy
soft shell crab with Osmanthus sauce
that all of us could not stop nibbling on due to the lingering floral taste. The
salted egg fish skin
was irresistible as well.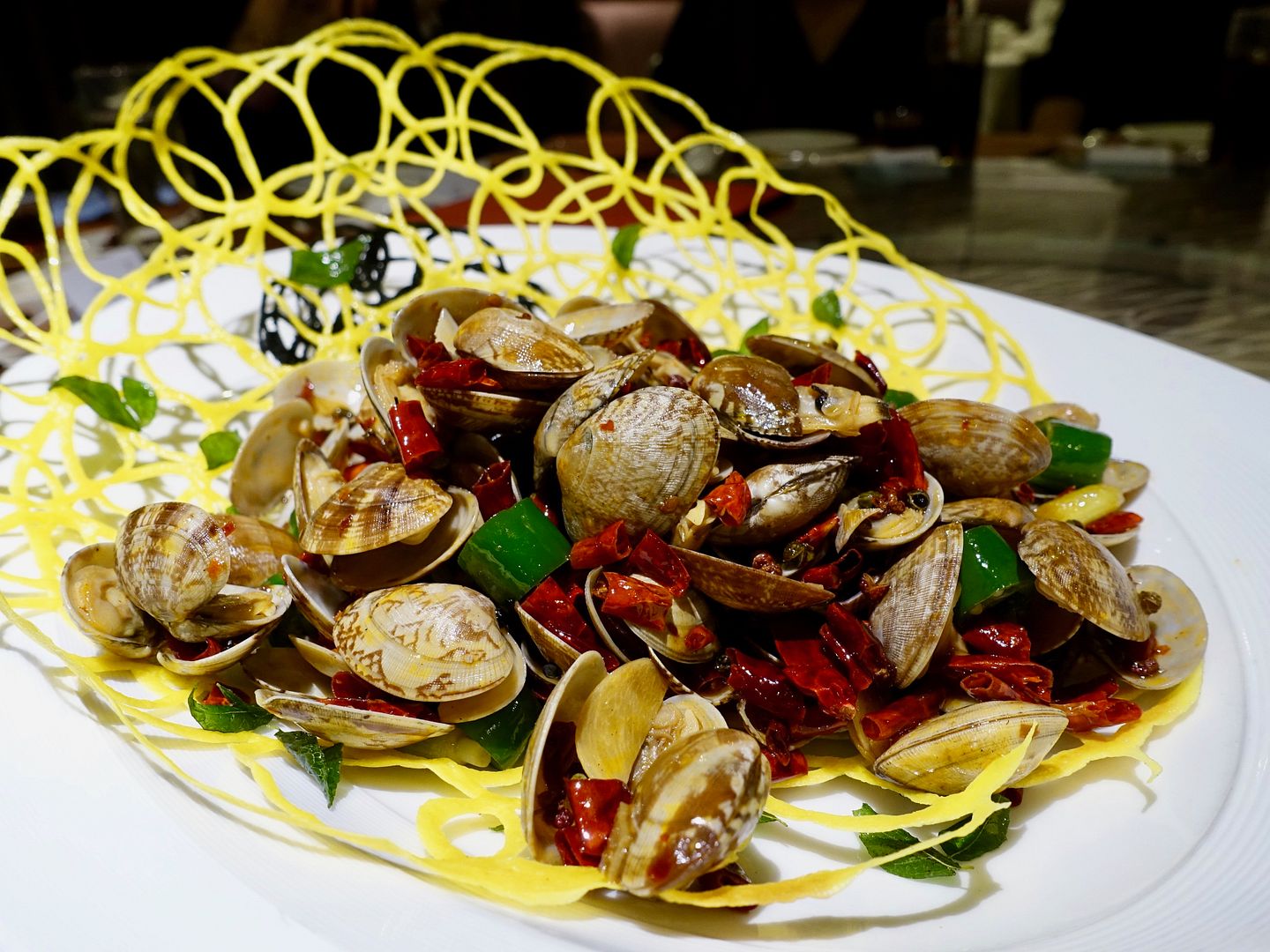 We've tried several La Zi Ji (Diced chicken in spicy sauce) but SCDH remains the best one we've had in Singapore. But we may cheat on it with SCDH's Stir-fried clam with spicy bean paste if we could only eat one spicy dish! This was numbingly spicy and boy that burnnnnn was real. Despite that, we could not stop eating it! Also, we could still taste the sweetness of the clam even under all that spice.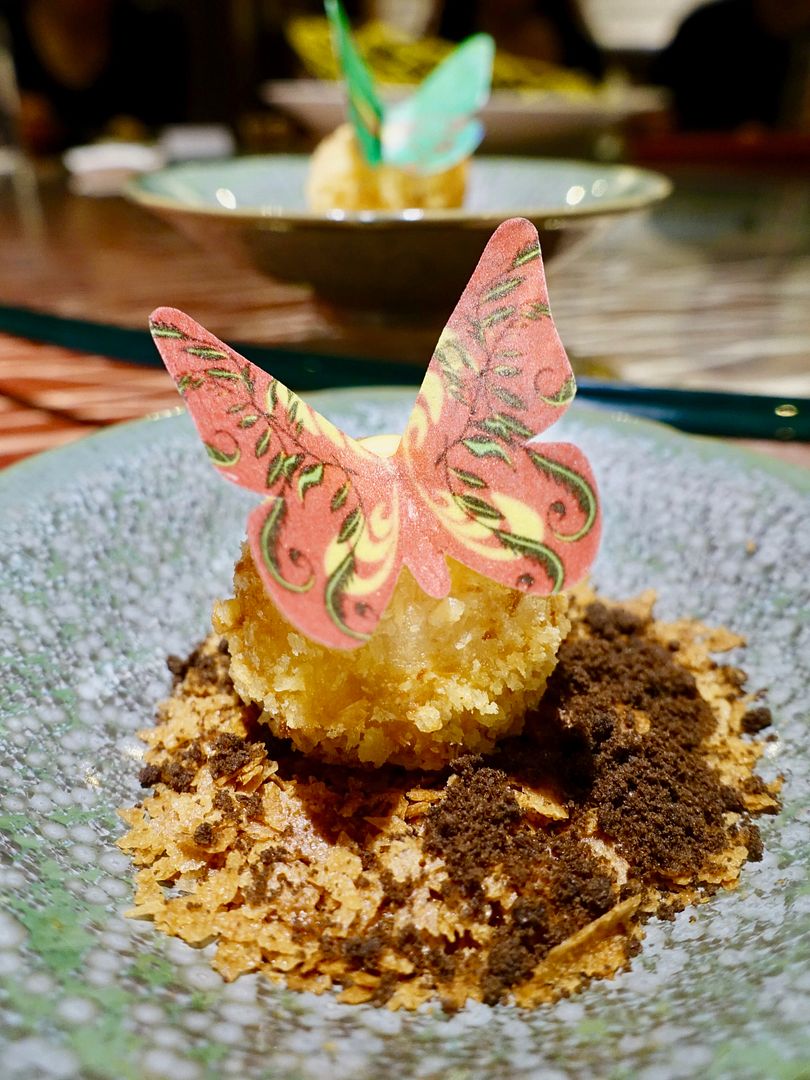 If you like something more inventive, there's a Deep-fried lychee with crab meatballs in passion fruit sauce though i thought the broken egg roll crust kind of throws the dish off. I could not really taste the crab in this dish.
For something more traditionally Sichuan, PARKROYAL on Beach Road provides the authentic flavors. One of my favorite was the Steamed giant garoupa in Sichuan peppercorn sauce. The seemingly harmless sauce packs a punch with its sour and spicy flavor. The sourness is from natural fermentation of the green peppers and i loved the rich and sticky stock.
A special at the PARKROYAL on Kitchener Road seafood buffet is this luxurious double-boiled soup teeming with various seafood items such as their homemade Shunde minced fish balls, mussels and browns. Hours of boiling fish head, fish bones and beancurd skin yield the creamy and rich stock that the seafood are cooked in. The fishball was incredibly fluffy.
Even dessert was seafood based! We had a lime sherbet with deep fried Sawagani crab, which was alive just moments before they were served. It was more decorative than it was a dessert though.
Si Chuan Dou Hua's Colours of the Sea promotion lasts till 12 Jan 2020. UOB card members will enjoy 15% savings on all promotion menus. Set menus at UOB Plaza and Beach Road are available at $98 and $78 respectively, with a min of two to dine, while the Kitchener Road outlet's buffet is priced at $65/pax with a min of four to dine.
Si Chuan Dou Hua Restaurants
TOP of UOB Plaza
Tel: +65 6535 6006
PARKROYAL on Beach Road
Tel: +65 6505 5722
PARKROYAL on Kitchener Road
Tel: +65 6428 3170