Backstreet Bengs Six-Hands Collaboration SG
For 2 nights only on 17 and 31 October, the Backstreet Bengs of Amoy Street- chef Jeremmy Chiam of Le Binchotan, chef Eugene See of Birds of A Feather, and chef Miller Mai of Ding Dong, will work together to present a six-hands event. The mini food journey would bring guests to all three restaurants where they would sample a signature and a specially created dish that is based on the heritage of Amoy Street, Chinatown at each location.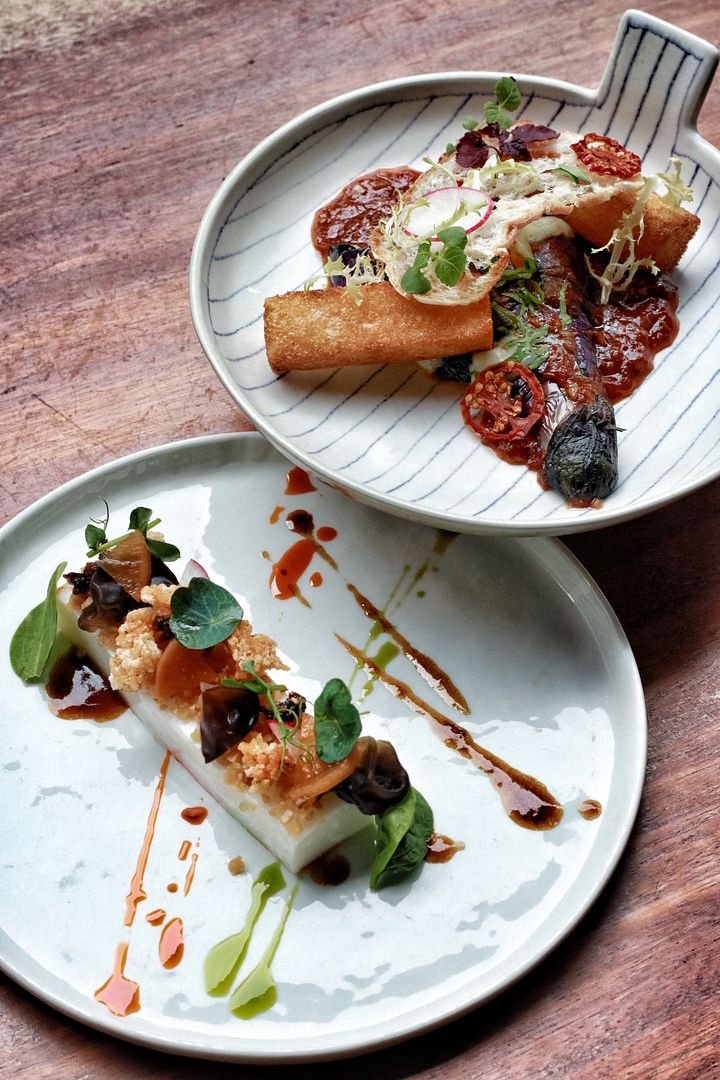 The menu was planned in tandem, while carefully maintaining their individual culinary identities.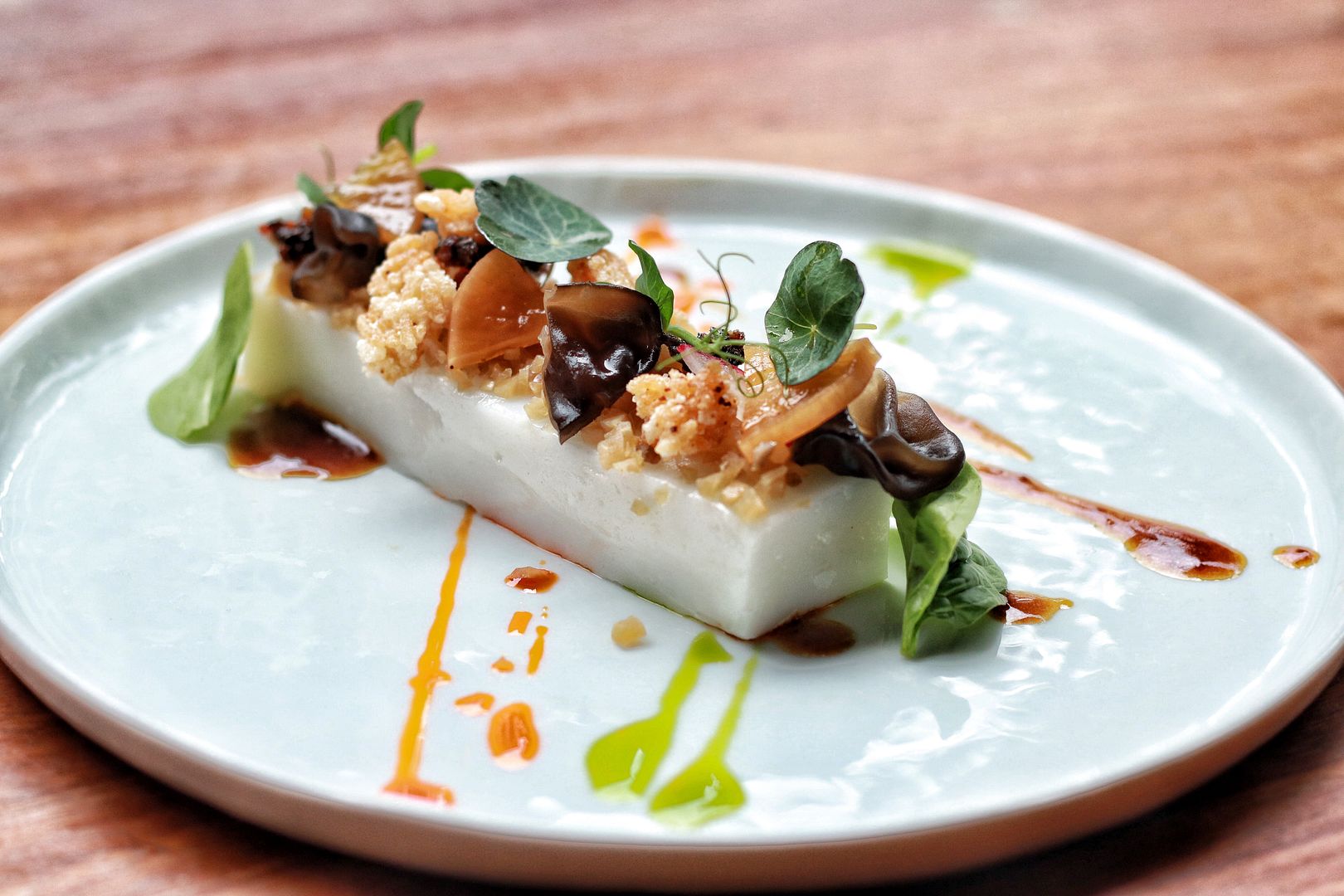 At Birds of a Feather, chef Eugene presents a special Sichuan-style Chwee Kueh. The "water cake" is made in-house the traditional way with rice flour, but is given a spicy savoury Szechuan spin with crispy kohlrabi bits and Szechuan spicy red oil, then dressed with scallion oil, pickled daikon and black fungus. The toppings are super addictive and i wished there were more with the cake.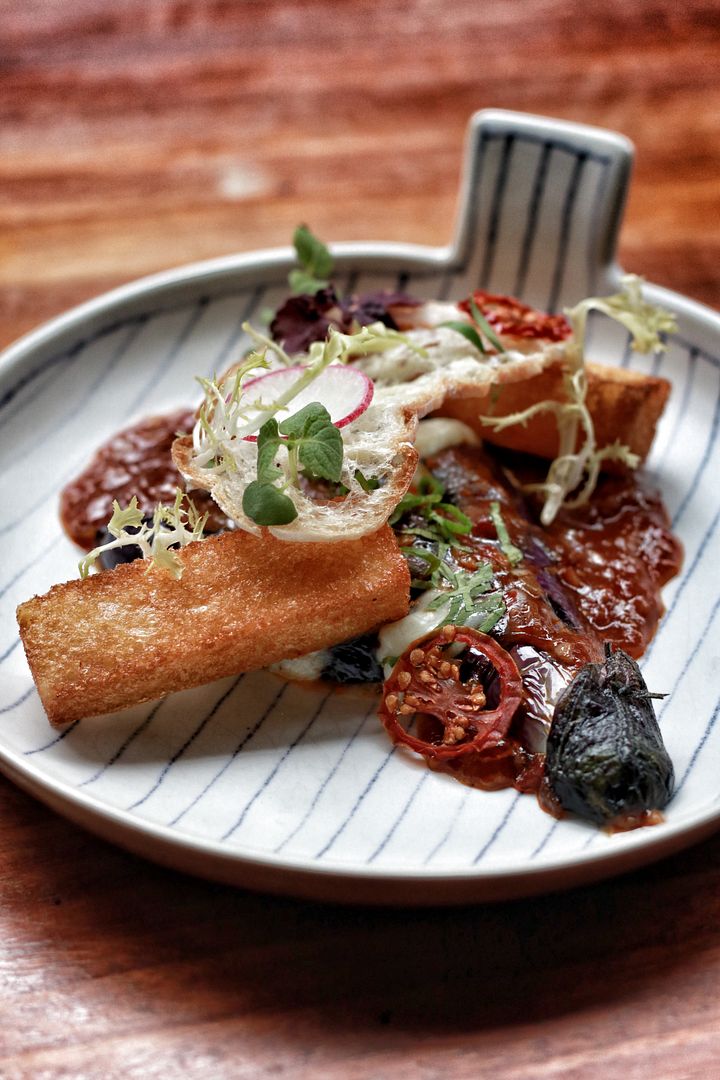 This is served alongside a plate of Baked Eggplant, one of my favorites from the new a la carte menu (read about my
review of Birds of a Feather here
). The yuxiang [鱼香] sauce is so good with the baked eggplant and fried mantou!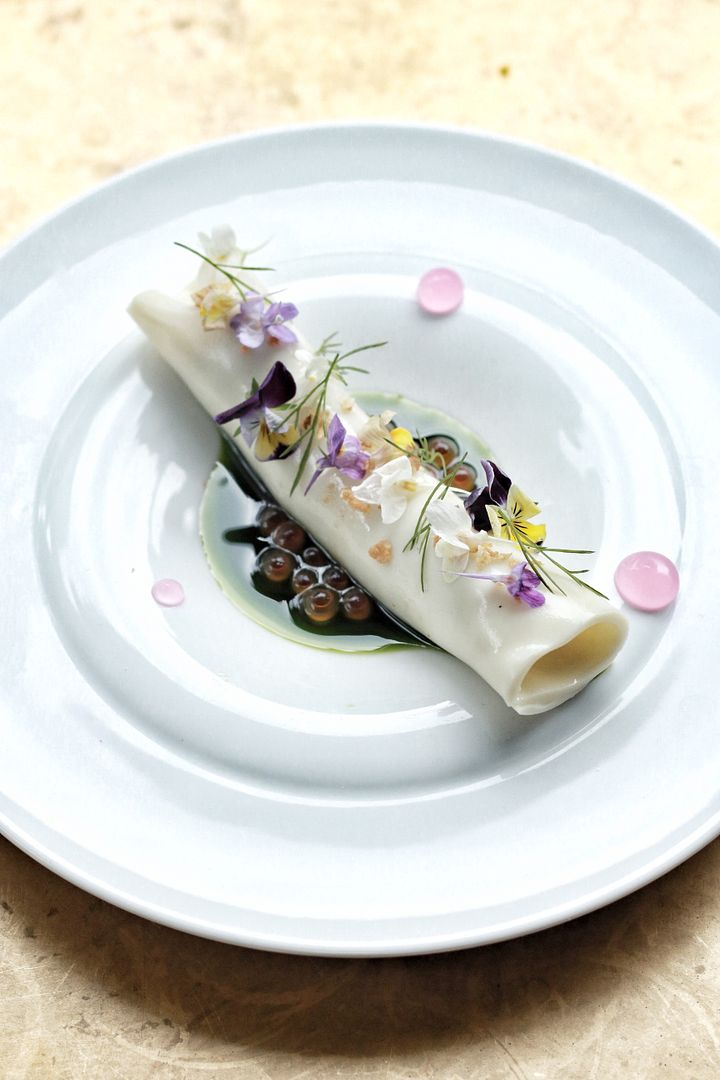 At Ding Dong, chef Miller serves a special chee cheong fun made out of scallop. The smooth and silky sheets are made of scallop and encases crunchy tiger prawns and blue swimmer crab. The rolls are served with a typical South-East Asian sauce made with fish sauce, lime juice, clam stock and chilli. I thought it was a tad too fishy overall.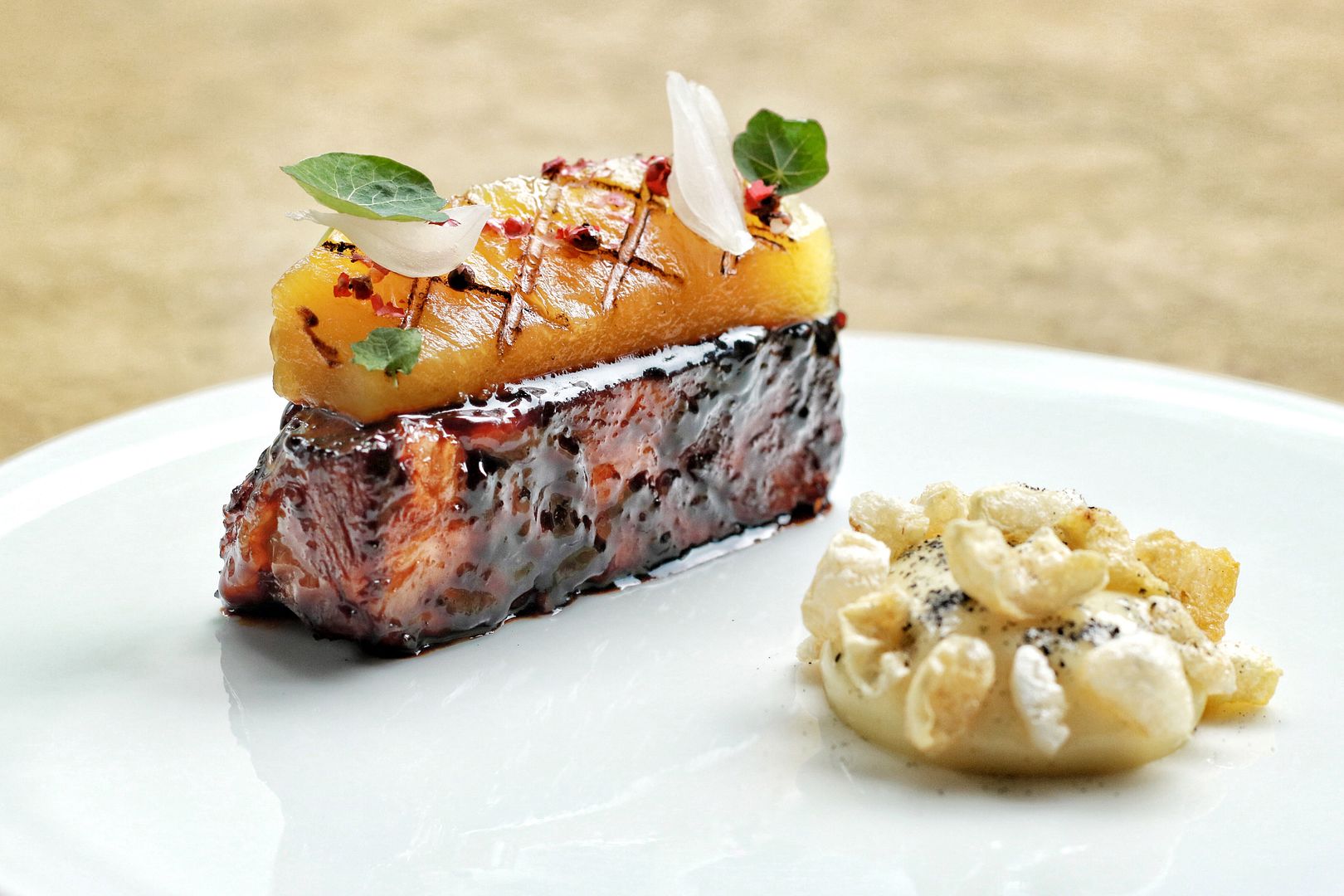 The signature Ding Dong dish is the Pork Collar, Char Siew, Caramelised Pineapple. The Iberico pork collar was a tad dry even though it was sous vide though.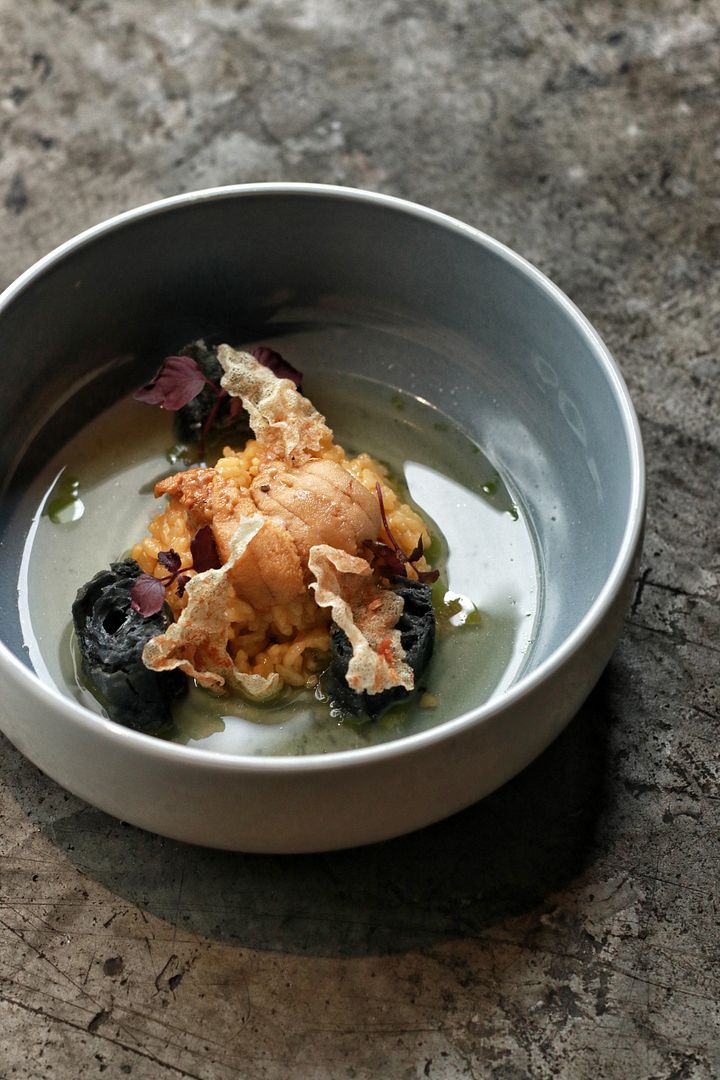 My favorite dish of the night was served at Le Binchotan. The Uni Okayu with Charcoal Youtiao by chef Jeremmy is inspired by rice porridge but it was definitely a more superb version. Uni rice is served in a pool of rich kombu and scallop bouillon, garnished with crunchy charcoal youtiao rounds, and topped with even more lobes of fresh uni. This needs to go on the main menu. AGAIN.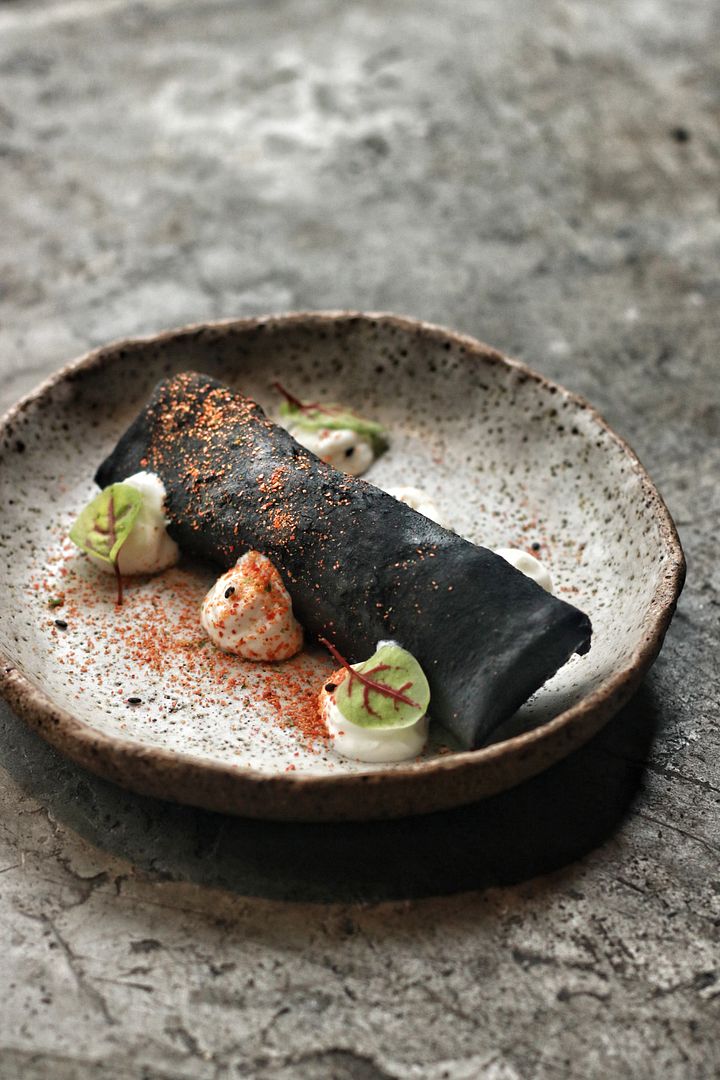 The signature dish he presents will be a roll of his 'Edible Charcoal'- beef short ribs braised for 16 hours wrapped in charcoal spring roll skin and accompanied by house-made garlic yoghurt. Careful of that really spicy and pungent garlic yoghurt!
Reservations must be made in advance; only a maximum of 60 reservations will be accepted each evening. Guests will be assigned a schedule the day before the dinner, so that they know where their meal for that evening will begin, where to go next, and where their meal will end that evening.
To reserve your seat, e-mail events@spa-esprit.com. Confirmed attendees will be sent an itinerary the day before the reservation.
Le Binchotan
115 Amoy Street #01-04 Singapore 069935 (Entrance via Gemmill Lane)
Tel: +65 6224 1045
Birds of A Feather
115 Amoy Street Singapore 069935
Tel: +65 6221 7449
Ding Dong
115 Amoy Street #01-02 Singapore 069935
Tel: +65 6557 0189