Birds of a Feather, Spicier and Better
I've been a fan of Birds of A Feather since they opened because they provide the unique offering of contemporary Western cuisine with Sichuan influence, but you know, we Singaporeans can definitely do with more spice. So after several sojourns to Chengdu in the last year, Head Chef Eugene See has created a new menu with original creations of authentic Sichuan flavours.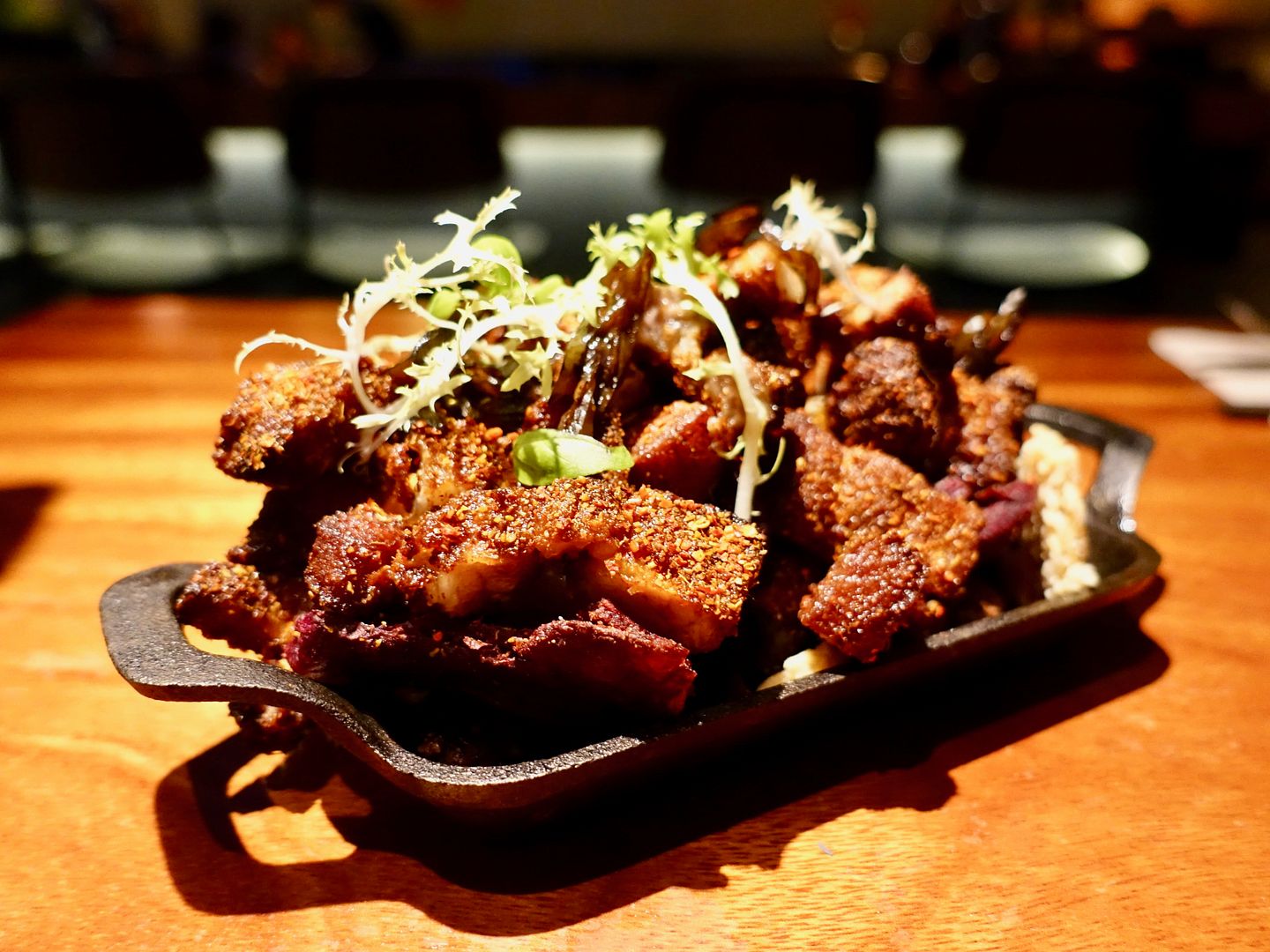 I was sold on the Charcoal Grilled Pork Bits ($15), a dish derived from the roadside barbecue pork belly skewers. A garlicky-spicy Duroc pork belly was crunchy and numbingly spicy but so perfect that i could have this all night with a cold cider (because not a beer fan). There are other crunchy bits like crispy rice crackers, crunchy Japanese sweet potato, and smashed baby potatoes.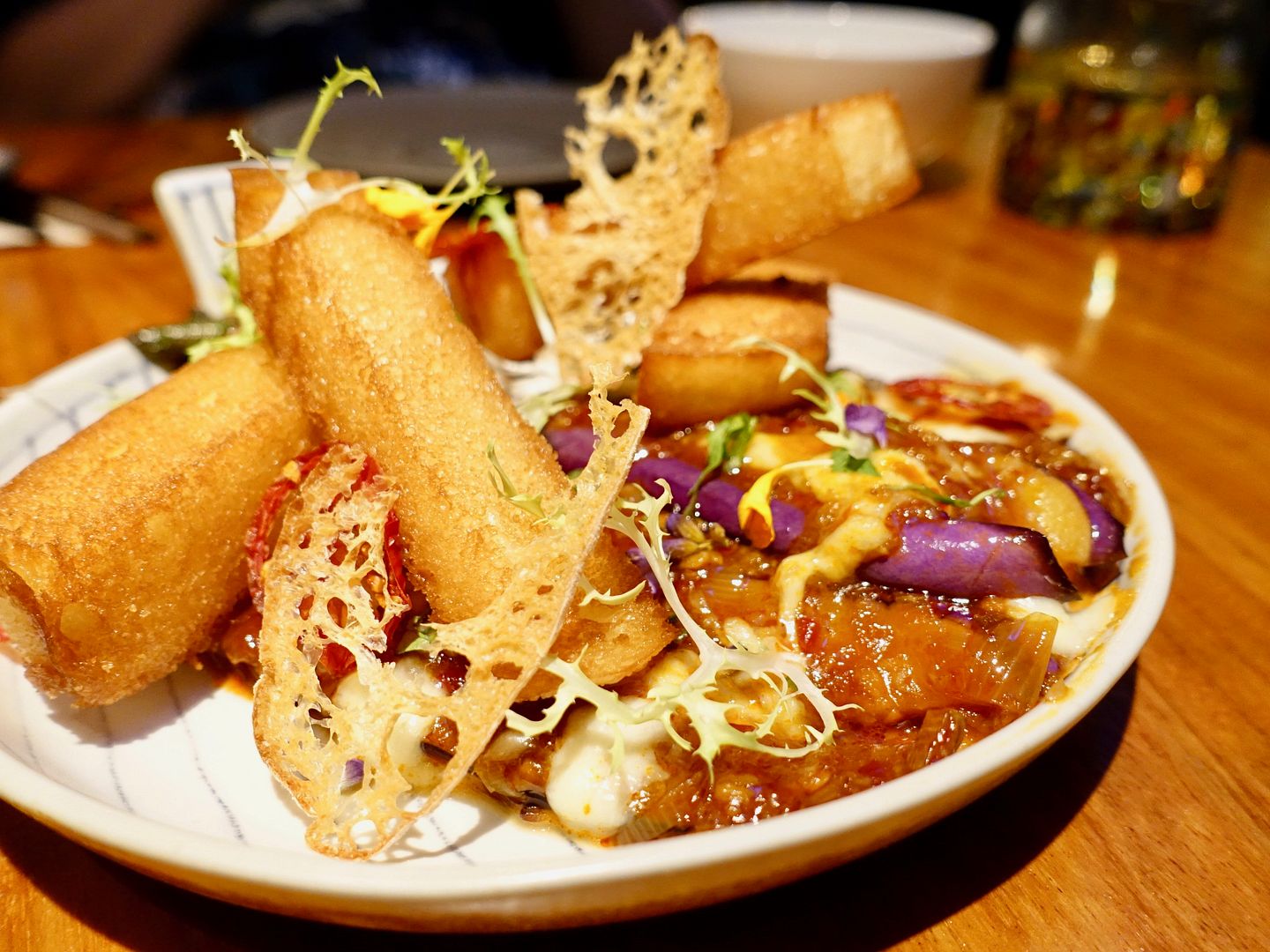 The
Baked Eggplant
($14) is also love because 鱼香茄子! The sauce made in-house by frying garlic, ginger, soy sauce, doubanjiang, pickled chilli and black vinegar. Chef layers the yuxiang-seasoned Japanese nasu with mozzarella, grills it to perfection, before serving the dish with fingers of fried mantou. The brioche-like pillowy fried sticks were perfect with the sauce! In fact i was craving this so much that i made a version of this at home.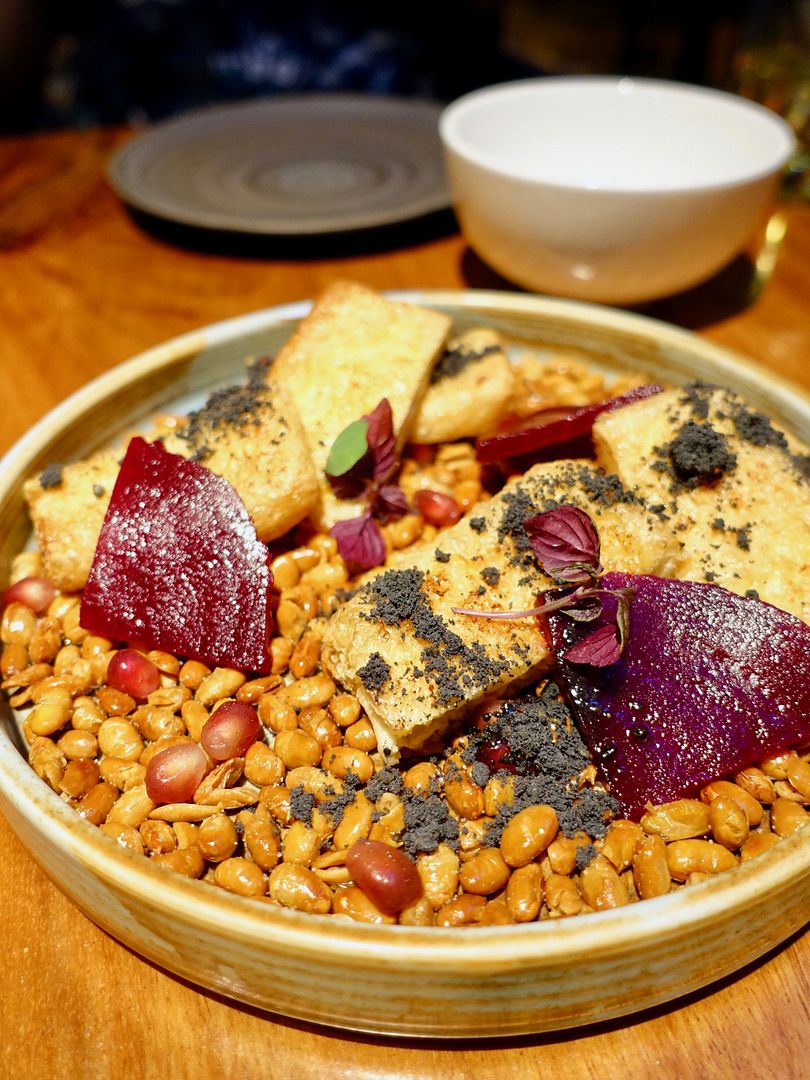 Birds Not Stinky Tofu
($16) fared a lot better than the regular stinky tofu. This tau pok is filled with a piquent mix of vieux lille cheese and silken tofu on a bed of shallow- fried soy beans. It was smellier than it tasted.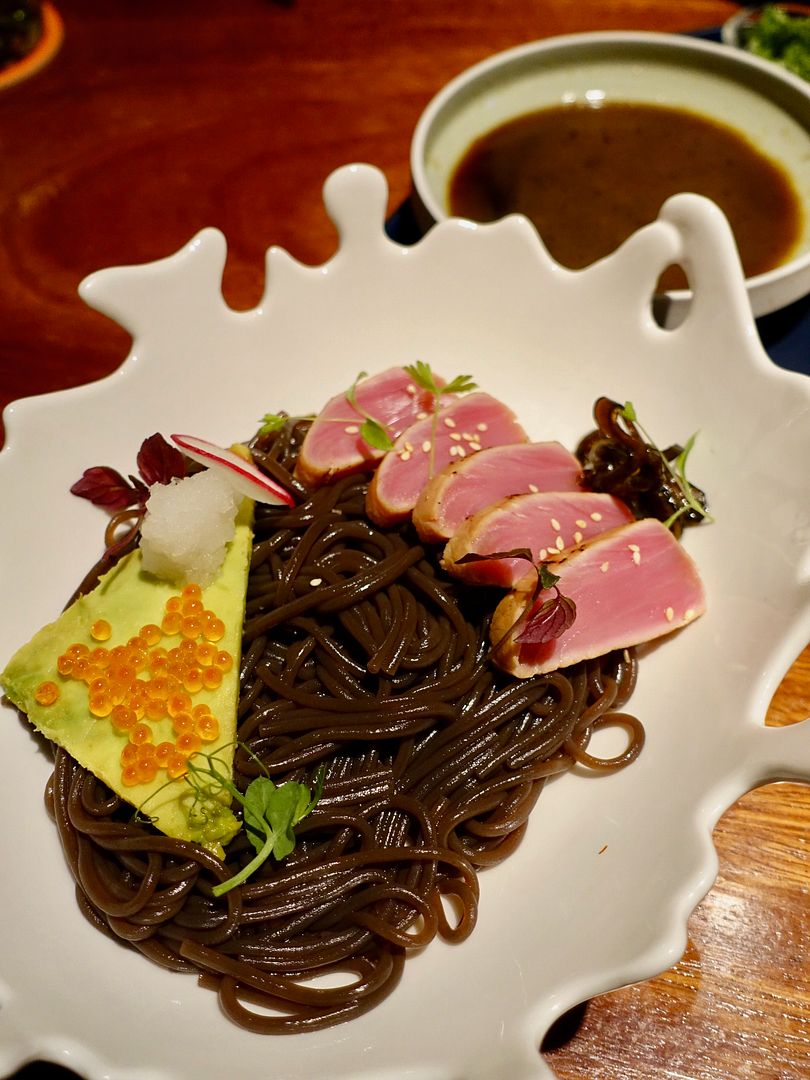 Cold Black ($25) is a take on cold soba noodles but the noodles featured here are gluten free! Made of fern root, the noodles are crunchy and slippery, almost like the thick bee hoon. Be careful when you slurp the noodles after dipping it into the numbing spicy soya sauce! The noodles are accompanied with a tuna tataki, ikura, and avocado.
A not too spicy Sichuan dish was the Sichuan Oxtail Soup ($24). The clear broth is a nod to a classic pork trotter soup. Clean and light flavors are derived from boiling oxtail with fresh leek, spring onions, Chinese herbs such as angelica root, dansheng and yuzhu (solomonseal rhizome). A spring onion Arlette, a crispy western interpretation of Chinese spring onion pancakes, accompanies the dish. There's a lot of Chinese parsley flavor in this dish, which i hate but you may love.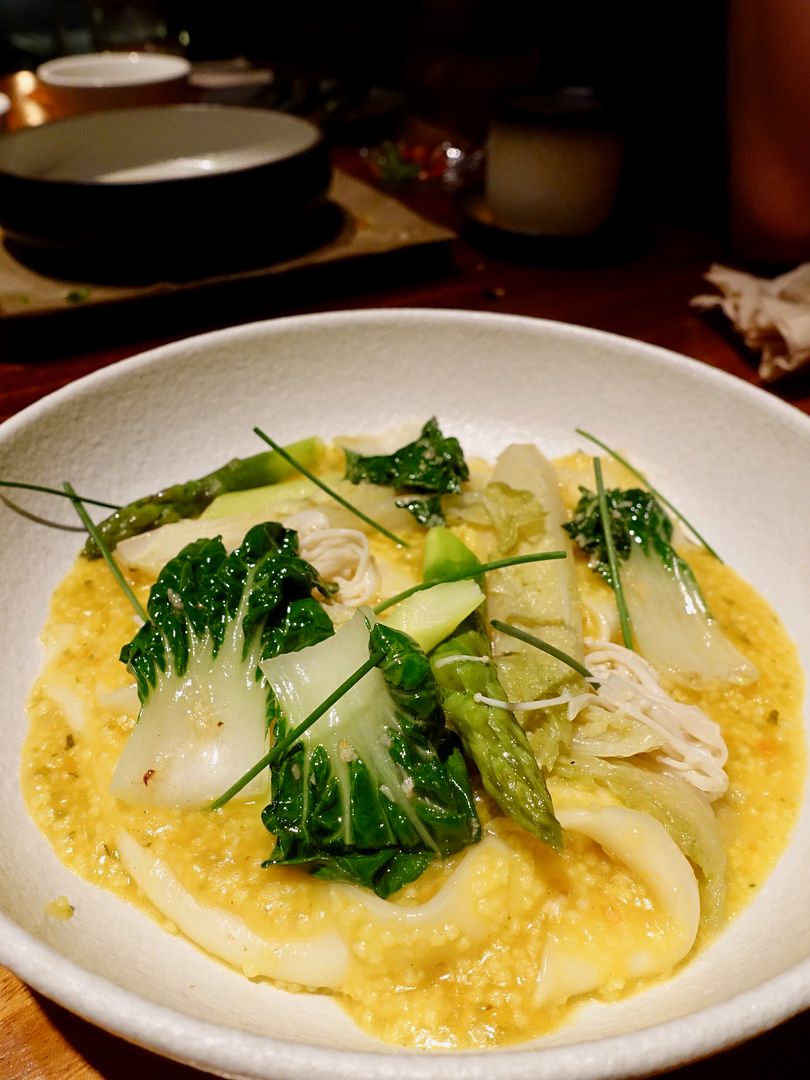 A surprising dish was the Good Slime Shine [$23 (Non-spicy)/ $24 (Spicy)]. Chinese yam noodles, often eaten at Sichuan hot pot restaurants, is the star in this vegetarian main dish. The sauce is a thick hot and sour sauce made from millet broth cooked with sichuan peppers. It's a simple dish, but we enjoyed the chewiness of the noodles. Have this for mains, and order other dishes to go with!
The
Forbidden Risotto
($35) is another dish that grows on you as you take more bites of the black rice cooked in a broth of Sichuan sour vegetables and pickled ginger. This is by far the most interesting risotto i've had! Parmesan cheese, cream and butter gives the dish its creaminess and the seafood adds a sweet freshness to the dish.
Other hot pot dishes include the Sweating Mussels ($29), a dish of Scottish Blue mussels cooked a la nage in a fiery mussel broth of Sichuan peppercorns, red peppers and chilli. It's sour, spicy and shiok. This dish is served with the Chinese yam noodles.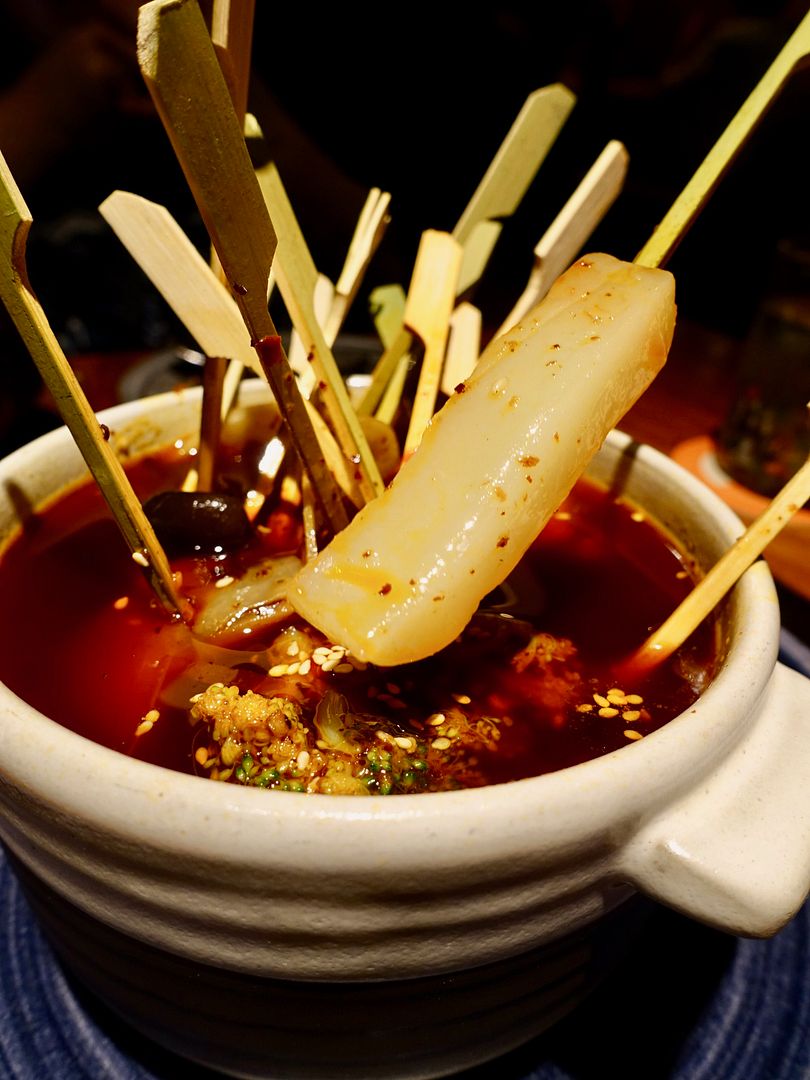 Fortune Skewers ($20), a guests' favourite since the restaurant's launch, has up its ante from its previous iteration with Sichuan red oil, made in-house. Do not talk when you're eating this, you may really suffer if any sauce goes down the wrong pipe.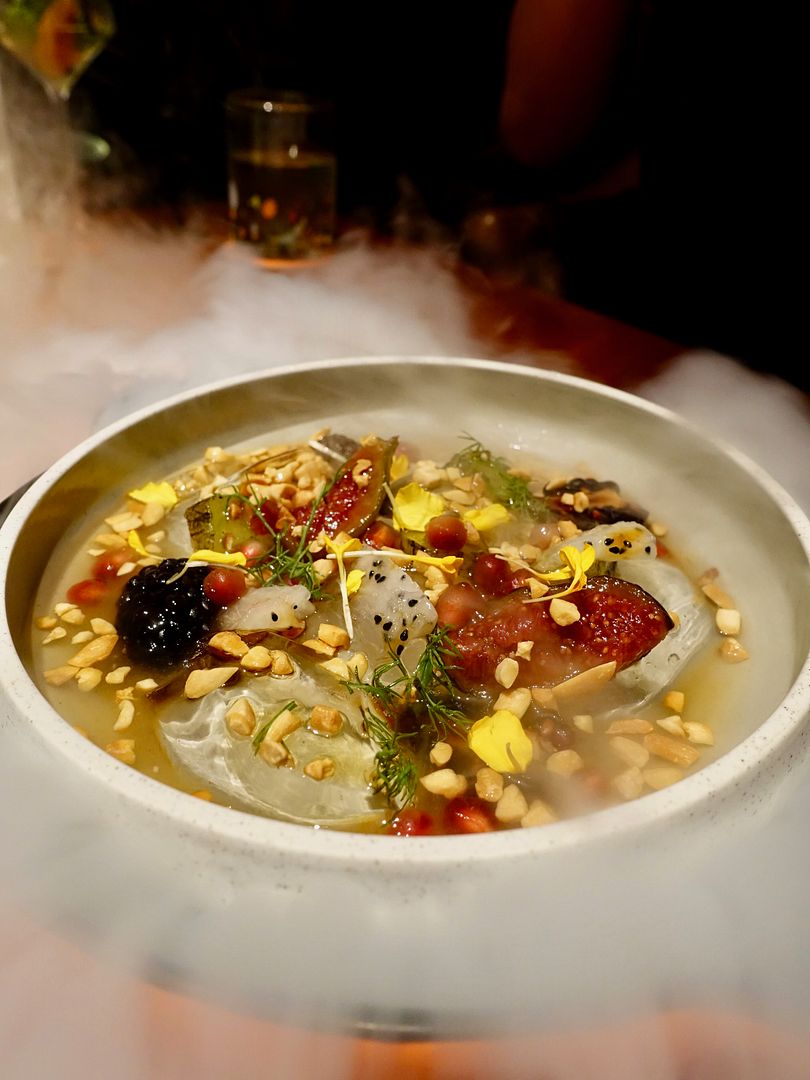 To cool things a bit at the end of the night, Ice2 Baby ($15), is a simple but refreshing Sichuan dessert which has a combination of ice jelly, black sugar syrup and crushed peanuts. Chef added his own twist with seasonal berries, red sugar caramel, Lao Zhao rice wine granite and bits of burnt cucumber. Perfect way to end the night!