Our favorite garden restaurant Botanico has been revitalized with a new Singaporean head chef at the helm, a reinvigorated concept and an enhanced interior. Dine in the lush greenery that has now been brought indoors and feast on a contemporary European bistro cuisine that is integrated with Asian inflections.
Chef Sujatha Asokan, or Chef Su, is a true-blue Singaporean who rose through the ranks at Esquina, Pollen and Stellar at 1-Altitude. It is at Botanico where she brings her distinctive voice and culture to the table and boy were the dishes interesting.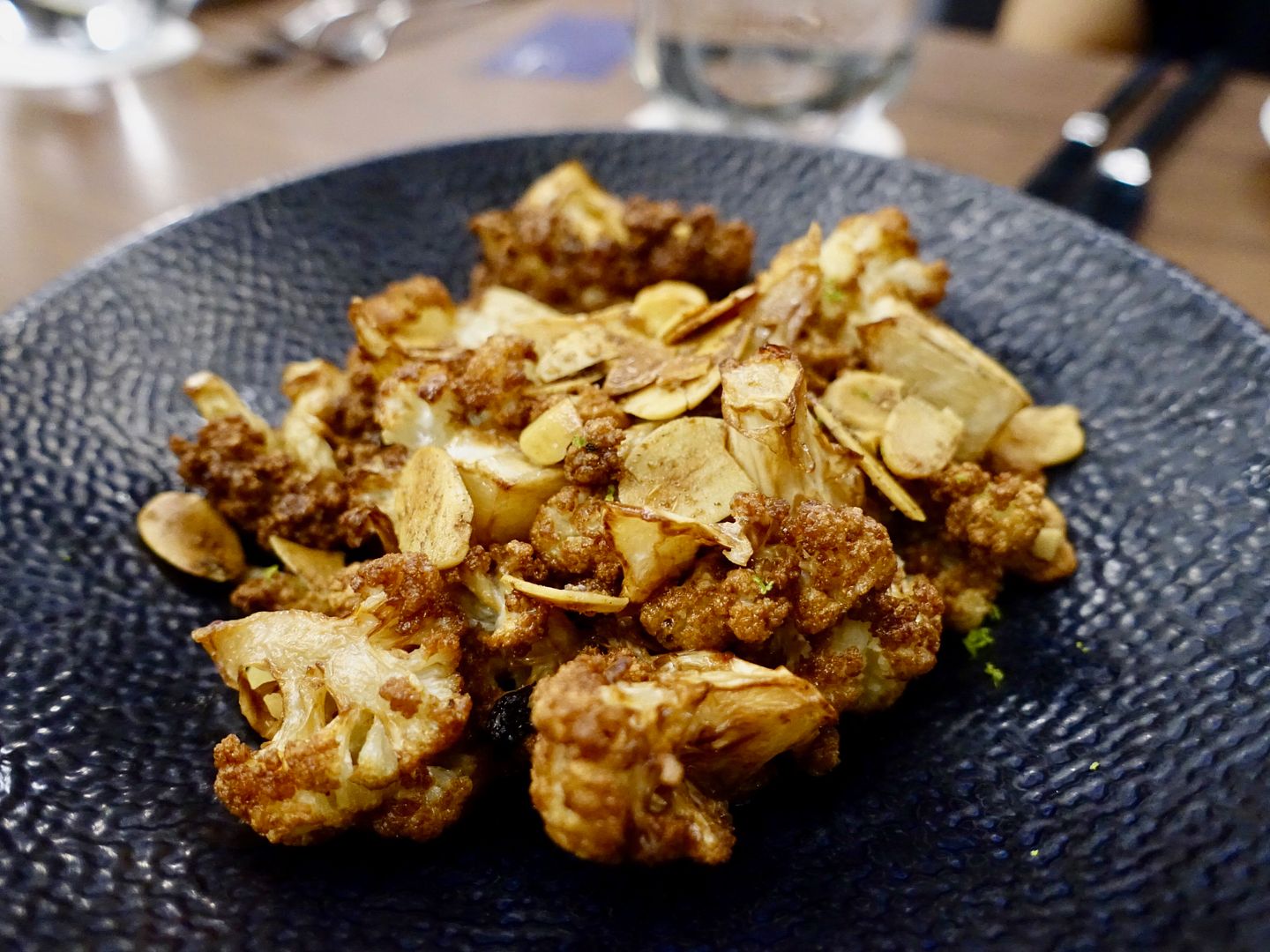 My suggestion is to dive into the interesting bits, and leave the oysters, cauliflower, and tempura asparagus out of the way. Sure there may be some interesting bits like the use of an exclusive-to-Botanico Cañarejal cheese (a traditional raw unpasteurised sheep's milk cheese from Northern Spain) but honestly it did nothing much to make the dish extraordinary.
The
Seabass Ceviche
($17) sounds regular enough but there is nothing regular about it. This dish is Chef's interpretation of Assam Laksa, comprising of a spicy-sweet ceviche of seabass with green chilli, pomegranate and shaved ginger flower, served with tamarind dressed glass noodles and shrimp paste ice cream. Yes you heard me right, the pungent fermented shrimp paste has been made into ice cream sans the stench. You get a mere hint of the prawn paste flavor, but it did a good job in binding the dish together, like how it would in a rojak. Don't go expecting it to taste like Assam Laksa though.
The
Beef Tongue
($20) is a must-order here IMO! Australian beef tongue is brined, sous vide and chilled before being sliced very thinly with a meat slicer. There isn't much chewiness to the meat anymore, and it tasted very much like what i would imagine a high quality piece of spam (i mean it in a good way, i mean, who doesn't like spam?). A contrasting crunch comes from the deep fried capers and there's also a spicy chipotle mayo and honeyed yellow mustard seeds to accompany the briny slices.
Now, the
Slipper Lobster Chittara
($32) is like a zhnged up mee goreng using fresh pasta that is cooked in a Chinese XO sauce, accompanied by chunks of sous-vide slipper lobster. This XO sauce is made in-house by slow-cooking iberico ham trimmings, dried scallops, dried shrimps (hae bee), lemongrass, shallots, garlic, Thai fish sauce, dark soy sauce, sesame oil, housemade chicken stock, chilli flakes, sugar and salt for 2 to 3 hours.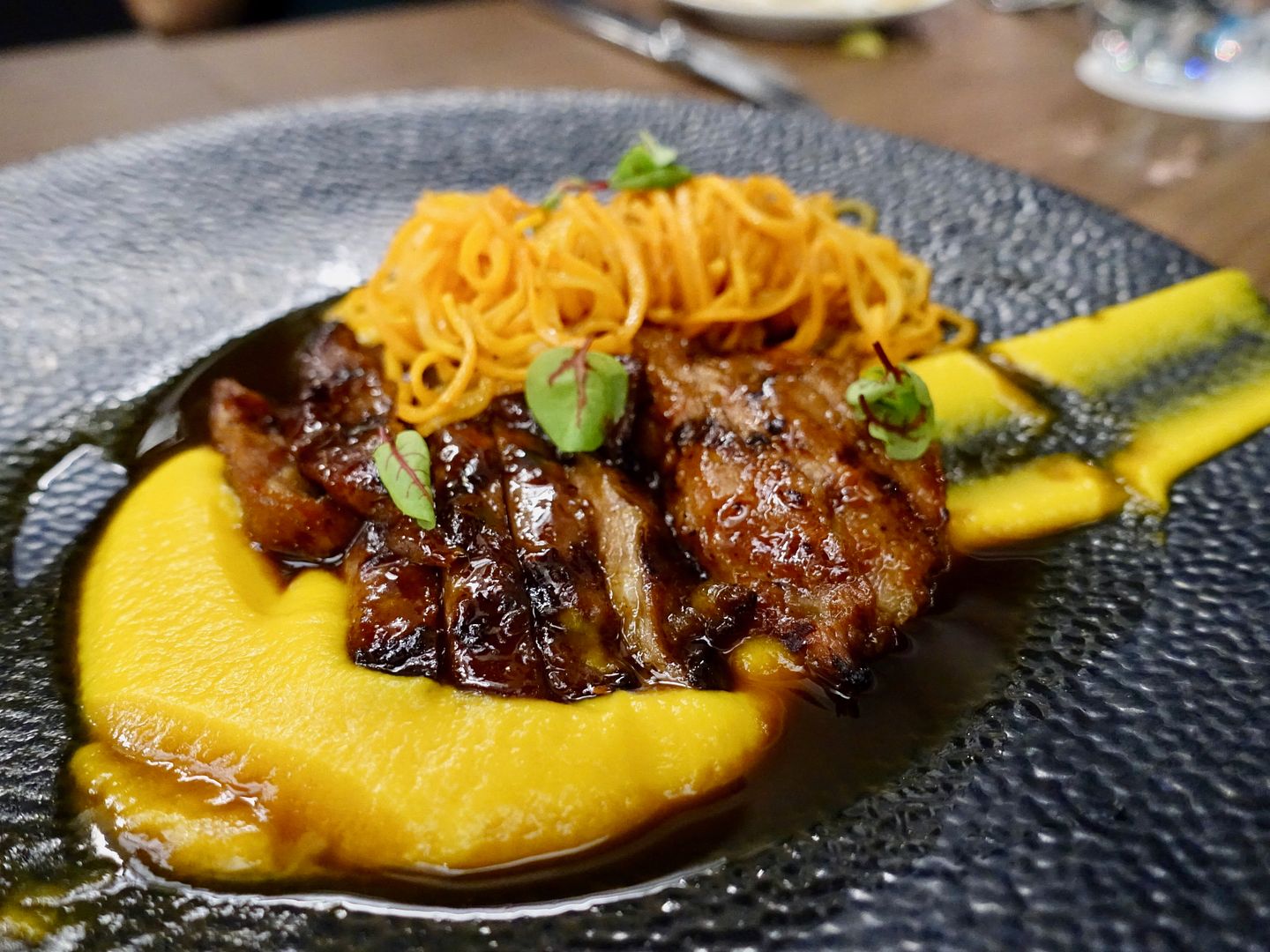 Another of my favorite is the Iberico Char Siew ($34) which is smokin shiok. The Spanish top loin (pluma) is marinated overnight with housemade char siew sauce, smoked and then chargrilled. It's served with a crunchy carrot "noodles" and a roasted carrot purée spiked with ginger and OJ.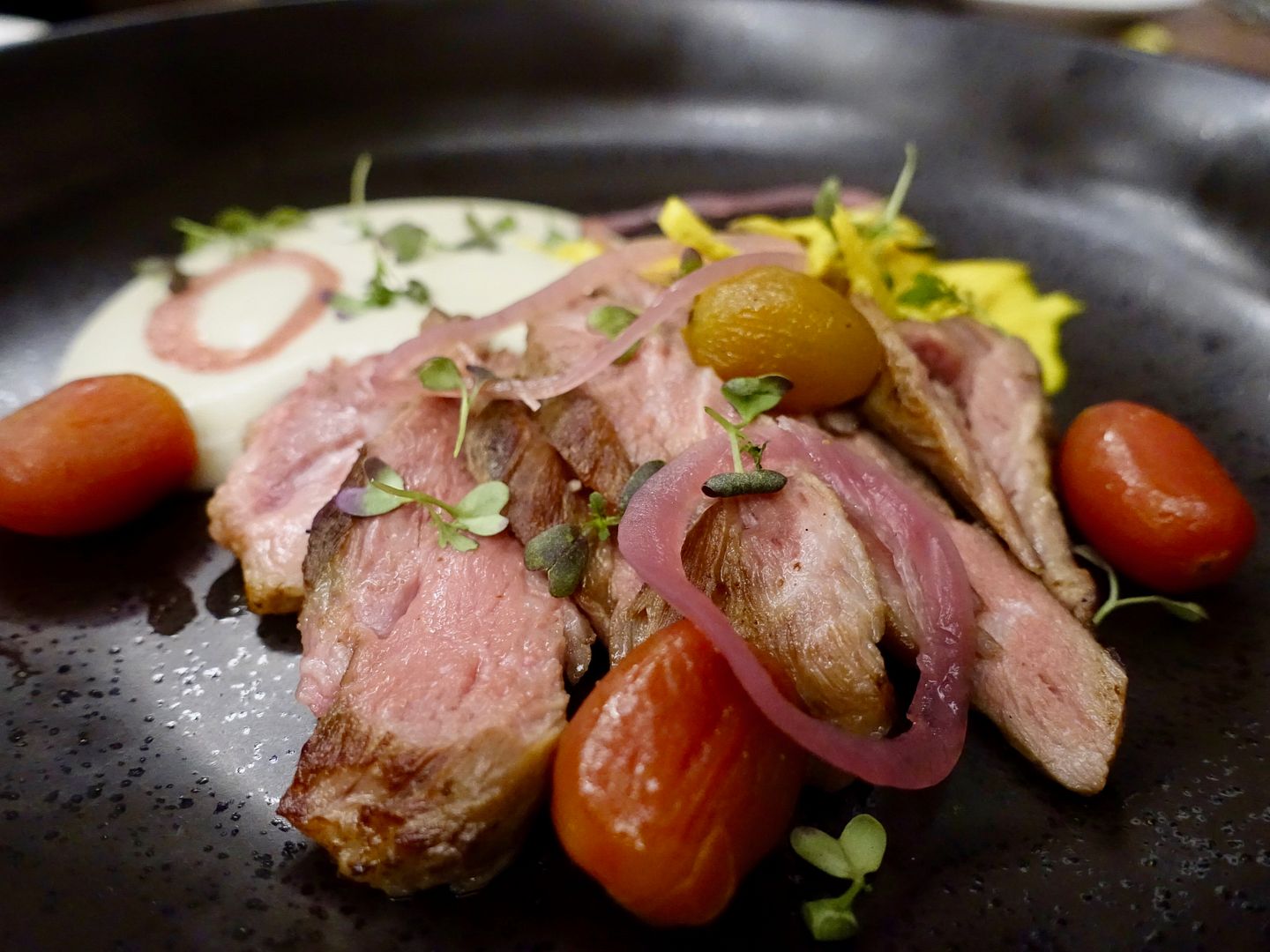 Curry Lamb Neck ($32) features 24-hour slow-cooked lamb neck fillets and a curry inspired by chef Su's Indian heritage. The brined lamb neck is sous-vide at 55 degrees for 18 hours, then grilled in the INKA before serving and there is no gamey taste to the meat at all. The light curry is made from Vadouvan, a blend of curry spices from France. Accompanying the fillets are Vadouvan-spiced king oyster mushrooms, soy pickled tomatoes, roasted potato foam and pickled onions.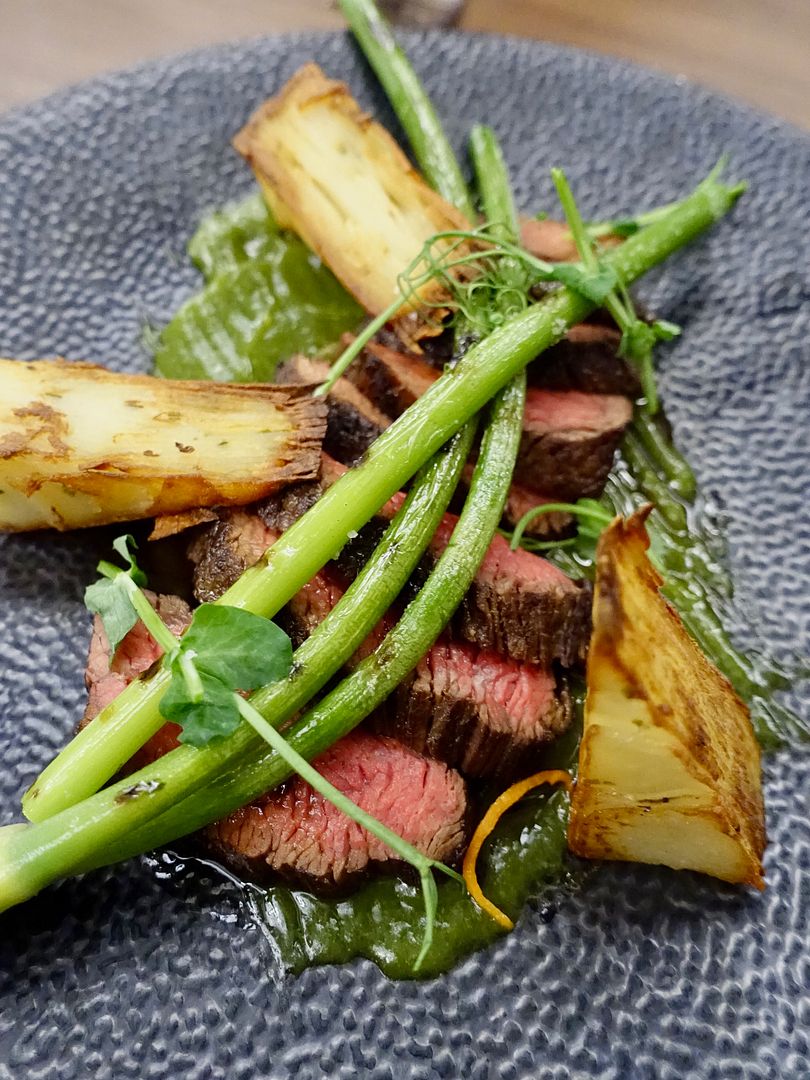 Can't say no to the Stockyard Wagyu Petit Tender ($34), a cut from the cow's shoulder (there are only 4 pieces per cow). Served with a housemade green sriracha (like an Asian chimichurri), charred leek flowers and fluffy and creamy potato terrine.
A sweet and savory dessert is the Jalapeño ice cream ($11). It tastes like a sour cream ice cream with a hint of spice and i love how it coats the dehydrated bacon financier crumble! Charred Sarawak pineapple adds a touch of sweetness to the dish.
For something that is a bit more safe, the Lemongrass-infused Panna Cotta ($10) will satisfy, if you're into botanical flavors like ginger and lemongrass. It provides a refreshing end to the meal with pops of acidity and calming spice.
What is food without wine? Pair your meal with Botanico's 30 premium wine labels -- all rated 90 points and above by Wine Spectator -- available by glass and carafe through the Coravin system, and even more by bottle. Cocktails are aplenty too, with stalwart classics sitting alongside new experiences like edible cocktail jellies (these are too dangerous). For the budding bartender in you, you can also personalise your drink from scratch.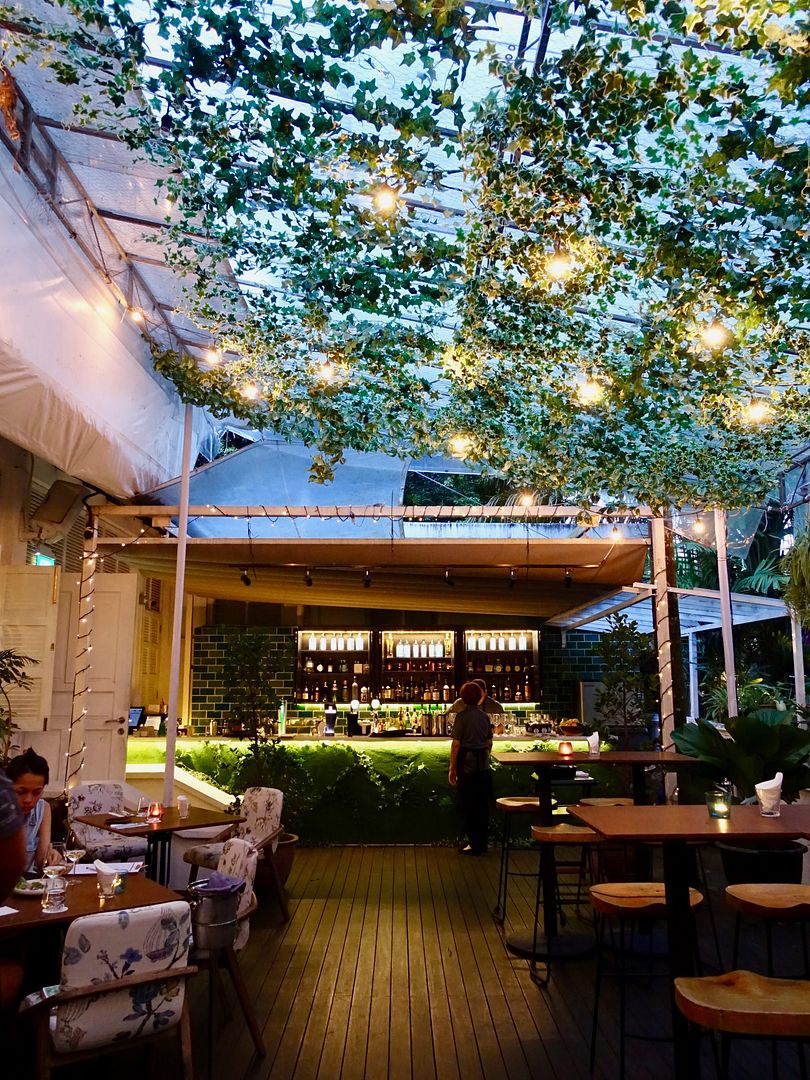 Always a fun experience at
Botanico
!
50 Cluny Park Road Singapore 257488
Singapore Botanic Gardens
Wed- Sun (Dinner): 6 - 11pm
Weekends: 11am - 3pm