Odette- 3 Michelin Star SG
Odette is the most coveted restaurant to dine at in 2019, having toppled long time winner Gaggan to become The World's Best Restaurant in Asia, and then clinching its third Michelin star for the first time. Chef Julien Royer is surely on a winning streak. I thought Odette would stay on my must-eat list for a long time to come but Jr surprised me by getting a table for our wedding anniversary (he asked me a couple of days before so i only had to wait for 3 days to dine at Odette)!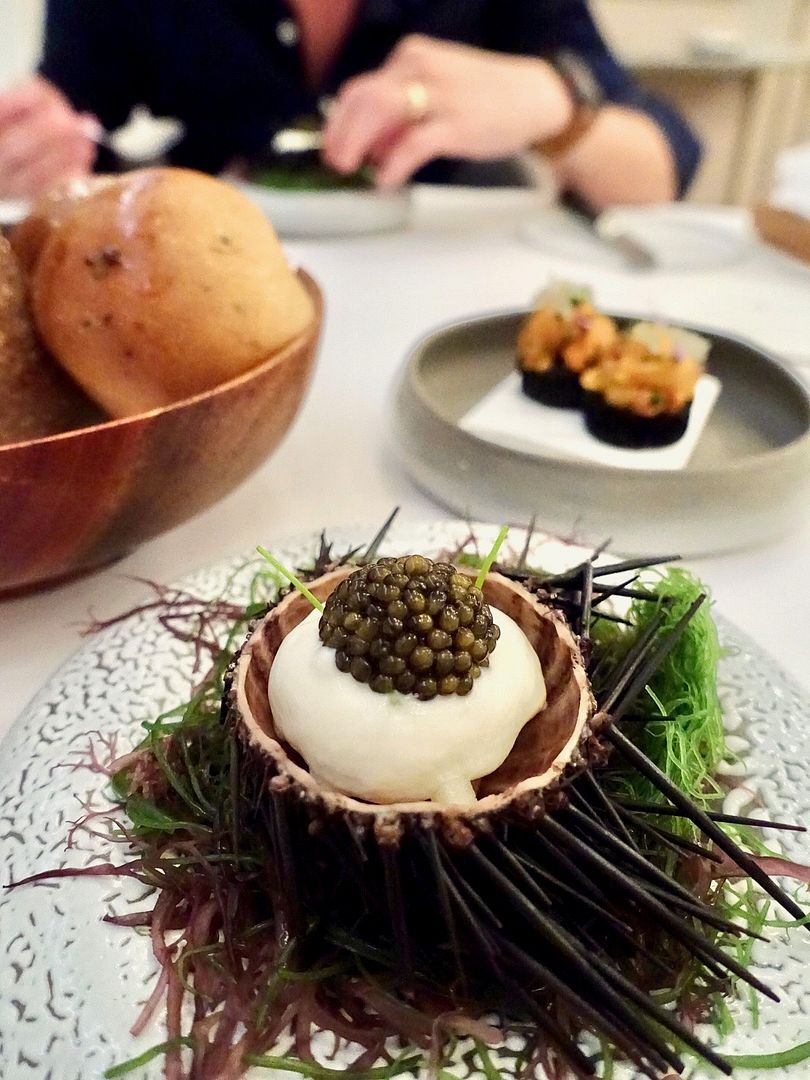 If you're out to impress your date or celebrate a special occasion, Odette is the place to go. The walk through the historic National Gallery (it's magical and majestic at night) and into the feminine and elegant restaurant with soft hues of pink, grey and cream prepares you for an exquisite meal to come. The restaurant is named after Chef Julien's grandmother, who is also his source of inspiration for his food. The produce are sourced from specialist artisan producers across the world – from Europe to Asia and Australia. As his grandmother showed him, the most "remarkable dishes can come from the purest ingredients" and the addition of that 'little something' create dishes that excite the palate and fill the heart, and you can expect that experience at Odette.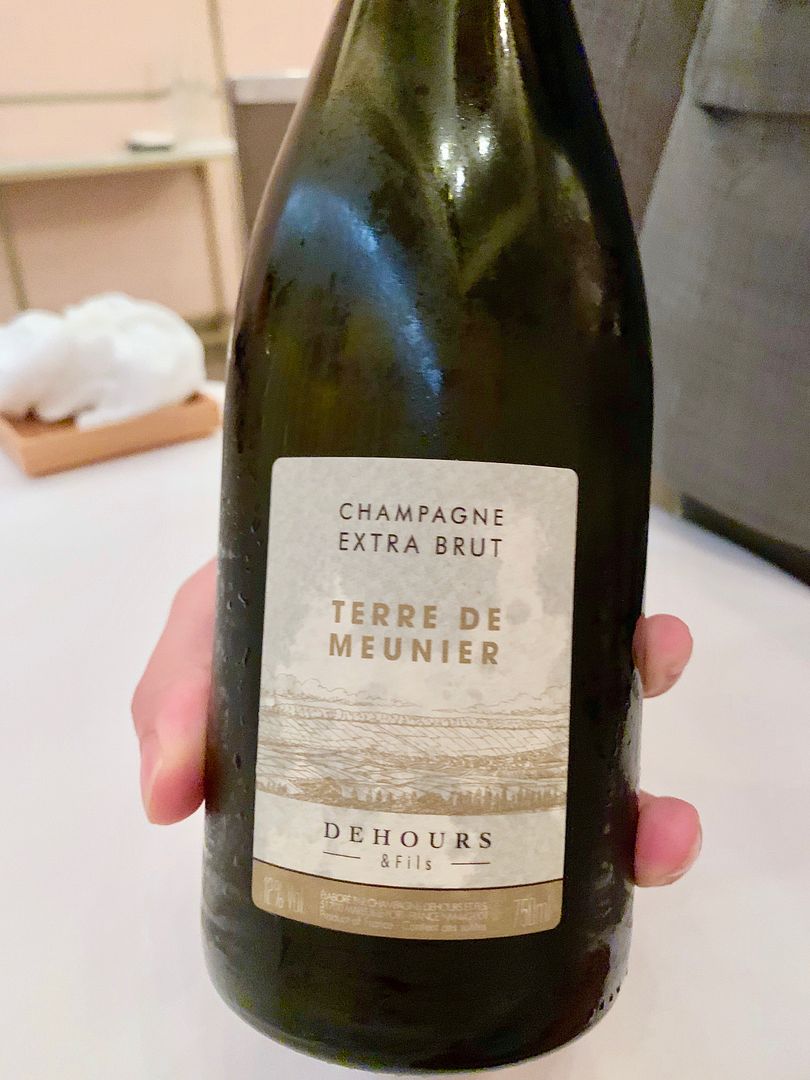 Dinner was a seasonal Modern French 8-course menu ($328/pax, prices would be $358/pax starting Nov) and there's a vegetarian option available as well. We also went with the wine pairing ($245/pax) which is absolutely delightful if you are into wines.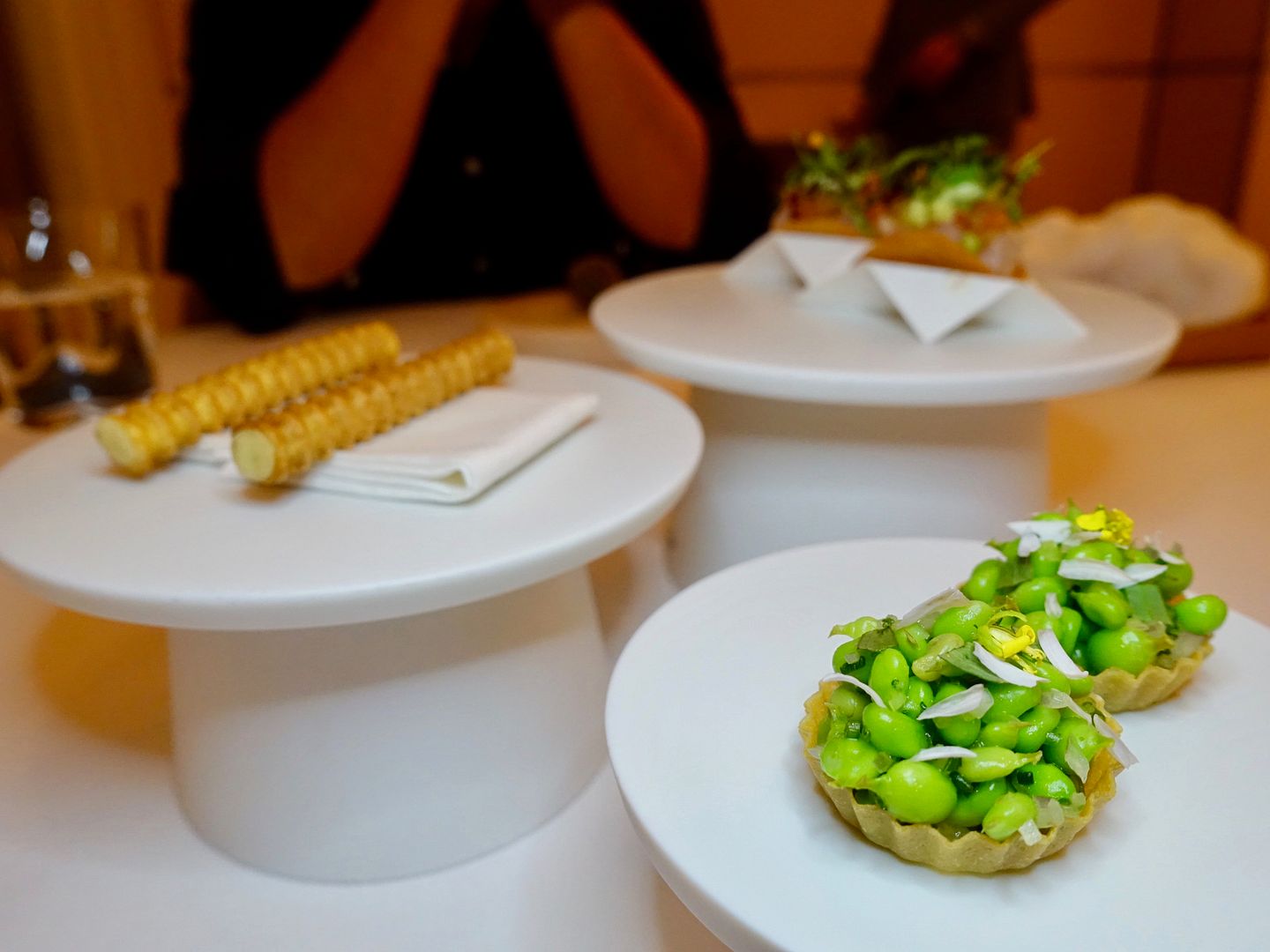 Before the meal started, we were served with snacks as we sipped on our champagne. A fresh cumin snap peas tart, a Comte cheese cigar, and scallop taco.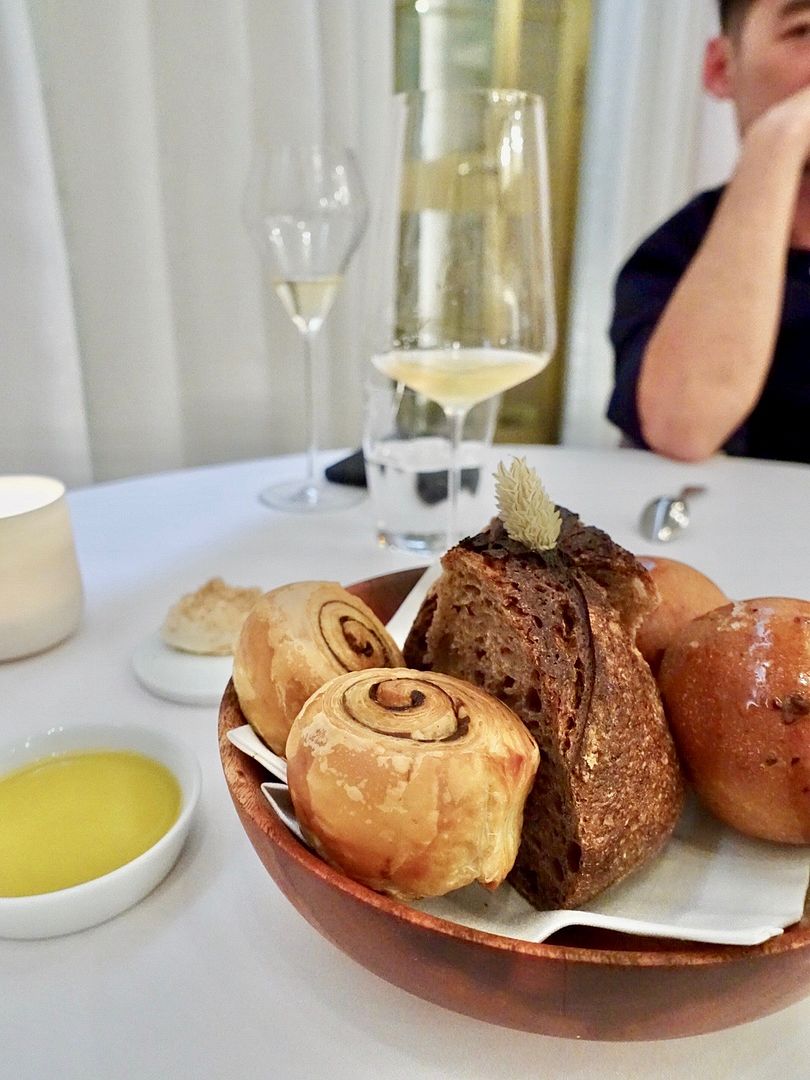 Then came the bread basket with truffle brioche, sourdough, and olive roll, served with Catalunya olive oil and a whipped butter with ground buckwheat. The bread basket stayed throughout our meal despite how full we were because we simply couldn't bear to have taken away. #FOMO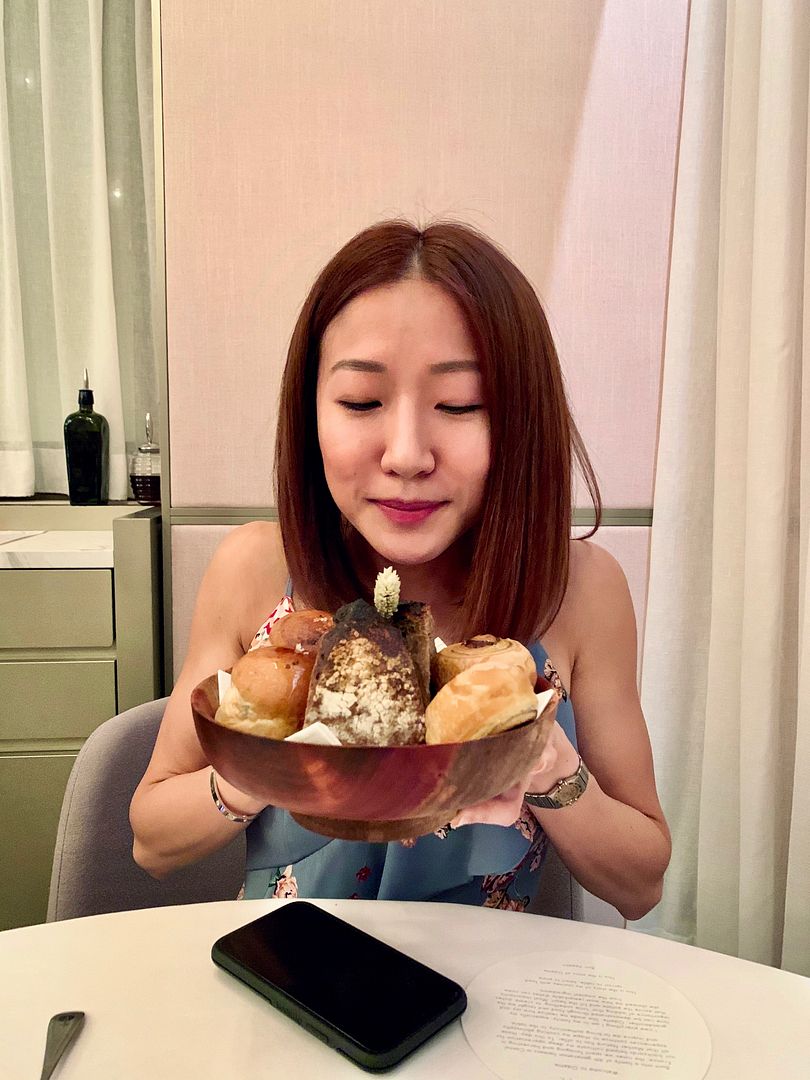 The meal didn't even start until after the familiar amuse bouche of Mushroom "tea" was served. I remember this from Chef Julien's Jaan days.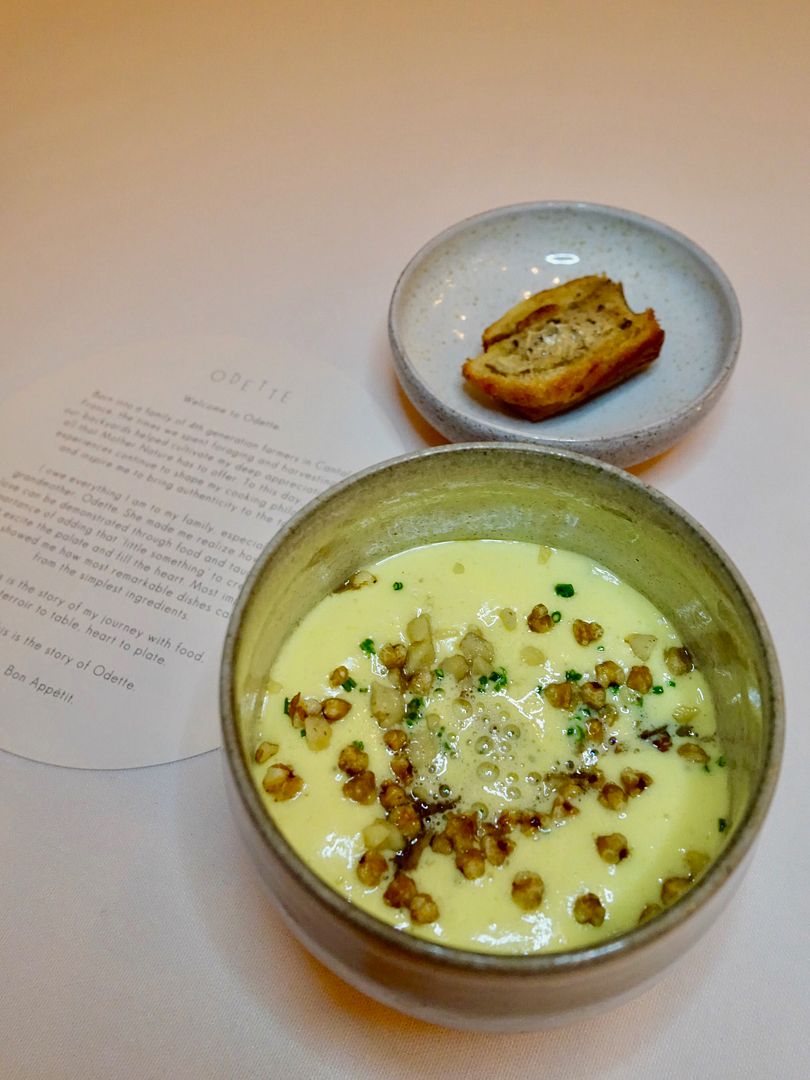 The earthy mushroom broth is poured into a sabayon of cep and nuts, with puffed rice for an additional roasty flavor. Dip the little mushroom brioche into the creamy soup for some added buttery flavors.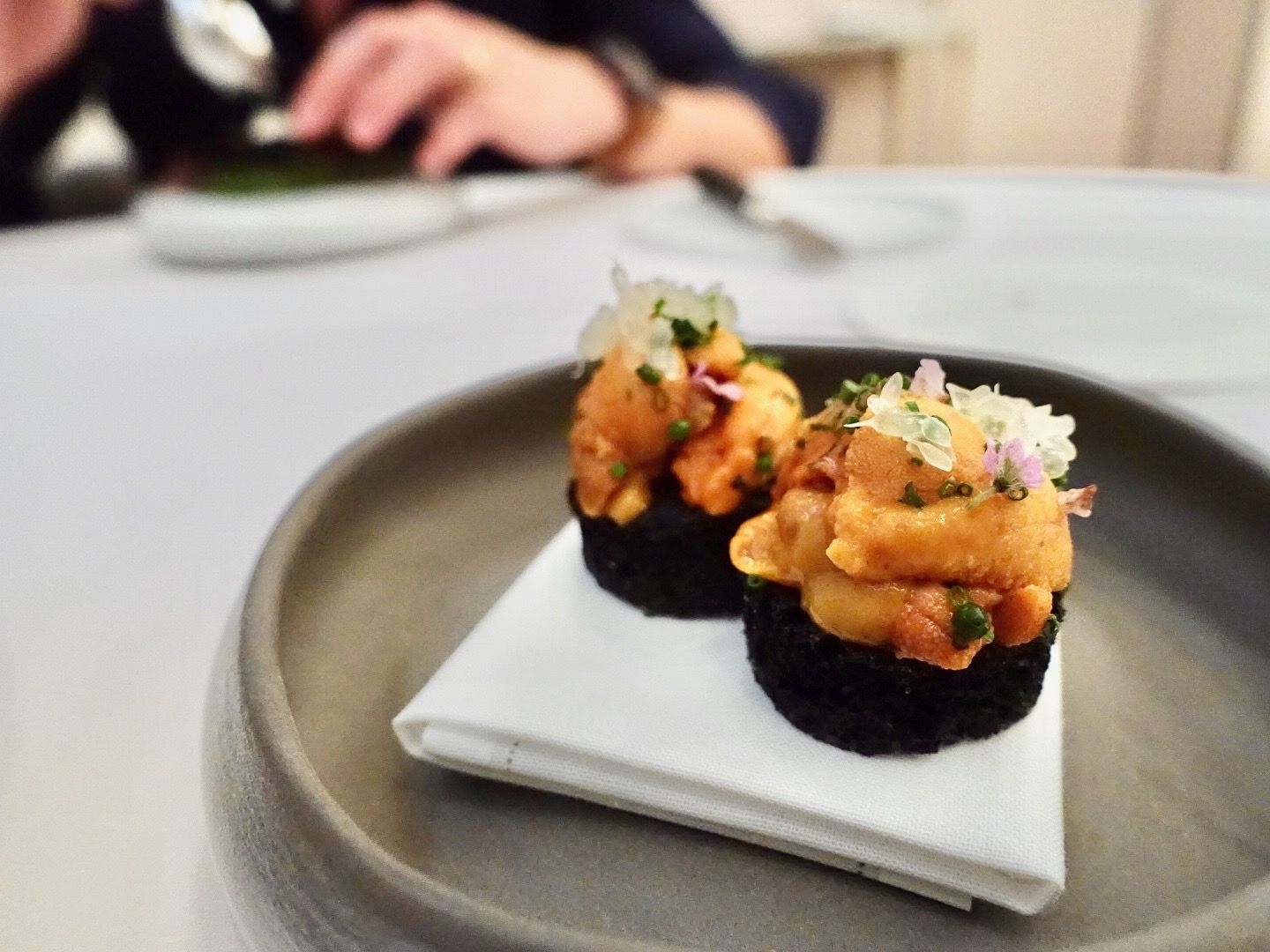 Finally, our meal started with the Murukyo Uni, served two-ways, with a sweet Spot prawn tartare and Mussel cloud, and another with Royal Schenckii caviar on a seaweed bread. The finger lime on the latter enhanced the sweetness of the uni and also helped to whet our appetite. The pairing a 2009 Pithon-Paillé Anjou Coteau des Treilles was spot on. This Chenin Blanc is of an attractive lemon-gold hue and so tasty!
The
Normandy Brown Crab
was mixed with cubes of Nashi pear and jelly, topped with some avocado purée, and wasabi oil.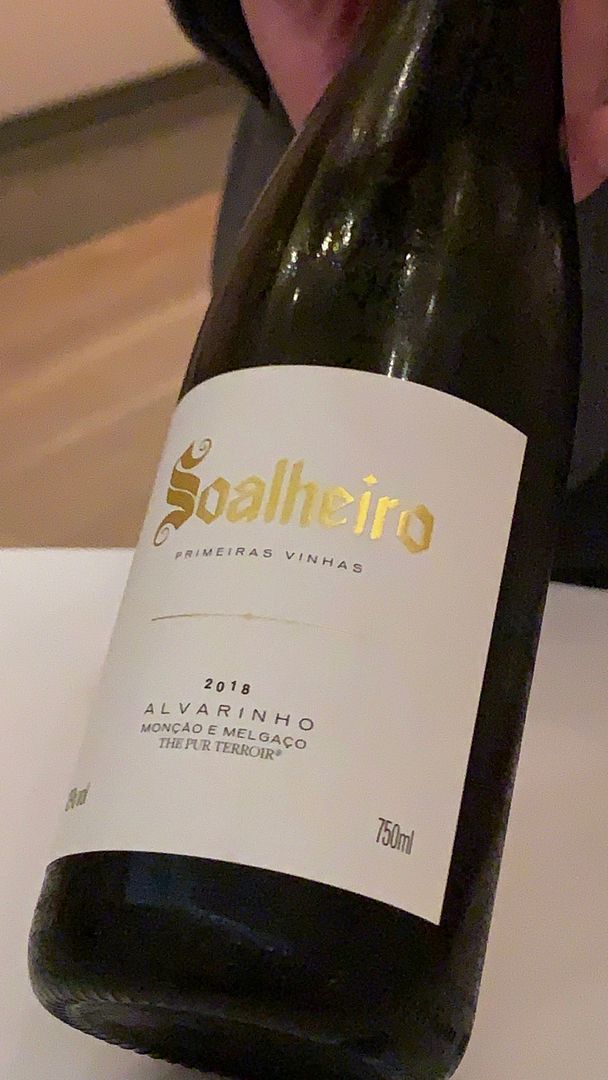 The 2019 Soalheiro Alvarinhno from Moncao e Melgaco, Portugal complemented the grassy notes in the crab mix.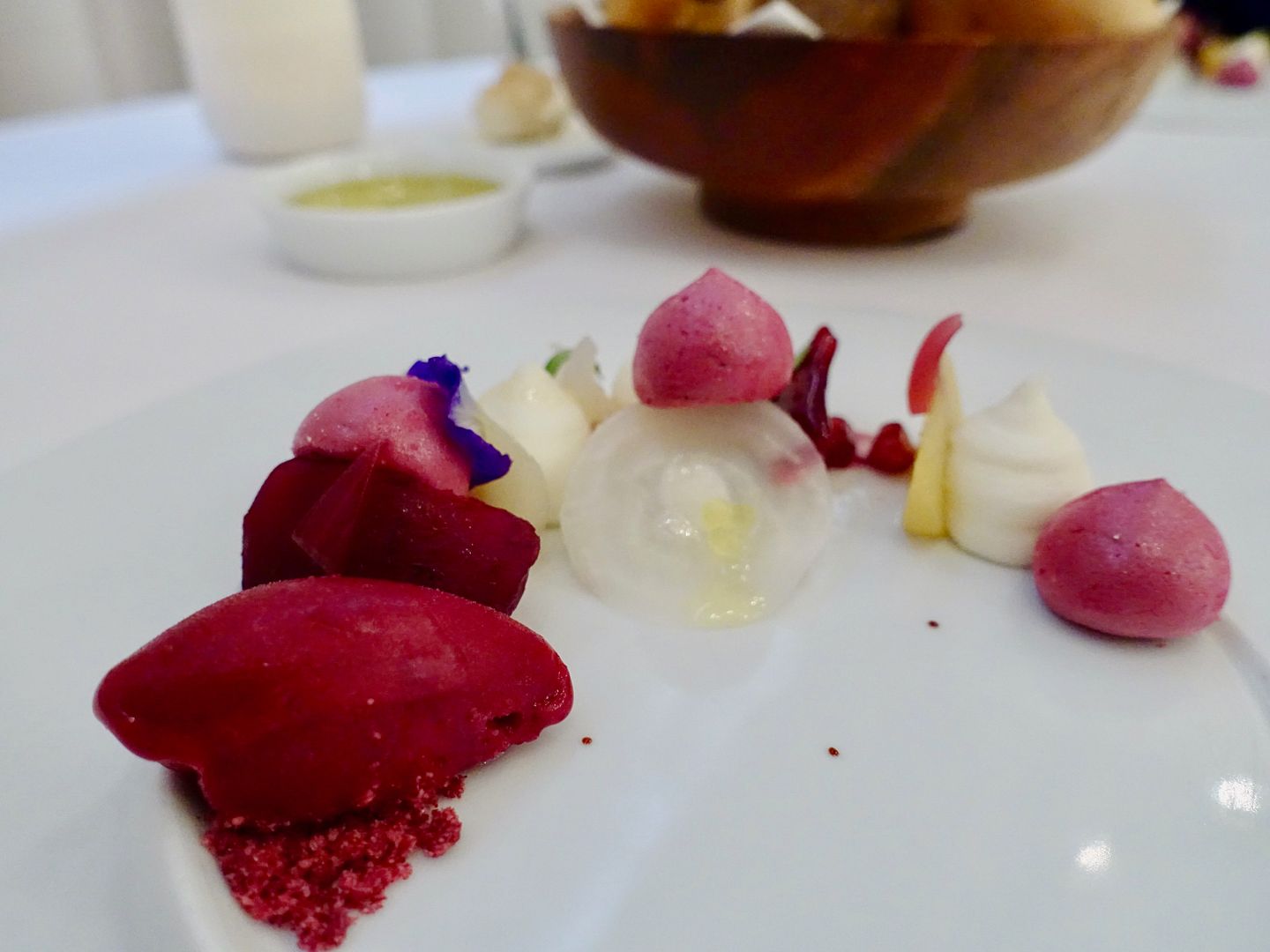 The vegetable dish was a platter of
Heirloom Beetroot Variation
which showcased the various textures of beetroot- salt-baked, meringue, and sorbet. Stracciatella 'Artigiana' and honeycomb were also featured on the plate.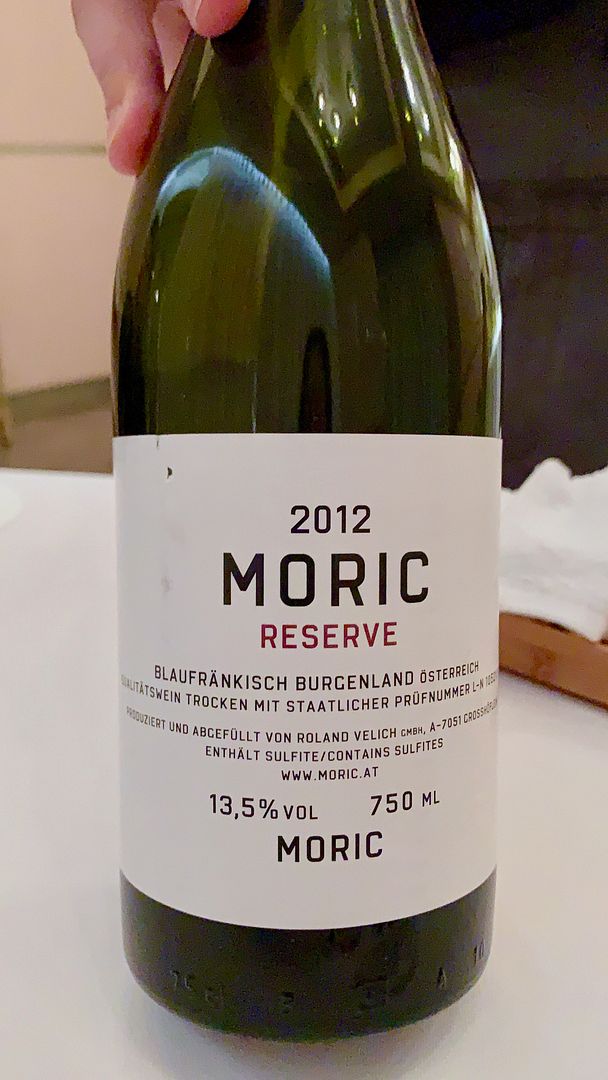 A surprising medium-bodied red wine was paired, a 2012 Moric Blaufränkisch Reserve from Austria.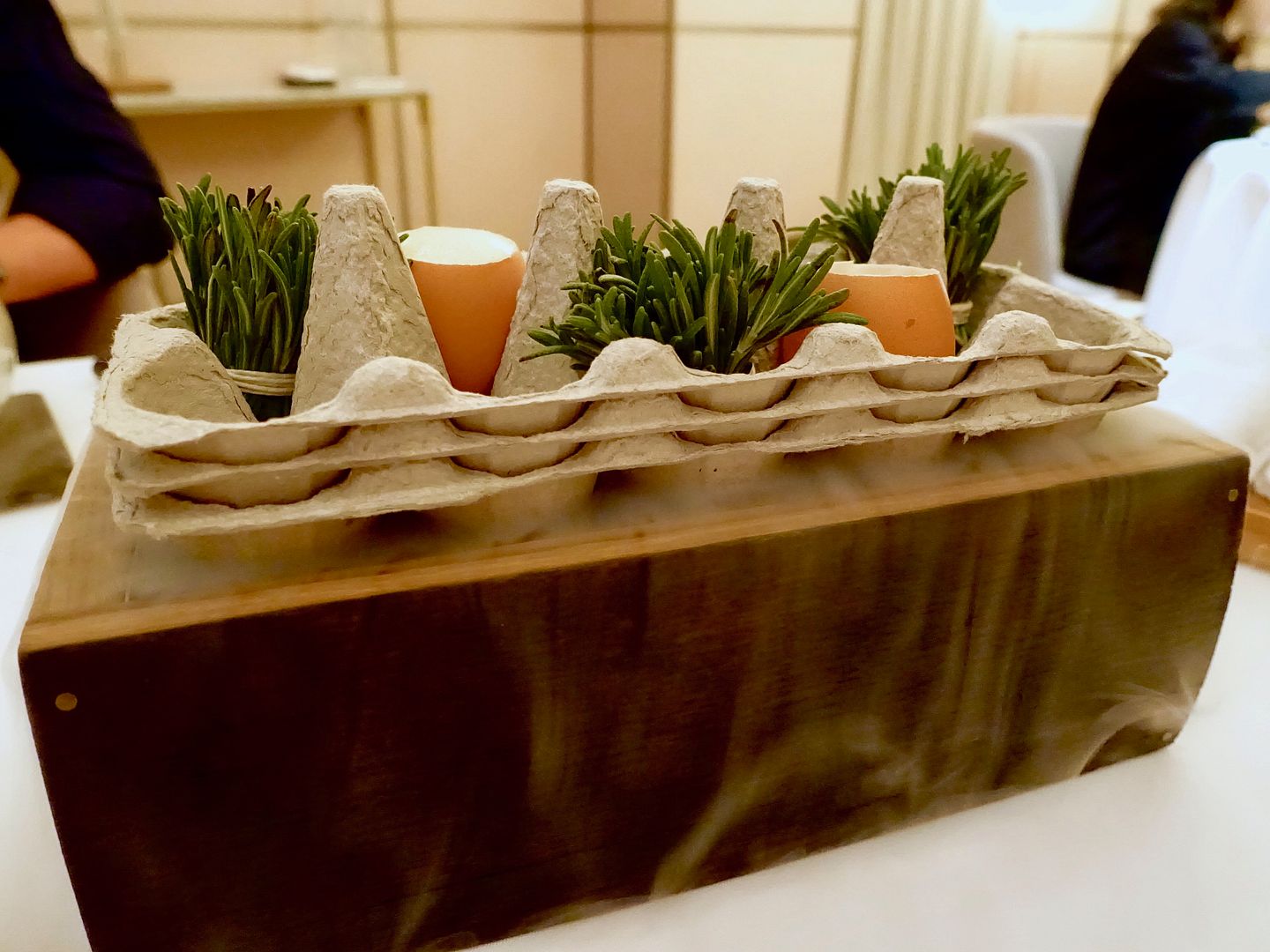 Another Chef Julien signature, the
Rosemary Smoked Organic Egg
is poured into a smoked potato syphon with a nutty meunière sauce, flavored by salty bits of Chorizo Iberico. I don't think he could get away with not serving this dish!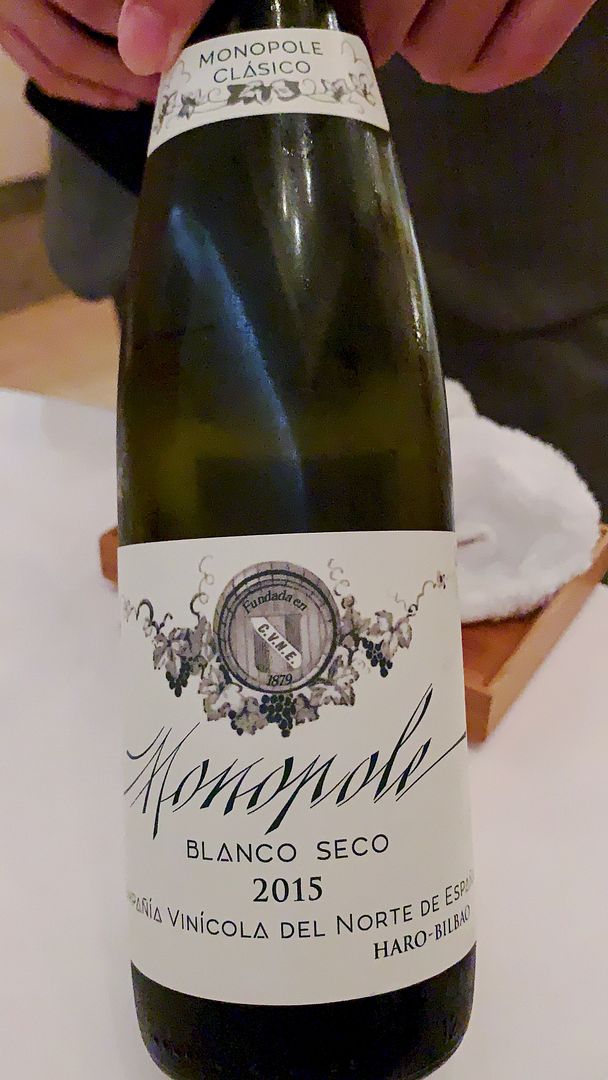 We had a white Rioja from C.V.N.E. Monopole Clasico 2015. This highly unusual Viura white is aged eight months in well-seasoned, neutral 300 - 500 litres Sherry casks before being blended with 5% Manzanilla Sherry from Sanlúcar.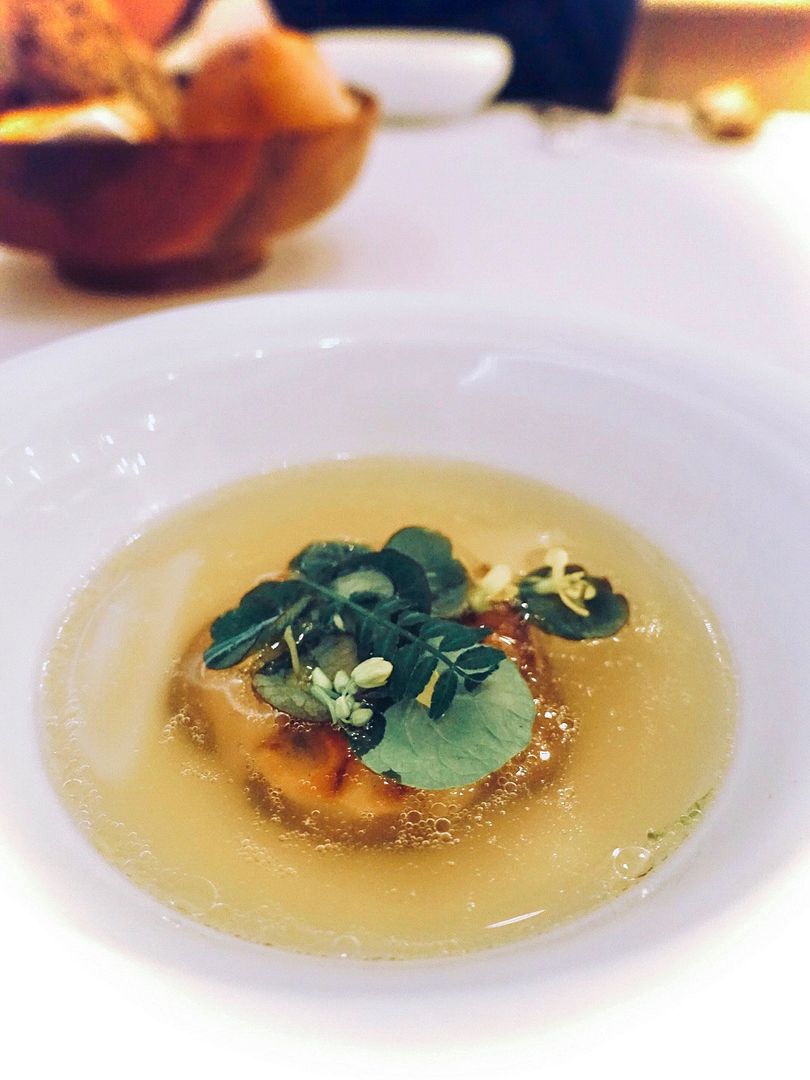 The
Bouillon 'Paysan'
is a marriage made in heaven between French and Japanese cuisine. Cubes of abalone, pickled Shiitake, and foie gras were topped with a pork broth with notes of pan-fried ginger. The foie gras in soup worked and it could pass off as a flavored tofu. We also tasted hints of Thai aromatics in this one.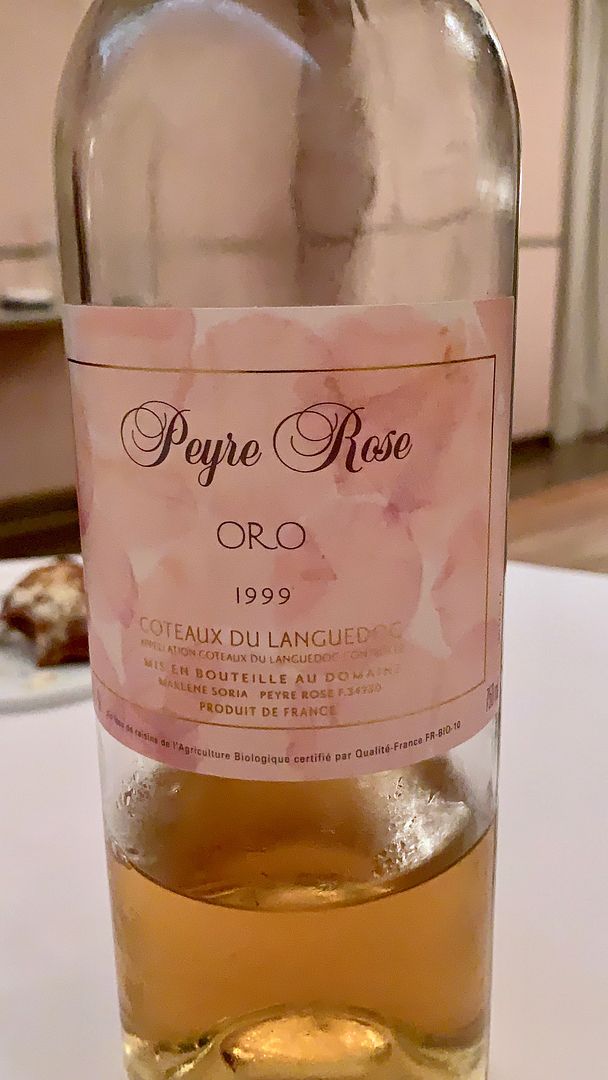 The herbaceousness of the 1999 Peyre Rose 'Oro' from Languedoc, France. Sweetish kind of completed the dish but the drink requires an acquired palate.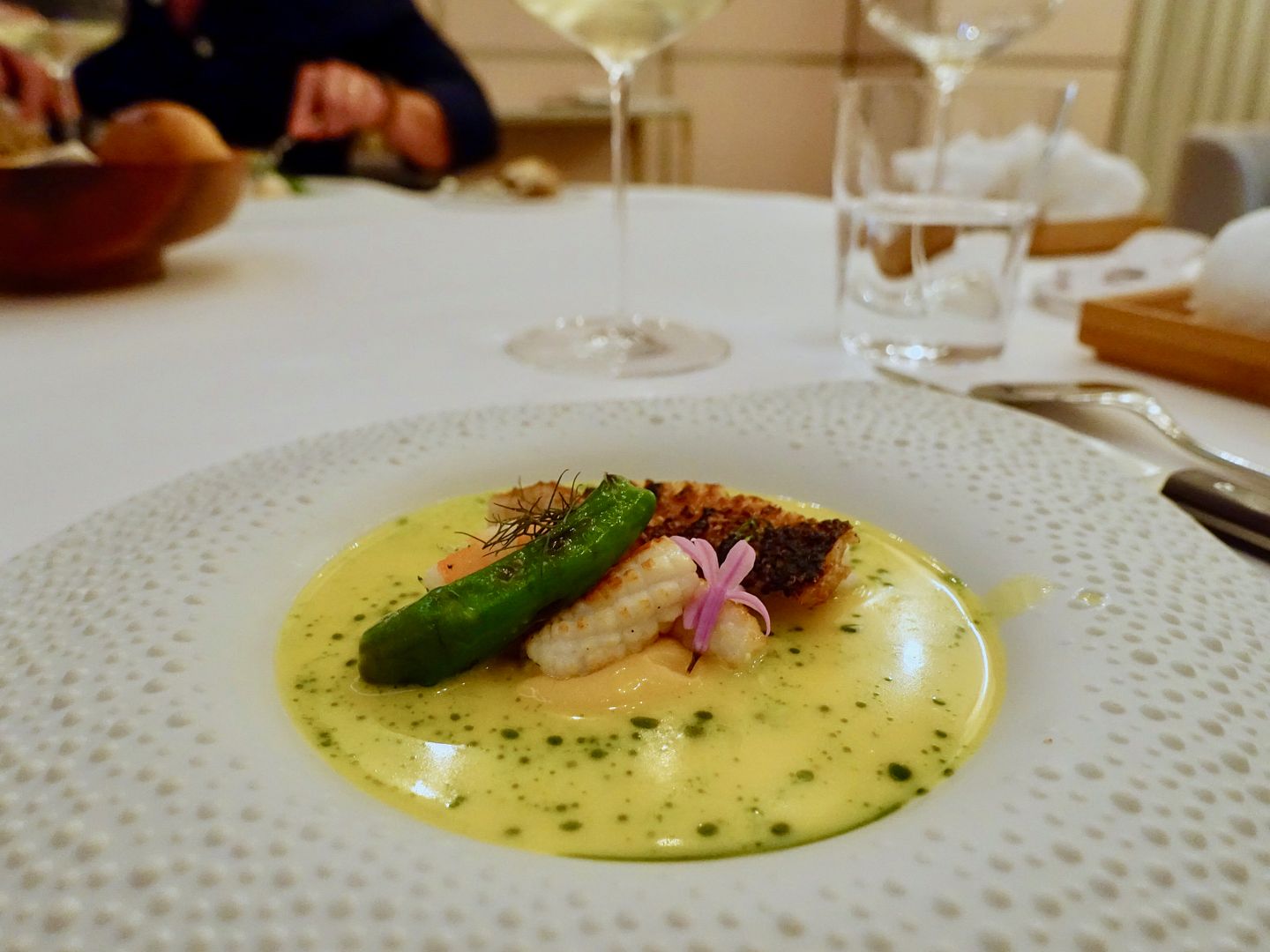 The
BBQ Kinki
had a mere touch of smoke on its crispy skin, enhanced by notes of Shishito peppers. As full as we were, we couldn't resist devouring the remaining seafood on our plate, including the squid 'a la placha' and sweet prawns. The saffron sauce with basil oil provided the rich creamy contrast perfectly.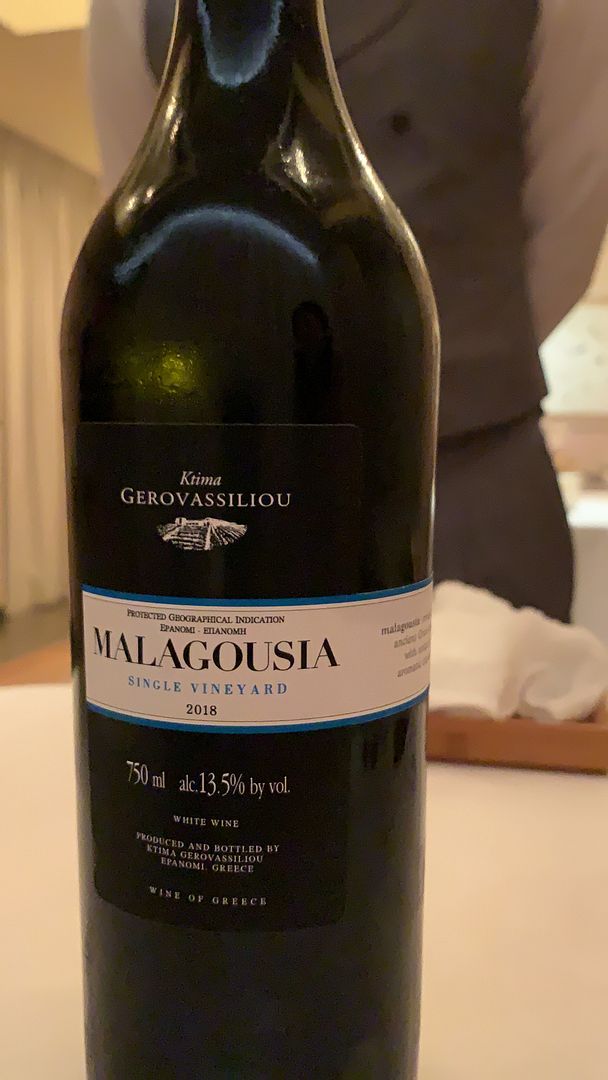 We had this with a 2018 Ktima Gerovassiliou Malagousia, from Epanomi, Greece. The aromatic white variety Malagousia grape was rescued from near extinction in 1983 by the winemaker Evangelos Gerovassiliou. The nose has matured fruits such as pear, mango and citrus. and on the palate, the rich flavours of lemon peel.
Chef Julien's menu is very focused on seafood, with the only meat being the Kampot Pepper Crusted Pigeon. Brittany pigeon is used here and i liked how the peppery spice of the organic Organic Kampot peppers (from Kampot Jewels in Cambodia) balanced the bloody red meat and the sweetness of the Solliès figs would briefly distract. I must admit i'm not a fan of pigeon as it's rather gamey to me. The leg was a lot more enjoyable imo.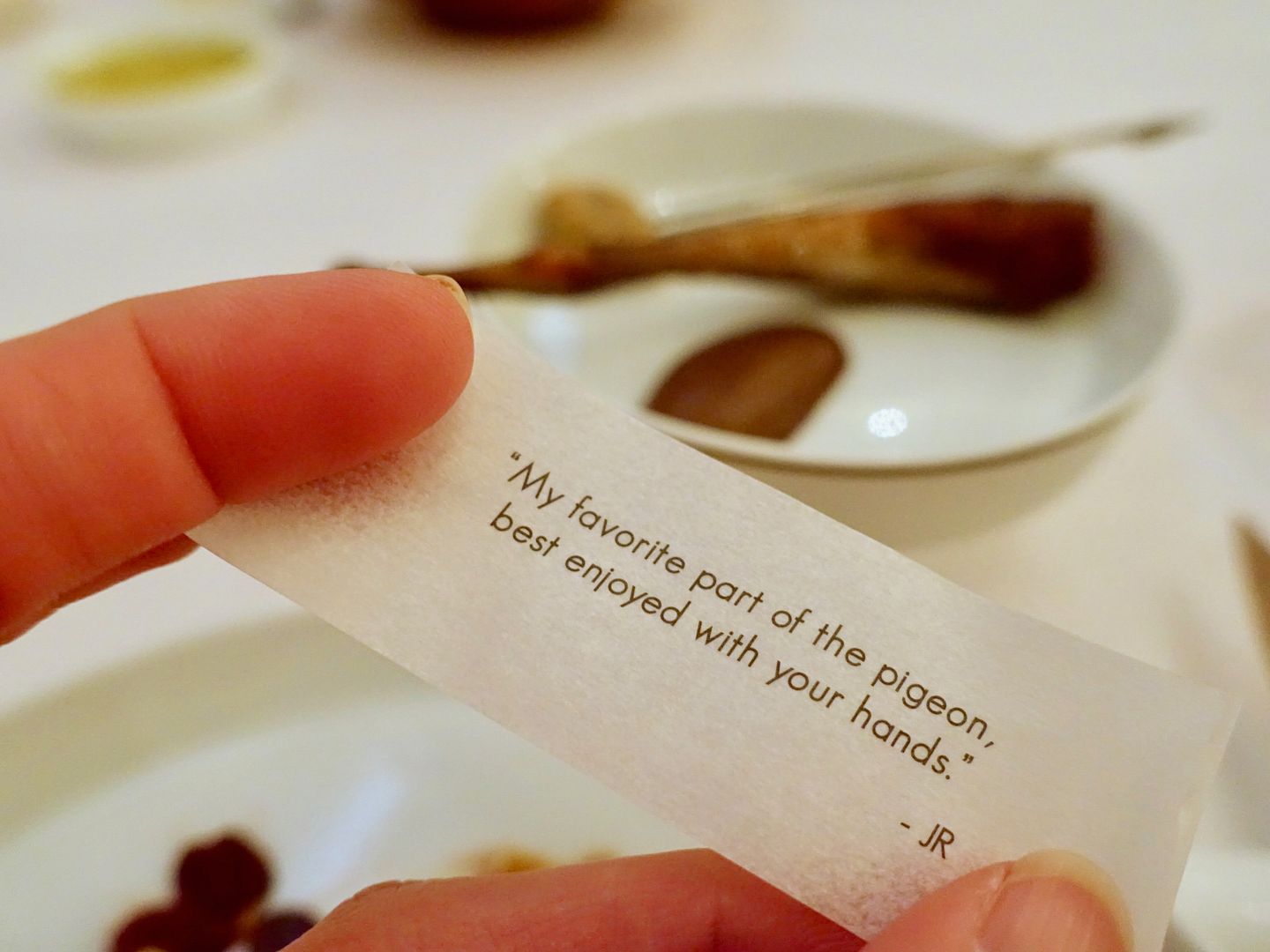 The bird was paired with a 2000 Château Montus Prestige. This Tannat from Madiran is a classic. with vivid tannins. Notes of blackberries, dark plums, black pepper, leather, with chocolate and coffee in the finish.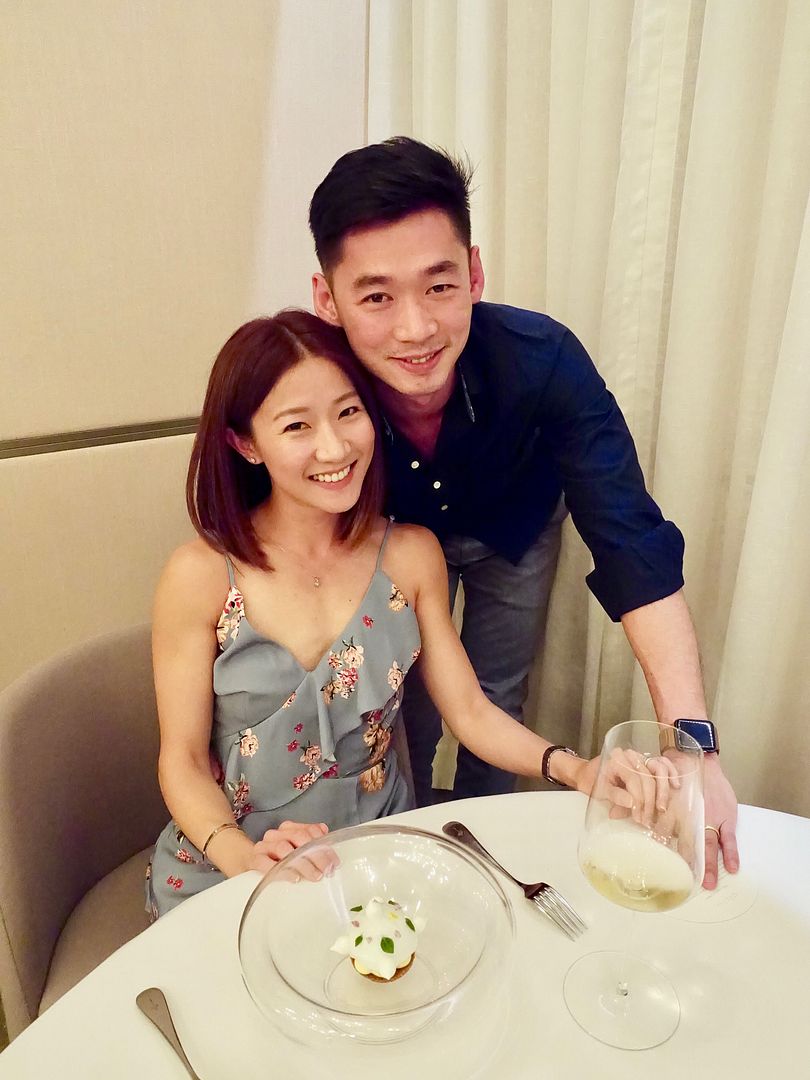 The pre-dessert grape and Verjus granita helped to refresh our palate before the actual dessert. As stuffed as we were, we devoured the refreshing
Yuzu T'art
with a Sablé Breton, shiso and basil oil. Man that sablé was so crisp and buttery.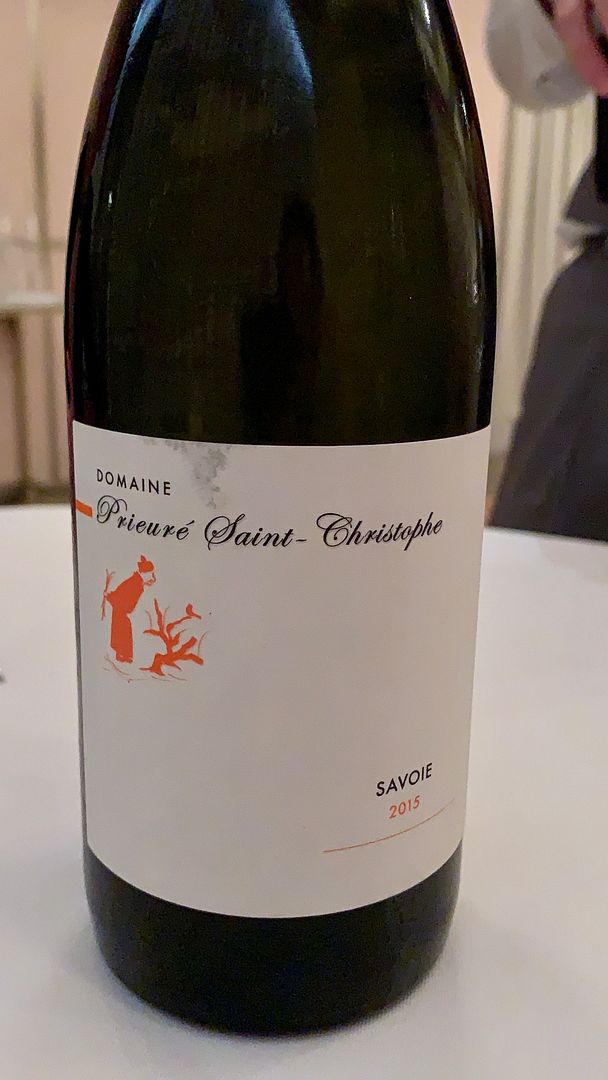 Dessert was paired with a 2015 Prieure Saint Christophe Savoie made from Altesse grapes. This 13.5% off-dry white wine is mineral driven, with stone fruit on the palate.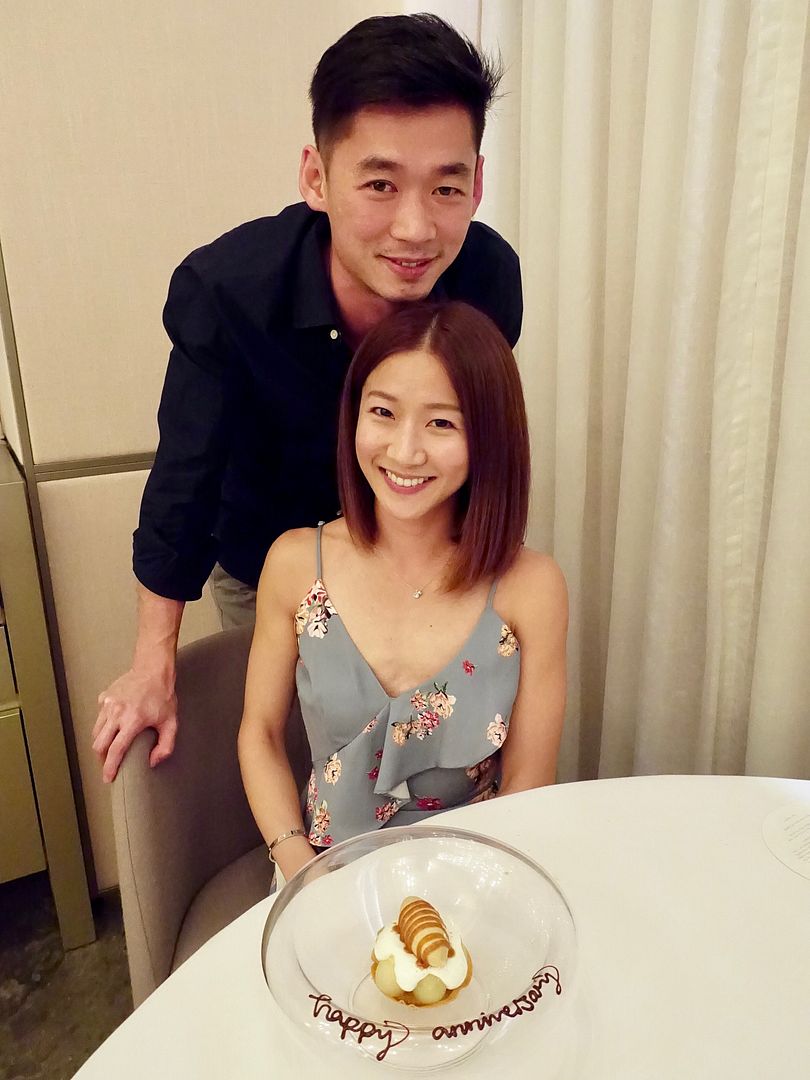 To top it off, the team then sent us a special anniversary dessert, a smoky sweet and salty Pear Tuile that has caramel and sesame too. GORGEOUS.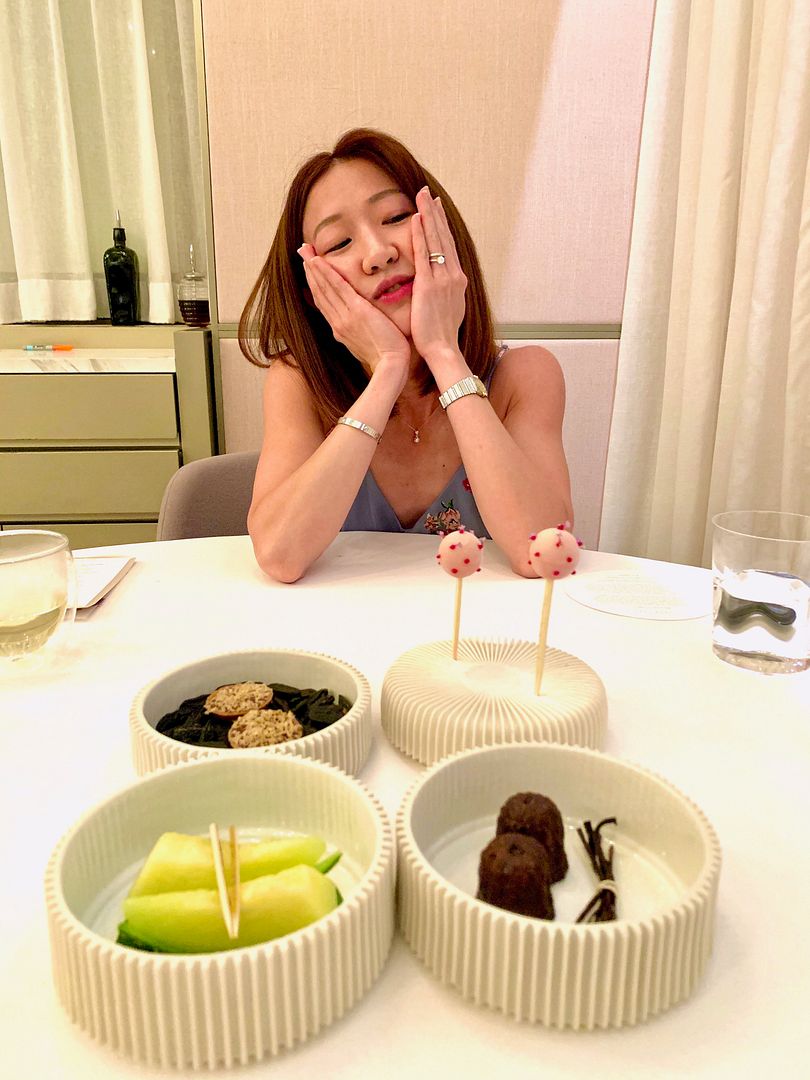 Dinner doesn't end until after the petit fours and we had a rhubarb sorbet lollipop, canelé (so burnt and crisp and smoky caramel notes), musk melon from Shizuoka, and a rich chocolate tart.

I swear my heart and tummy were gonna explode from the dining experience at Odette. Many thanks to the Odette team and of course to the best Husband in the world for making this happen.


National Gallery Singapore
1 St Andrew's Road Singapore 178957
Closed on Sunday & Public Holidays, Monday Dinner only.