Juice Cleanse is all the rage these days with the many juice companies sprouting up and beauty/lifestyle bloggers promoting the juices. Well, here is a food blogger/serial snacker's perspective on juicing. Granted I may not be the best normal person around to give you sound advice (yes I'm already skinny and I eat lots of veg and I exercise an average of 10h/wk) but you can bet on the tastiness of the juices if I tell you so right?

So the story went like this. A close gf of mine W was gonna get married and I thought that it was opportunity for bonding time if we do a juice cleanse together. Of course I kinda forced her into participating in my Ms Skinnyfat boot camp, which I paired the juicing with some hard core hot yoga in preparation for the big day (of course I don't believe in crash dieting duh).
We looked at a couple of juice companies like
Beauty Cleanse
,
Sana
,
Joob
and decided on Hic'Juice because their glass bottles looked so pretty. Yes we're superficial like that and that's perfectly ok. :P
We did the 3 day intermediate cleanse aka Restore. Hic delivered all 18 bottles at 1 shot (6 bottles/day). If storage is an issue for you, you may want to find a company that delivers your juices daily. Thank god I have a spare fridge at home. And gosh the glass bottles are damn heavy. Probably not the choice of juice company if you're on the go the whole time. Also, the bottles are slippery when wet and W broke a bottle before we even started on our cleanse.

S only found out about the juice cleanse when it was delivered and complained about the ridiculous amount W and I are paying for the juices (it's $318++ for 3 days). Well but for the benefit of you guys and my curiosity in the taste, I guess it's ok?
My only concern was the amount of fluids I had to ingest. 3l of juices a day?? Hello toilet bowl. My pea size bladder is certainly not gonna be able to hold much.
HIC juice sent us our juicing guidebook to help ease us into the cleanse. It was advised that we eat more greens (preferably a raw diet) and sleeping early the day before the cleanse. Well none of that happened for me as i went for a tasting prior and then slept at 1am because I was writing. So day 1 started with me feeling like a train wreck.
Day 1 39.5kg (my weighing machine makes me lighter so I'm probably 40kg)
.
Got a reminder from S to start on my juices. BAH. Breakfast at 940am and I started on the Popeye Smoothie, a dense pulpy concoction of red dragonfruit, pineapple, banana, spinach and ionized water. I loved the color of this one and also the taste of the juice. Feeling good!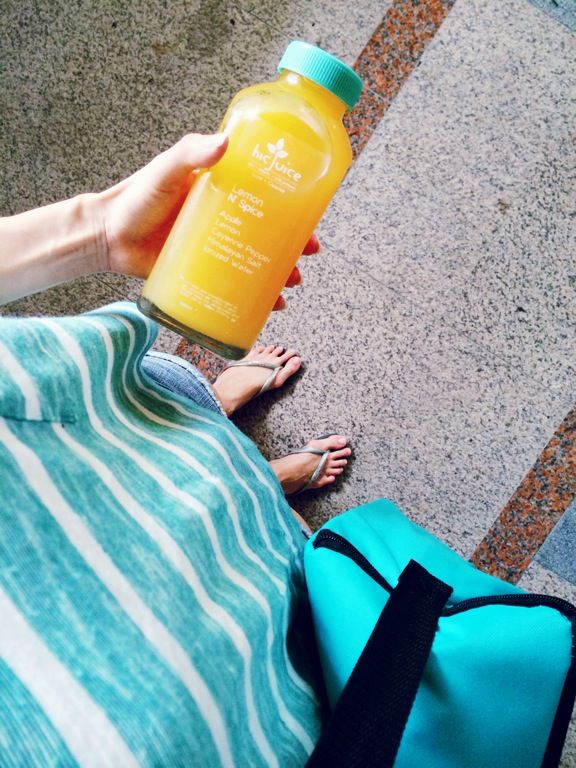 1140am
Juice 2 was Lemon n Spice. I read that many people can't take this juice because of the cayenne pepper but i like it! A hint of apple, mostly lemon and some spice. I did feel some burning sensation though but it wasn't entirely uncomfortable. But I did feel some burning sensation. My toilet breaks are started to become more frequent due to the fluids.
1225pm
Had to run errands at the shopping mall and all the snacks were tempting me! I was feeling pretty full from the juices actually but I'm just being greedy I guess.
1pm
The horrible S was happily tucking into his Yu Kee Duck rice. The zen master will not be tempted and so I worked on the blog instead. Productive distraction turned out to be useful.
155pm
Started on Juice 3.
Green Lemonade
is made from Apple, Cucumber, Kale, Celery, Romaine Lettuce, Parsley and Lemon. The taste was quite cool due to the high cucumber content. This tasted a bit like herbal tea but was quite drinkable. Thankfully celery is not a huge feature in this one.
Juice 4
4carats is a carrot, celery, cucumber and apple mix. I used to hate raw carrots and cucumber but I've learned to enjoy more vegetables as I grow older. This drink had a cooling igh carrot content. This went down easy too.
5pm
Went for a short run under the sun. Feeling energetic! The Coconut water was a nice cool relief at the end but it's probably the most expensive coconut water I've paid for and yes it's just regular coconut water.
8pm
Ended the day on Juice 6 which is
Nut Milk
. It's made from Raw Cashews, Raw Almonds, Vanilla, Medjool Dates, Himalayan Salt, Cinnamon and Ionized Water
.
Everyone said that this is tasty but I found the high oil content to be rather disturbing after a day of clean juices. It had a bit of the unappealing oily taste. Good thing there's only 1 bottle of this.
Yay to the end of day 1. It was pretty easy but i was already missing my snacks!
Stay tuned for day 2 and 3 coming up!
For more on Hic'Juice, here's their website link with pricing and all (
click here
).