Restaurant Review: The Prime Society
[Media Invite]
I'm a meat girl as you all know. I love my slab thick, juicy, bloody and char grilled. Call me an American girl if you must but i think the best setting for steak would be outdoors, with lots of friends, loud music and booze. A pool party would be fine too; it's a lot easier to grill food in a bikini. Takes the heat off ;)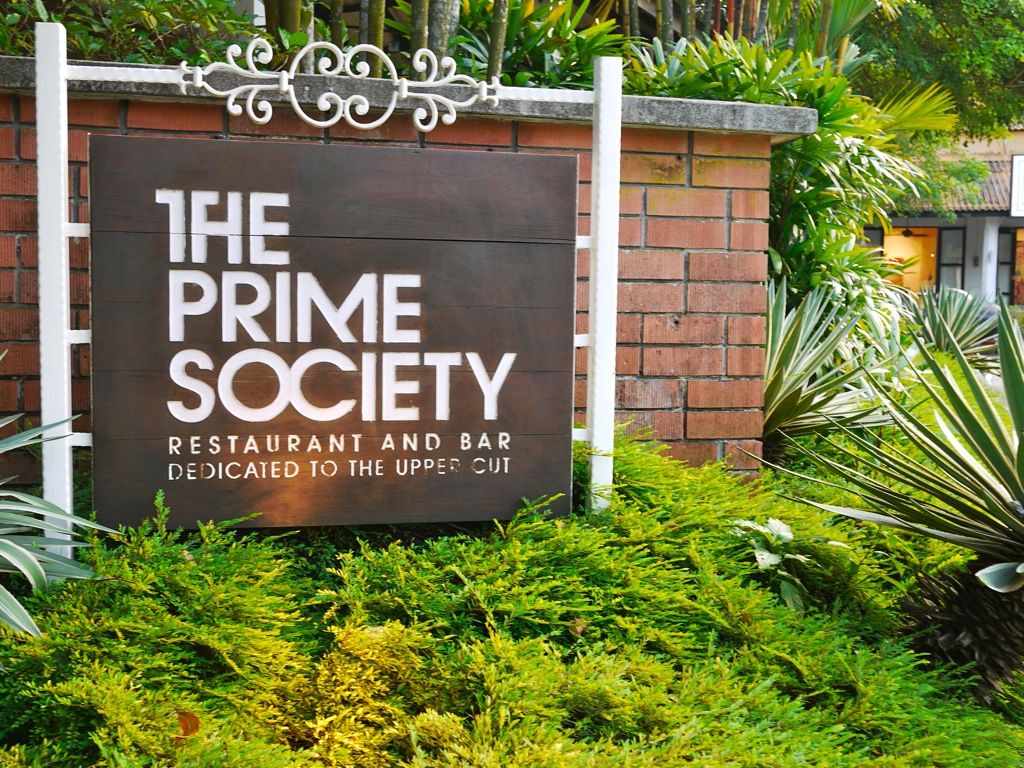 That kinda explains why I have put off visiting The Prime Society at Dempsey for so long. The name and location kinda gives the impression that it's fine steak dining, similar to the stuffy Morton's (didn't like it) and glitzy Lawry's. After all, it prides itself as a provider of prime cuts of the best grass-fed and grain-fed meat in town. I was surprised to find out for myself that it is more tongue-in-cheek fun than expected. The feel is contemporary chic with a relaxed vibe than high society (especially so if you dine alfresco).
I had the first taste of The Prime Society's newly expanded menu (includes non-moo dishes), which is designed by new executive chef Dallas Cuddy. Chef Dallas has a slew of awards Down Under his belt (pun intended). This includes Young Chef of the Year and Best New Restaurant for Izakaya Den (which he co-owns). Having gained experiences from star studded restaurants e.g. Nobu London, he brings to the table some world famous signatures transformed by his Midas touch.
What i love about this man is how he remains so humble and down to earth. Throughout dinner, he patiently went from table to table, explaining to us how each dish was prepared. This quirky chef constantly looks out for local ingredients to infuse into his dishes. Apparently, he picks out fresh herbs/leaves around Dempsey for his creations. Despite the megawatt charm that we turned on, he kept mum about his secret herb garden location. Boo.
We started out with some light bites and cocktails before dinner commenced. I was intrigued by the
Beef Tartare Pastry 'Cigar'
(S$7ea). The brick pastry cigars appearance leaves diners with no inkling of what to expect. The first taste was of the finely diced plum wine jelly which is a little sweet and acidic. As you chomp on further, you would then realize that it's filled with a refreshing blend of chopped beef, red onion and chives, lemon juice and olive oil. I foresee this new form of presentation is gonna gain popularity in the coming months.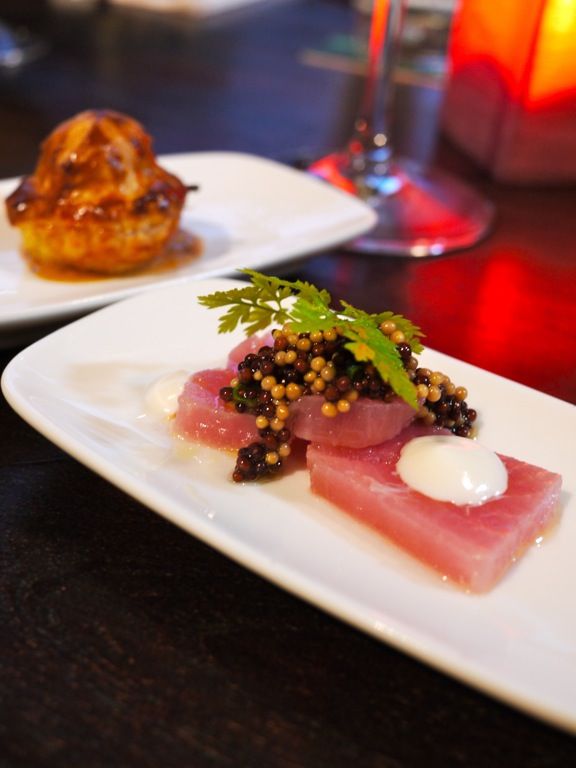 The
Cold Smoked Tuna
(S$26) is good for sharing. Marinated in citrus dressing with ricotta, feta and yogurt milk curds, chives and slow-cooked mustard seeds, this is a refreshing dish without the fishiness of the red meat.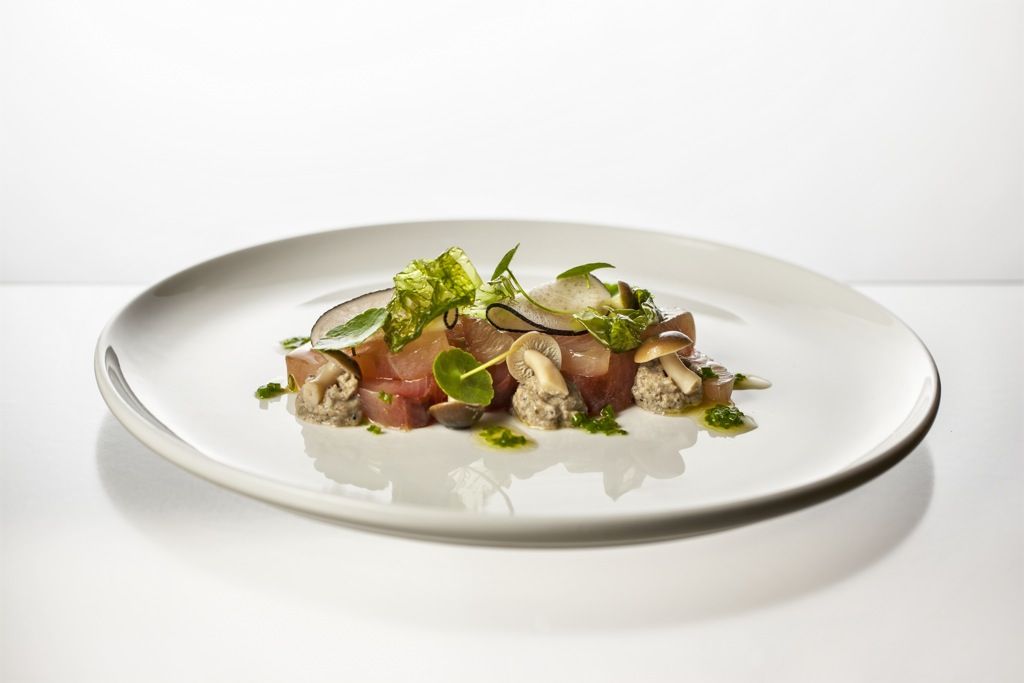 Our first course was the Cured Kingfish with eggplant and pickled mushroom (S$15). The fish is first cured in salt, sugar, orange zest, vodka, juniper berries and star anise for six hours and then sliced sashimi style and served. The accompanying puree, made of roasted eggplant blended with tofu and lemon juice, was most interesting. I couldn't figure it where the eggplant in the dish was till it was pointed out. Overall, the dish is tangy and refreshing with hints of yuzu, rice wine vinegar and citrus vinaigrette.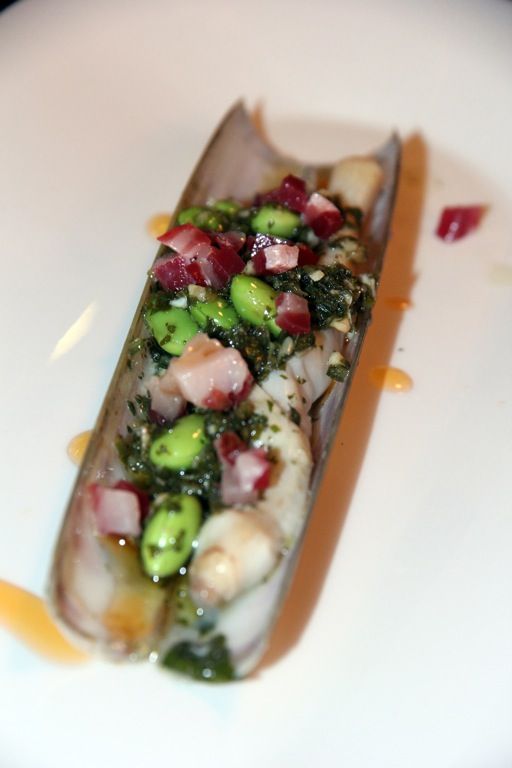 The steamed
Bamboo Clam with green basque sauce and jamon
(S$24) was bursting with flavors from the garden, farm and sea. Each flavor could be tasted separately but everything works well together: the sweetness of the clams perfumed with white wine; the herby oregano, basil, chili, parsley and olive oil mix and the saltiness from the shaved jamon. Lovely combination.
Lobster Raviolo
was freshly made and stuffed with live lobster and spanner crab meat and served with a lobster shell bisque foam. Herbs and tofu are added to the mix to bind the meat and seal the juices. Though the seared foie gras was bland, the salmon roe kinda made up for the flavors. This is a very light dish and quite perfect for the ladies.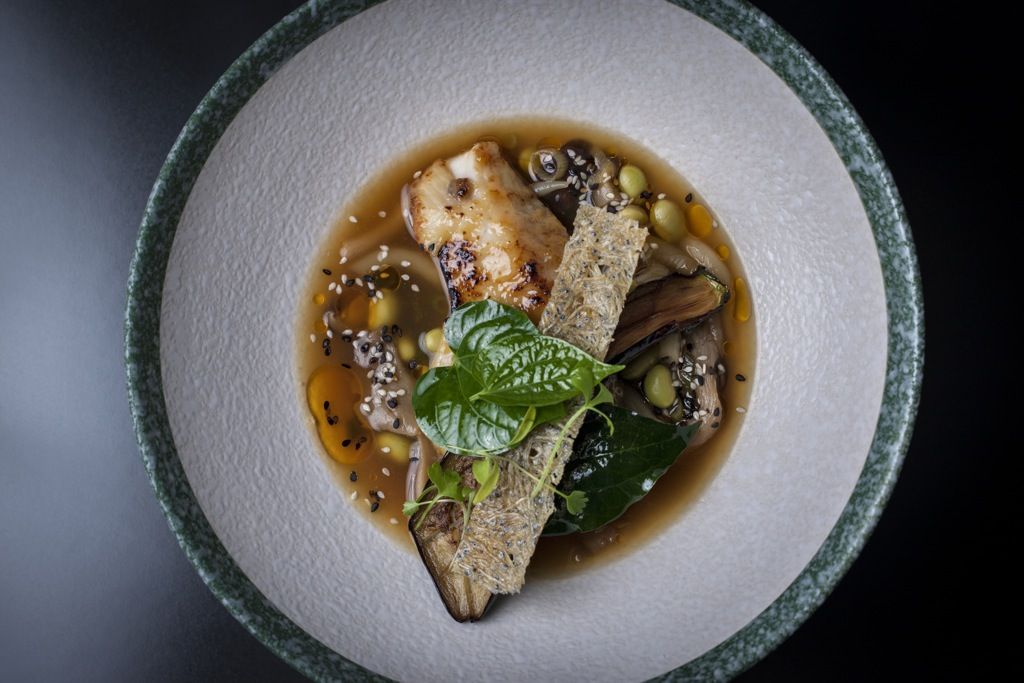 We were extremely lucky to taste the famous Nobu Miso baked Black Cod (S$44) but this has a local twist to it. Served with the egg drop noodles known as lau shu fen or mee tai mak, the dish also features soy beans, spring onion, roast eggplant, tatami iwashi, and a thickened dashi with soy. Chef Dallas does his own dashi fish stock by simmering konbu seaweed and adding bonito flakes. The Black cod needs no introduction; it is marinated in miso, sugar, mirin and sake for three days then baked to order and the flavor and texture are to die for.
Mayura Station Wagyu
(S$90/200g) is a Full Blood Wagyu Sirloin, 550 Days Grain Fed (marble score nine). Simply grilled and served with Prime Society seasoning, the meat was quite flawless. I picked the green tea salt along with their sauce. The red was accompanied by confit shallot and truffle custard cream which was irresistible. For big eaters, The Prime Society does 100g supplements for their steaks so you can easily add on a half portion (or full) instead of getting another slab.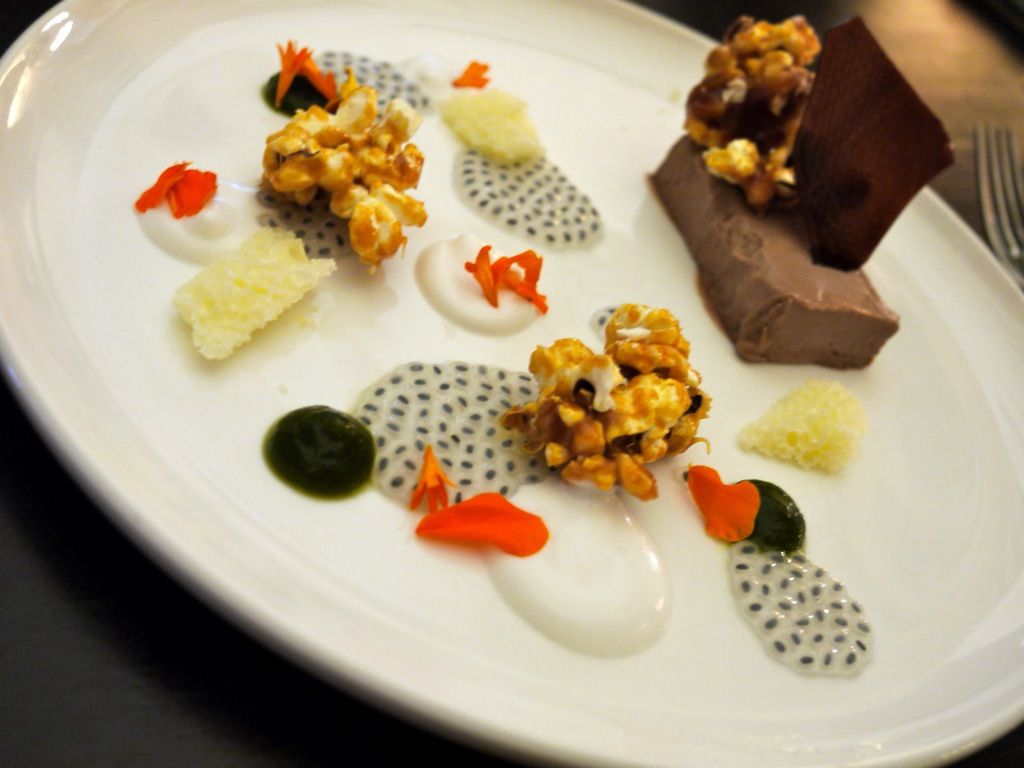 Ending off our extremely delightful dinner was the
Chocolate parfait, coconut cream and basil
dessert (S$15). Now this, you cannot miss. The flavors and textures are mind blowingly awesome. Taste a bit of everything individually and then mess it up for the wow effect. I never thought that basil and coconut could ever go with milk chocolate but it did. And that aerated chocolate/coconut meringue that simply sublimes, that crunchy salted caramel popcorn and creaminess of chocolate..This is dessert heaven.
Gotta say i love the new dishes at The Prime Society and i'll definitely be back to try more of their meats. They also do a neat brunch on weekends. :)
Thanks to The Prime Society for hosting the event. It was a fantastic girls' night out with great food, happy juice and conversations that we never wanted to end.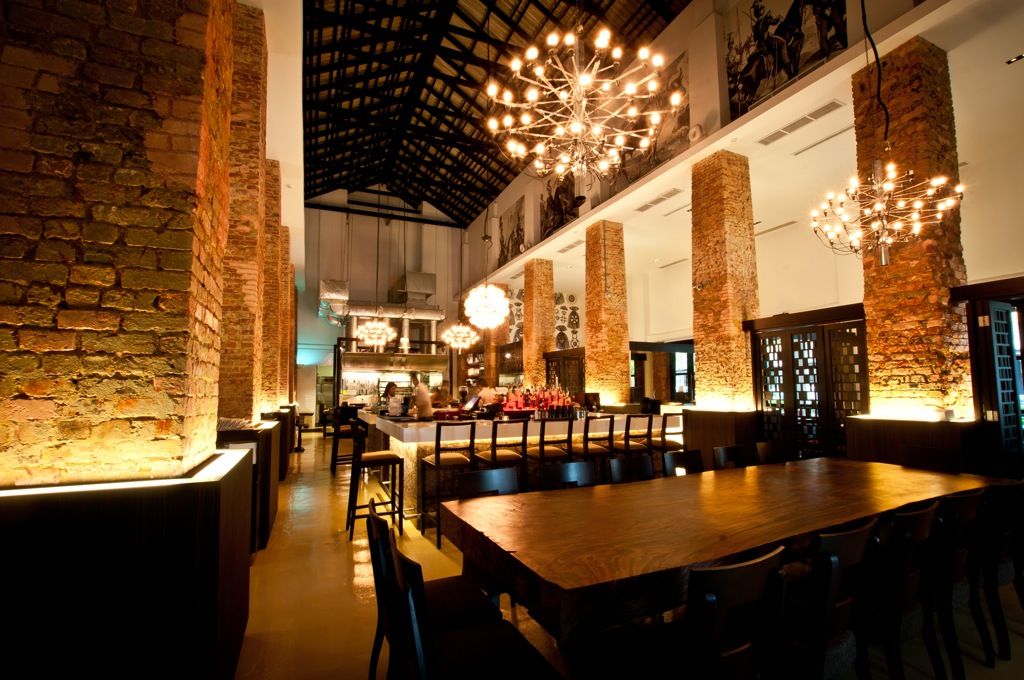 The Prime Society
10 Dempsey Road #01-01
Tel: +65 6474 7427
Mon – Tue: 6 pm to 10.30 pm
Wed – Fri: 12 pm to 10.30 pm
Weekends: 10.30 am to 10.30 pm