NYC Stars: Le Bernardin
A New York City 3 Michelin stars restaurants list would have been perfect for my blog should i have had things my way. That's if i had all that tummy space, time and money to experience it all. Last trip was meant for Daniel, Le Bernadin and Jean Georges (which we cancelled because we were shopping boo). Out of the 2, i was more impressed with Le Bernadin for their stellar execution of everything fish. They even made this un-fish fan (fish hater seems too harsh) change her mind about having fish as a proper meal (though i still maintain that fish is not meat).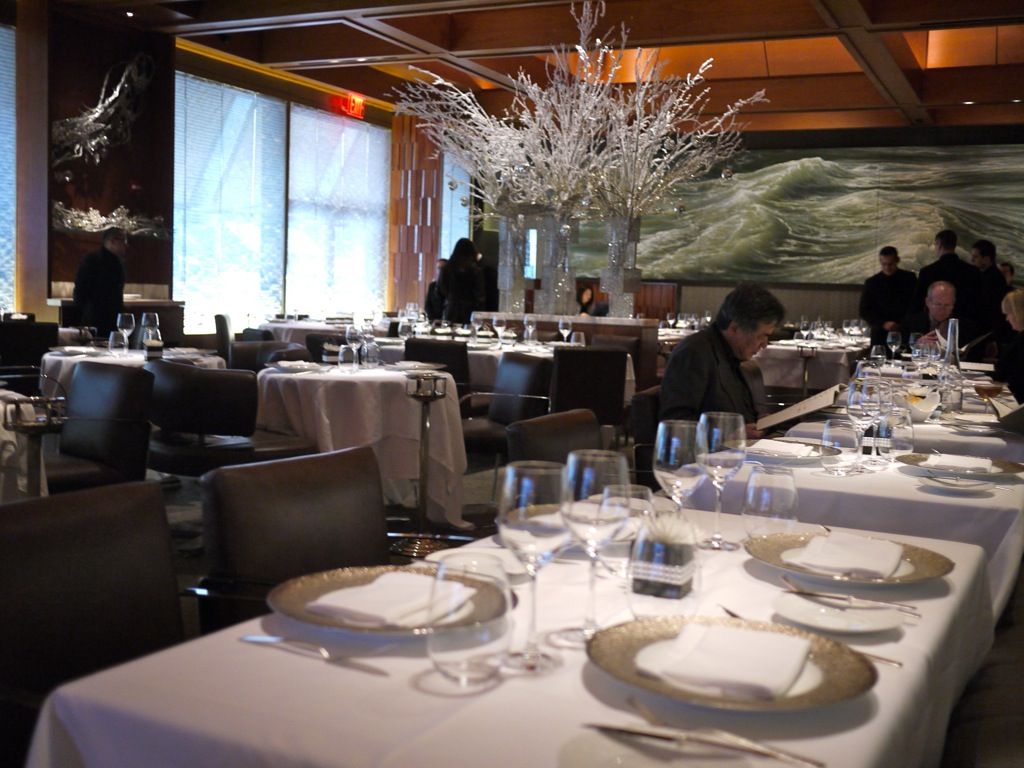 I'm not a food snob in the sense that i don't blindly believe/follow the stars; the food should always precede the reputation. At Le Bernadin, Chef Eric Ripert recognizes and respects that. The use of subtle textures and flavors and sourcing of the freshest ingredients all contribute to the award winning meals that are served at this NYC seafood establishment.
We had the 3 course lunch which cost a mere US$72. This is why i love fine dining overseas at because it's so much higher in quality and way easier on the pockets. The menu selection is extensive and we had a hard time just picking a starter from the Almost Raw or Barely Touched section.
We started with the generously portioned Amuse Bouche of Salmon spread, which is the usual salmon mayonnaise but tasted so much better than what anyone could possibly make at home due to the freshness and condiments used.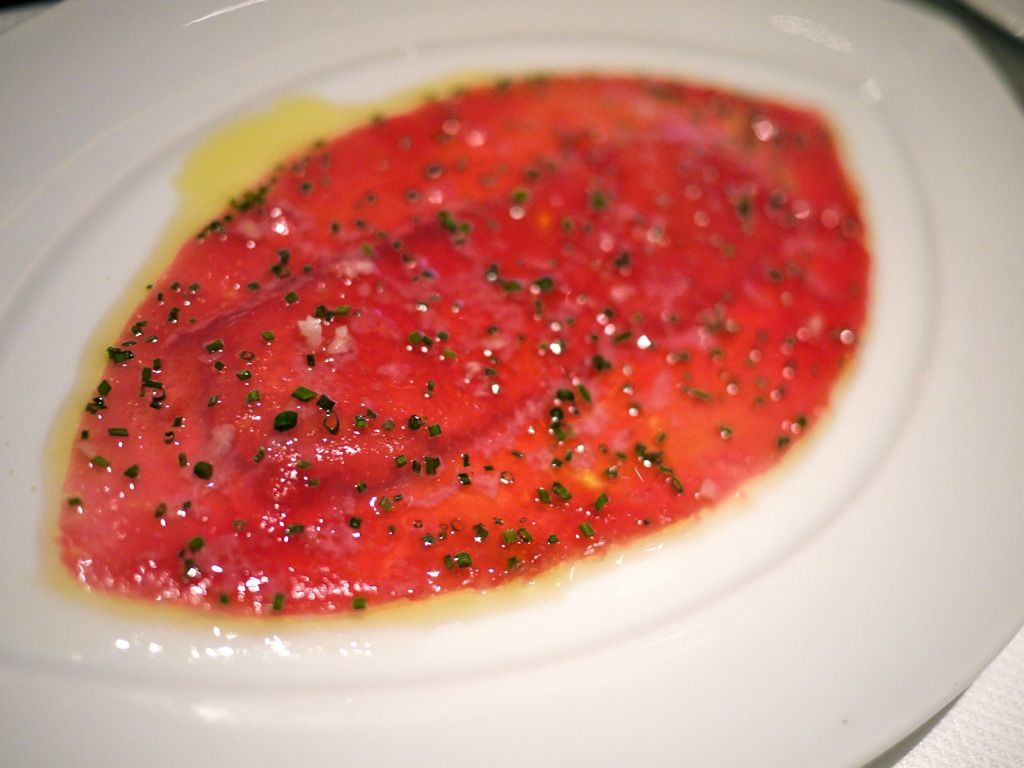 The
Almost Raw
Tuna
was a layered plate of thinly pounded Yellowfin Tuna, Foie Gras and Toasted Baguette, served simply with shaved chives and extra virgin olive oil. The individual flavors could be tasted separately but they worked extremely well on the whole. The tuna took on an almost beef like taste as a result and the thin baguette gave the dish its surprisingly factor with its wafer like crunch. Love this one.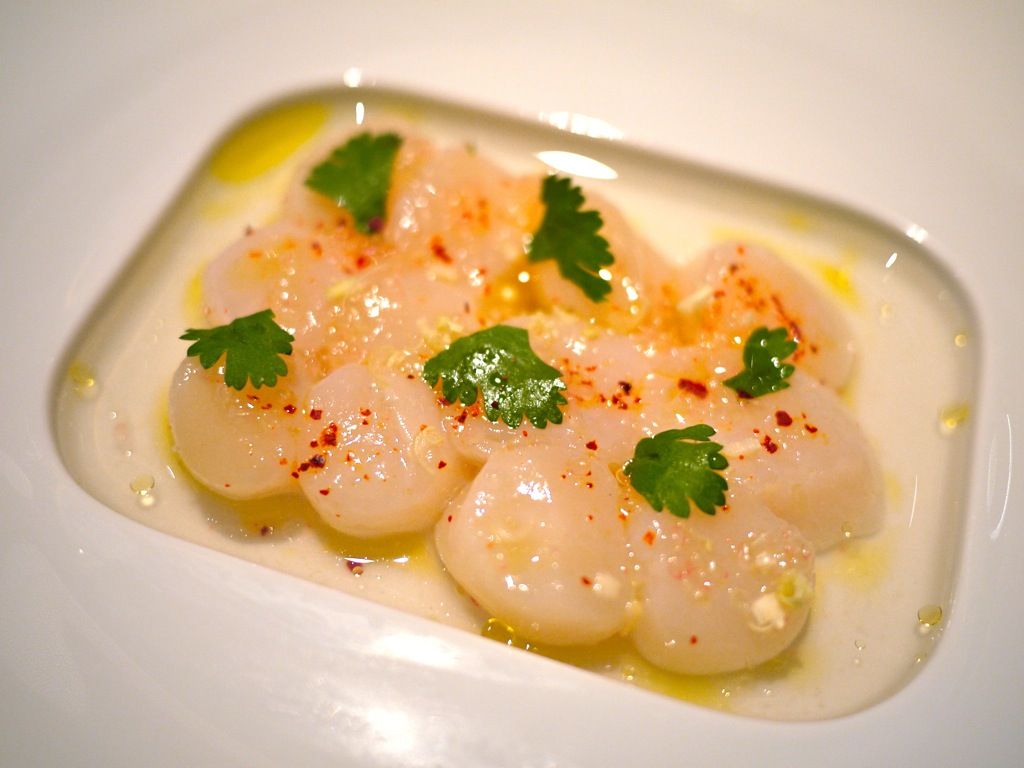 The Barely Touched Scallop was a new creation, created a month before we arrived. The cute pearly Nantucket Bay Scallops were really sweet and when done carpaccio style with the Finger-Lime, Lemongrass and Lime-Shiso Broth, the dish was a breath of fresh air in the dreary winter.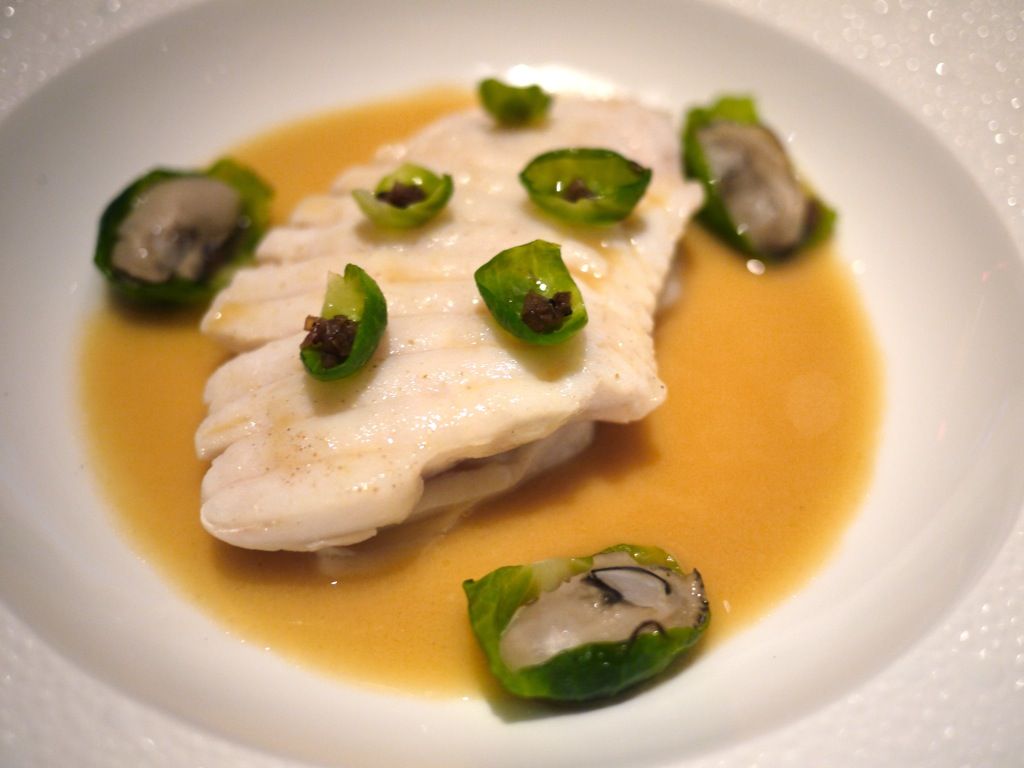 The Poached
Skate
was fantastic with a nice bounciness to the meat. I love eating it along the grain as there's hardly any need to use the knife. Food eating quirks. The Brussels Sprouts-Bacon Mignonette gave the mild illusion of a meat dish without the heaviness.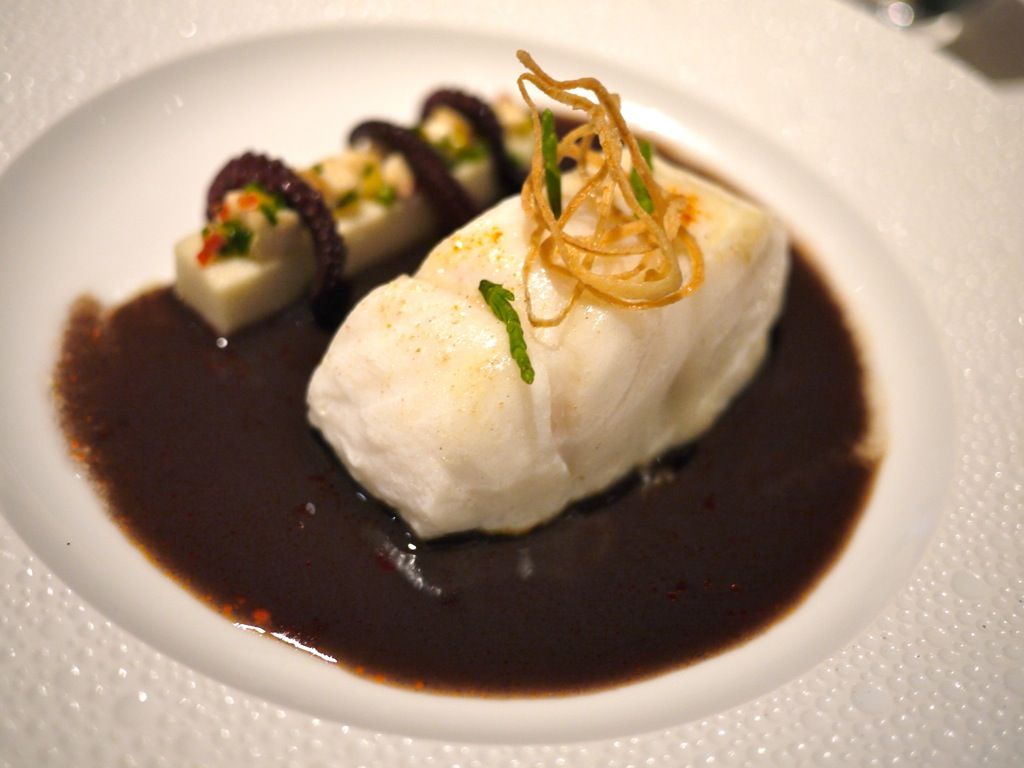 I love the oiliness and fattiness of a good fillet of
Cod
. The meat is firm and substantial but still maintained its moisture after undergoing the wrath of the oven. The silky texture tofu strip with sea bean salad and octopus wouldn't have been out of place at a Chinese restaurant so it comes as a surprise that it appeared on a French plate. The dish would have been perfect if were left untouched by the cumin-red wine sauce. I liked the sweetness of the red wine reduction but the cumin added that touch of exoticism that's better left in the Mediterranean.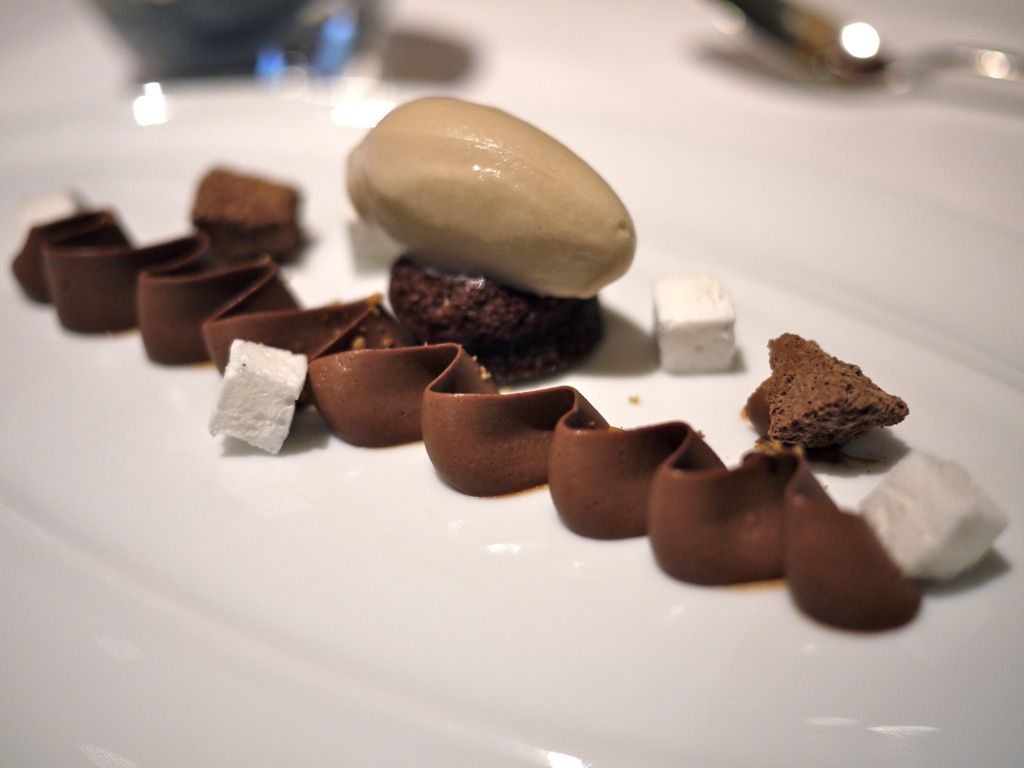 A good meal should always end on a sweet note and my
Coffee
dessert was quite perfect. It looks simple and plain with the Caramel Crémeux, Mascarpone Mousse and Coffee Ice Cream but the astronaut-ice cream-ish chocolate pops that almost evaporate upon contact with your tongue make it a pretty cool dish. Plus it's chocolate. How can anyone not love chocolate?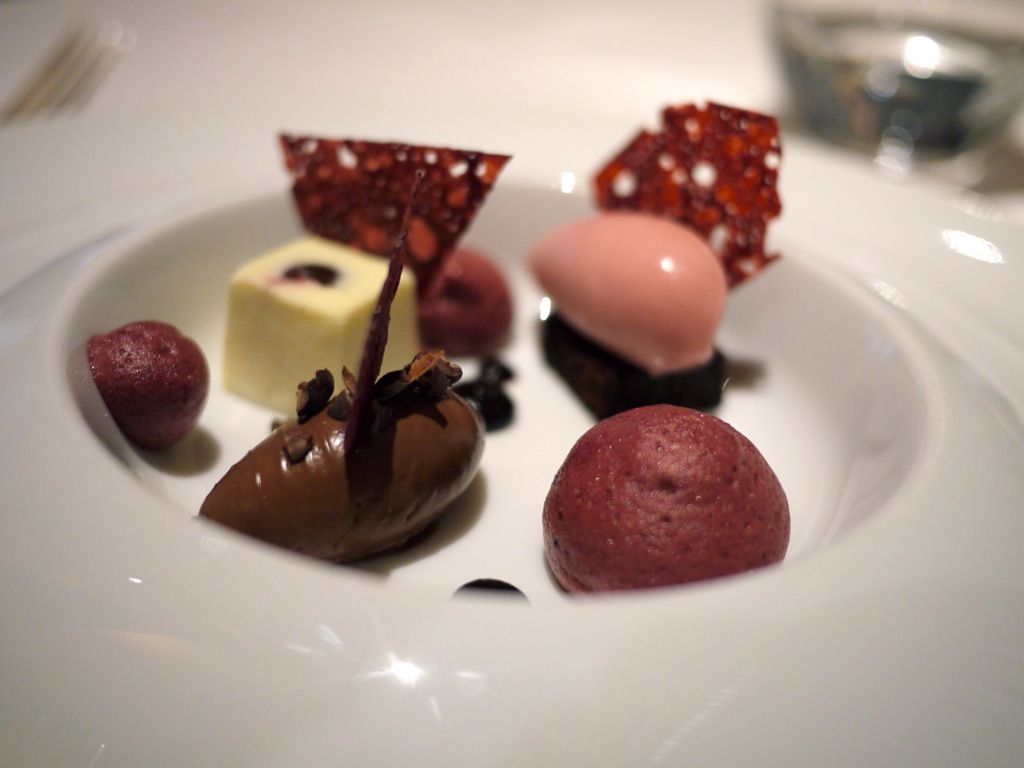 The Black Forest was a little more interesting with the varied flavors of sweet and sour. Special mention to the Belgian Kriek Beer Sorbet which got S really excited. Interesting characters on this plate; Mr. Dark Chocolate Cremeux was a smooth fellow while Ms.Vanilla Kirsch Bavaroise hid a dark skeleton in her closer- a brandy-soaked cherry. Despite the differences, cherries, chocolate and vanilla will always be the perfect love affair.