Invisalign, Clear Teeth Straightening
A beautiful smile brightens up anyone's day, especially your own! Smiling causes your brain to think that you're happy so you should always smile to yourself at least 3 times a day! I used to hate smiling until i straightened my teeth with the traditional braces when i was in secondary school. The perfectionist in me made me redo my upper front teeth in university because they went out of alignment (yes you gotta wear your retainers for life and no i didn't wear them religiously). I could not bear having imperfect teeth and i was regretting not straightening the lower set at the same time (yes vanity). Well thanks to Invisalign, i can now have super perfect teeth without looking like a teenager again.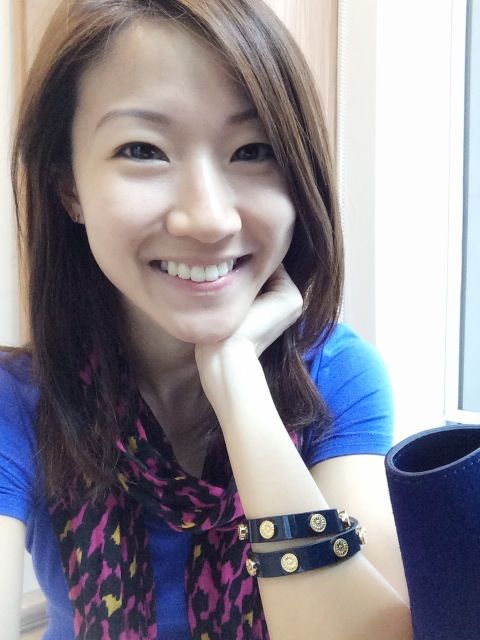 My pre-treatment smile. Yes it's quite perfect but it's not totally perfect.
Here's me and my pre-treatment smile. I've been complimented on my smile many times and it looks quite perfect but i'm the only one who knows the imperfections because i see my teeth and feel them all the time.
Anyway since I've been through the traditional method of teeth straightening, I can tell you straight out the
3 primary benefits
to choosing Invisalign over traditional braces.
1.
Nearly invisible
- nobody knows that you are straightening your teeth!
2.
Comfortable
- no metal brackets or wires to cause mouth irritation
3.
Removable
- you can remove the aligners during meals and they are easy to clear. It's also easier for you to brush and floss your teeth.
The Process
You'll have to go through several consultations with your dental provider to determine your treatment plan. It includes
x-rays
of your mouth and
impression
of your teeth (making moulds) These information would be sent to the Invisalign laboratory in Santa Clara, US for generation of a
3d digital model
to determine your treatment plan. They will subsequently produce your
customized aligners
in the US, which would be sent to your dentist.
Mould of my teeth! Say EEEEEEE. My aligners were ready 4 weeks from the final impression of my teeth. My Invisalign treatment is done by
Dr Cheng Eng Wah
of
I.Dental Surgeons
at
Tanjong Pagar
. Dr Cheng has over 20 years of orthodontics experience and also a
platinum provider of Invisalign
. He was extremely detailed and objection in highlighting the differences between traditional braces and Invisalign. Having a good dentist certainly helps you make informed choices on your dental care.
Before starting on the aligners, Dr Cheng showed me how my teeth will look like at the end of the treatment. This is the before.
This is the after! Yes i know it looks about the same but it's really for correcting minor issues since i really don't have that many problems (told you i'm a perfectionist). It's mainly the angle of some teeth. The most significant that you can tell from the pictures would be my left cross bite (right of picture) and also the alignment of my front bite.
I'm supposed to wear the aligners for
22 hours a day
, except for eating and brushing. The aligners will have to be
changed every 2 weeks
till the end of the treatment. Seems like i only have 14 sets of aligners to get through so that's about 7 months for my teeth to move towards the final position prescribed by Dr Cheng. Mine is considered the 'light' treatment treatment already while the typical treatment takes about
1 to 2 years
. It all depends on the severity and how strictly you follow the prescribed treatment. The cost of the Invisalign treatment would vary in that case but typically ranges from
S$7-9k
.
Here is me with my aligners! You can't even tell that they are there!
I'll be updating regularly on my Invisalign treatment so watch this space if you're thinking of straightening your teeth. Feel free to ask me anything about Invisalign and i'll try my best to answer your questions!
To find out more about
Invisalign
, you can check out their website
here
. In the meantime, SMILE!