Subrosa- Not quite Private Dining
The
private dining
game in Singapore is going strong. I'm in a chat group with some fellow foodies (many famous ones), for such private dining dates. Mind you, private dining in Singapore is anything but cheap, with prices starting from $70 per head (
check out fellow foodie The Ranting Panda's list of some private home dining
). Perhaps it's the exclusivity that drives dinner to home restaurants, or the special recipes passed down from the generations before. Well some restaurants are also trying to get on the private dining bandwagon,
Subrosa
is one of them. The rather new restaurant along Jalan Besar is branded as a private dining restaurant which delivers an exclusive farm-to-table fine dining experience, using local ingredients such as their own locally-grown lobsters and in-house herb garden and all items are made from scratch.
I wondered what is the story behind Subrosa. What's special about it that warrants the private dining tag? Well.. i found none. Subrosa is helmed by Executive Chef Steven Snowdon, who cooked for the British Royal Family several times, and worked at several Michelin starred restaurants. Consulting Chef Francis Lee has more of a private dining cooking experience, being a private chef for some celebrities and Singapore high society members. However, the menu doesn't have a strong focus on heritage, story, or even personality. That's not to say that the food is bad. It's just not remotely private dining.
Branding aside, i thought most of the dishes had a Japanese influence, with the exception of some. Our meal started with their homemade breads, which were a mix of fluffiness and chewiness. Their truffle butter also had this amazing earthy quality- it was almost like biting into a mushroom.
Then,
a buttermilk cured scallop
dish served with fermented melon, pickled cucumber, dill oil and caviar. A Siracha and wasabi dressing, together with some lemon gel, provided an Asian twist to this carpaccio. It must have been pretty good for me to forget about the photo.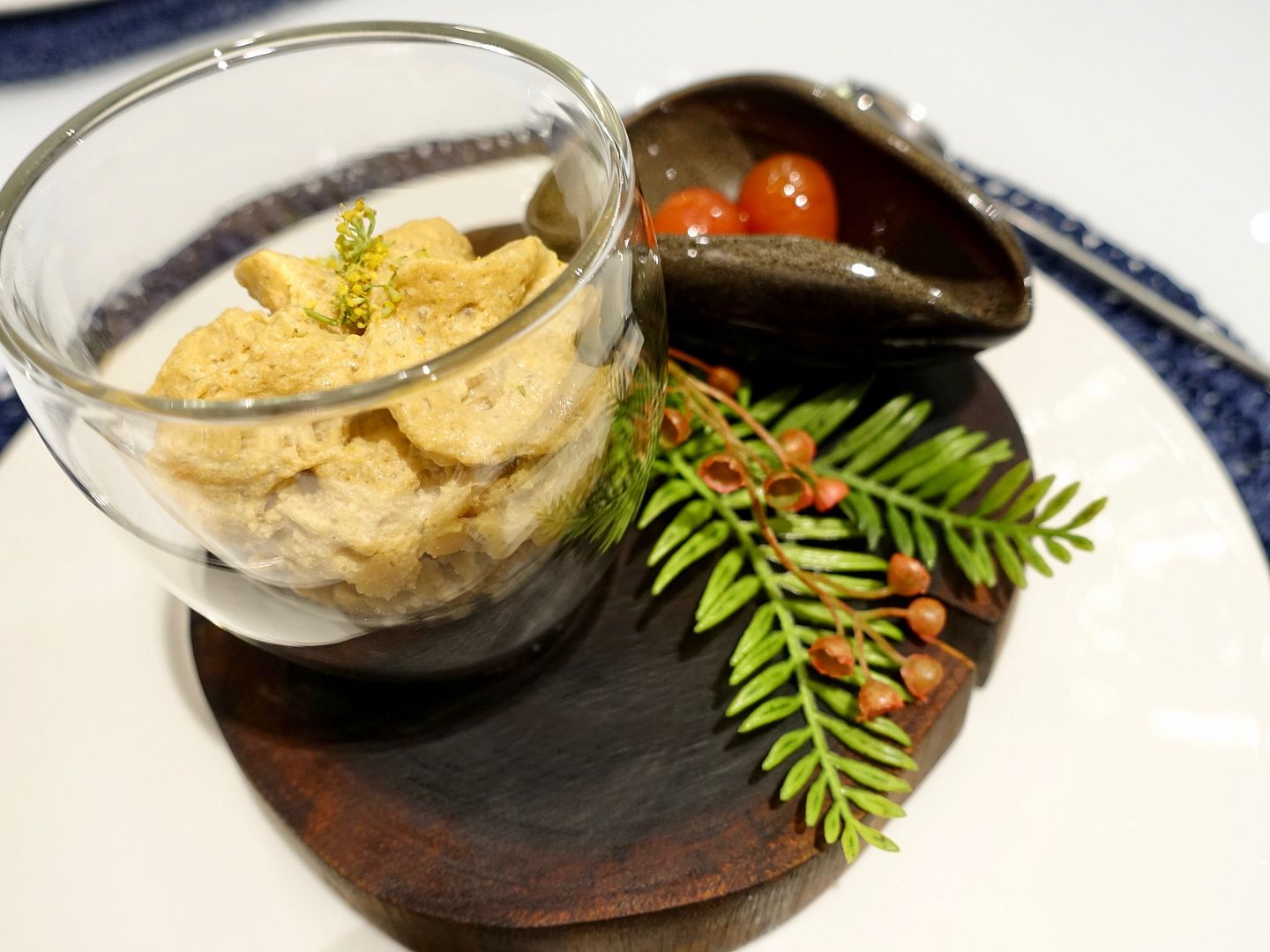 We enjoyed the massive Cocktail which was a hearty and extremely filling appetizer layered with fresh crab, chunky coconut and shrimp crumble, and a shrimp bisque foam. The crab meat was the most refreshing in this layer, flavored with some aromatics. The spicy Bloody Mary tomatoes helped cut through the richness of this cuppa.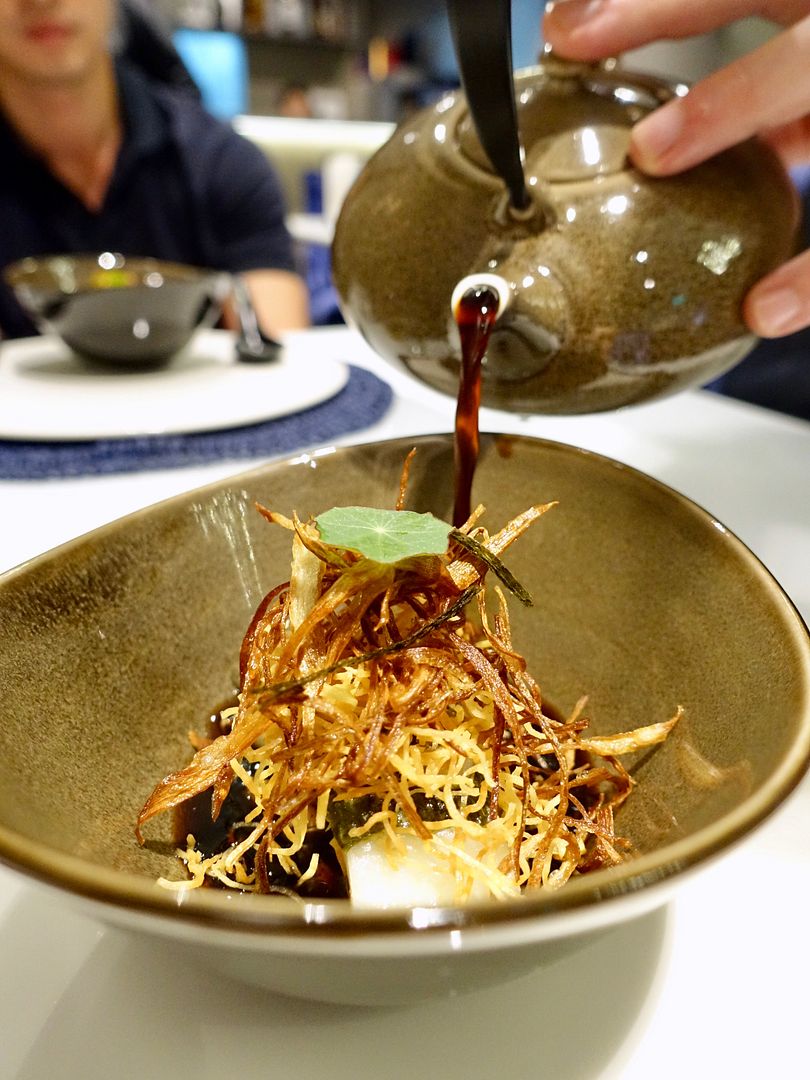 Onto the mains. Quaking Cod That was a cured cod, with nori, ginger, shimeiji, with a duck consomme. The dish would be good if the duck consomme was indeed a consomme. Instead, it was more like a dark soy sauce, which was very salty. That took the attention away from the otherwise delicate flavors of the fish, which had a layer of ginger gel and nori as its skin.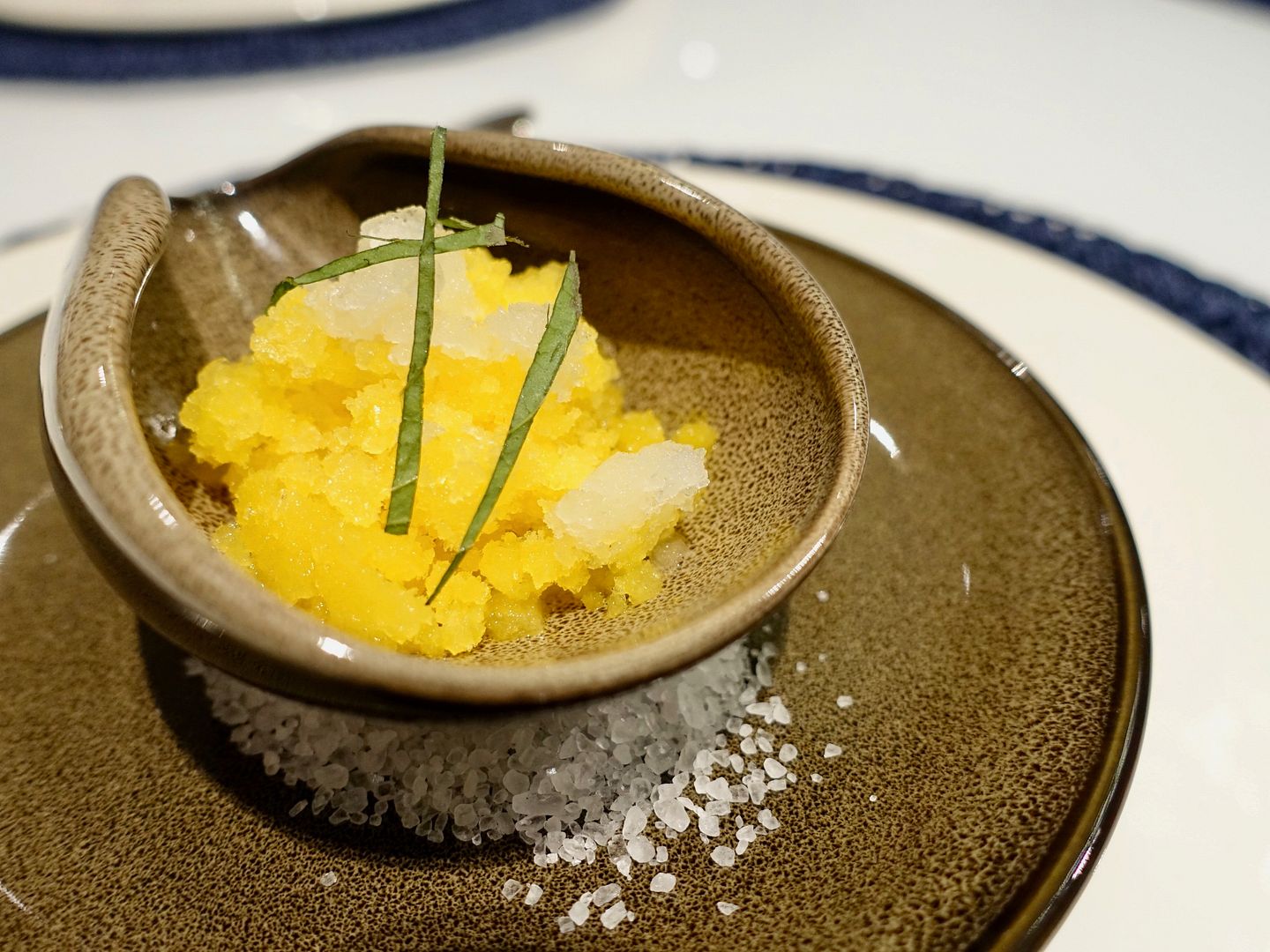 A palate cleanser of Mandarin sherbet with a piercingly sharp lemon snow, and some chocolate mint, helped to remove some of the saltiness of the duck consomme.
Something don't belong and it's the Remember Mee, a rather typical Singaporean Hokkien Mee, but served with lobster and its broth. This is Chef Francis' signature. On its own and if served with other dishes with more local origin, it would have fit the private dining bill. However, with the rest of the dishes at Subrosa, this was out of place. Also, unlike the other dishes where there was an attempt at reinventing the wheel, this didn't.
The other main was the Who Niu featuring wagyu and foie gras with a beef broth Madeira sauce, accompanied with a delicious Gruyere and wasabi croquette. Again, the sauce was overly salty.
Dessert brought us to the tropics with Subrosa's Tropical Passion. a coconut panna cotta with a mango sorbet that tasted like super sweet mango syrup.
With that super sweet ending, I left Subrosa feeling very confused. What was this meal i had and exactly how is this private dining? Using the ingredients available for the day and letting the ingredients shine is hardly unique selling point of any restaurant, especially if marketed as fine dining. That is a given. The lack of a strong and consistent theme is probably the greatest problem at Subrosa and also the out of whack seasoning. Well, on the second level, there is a private dining area that can seat up to 20 guests and you could have a personalised menu. Perhaps that's the private dining aspect, but again, what's the concept?
P.S. It's not that the food is bad, and i don't mean to sound harsh. I'm really just confused. With some fine-tuning, i think there's potential at Subrosa.
Subrosa
369 Jln Besar, Singapore 208997
Tel: +65 6610 0555
Daily: 11am - 12am