Shang Palace
The first Shangri-La hotel, the first Shang Palace. Since 1971, both hotel and restaurant has been making history, from our little red dot, to the rest of the world.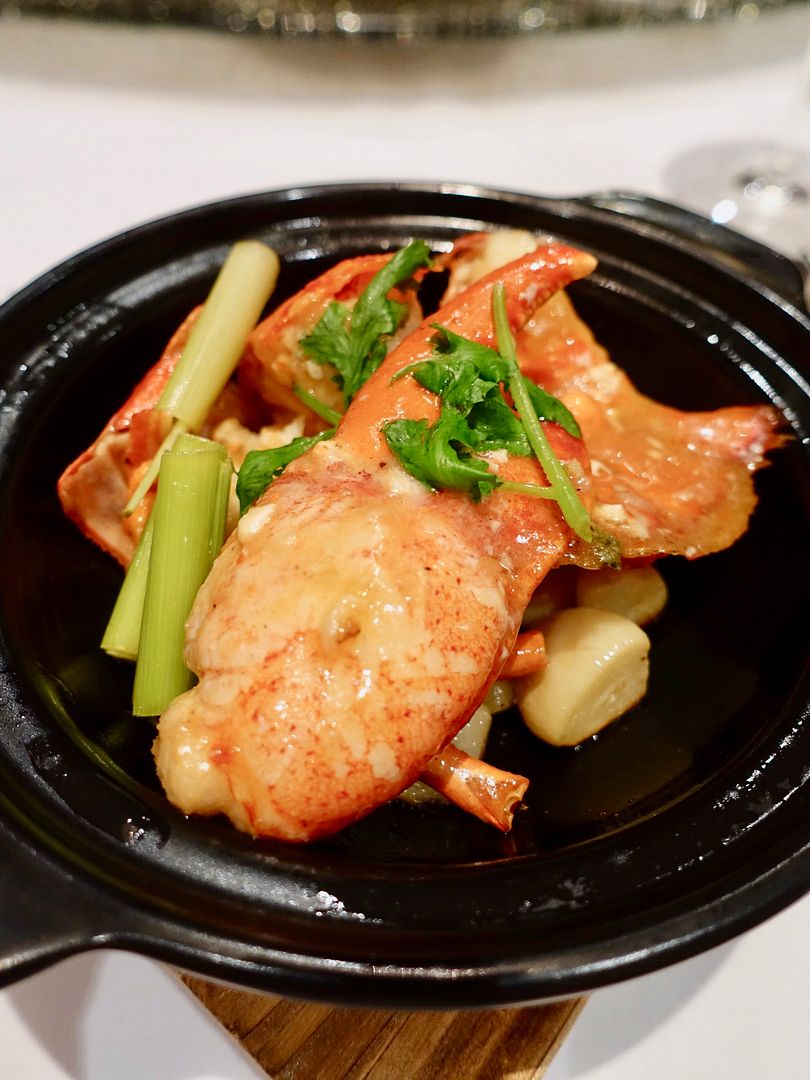 At the restaurant's helm is Chef Mok Kit Keung, who has 40 good years of cooking under his belt (he started when he was only 13). Chef Mok is the one who brought Shang Palace Kowloon to its second Michelin star in 2011 and we think there's a high chance he may clinch a star (or two) for Shang Palace Singapore. Expect an extensive menu (or menus), ranging from traditional nostalgia, classic signatures, and innovative new dishes by Chef.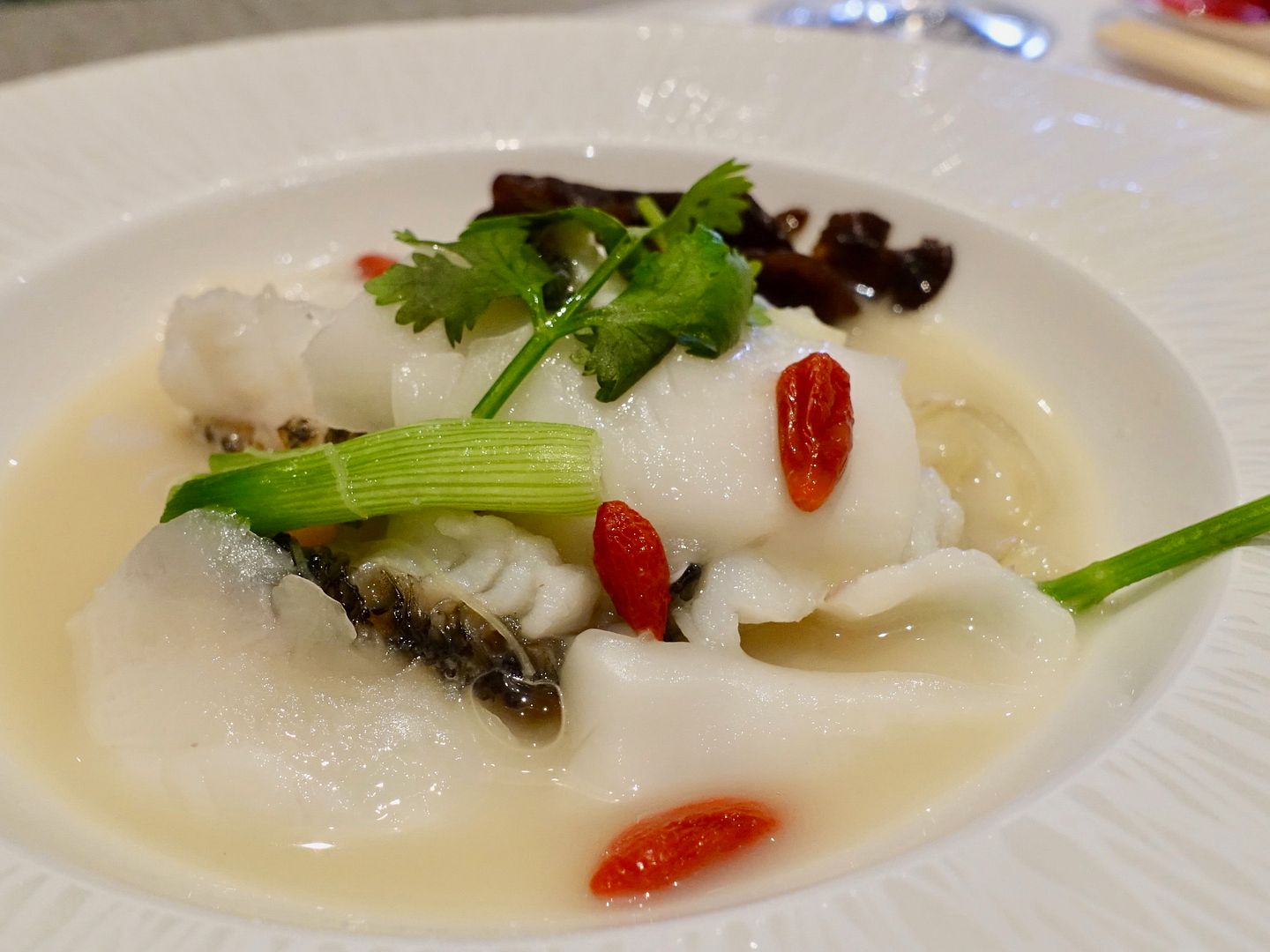 In the Innovative menu, Chef Mok applies his distinctive brand of creativity to transform traditional flavours. From his observations at the Singapore wet markets came the Coddled sliced Soon Hock fillet and young coconut in fish broth ($78). The elegant flavors of Cantonese cuisine is presented in the sliced fish poached in a light and savory broth made with coconut water and flesh, and fish head and bones. The slippery slices of white coconut meat camouflage with the fish, providing a sweet surprise as you bite into it. I dug deeper into the pot and found some chewy crystal noodles that provided a contrasting bite.
Over the years, Chef Mok has made famous a repertoire of signatures dishes, including a number that have brought him acclaim and awards. If you like a meaty char siew, the Signature barbecued pork loin glazed with honey sauce ($68) would be your poison. Only shoulder meat from the Iberico pork is used here! I was quite amazed at the tenderness of the meat as there wasn't any tenderizer used. Something interesting about this dish is that there are no peanuts used in this dish. I'm not sure why that's relevant though, unless people have been using peanut in the making of this dish.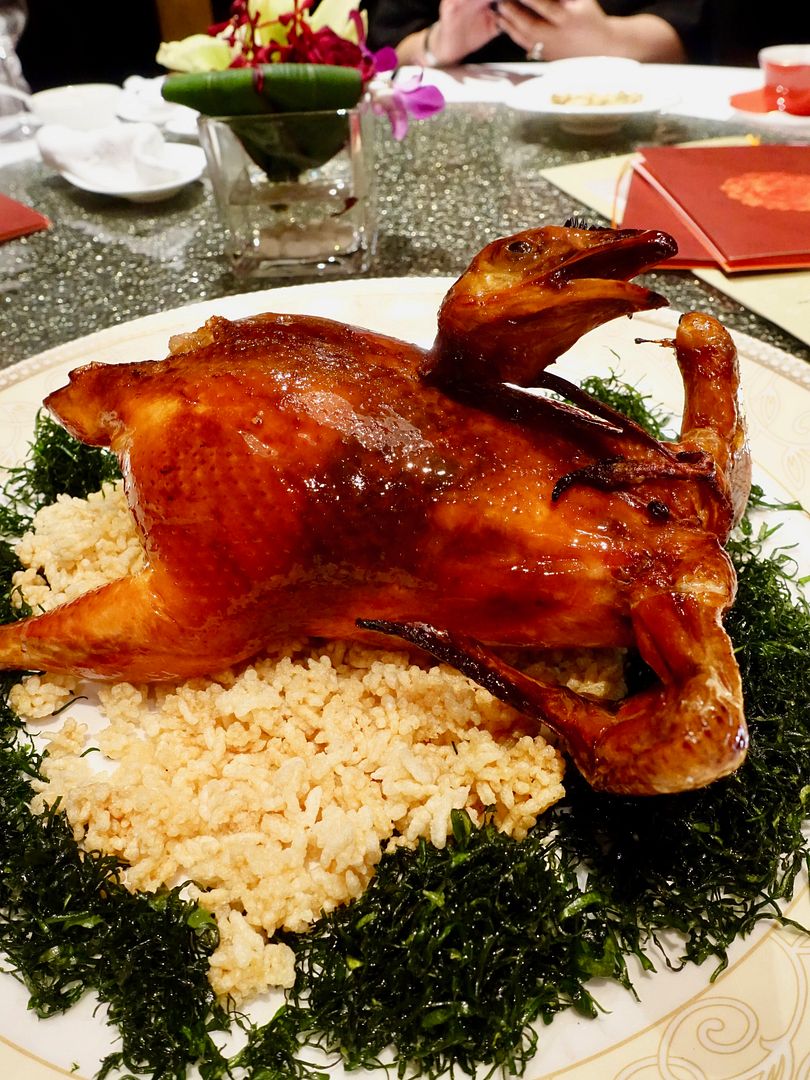 More meticulous handiwork went into making the
Deep-fried whole boneless chicken filled with fried glutinous rice
($98). The deboned chicken is filled with sticky rice wok-fried with preserved Chinese sausage, dehydrated prawns, dried scallops and dried shiitake. The color of the chicken comes from it being basted with malt syrup and red vinegar. The crisp of the chicken was amazing as well, having gone under the fan, roast, and oil.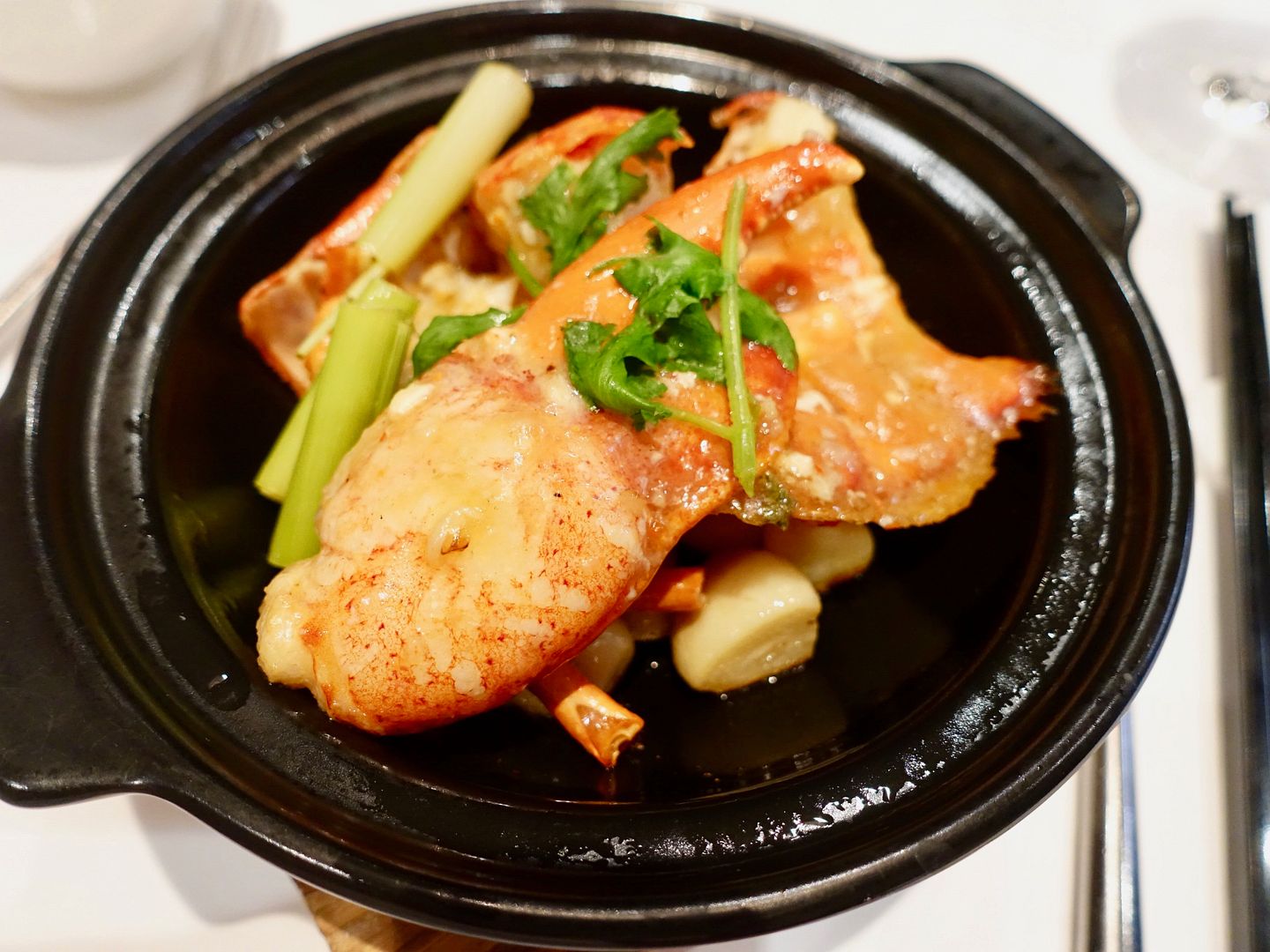 If you think that's all to Chef Mok's menu, you're wrong. He is always creating new dishes! We had a
Stewed Boston Lobster with lemongrass and garlic served in a claypot
($78/lobster). The garlic fragrance is a timely reminder to head home for dinner with the folks.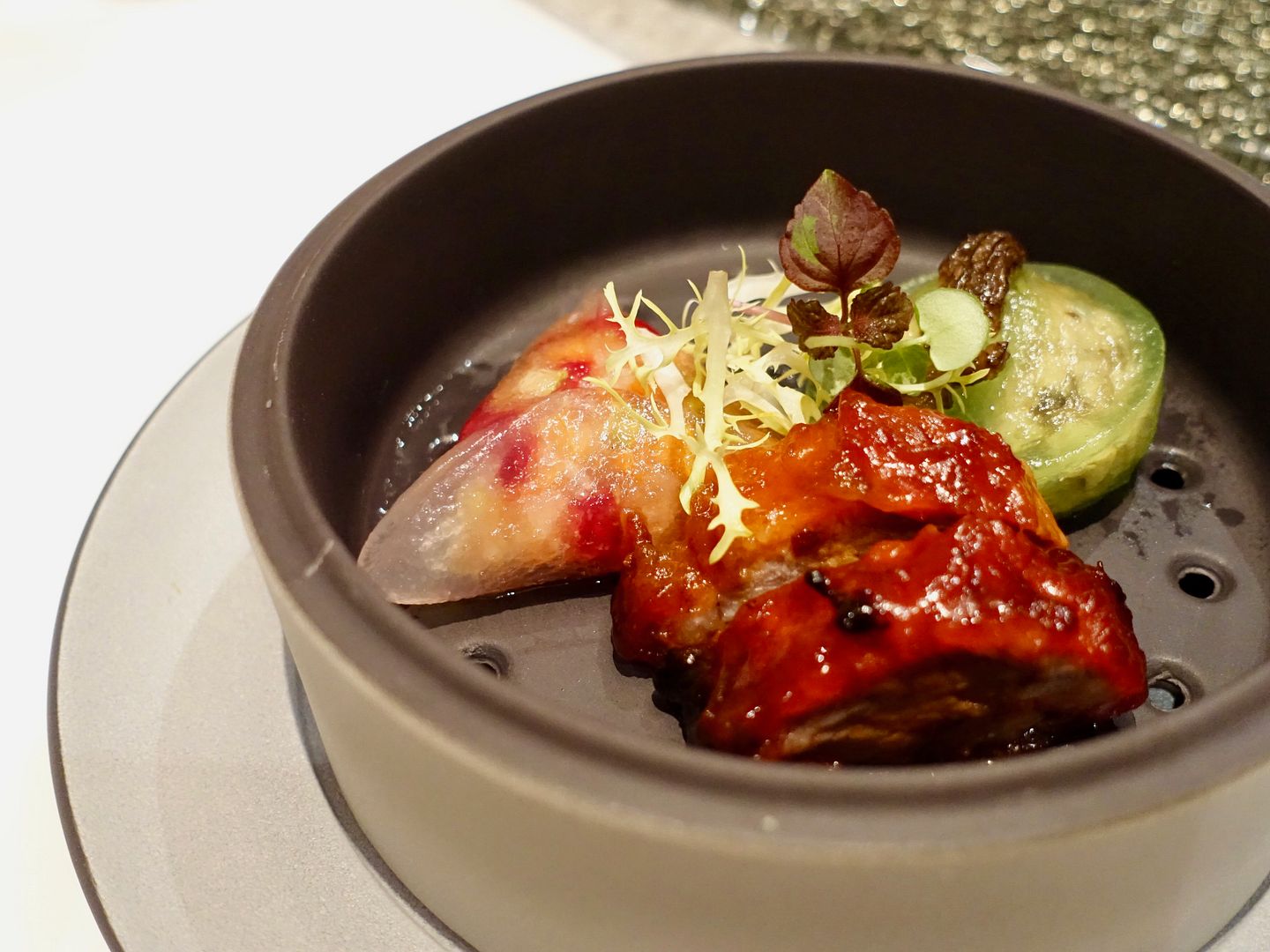 We also sampled some new dimsum bites. New on the menu is the
Steamed crystal dumplings with beetroot and water chestnut
($9/3pcs) which provided an earthy sweet crunch. The
Steamed morel mushroom with assorted vegetable dumplings
($8/3pcs) provided an unexpected wok-flavor, probably from the quick hot stir-frying of the vegetables.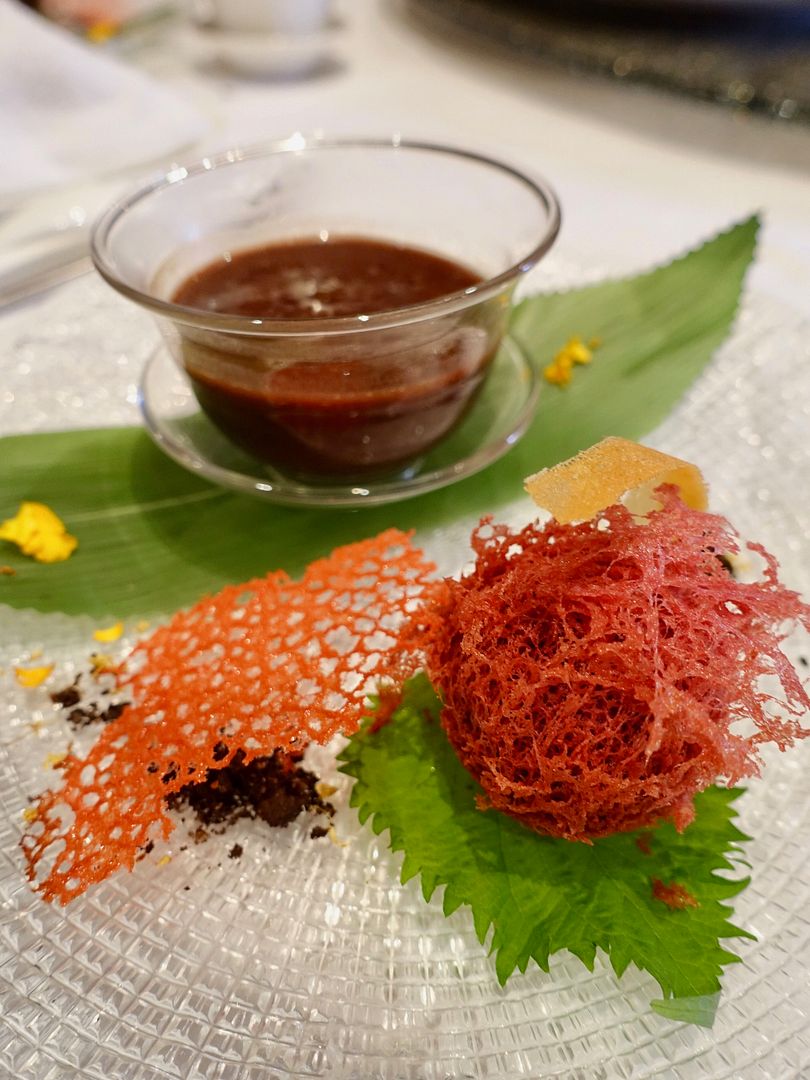 The meal ended with a 20-year tangerine peel sweetened red bean soup ($12/portion). You'll only taste this bitter-sweetness (甘香) from specially sourced Foshan orange. The more it's aged, the better it tastes. We had a special snack served on the side, which was a sweet potato puff with creamy milk custard.
Know that when you dine at Shang Palace, you're not just tasting impeccable dishes, but also sustainable ones. Chef Mok also makes some 60 sauces from scratch at the restaurant and there is no added MSG in the entire menu.


Shang Palace
Lobby Level, Tower Wing, Shangri-La Hotel, Singapore
22 Orange Grove Road, Singapore 258350
Tel: +65 6213 4473 / 4398
Weekdays: 12 - 2.30pm
Weekends and PH: 11am - 3pm
Dinner Daily: 6 - 10pm