InterContinental Hotel Singapore Classic Afternoon Tea 2019
In need of some fresh air this smoggy September! Short of going on a getaway (somewhere without the haze), i'm thinking of a mini afternoon break at InterContinental Hotel Singapore, nibbling on Chef Ben Goh's Classic Afternoon Tea. And no, you don't have to wait for the weekends to enjoy this because it's available daily at the Lobby Lounge.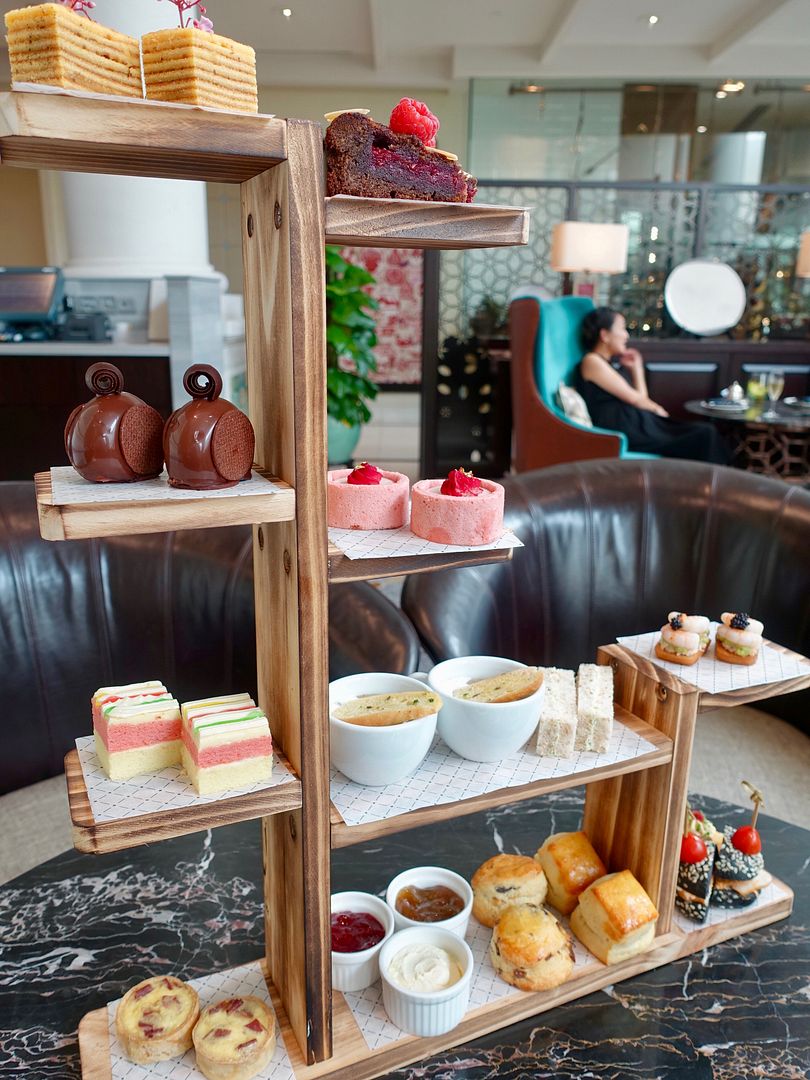 This particular Classic Afternoon Tea set celebrates Chef Ben's recent win as Pastry Chef of The Year 2019, awarded by World Gourmet Summit. The sweet treats tell the story of Chef Ben's culinary journey- inspirations from his childhood (such as the buttercream cake and his grandmother's kueh lapis), and his milestone creations and award winning sweets. These are accompanied by some specially created light savory bites to balance the desserts.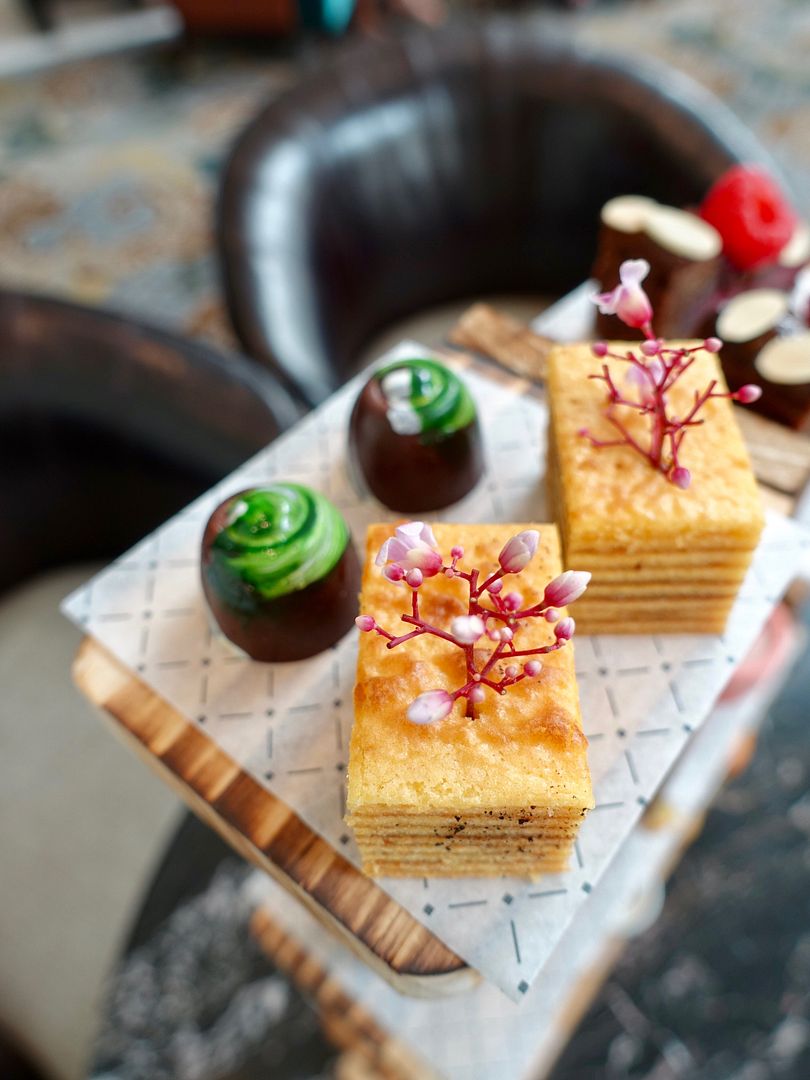 Starting with the traditional stuff, the nostalgic old school buttercream cake. I NEVER liked this style of cake because the colors look radioactive and it always has this oily Planta mouthfeel to it. Well Chef Ben's version was totally NOT that. I loved the light saltiness of the buttercream and the light sponge layers. Chef also took a leaf out of his grandmother's book for the kueh lapis and created a springy and eggy cake that wasn't too sweet. The secret ingredient is DOM Benedictine.
My heart melted at the Peach Melba Cheesecake with the loveliest shade of pink. I mistook the exterior for a tart shell and was surprised that it was a chiffon sponge instead. It's a perfect harmony of sugar and acid in this one.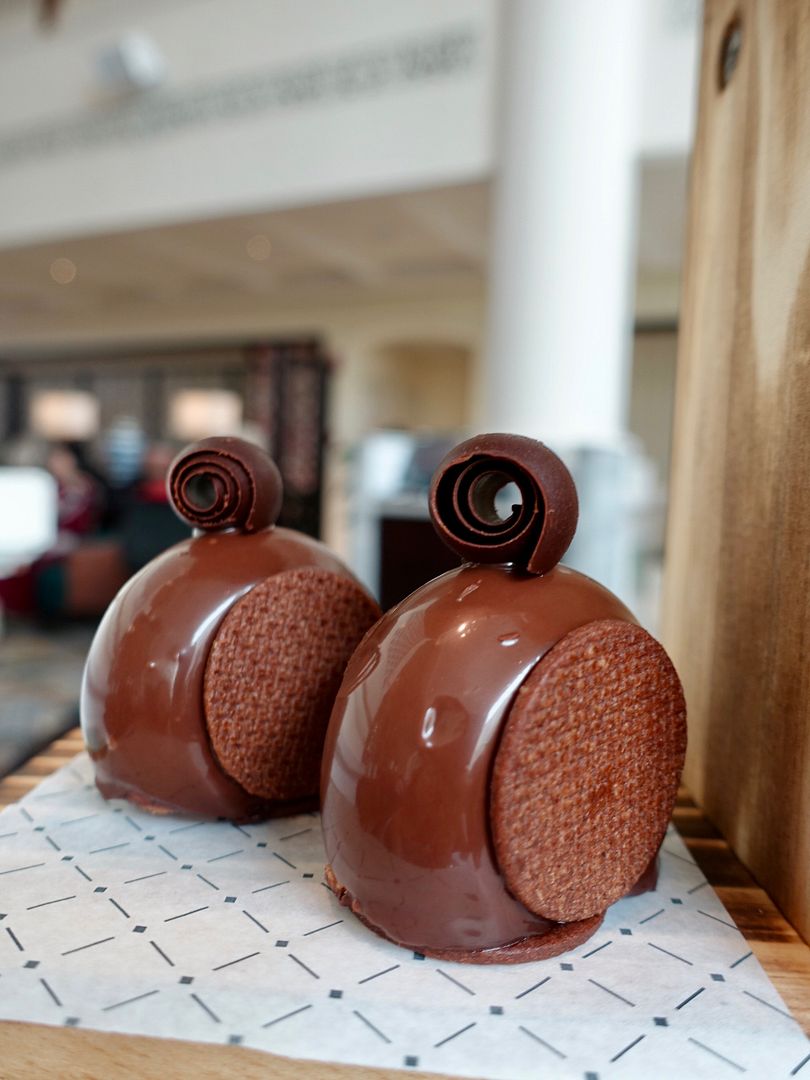 The best thing about Chef Ben's desserts is that they are always delicate and nuanced, even with the seemingly rich stuff like chocolate. The award winning
Chocolate Lemongrass Pineapple cake
may look intimidating but the filling is an airy mousse that is a chocolate cloud, further lifted by the notes of lemongrass. If that doesn't lift your mood, head over to the ice cream counter and help yourself to the free flow of a creamy smooth yogurt yuzu ice cream!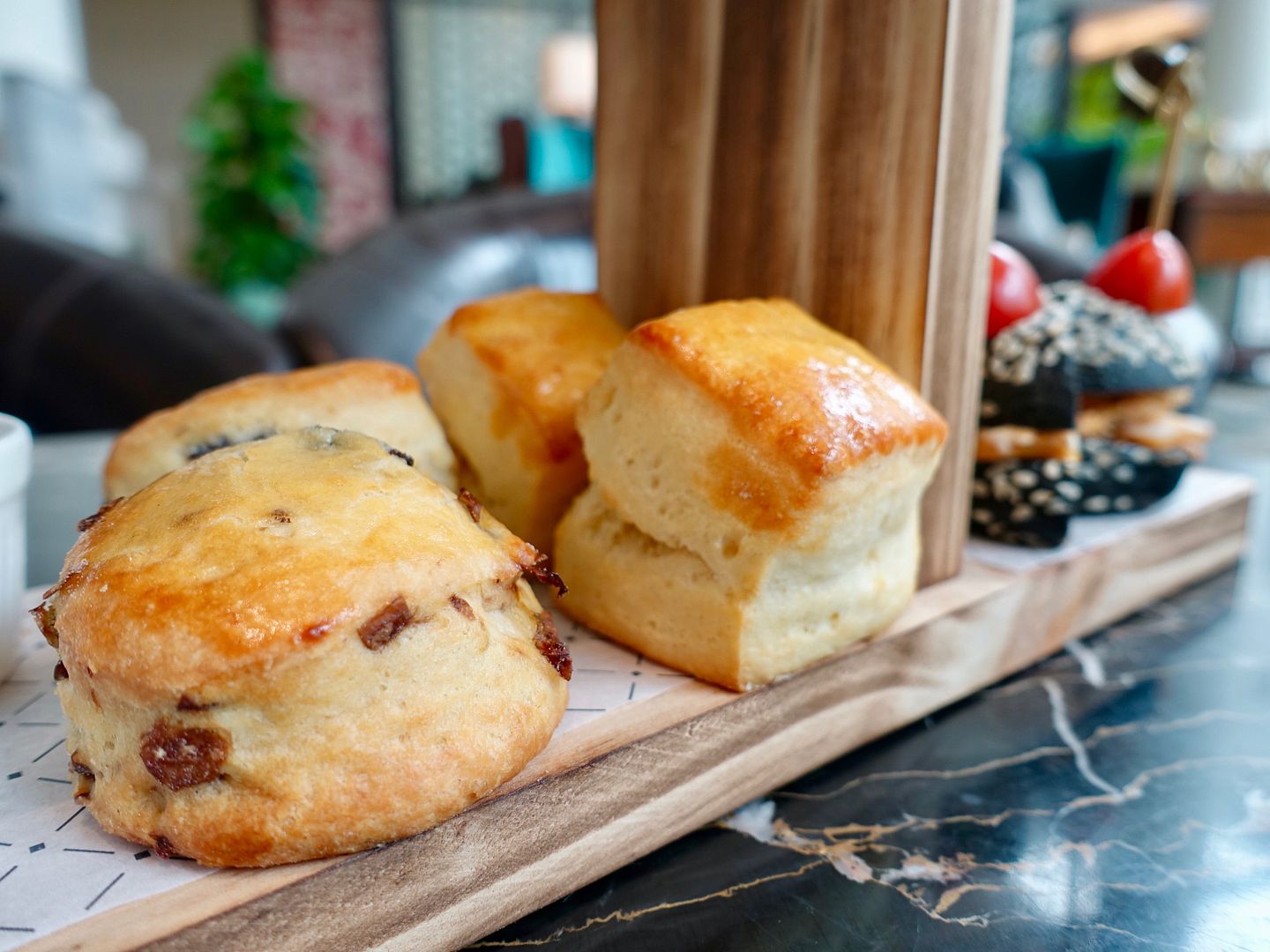 Can i just declare how much i love the scones at the Lobby Lounge now? There are only that few places in Singapore that could produce a scone that i'd pay money for.
Chef can take all my scone money. The light and fluffy bites should always be smeared with a thick layer of clotted cream and a tiny spot of jam. That said, the cranberry lemon scone should be eaten plain, for you can enjoy the citrus fragrance and the soft center better.
I really enjoyed the rich earthy Wild mushroom cappuccino with white truffle cream. The soup was so thick that it was quite impossible to get it all out of the cup without the help of a spoon.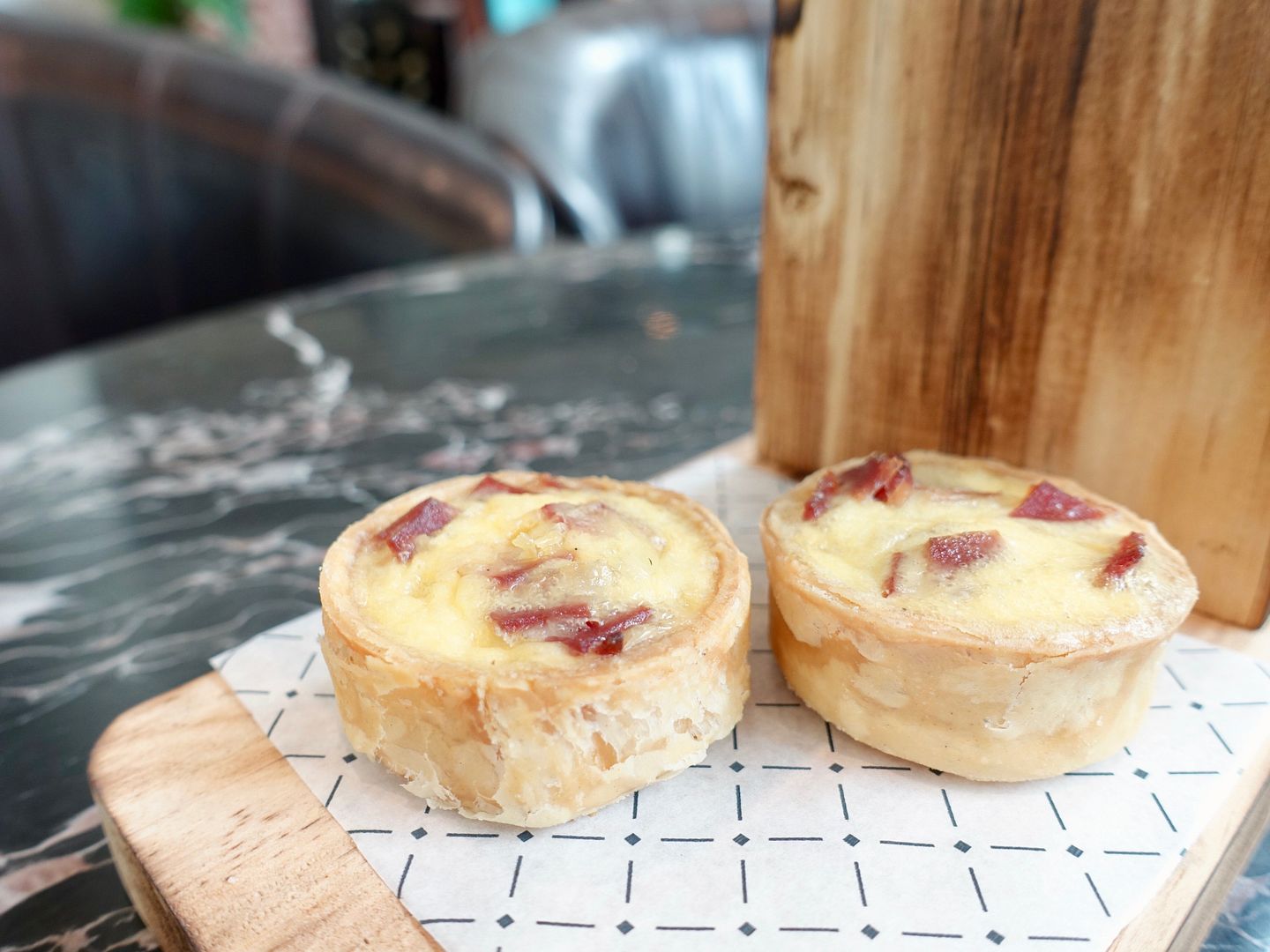 The Bacon onion quiche was also one of my favorites. The luscious cheese custard was peppered with smoky bacon bits and encased in a flaky pastry crust.
More contrasting textures were experienced in the other bites. Instead of a piece of bread, i was surprised to find a cracker-like slice of fried mantou delivering the sweet pops of seafood into my mouth.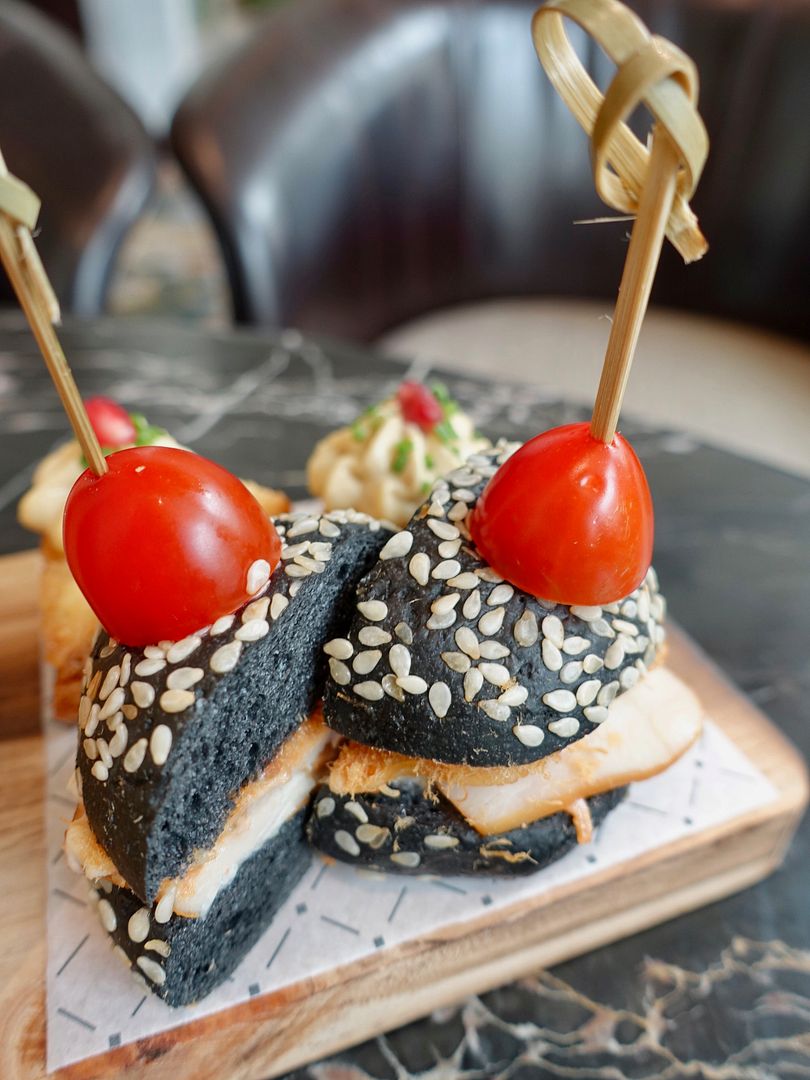 Do not underestimate how filling the tea set would be. Jr and i skipped lunch and had a light snack prior to tea, and we couldn't hardly finish the food. We were also unable to have dinner until 9pm. My husband can be a big eater if he wants to. Anyway, just go prepared.
Chef Ben's Classic Afternoon Tea: The Origin is available daily from 2 - 5pm at the Lobby Lounge, InterContinental Singapore. The set costs $78 for two guests, and is inclusive of fine loose-leaf tea or coffee and unlimited ice cream. There's also a Taittinger Brut Champagne option ($108/2pax) if you like!
Level 1, InterContinental Singapore
80 Middle Road, Singapore 188966
Afternoon Tea daily: 2 - 5pm