Relish at Frasers Tower and Roketto Izakaya
You don't have to be in Niseko to enjoy Chef Willin Low's Mod-Sin izakaya dishes because they make an appearance every night at Relish @ Frasers Tower. In the day, enjoy Relish's classic burgers, pastas, and desserts; in the night, pick on bar bites and sharing plates over Japanese sakes and draft beers at Roketto Izakaya. Also, some of Wild Rocket's signatures are also available here!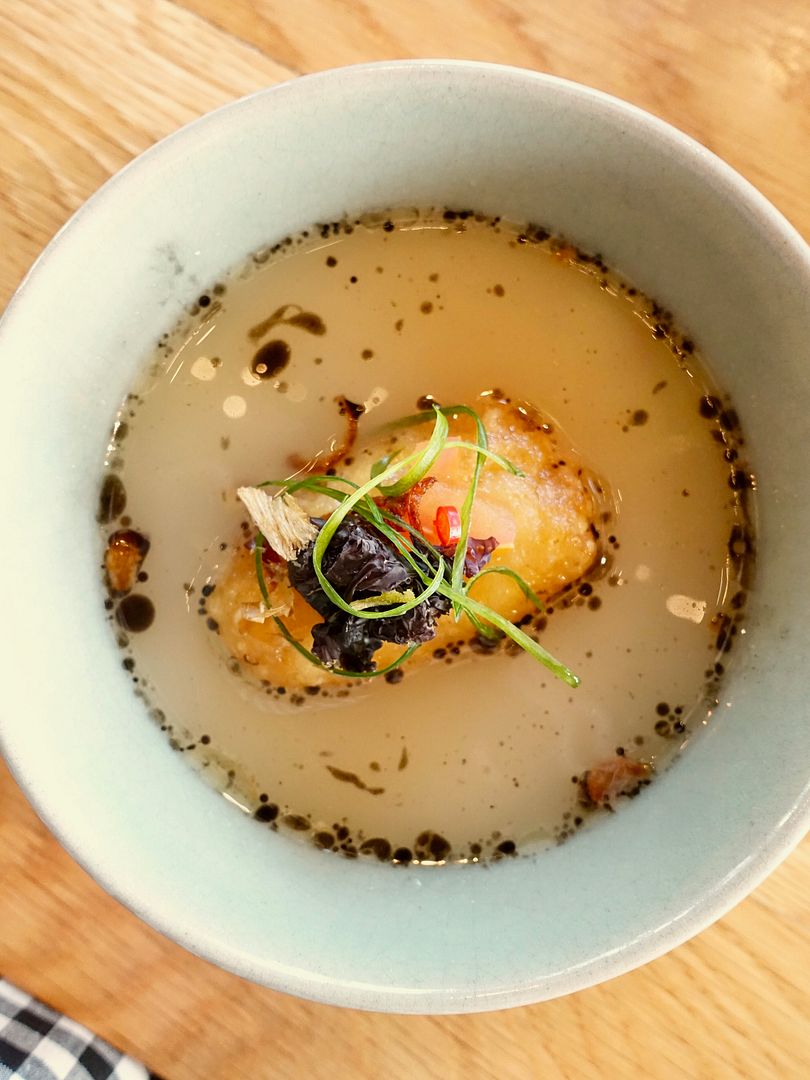 Warm your tummy with the
Fish Collagen Broth
($5), a dairy-free but surprisingly rich and creamy soup that has extracted all the goodness from the fish bones. While it may look like a simple piece of fried fish, it's actually a homemade omu fish cake. Fish meat is mixed with egg, beaten and fried for the fluffy airy texture, similar to the typical fried egg floss at many fish soup stalls in Singapore.
Har Cheong
(fermented shrimp paste) chicken dishes but he doesn't use any chicken in them. Instead, munch on a flavorful
Har Cheong Pork Belly Keropok
($8.50) that is possibly the next big snack (goes perfectly with beer). The saltiness is well balanced with a refreshing Keffir lime mayonnaise.
Har Cheong Tin Gai
($12), which features fried frog legs that have been mildly marinated in the pungent paste. It tasted like a very good fried chicken actually. Have it with the ginger flower paste and it instantly tastes like a staple on an Izakaya menu.
Aburaage Rojak Salad
($15). The black sticky sweet sauce comes in the form of ice cream, which gives the salad a cold refreshing bite. Aburaage beancurd skin is used in place of tau pok but what's missing is really the fried dough fritters (you tiao) in this one!
Tandoori Pappadam Nachos
($8.50) bring together a juicy tandoori beef mince a la chili con carne, which is cleverly balanced by a tangy yogurt and cheese sauce, and not to forget my favorite cracker. Eat this fast before the cracker becomes soggy.
Nasi Lemak Chicken Wings
($8.50). There's a robust turmeric flavor to the chicken wings, which were wonderfully fried. Dip the wings into the liquid nasi (rice sauce) an extra hint of coconut. If you're looking for sambal, you may be disappointed for there is none. Still, a legit nasi lemak with fried ikan bilis and peanuts too.
Krapow Prata Pizza
($15) is a buttery roti prata topped with Thai basil chicken mince, chilli and cheese. Unadulterated, no holds barred, pure Thai punch with every bite.
On to the more satisfying stuff, i'd recommend the braised soft bone pork
Char Siew Rice
($20). Well, this is actually inspired by the Taiwanese minced pork belly rice (lu rou fan) and we enjoyed every bit of that rich savory and sweet garlic dark sauce. The chunky but well braised meat was immensely comforting. I'd pick this over the
Rendang Beef Cheek
($20), which was a tad too salty for my liking.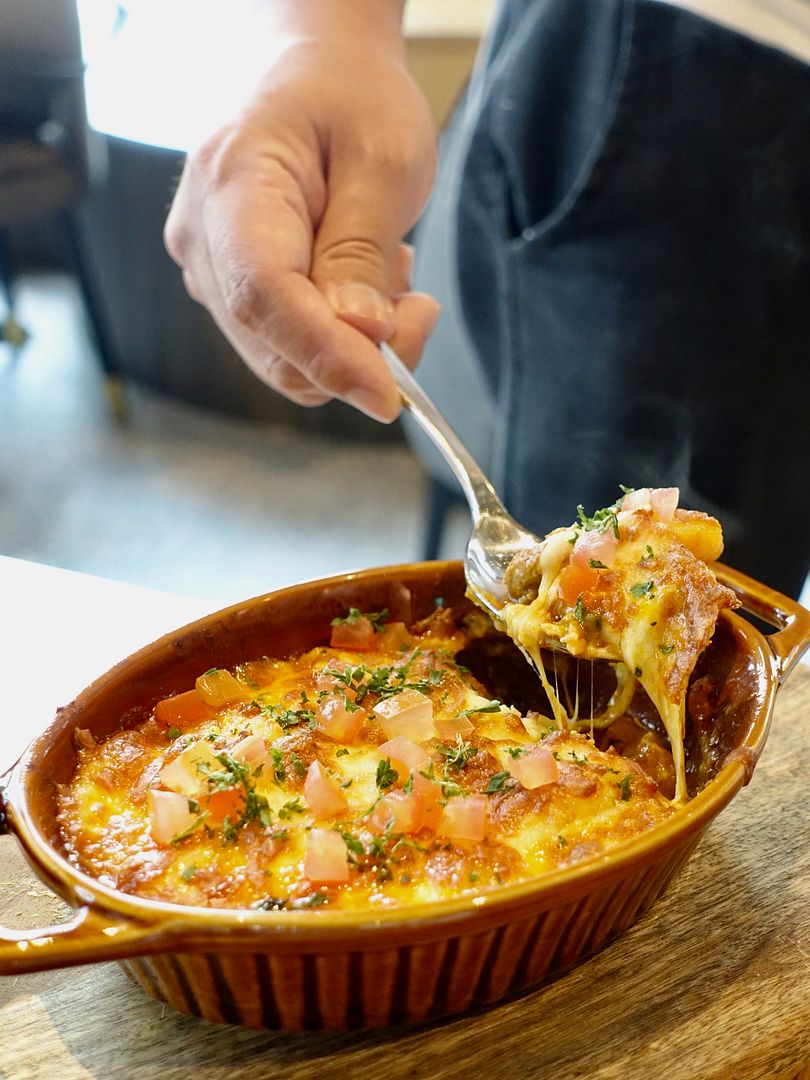 The
Curry Chicken Shepherd's Pie
($15.80) is Sarawak curry served with chunky chicken thigh meat, potatoes and cheese. This was a staff meal that was so popular it because a signature at the now defunct Wild Oats at Punggol Park. Yes, curry and cheese is a match made in heaven.
Well the greatest surprise came at the end of the meal when Chef Willin asked about desserts. I was like.. well ok, sure let's have some sweets. What i didn't expect was how mind-blowingly stunning the desserts are! The
Wild Rocket Chendol
($8.50) is easily the best chendol i've ever eaten in my life. FOR REAL. I absorbed everything, from the wobbly pandan panna cotta to the salty coconut foam and coconut ice cream, and green worm and that lovely gula melaka fragrance. Do not share this or you'll regret it.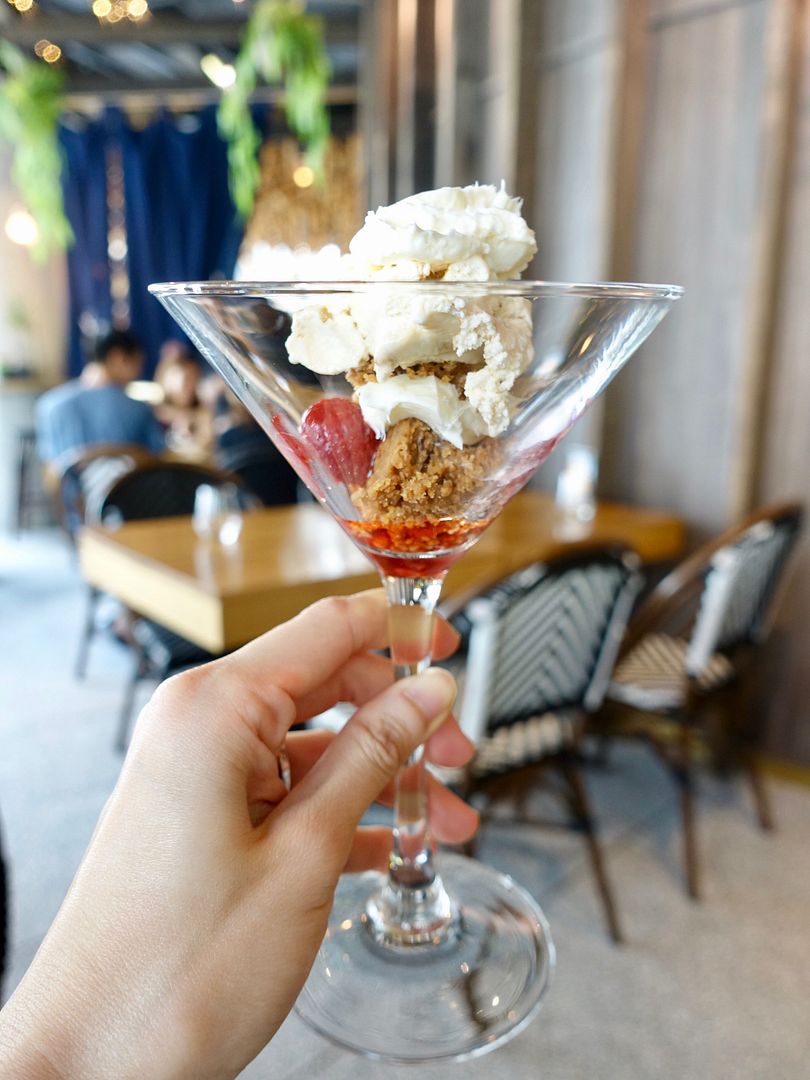 The class
Wild Rocket Strawberry Cheesecake
($9.20) shouldn't be missed as well. It's a rich cheesy and creamy dessert that would anchor your meal. The buttery and crunchy crumble is just perfect with the sweet and sticky maple syrup.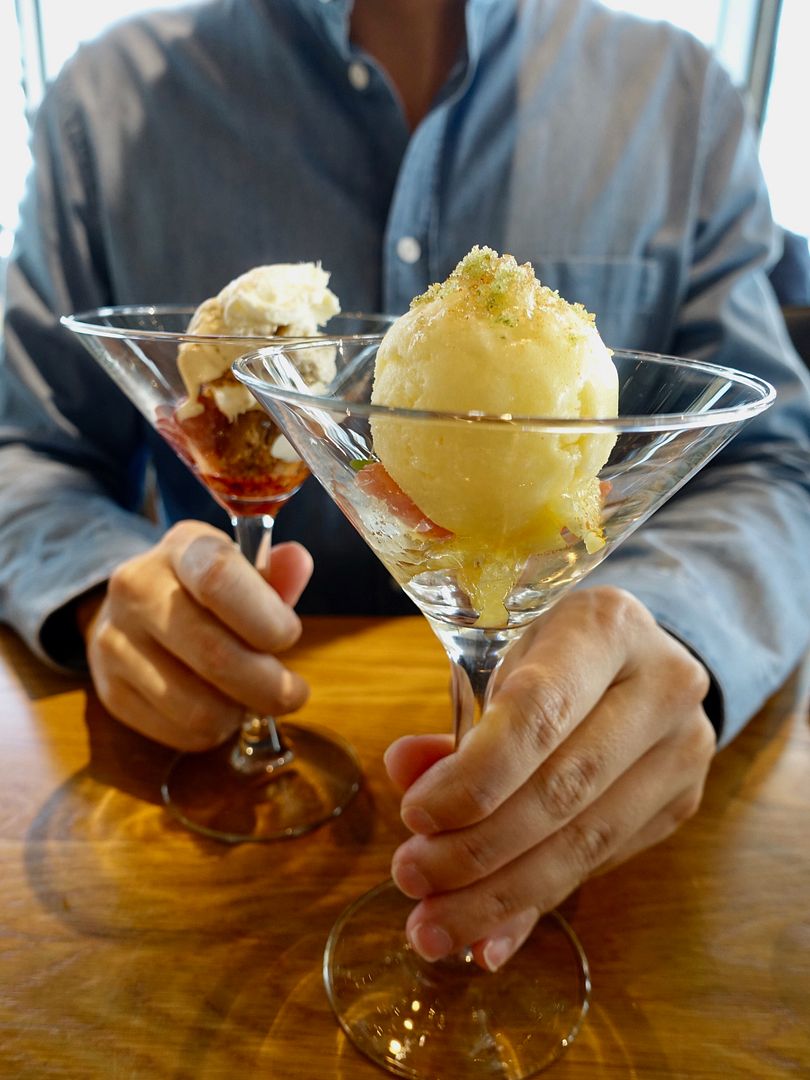 Old souls would love the traditional Singaporean desserts like the
Bur Bur Hitam
($7.80) with bits of dried longan in it, topped with coconut ice cream. The
Fresh Pineapple Sorbet
($7.80) is sprinkled with soy sauce salt, chili, and mint sugar, like how it's eaten by the older generation.
Well well, with all that's said, i don't know what you're waiting for. Get your table now.
Relish @ Frasers Tower
182 Cecil Street #02-12/13 Singapore 069547
Tel: +65 6904 5458
Monday: 11am - 3pm
Tuesday to Saturday: 11am - 3pm, 6pm - 11pm
Closed on Sundays