Kai Duck by Kai Garden
Kai Garden is one of my go to Chinese restaurants for dim sum and their very well priced and gorgeous Peking Duck! And guess what! Kai Garden has opened a new restaurant Kai Duck that focuses on innovative dishes made with their Cantonese-style Peking duck.
Their new outlet at Ngee Ann City is a modern casual restaurant that caters to smaller groups of diners. Yes, one can enjoy some glorious bird dishes even if one were alone. Oh the beauty of it! Unlike the traditional Peking style of baking the duck with fire, the duck skin used at Kai Duck is prepared by using the Cantonese method of drizzling the duck with oil after baking, to enhance the aroma and juiciness of the skin.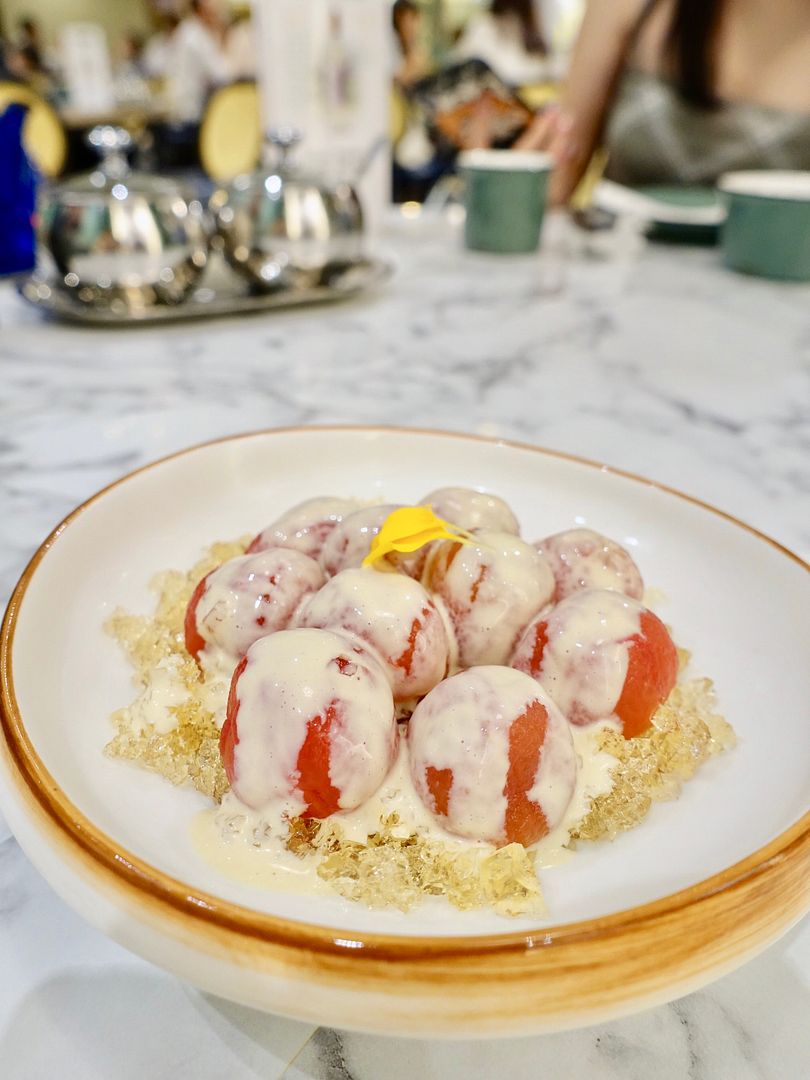 We started with the Chilled Mini Tomatoes topped with Japanese Sesame Sauce ($10.80) which uses fresh Japanese cherry tomatoes marinated in a tart plum sauce, and is served with handmade squares of plum jelly. This refreshing appetizer complements the rich flavors of the other dishes. Save some for in between dishes! The plum marinade is exactly like the sauce that accompanies most roast ducks.
One of the signatures at Kai Duck is the
Peking Duck Salad Hand Roll
($4.80 ea). Think of it as a fried spring roll filled with juicy slices of Peking Duck, cucumber and lettuce, seasoned with Japanese sesame sauce and seaweed.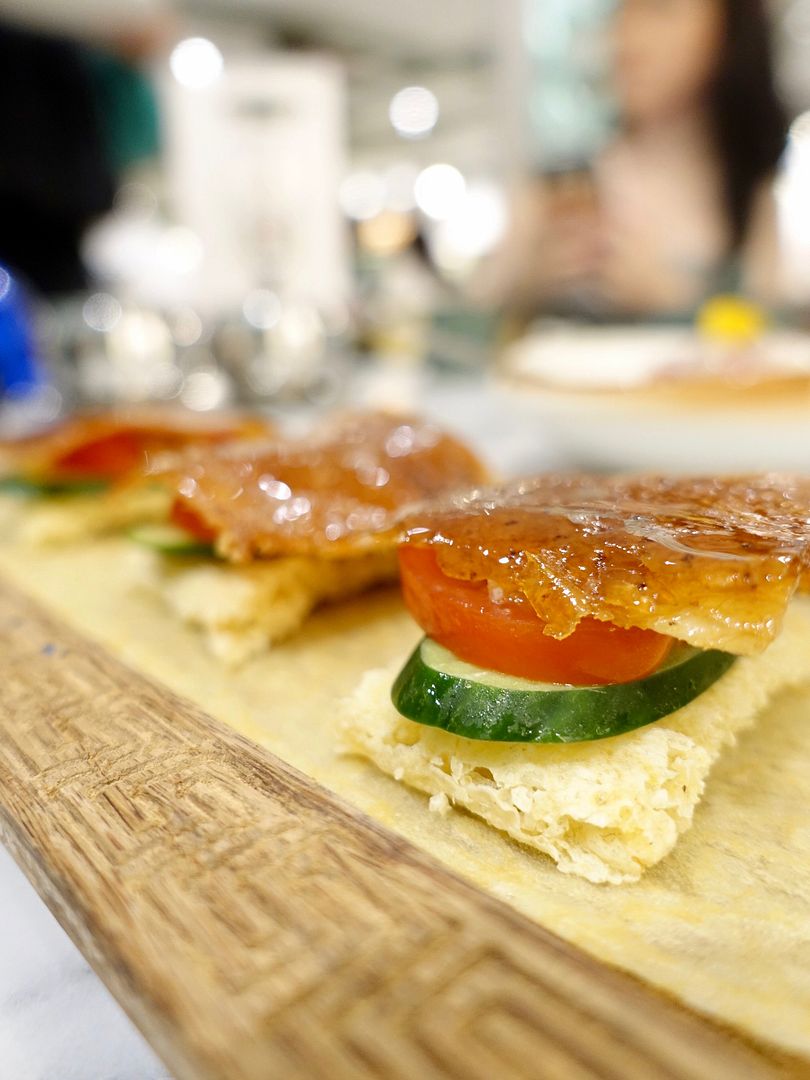 My preferred duck dish is the Sliced Peking Duck with Crackers ($4.80 ea). Here, you get to enjoy the crispy duck skin, which is first baked then drizzled with oil, and served with a fried house-made corn cracker and corn sauce. After the initial crunch, the thin translucent layer of fat under the skin simply melted to release the lovely flavors of the duck. This dish blew my mind.
The Crispy Eggplant ($10.80), though fried, was not too oily. The style is more of a tempura, and the light dipping sauce also helped to balance any oily mouthfeel.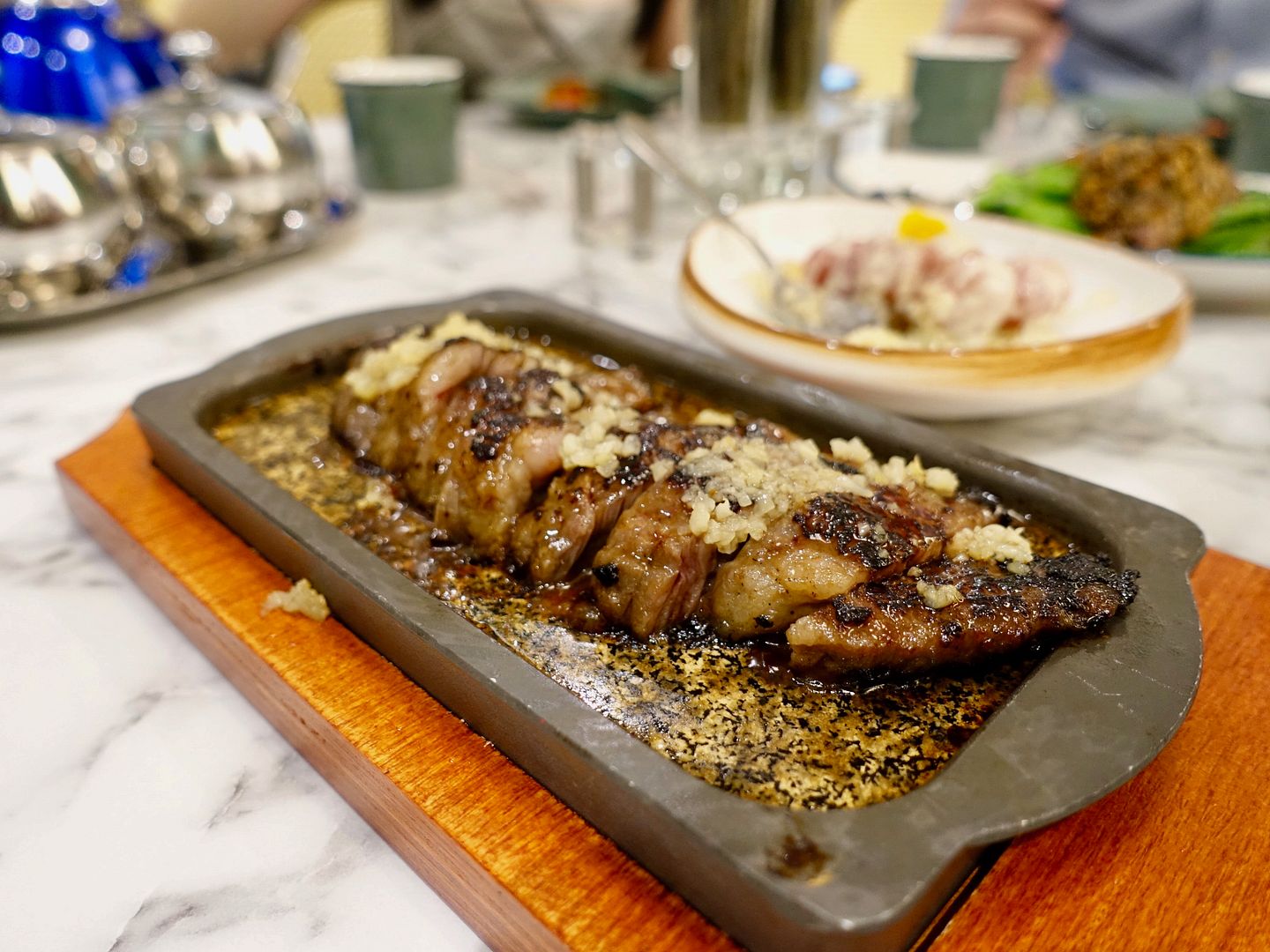 Other than duck dishes, there are other modern Cantonese dishes to complete your meal. The Pan-Seared Beef Fillet with Minced Garlic in Hot Plate ($18.80) had this lovely wok char on the exterior.
My other favorite dish is the Poached Patin Fish Soup with Chinese Wine ($38). The Sarawak wild caught Patin fish is sweet and fresh and the soup is full of goodness from the fish and stewed vegetables. No msg is used in this at all. And the fried beancurd skin is love.
Simple greens, such as the stir-fried Hong Kong Cai Xin with Pork and Preserved Vegetables ($15.80) is also available. Mei cai is used so the sauce is sweeter than it is salty.
A more filling option is the Signature Fried Rice served in Hot Stone Pot, a medley of fried rice with beetroot, rice crackers, mushrooms, corn, pumpkin and truffle oil. I found the rice to be on the wetter side but that's easily resolved if you leave the rice in the hot stone pot for a tad longer. This vegan dish has a more pronounced truffle flavor than beetroot even though beetroot juice is used. The crunch from the rice crispies contrasted the wetness of the rice.
I can see Kai Duck being a hit with families and young couples. In fact, it was bustling when I visited on a week night. The 160-seat restaurant boasts three private dining rooms that can accommodate groups of up to 12 as well. Hopefully we'll see more Kai Ducks around the island!
Kai Duck
391 Orchard Road, #05-10/11 Ngee Ann City Singapore 238872
Tel: +65 6235 5419
Weekdays: 11.30am - 10pm
Weekends & PH: 11am - 10pm