If you're suffering from cafe fatigue in Singapore, with the dozens of cafes that are like clones of one another, perhaps check out Cups N Canvas, an Arts cafe just off Orchard Road. Cups N Canvas has been quietly making waves in the Selegie vicinity despite the lack of publicity and hype on social media. S and i drove past this place so many times without even realizing its existence. We were surprised to see the healthy crowd it drew when we popped by one weekend. I guess these sneaky folks have been keeping this gem to themselves. How can!
I decided that i like Cups N Canvas the moment i stepped into the place. It's chill, fun and very New York. Or perhaps Brooklyn. You'll know what i mean if you've been to NYC.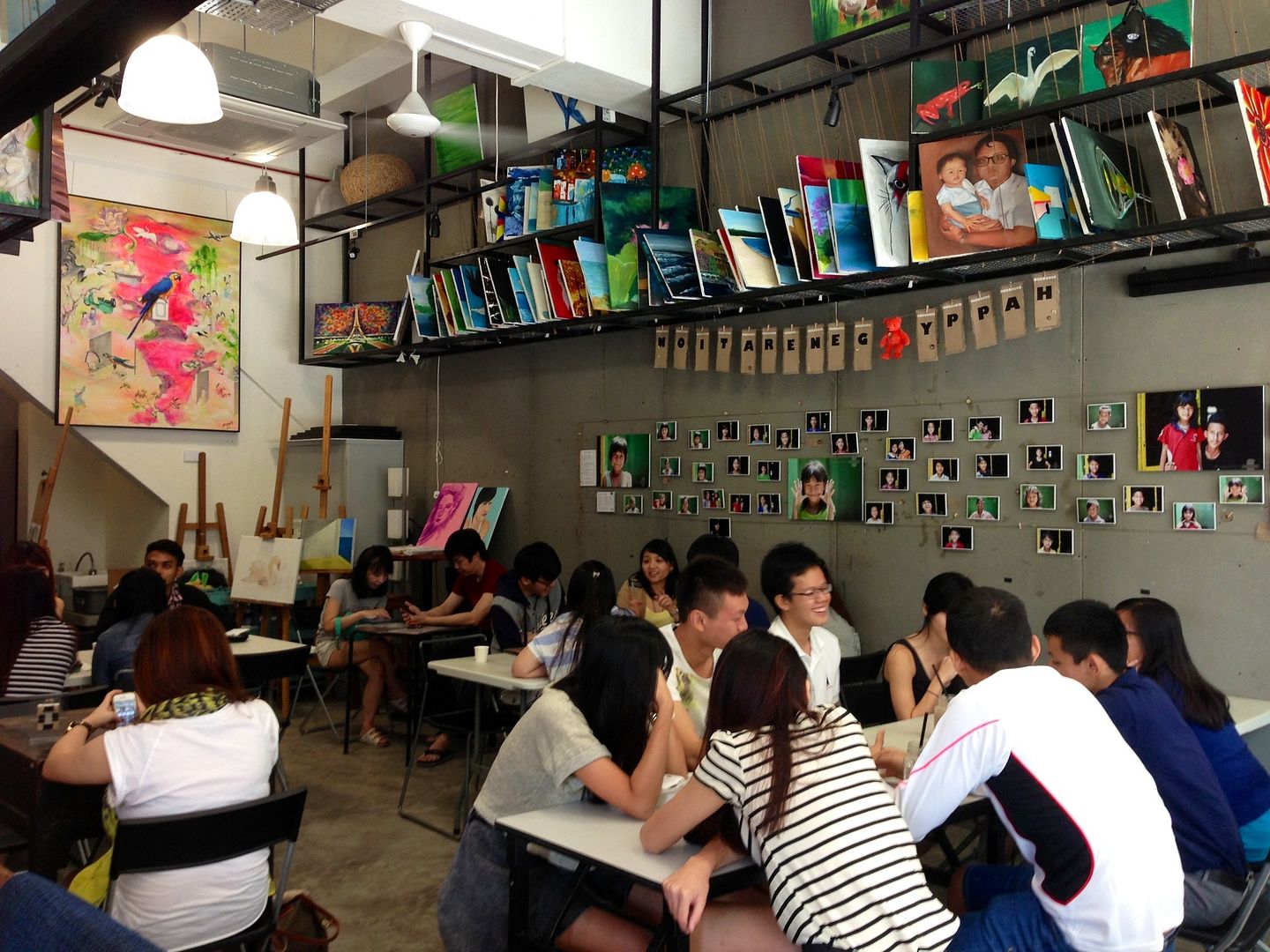 Cups is split into 2 sections, an art studio and the cafe. The art studio half will be closed when there is painting class going on, otherwise the space is available for food.





Nothing makes me happier than All Day Breakfasts. Even though Cups only has 2 items on their ADB, it was enough for people to go crazy for them, especially the Eggs Ben-Addict, which is served on a bagel. In fact, they ran out of it when i was there and i really couldn't wait for an hour for breakfast to be served. :(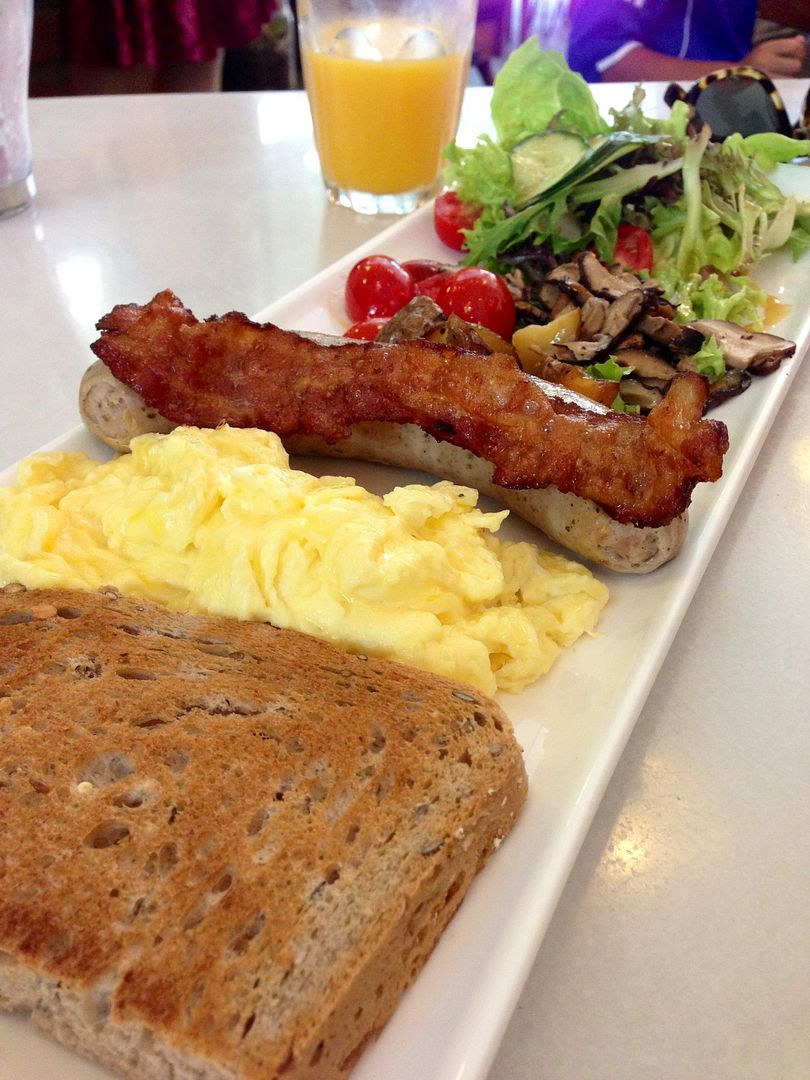 Of course there were other yummy options. Their pastas are very popular. The Blanc Bacon, a garlic cream bacon mushroom fettuccine is their hot seller. S tried it another time during lunch and said it was fab. The Vermillion Prawn, a white wine garlic based linguine is another favorite.





Ok back to brunch, i had the

Breakfast Canvas

($16.90), which came with bratwurst, bacon, sauteed mushrooms, roasted potatoes, grilled tomatoes, greens, toast and juice. This came with a juice (from concentrate). Buttery and wet scrambled, cooked to (my idea of) perfection. A thick and juicy herb sausage that was absolutely delicious and that crispy bacon rash was simply godsend. I would have loved for a toast that is denser and more substantial as the one served was too light.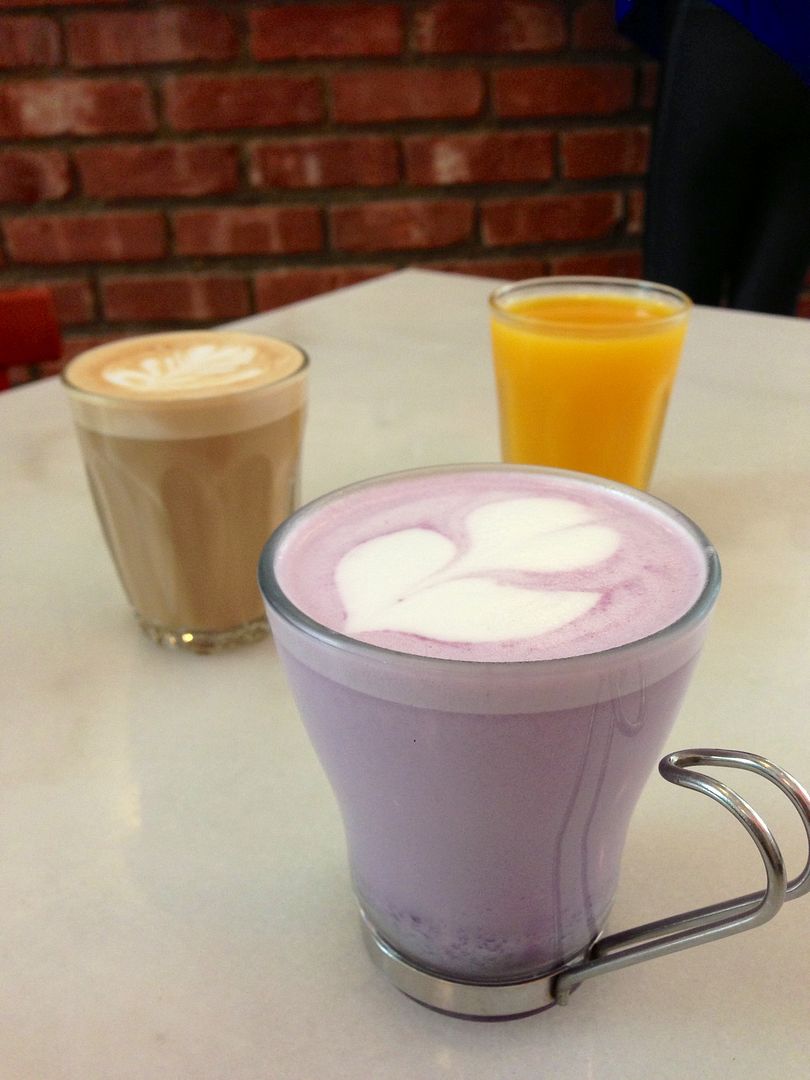 The drink to have is certainly the
Sweet Potato Latte
($4.80). According to the lady boss, this is the only place in Singapore that sells it. This is made from freshly pureed sweet potato and steamed milk and i could inhale 2 of these easily. Another interesting drink to have would be the
Sticky Date Shake
($6.80).
Cups N Canvas
is a simple cafe, but it works. It kinda proves the point that you don't have to be indie, or third wave or fancy schmancy or complicated in order to succeed. Check them out sometime. The service is awesome.

Cups N Canvas
139 Selegie Road
Tel: +65 6884 6855
Tue - Thu: 9.30am - 9.30pm
Fri - Sat: 9.30am - 11pm
Sun: 10am - 5pm