Elixir Bar at KUVO
Bespoke cocktails
are still all the rage but it's tough to find a decent one in town, since most of them are in the Tanjong Pagar area. Well, if you are looking to enjoy a tipple in
Orchard Road
, a great place to head to is
Elixir Bar
in
KUVO
. We previously visited KUVO for brunch and tea (read about my
KUVO dining review
), and were rather satisfied. This time, i headed to the bar for their latest
cocktail and tapas promotion
which is going on till
31 May 2015
, daily from 5 to 8pm.
Yutaka Nakashima
who has over 16 years of experience in bartending and cooking. Kick back and enjoy a bespoke cocktail for only $12 (U.P. $21 onwards) from now till 31 May 2015.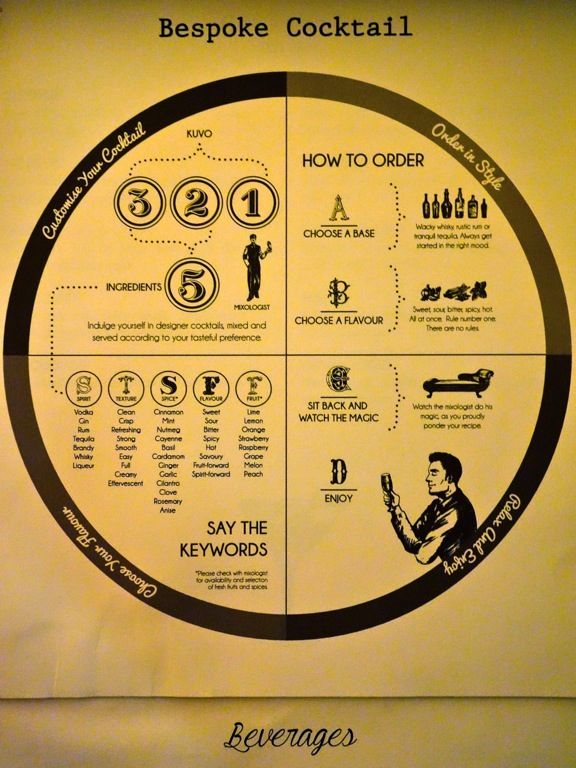 Select the base of your cocktail from the Elixir Bar house pours of Gin, Tequila, Vodka, Rum, Brandy and Whiskey. Then choose your flavor profile and watch the magic happen.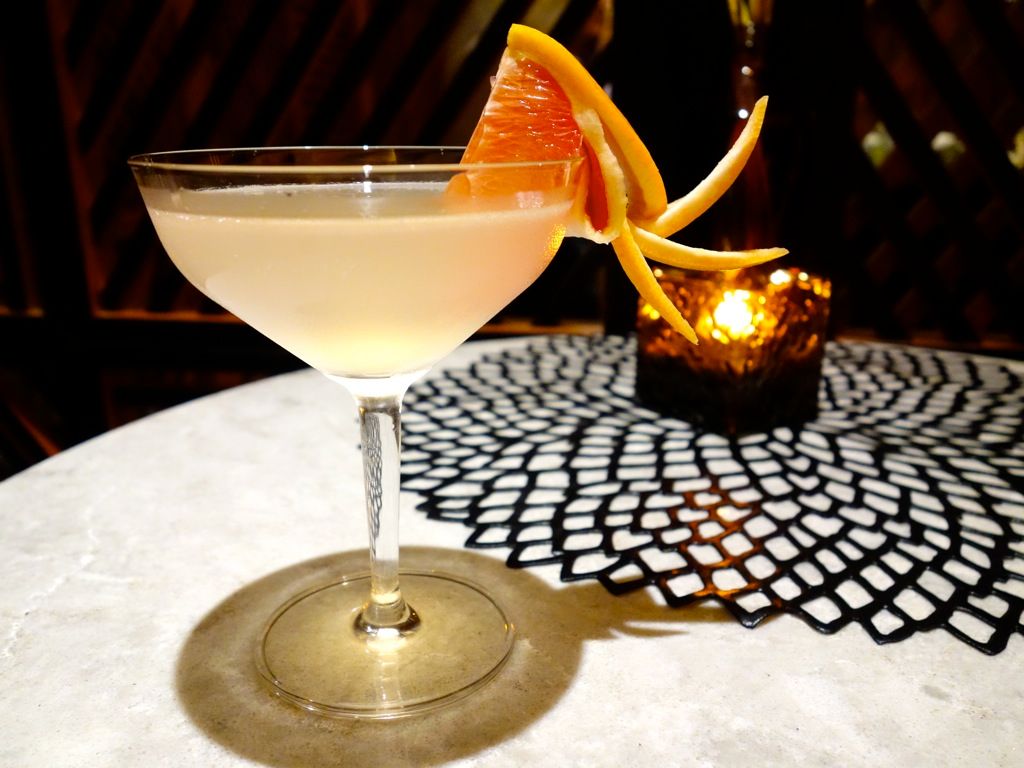 A light and elegant Vodka cocktail made with Skyy vodka, lychee, fresh grapefruit juice, elder flower and Cointreau. Definitely a great lady's drink (not that us girls can't take the hard stuff).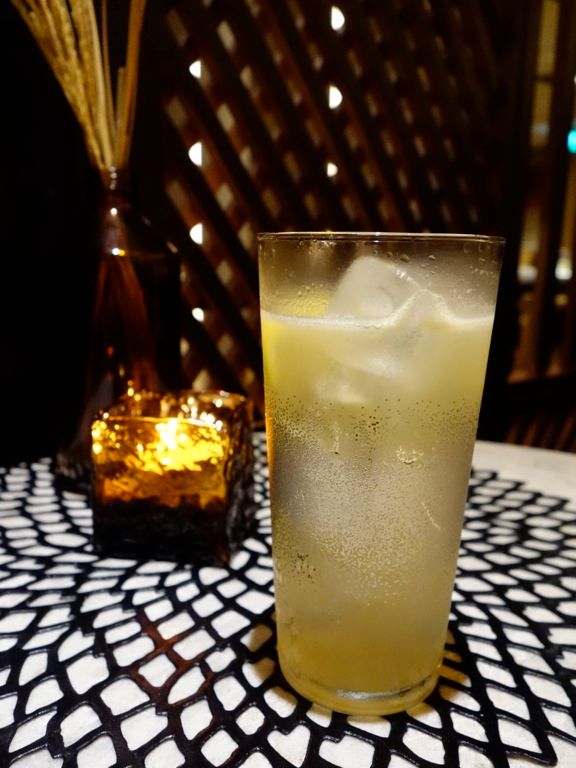 If you're up for refreshing, the Tennessee Whiskey lemonade was a thirst quencher.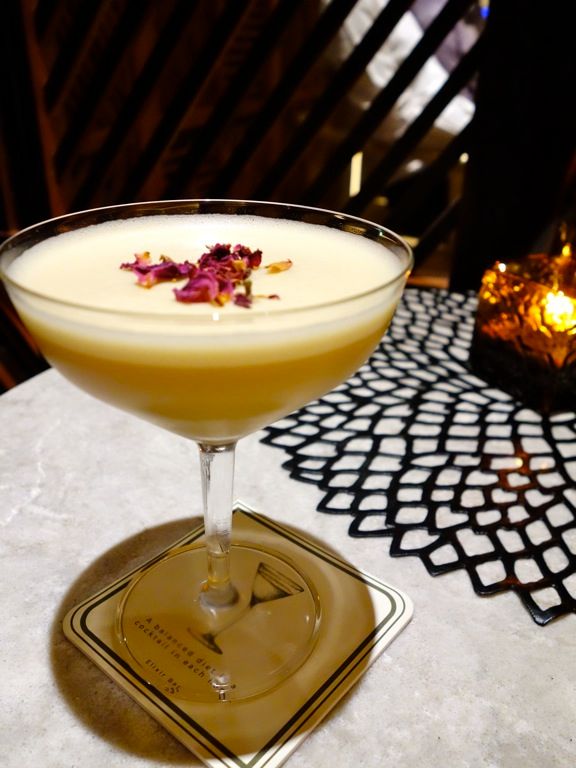 I also heard much about this special
Earl Grey Bespoke Cocktail
($22) and had to try it even though it was not part of the promotion (I'm a sucker for caffeine). Ingredients included
Earl Grey Infused Vodka, Nutrisoy, Gula Melaka and Rose Water. It looked like a rich drink but was light on the palate (great use of soy and rose water). I thought the elements were well balanced in this one.
As part of the cocktails and tapas promo, there'd be a
selection of five tapas plates at $3 each per night. The tapas plates varies day to day according to availability. You'd think that portions are probably gonna be small for that price but NOPE. I was surprised at the size of the servings.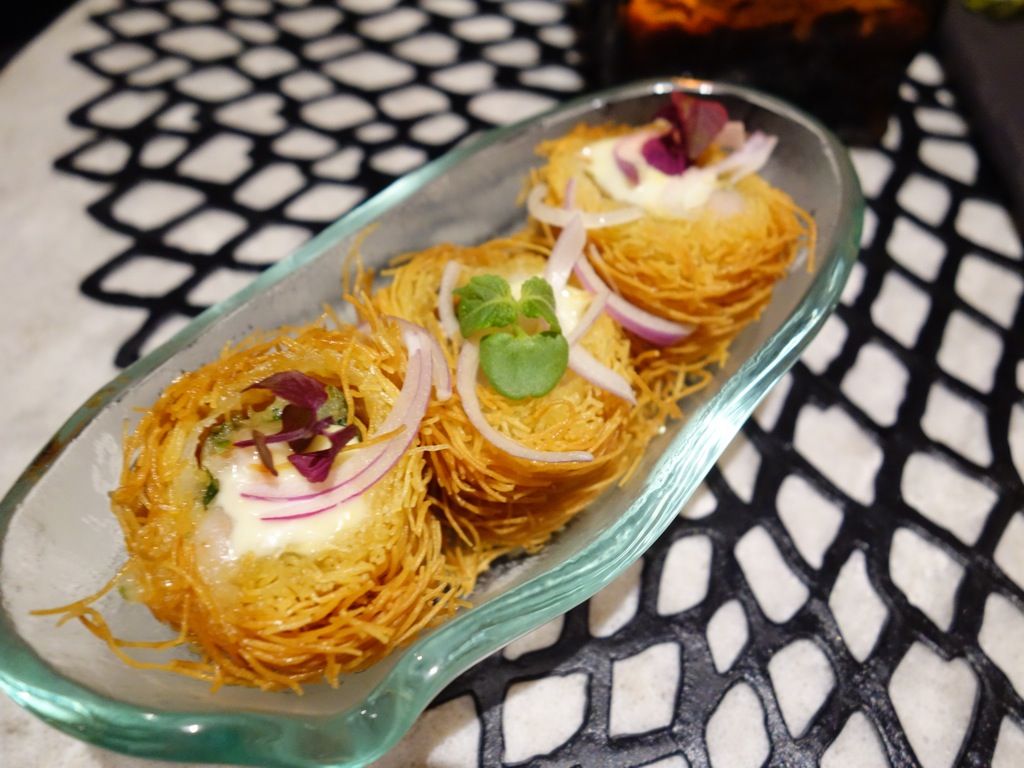 My favorite small bite of the night was the Prawn Katafi, a prawn paste cake wrapped with shredded filo pastry. Loved the contrasting texture in this one!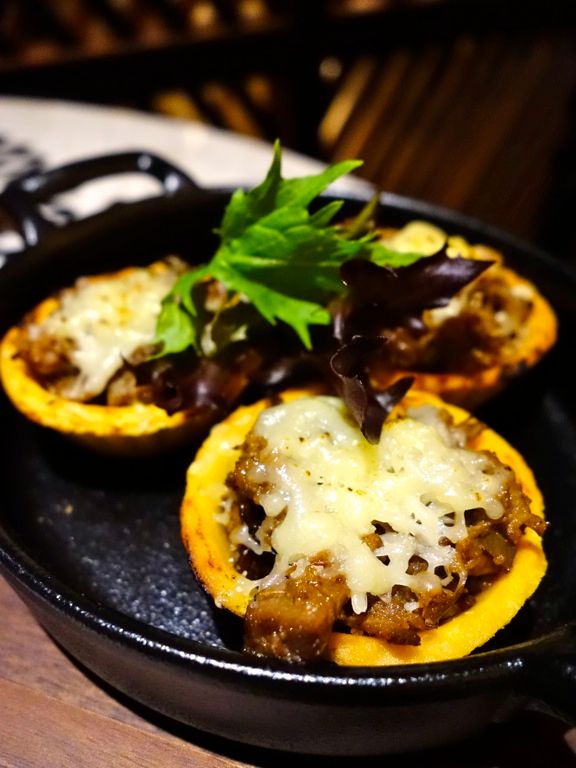 Next favorite was the Blue Torch Beef Rendang Tart but I liked it because of the buttery and crisp short crust tart which was slightly sweet. It contrasted well with the adequately spiced beef rendang but I must say that I'm using a western standard since I only have rendang once in a blue moon. The meat was kinda dry in this one, probably from the baking but I thought it was a lot better than the super tough beef in the Beef Ragout in Red Wine Sauce. It's a pity because the sauce was actually rather decent.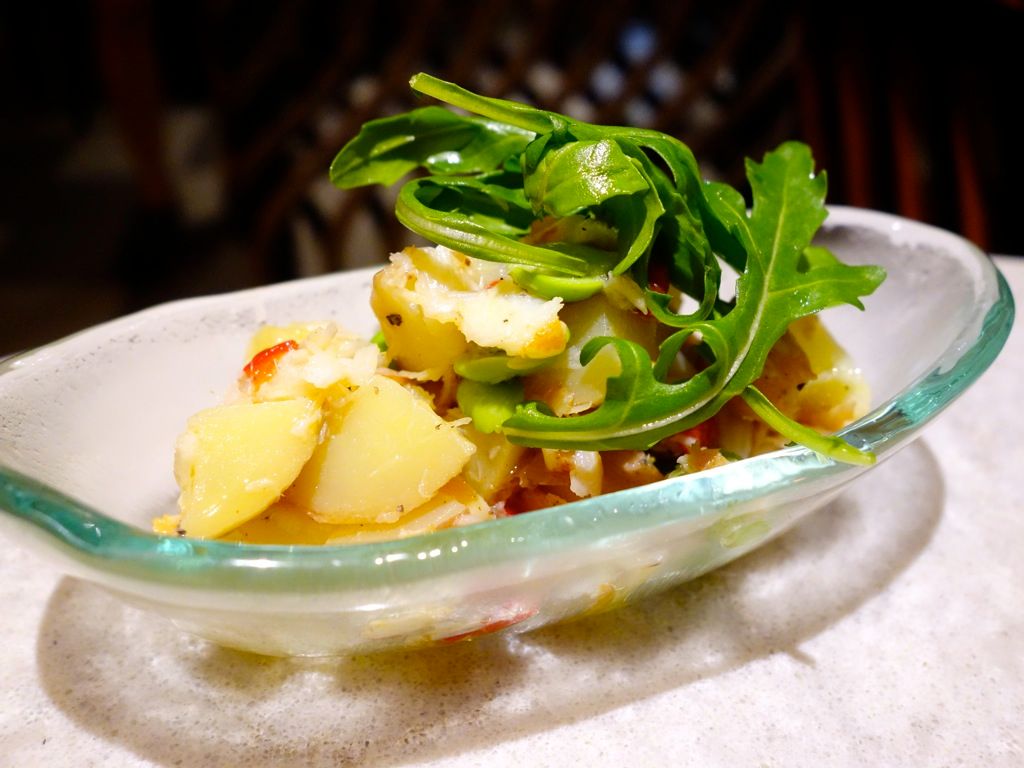 The
Smoked Cod Fish and Potato Salad
was a well balanced dish considering that there're carbs and proteins haha. Expect chunky and flavorful morsels of cod fish and starchy potatoes.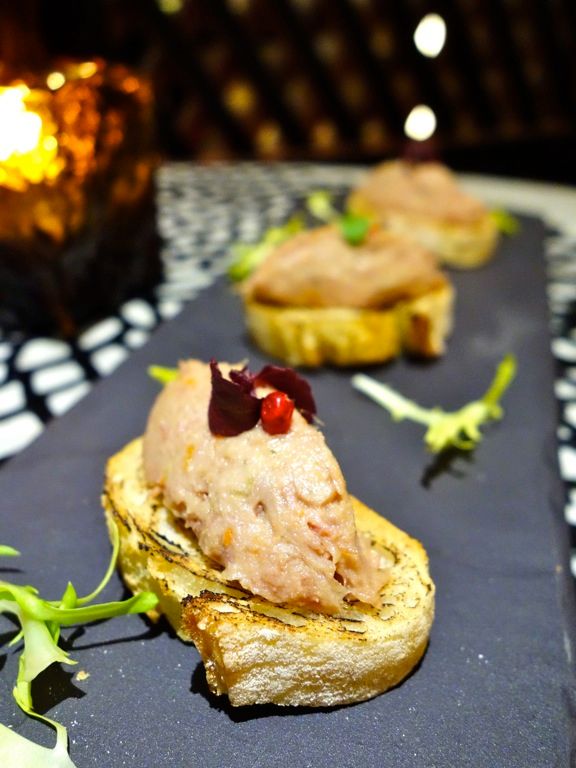 The
Duck Rillette
(also available on the a la carte menu) did not meet the mark for me. It was lacking the salty and creamy texture from the duck fats. Perhaps this is the healthier version. I also thought that there's a strange onion taste in this one. Well I'm traditional that way.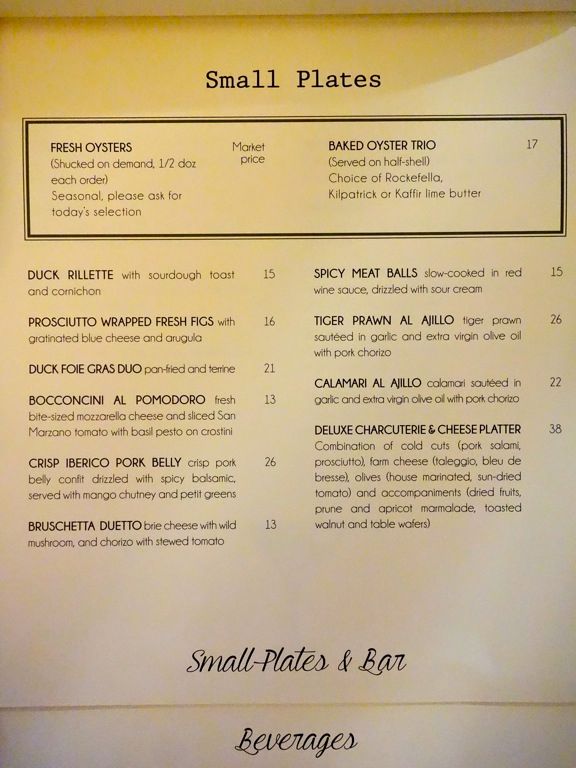 Other Small Plates are available at the bar and I'd go with the Charcuterie and cheese platter ($38) and the Crispy Iberico Pork Belly ($26) (had this during the media launch previously and it was sinfully delicious).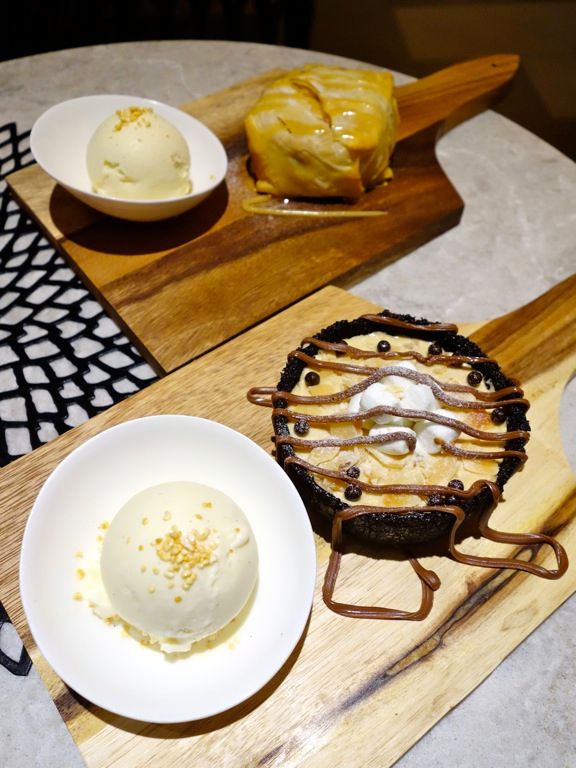 Of course desserts are always a good idea, be it on their own or paired with a tipple. If you're a Peanut Butter fan, the
P.B Mousse Bar ($14) is a giant saucer sized Oreo crumble filled with dense
PB mousse with brownie bits. It's a little on the ️sweet side and needs some peanut crunch but otherwise it's alright. Definitely meant for sharing unless you're only having this.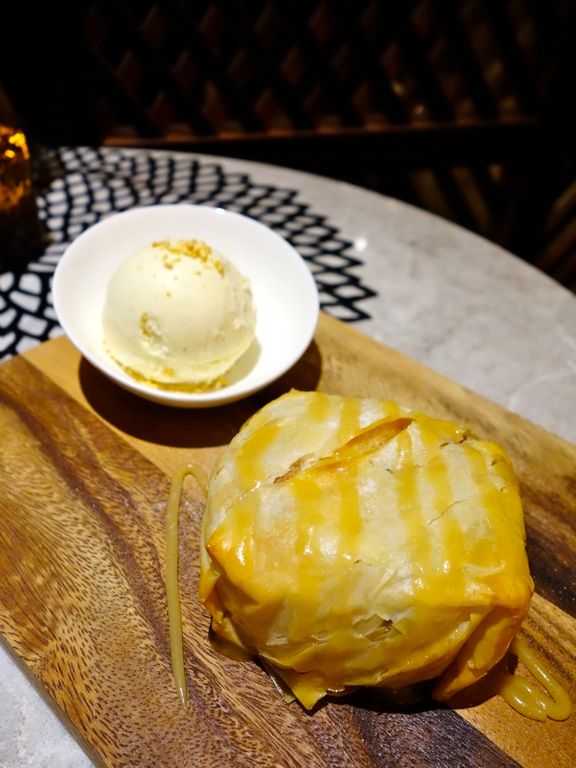 What blew my mind and would have me coming back was the Croissant Bread Pudding ($14). Contrasting textures were present- the wobbly custard with croissant bits and the crispy filo pastry. I loved the hint of the salted caramel sauce (could certainly have more). Ahmazing! It's gonna be my post yoga snack from now on.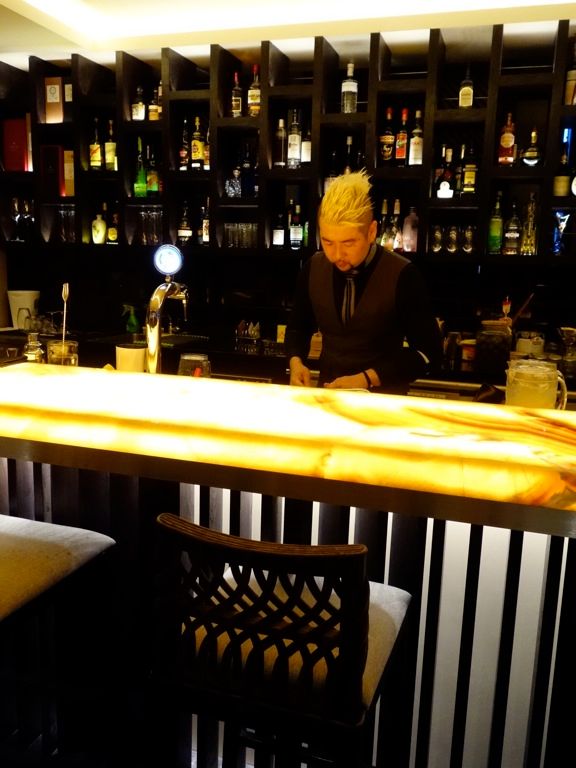 Like what you see? KUVO's bespoke cocktail promotion is available daily from 5pm to 8pm and the promotion will run until 31st May 2015.
All other cocktails on the cocktail menu are priced at $21 and Bespoke cocktails are priced on order.
KUVO- Elixir Bar
#02-01, 321 Orchard Road, Orchard Shopping Centre, Singapore 238866