Hearty Italian at Jamie's Italian
In need of a hearty meal? Then you gotta go Italian,
Jamie's Italian
. Yes there have been hits and misses (i kinda hate that they keep updating their menu with the new items and removing old ones) but sticking to the long standing faves will satisfy your need for comfort food.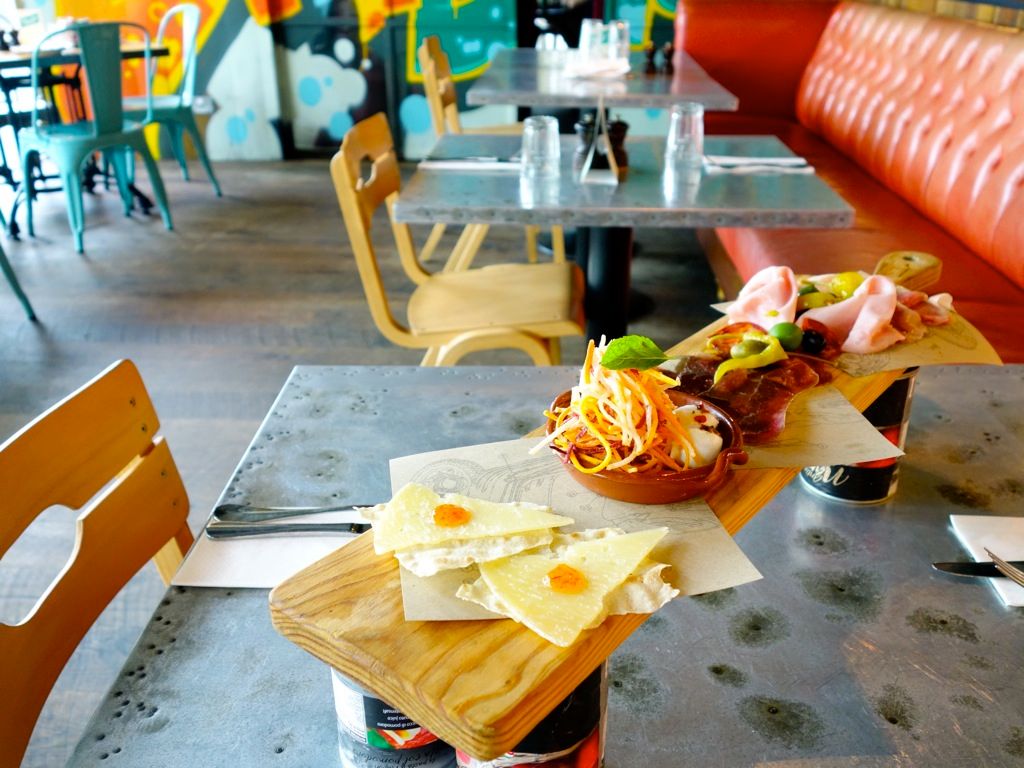 If you don't know, Jamie Oliver focuses on using the best ingredients, which are meticulously sourced from producers, both in Italy and around the UK. All their staff are very knowledgeable on the dishes they serve and they are more than happy to share with you the origin of each dish, or how they are prepared and all. Meal time entertainment FTW.
On the Cured Meat Plank ($16.50/pax), there's the 18 month aged San Daniele Prosciutto; hot soppressata (Southern Italian dry salami); Mortadella & bresaola; Pecorino & chilli jam on the crunchy music bread; a beautiful selection of Puglia pickles; olives & crunchy salad.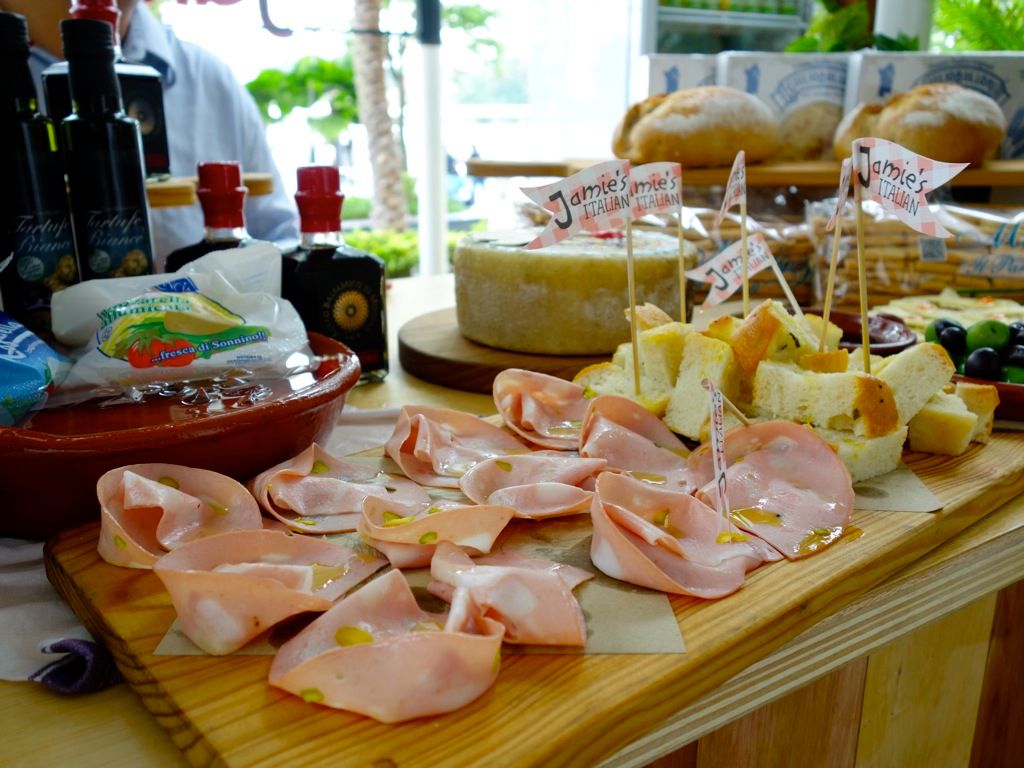 All meats are sliced to order ensuring maximum freshness and flavor.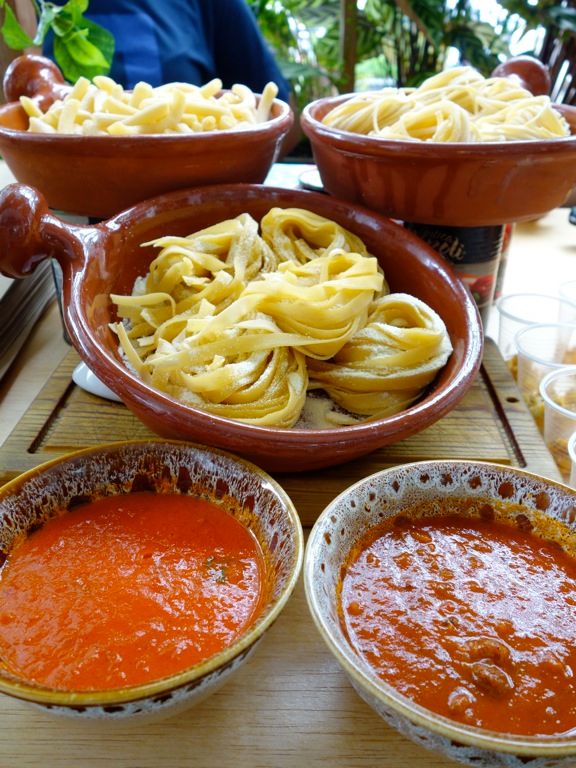 If i have to eat pasta, then they better be hand made and fresh! Of course that's expected at Jamie's Italian.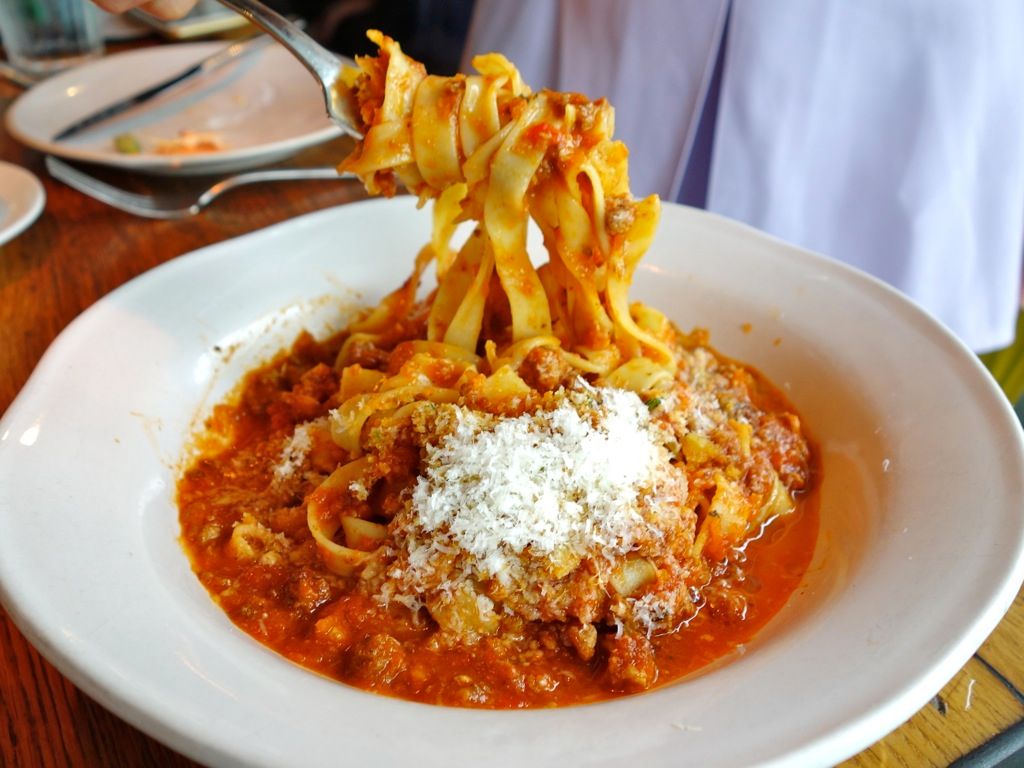 Bolognese is something that everyone thinks that they can make but really, it's hard to make a really delicious bolognese. Do not miss this not-so-simple dish of Tagliatelle Bolognese ($14.50)! Jamie's Italian tosses pasta together with beef, pork, red wine and butter and served with pangrattato (crunchy herby breadcrumbs), herbs, garlic, Parmesan and olive oil to give it that lovely umami and dimensions in flavor profile. The sauce is made from sieving the tomatoes (not a paste) and you can taste that freshness in each bite. Plus it's a HUGE plate. So damn good.
High grade acquerello rice is used in risottos and we love how it's done in the Wild Mushroom & Smoked Mozzarella Risotto ($26.50). The rice is first cooked with Porcini mushroom stock for that earthy flavor. Parmesan, parsley, pan-fried mixed forest, oyster and Swiss brown mushrooms, as well as torn scamorza (hay smoked mozzarella) are then added to finish off the dish. The result? A super smooth, creamy, and rich plate of tasty carbs.
Jamie's Italian VivoCity now also offers pizzas in their refreshed menu. Their pizza dough is made fresh daily from a combination of manitoba (a premium Italian bread flour), yeast and water. The dough is shaped through gentle stretching (not rolling) which is key to developing its crisp texture and crust. It is also served on a special stoneware plate which retains the heat and crispness of the pizzas for longer. Another irresistible carb.
For desserts, we ended with the Molten Chocolate Praline Pudding ($12.50), a rich chocolate center encased in a light chocolate sponge, served warm with a scoop of salted caramel ice cream and a sprinkle of crunchy praline.

No fancy stuff at Jamie's Italian for us. The best things in life are the simple ones.
Jamie's Italian
1 Harbourfront Walk, #1-165-167
VivoCity, Singapore 098585
Tel: +65 6733 5500
Mon - Thu: 12 - 10pm
Fri: 12 - 11pm
Sat: 11am - 11pm
Sun: 11am - 10pm
583 Orchard Road #01 01-04
Forum, Singapore 238884
Sun - Thu: 11.30am - 10pm
Fri - Sat: 11.30am - 11pm