Oasia Hotel Downtown Singapore Review
Only Singaporeans get the idea of
staycation
really. Trust me if this
@travelerintransit
can, she would be on the first flight out of Singapore every weekend. But when you have a busy other half who's always stuck at work, then the next best thing is to check yourself into a hotel for some quality snuggle time, preferably
Oasia Hotel Downtown Singapore
(
if you're a sucker for design
like me
).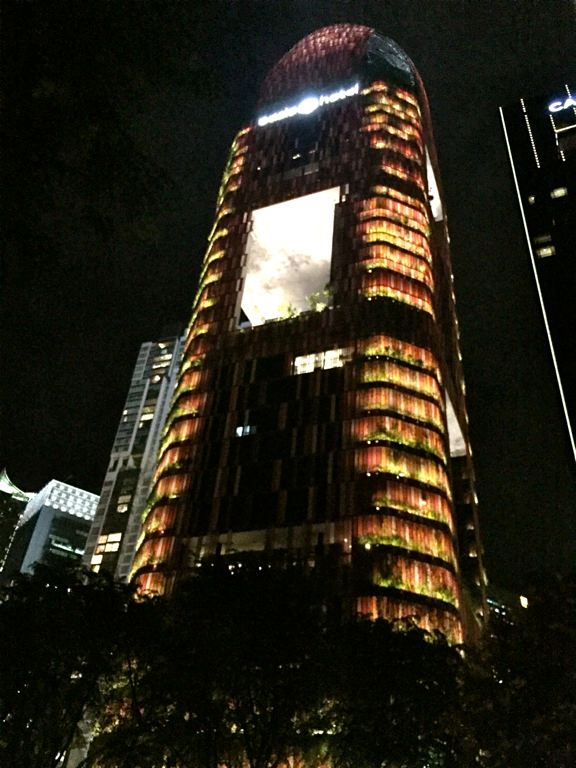 Oasia Hotel Downtown Singapore is a breath of fresh air in the concrete jungle. With its interesting phallic silhouette that is covered in a lush green facade (also made to be a vertical garden) Oasia Hotel certainly stands out (hurhur punny) in the conveniently located Tanjong Pagar location.
The 314 rooms are designed by renowned Spanish designer Patricia Urquiola. I love the simple sleek lines with a comfortable woody tone. The space is highly functional, yet comfortable.
The Superior and Deluxe rooms are 23sqm of space and comes with floor to ceiling views, the deluxe of unblocked views of the city at a $20 difference. A small work desk and a free smartphone that provides connectivity (calls and wifi) in the city, cater to the business and leisure traveler alike.
Bathrooms come with the basic amenities and toiletries as well as a standing shower room. I liked the fresh scent of the Fresh Artistry White Tea products. Published weekday room rates for the Superior Room start at S$330 for weekdays per night.
Need a bath? The 28sqm
Club rooms and suites
located on the 22nd to 25th levels will satisfy with their tub and Thann amenities. Enjoy exclusive access to the Club lounge and infinity pool at Level 21,
Nespresso coffee-making facilities and complimentary wellness drink.
On to the common spaces. Level 12 is where the check in is, with plenty of open space, tropical (no AC) and green (lawns). It attempts to be a resort in a city, and i'd say that they excelled at it.
The 24h gym accommodates your work out, but if you can, just hit the lawn for some yoga or HIIT.
I would have planned for a picnic under the stars given time to plan but we are an spontaneous couple. Well, wine and desserts can do too! ;)
Not a gym person? Then take a swim at one of the two roof top pools.
Life is pretty awesome by the pool. All we need is a pool bar and life will be perfect.
Not the suntanning type as well? Then take shelter and swing around in one of the nests with a book.
Breakfast is at The Marmalade Pantry which we know is a pretty decent option. If local is more your thing, the Tanjong Pagar Plaza Market and Food Centre or Maxwell Food Centre is just a stone's throw away. There's also plenty of Chinese, Japanese, and Korean restaurants in the vicinity. Check out what's available under the CBD tab!
100 Peck Seah Street Singapore 079333
info.ohd@fareast.com.sg
Tel: +65 6812 6900/ 6881 8888