Bread Street Kitchen by Gordon Ramsey
I had the pleasure of checking out Bread Street Kitchen by Gordon Ramsay during my stint as Weekender SG Food Mania Awards 2016 judge and we were all pleasantly surprised by our dining experience. BSK also went on to clinch the best restaurant in the European category! As promised, albeit super late, here is the detailed review of what we tried.
A refreshing start was the Sea bass fillet carpaccio ($21) with avocado puree, horseradish and a spicy twang of ginger.
For a shared starter or as a light meal for one, i'd recommend the crunchy cracker-like Flatbread ($28). It's more like a cracker pizza really with the sweet onion jam, creamy ricotta cheese, San Daniele ham and that nutty asparagus.
In contrast, the
Tomato Tart
($24), was a tangy juicy flavorful pastry puff topped with caramelized onion, burrata cheese, balsamic glaze and basil pesto. It looked and tasted like a garden with all that fresh herbs. The pastry was a little wet and flat but everyone at the table was happy with it.
Tamarind spiced chicken wings ($18) was right in the flavor department with that slightly sweet-sour curry spice but we lamented that the batter could be crispier. It left us wanting some good Korean Fried Chicken.
The Seared scallops with celeriac puree ($18) with chicken skin crumble, apple, and celery cress. was a decent dish, but the execution could be better to leave them more plump.
The mains didn't fare as well as the starters as there was at least one flaw in each dish. The Fish & Chips ($28) is a British classic and BSK did pretty well with the light crunchy batter (that was a tad salty) and minty crushed peas. The fish didn't taste particularly fresh though, we thought it was the frozen type.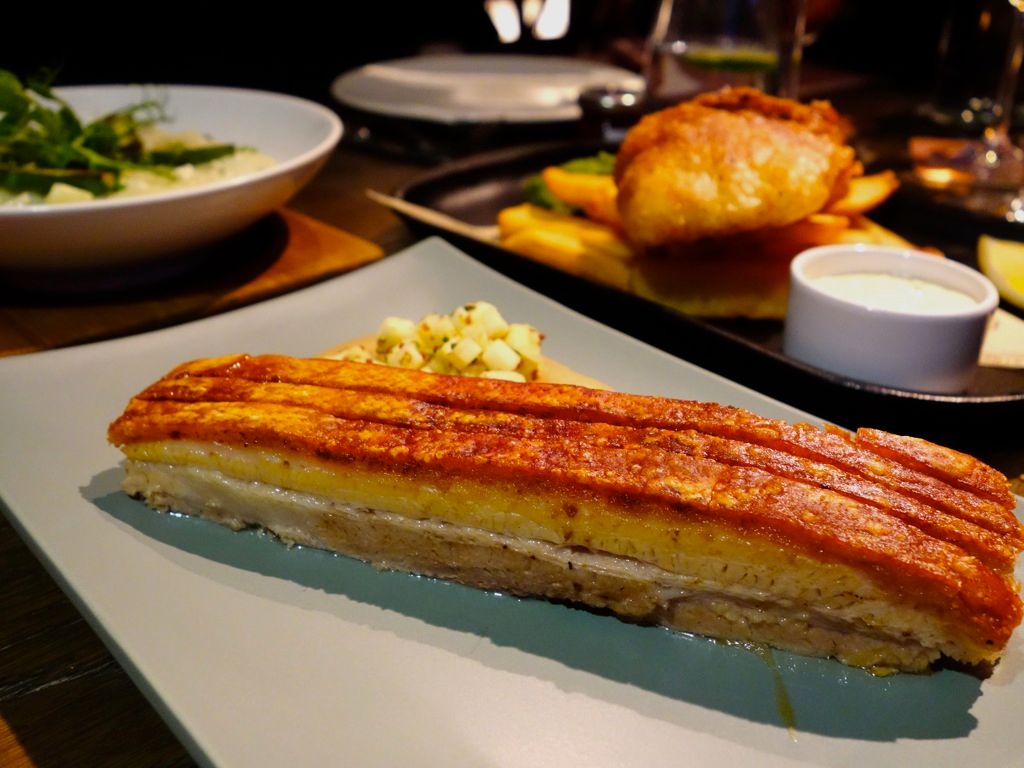 The Slow-roasted Dingley Dell Pork Belly ($28) still hasn't been tweaked because we faced the same issue with the rock hard and super salty pork belly skin! The meat also had a strong porky taste, which was slightly masked by the apple puree (which could be more tart). Well skip the skin if you must have the pork, at least the meat was tender.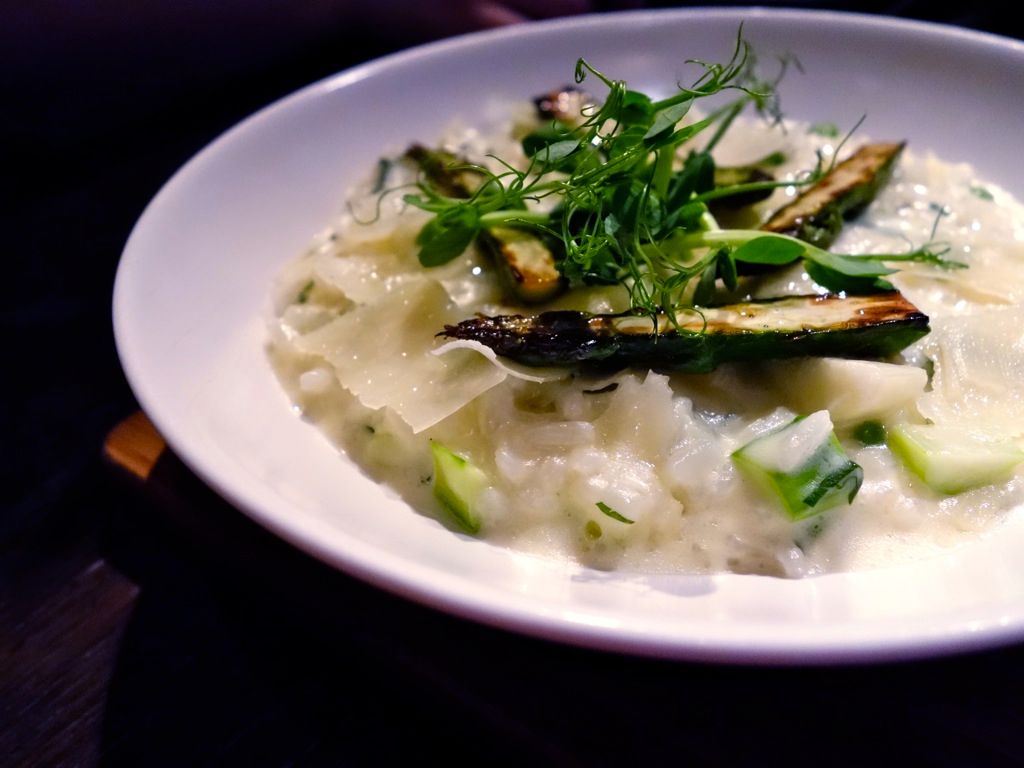 The Risotto dish changes every now and then and we had the Pea and Asparagus one with aged Parmesan and pea shoots ($32). This dish was on the bland end but it complemented the other more seasoned dishes. The rice was a tad overcooked though.
Skip the Pork T-bone steak ($56). The massive 350-400g steak gives me indigestion just thinking about it. It's too tough to digest.
On to desserts! Of the lot we sampled, the BSK Chocolate and Peanut Butter Bar with pop corn ice cream ($18) came up tops as a more elegant and smoother Snickers v2.0. The Rhubard apple crumble pie ($17) could do with a crunchier shell and acidity in the filling, while the light moussey Monkey Shoulder Cranachan cheesecake needed a denser/intense texture/flavor.
Good vibes at Bread Street Kitchen. Kick back with their cocktails for they were absolutely delish. My Black Cow Vodka with Cheddar was refreshing and tangy and my companions' drinks were all satisfying. We were also surprised by the Serbian wine that was served to us too. Service was impeccable as well and we appreciated that the staff were all super knowledgeable.
Hits and misses at
Bread Street Kitchen
but overall you'd enjoy yourself if you ordered the right dishes. Also, we can't fault their cocktails and the awesome views of the bay.
Bread Street Kitchen
2 Bayfront Avenue, #01-81 Bay Level
The Shoppes at Marina Bay Sands
Tel: +65 6688 5665
Weekdays: 11.30am - 1am
Weekends: 7.30am - 1am