Ninja Cut, a perfect extension of Ninja Bowl
Ninja Cut
has stealthily moved in to the vicinity of
City Hall
! Most of you are familiar with the sister outlet,
Ninja Bowl
.
Ninja Cut
, however, has cut its own identity with a menu featuring succulent meats, fresh seafood, and all-day brunch items.
Who doesn't love brunch items? The best part is that whether you get out of bed at 9 in the morning or 5 in the afternoon, you still get the satisfaction to start the day!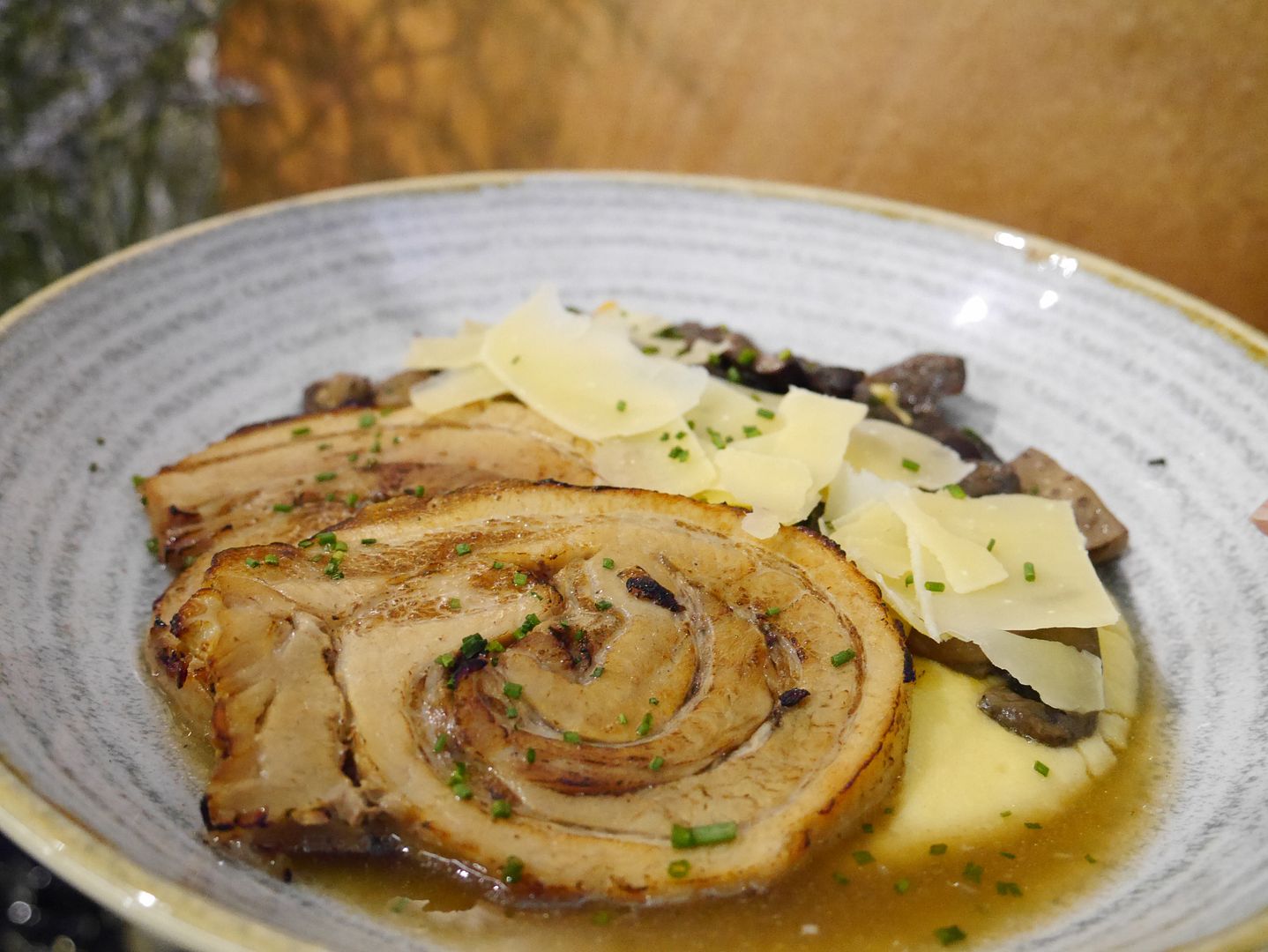 Polenta Mash ($18). The name says it all. You will fall in love with the warm truffle polenta if you adore creamy scrambled eggs. The dish is served with Aburi pork slices, sautéed mushrooms and shaved parmesan cheese. Tucking into truffle polenta with parmesan and mushrooms brought a smile to my face.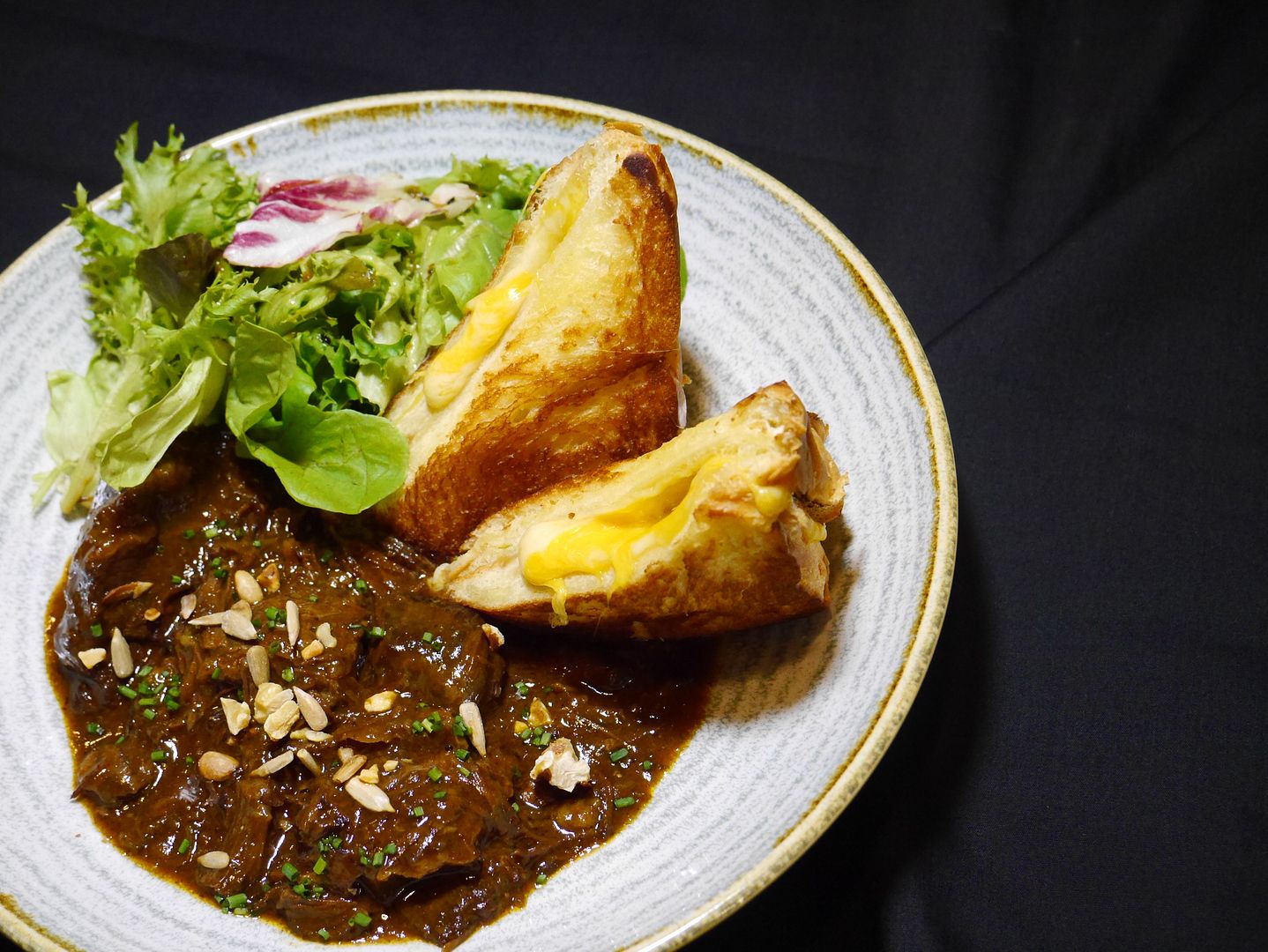 But what left me speechless was the Cheeky Cheese ($18). That fluffy and buttery brioche (almost like danish bread) transported me to brioche heaven! With two types of cheddar stuffed between the fluffy pillows, the sandwich is the answer to the perfect brunch. So what's the cheeky bit? 24-hour braised Japanese curry beef cheek!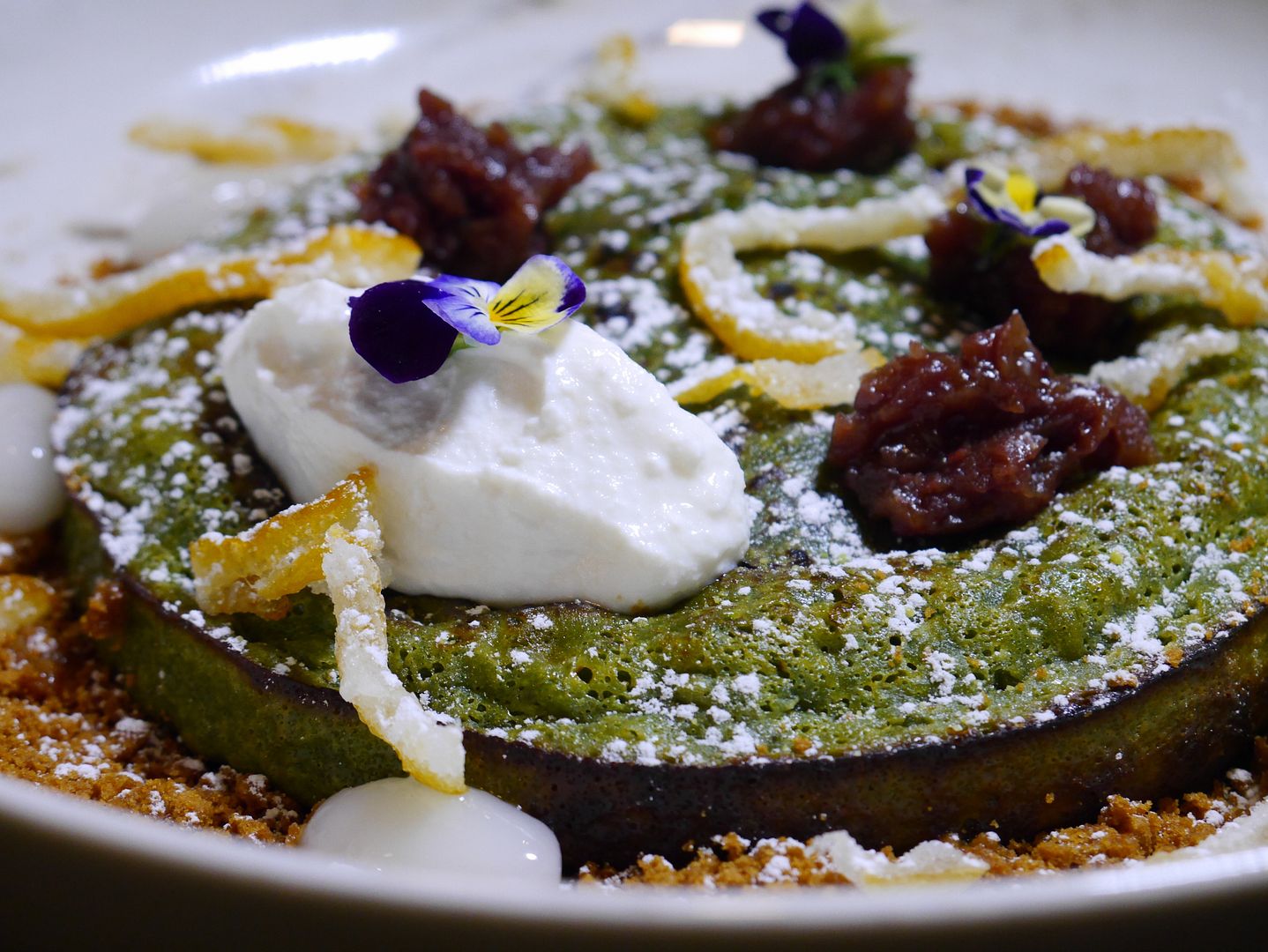 Marvellous Matcha ($16), on the other hand, is a feminine and delicate plate of whimsical garden. Topped with a quenelle of ricotta, homemade chewy dango, yuzu peel 'worms', speculoos crumble 'soil' and anko, the dish is quite a piece of art. The highlight thou, is the instagrammable oozing matcha of the dense matcha 'hotcake'. Do yourself a favor. Don't take too long getting that marvelous picture or video. Dig in while it hits the sweet spot.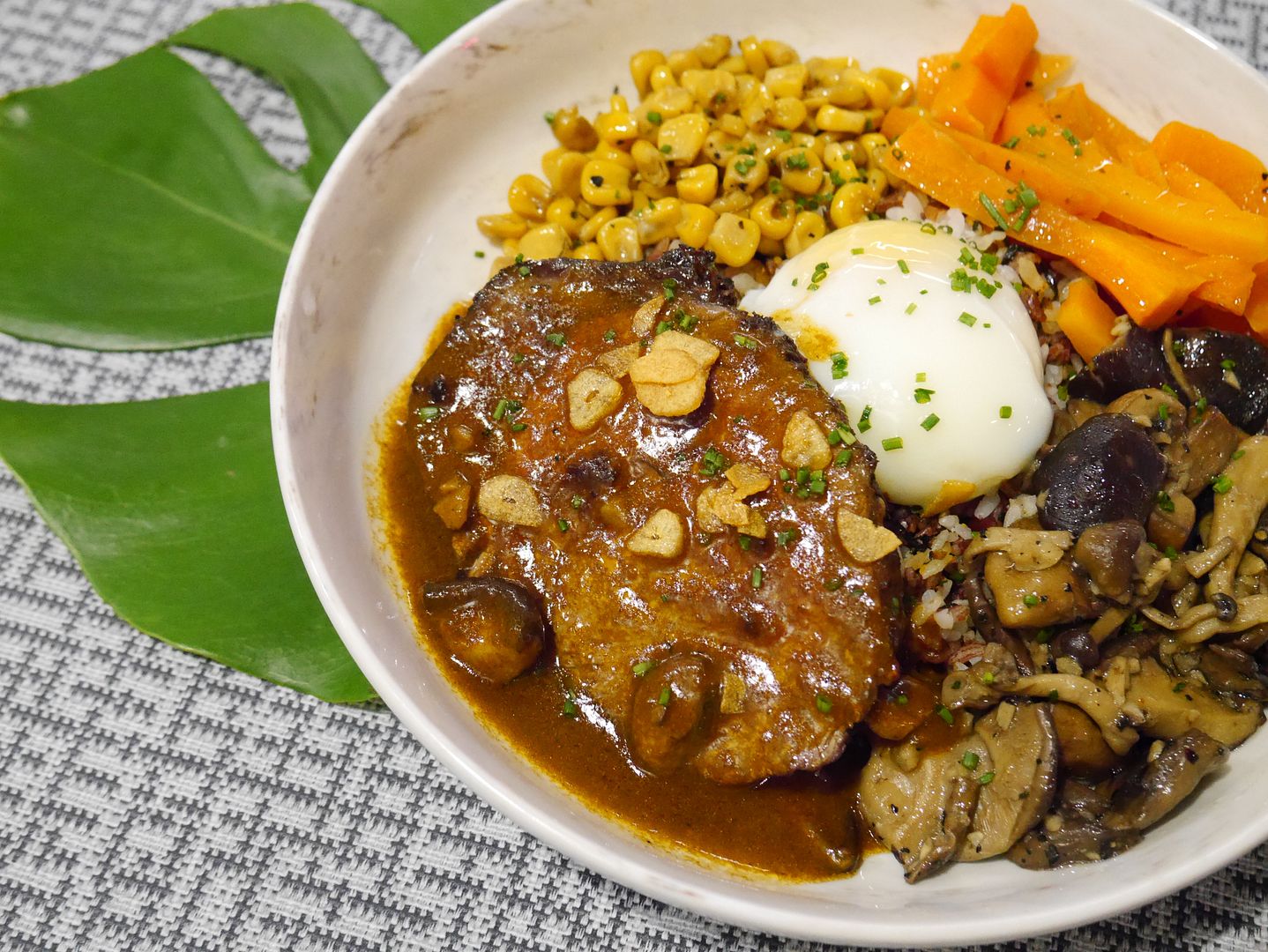 Ninja Cut also serves up the famous bowls, with Oh My Cod ($18), Gimme Chimi Chicken ($14), Squid Fix ($18) and What's your Beef? ($18) to name a few. Don't you just love the catchy names?
Careful when you vocalize your indecisiveness when ordering. "Gimme…" could simply be an order of Gimme Chimi Chicken ($14), a tender sous vide chicken breast with flavors of Cajun spice rub and house-made chimichurri sauce. It is a yummy default option by the way.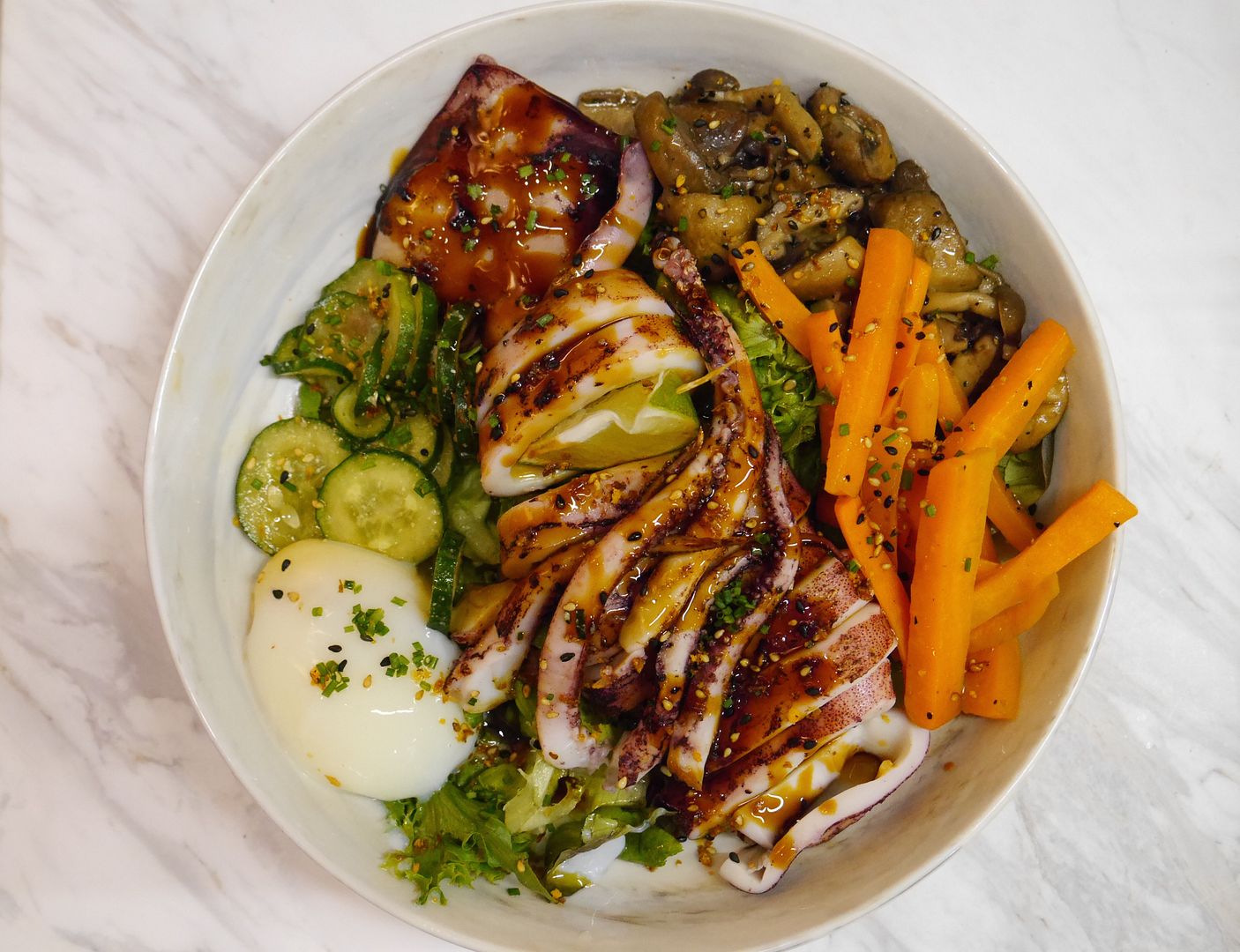 I want Squid Fix ($18)! With unami house-made surume ika (the sauce on grilled unagi) brushed on a WHOLE plump squid, how can one resist this tantalising dish? Served with sautéed mushrooms, miso cucumbers, honey-glazed carrots and furikake, this was my favorite bowl.
Like at Ninja Bowl, you'll need add ons for a full meal: $3 for quinoa, $2 for Ninja Rice, Soba or Garden Greens. Soba is only available at Ninja Cut, and it is a good add on if you love slurping your carbs.
At the end (or start) of the day, I will return to Ninja Cut for its satisfying brunch offerings. For today, I'm in the mood for the cheeky one.
Ninja Cut
32 Seah Street Singapore 188388
Tel: +65 6264 7727
Weekdays: 9.30am - 7.30pm
Weekends: 9am - 6pm