Blue Lotus Chinese Eating House
Love meeting your relatives for reunion dinner, but hate the stifling environment and conventional dishes on offer at traditional Chinese restaurants? Looking to usher in the Year of the Rooster with the sea breeze in your face? Blue Lotus Chinese Eating House, which prides itself as a new age Chinese Restaurant, offers 3 communal-style set menus this festive season priced at $68, $88, and $108 per pax.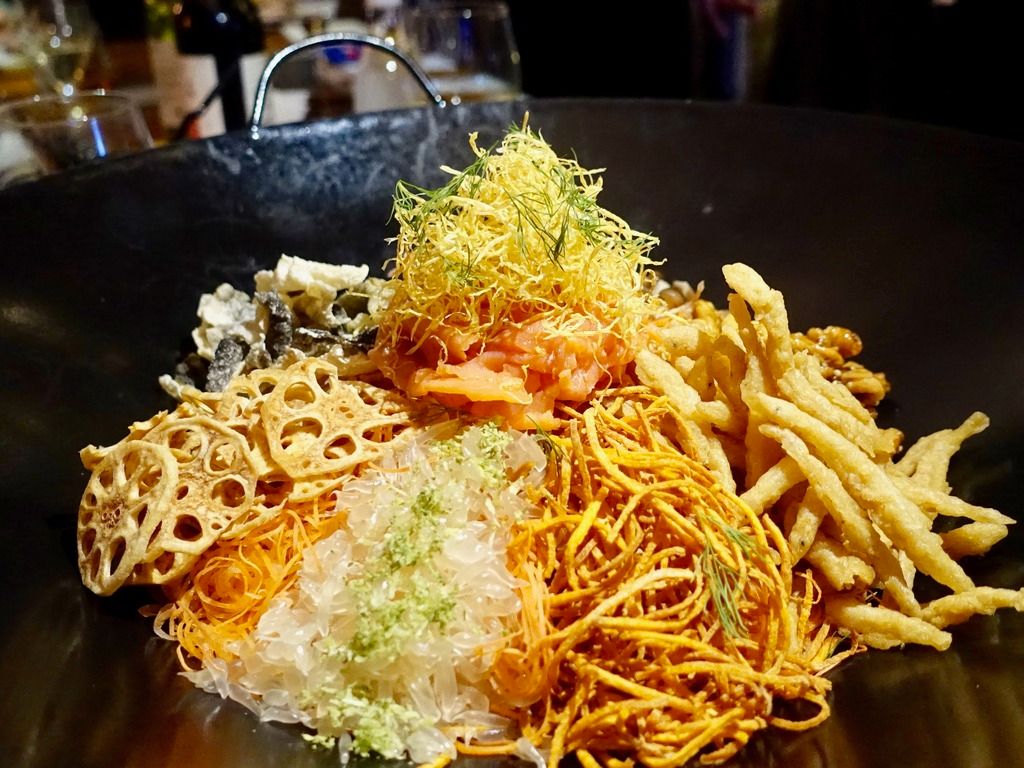 Each set menu starts off with the signature "Perfect" Tea-Smoked Norwegian Salmon Yu Sheng. An exhaustive list of 20 ingredients including fried silver bait and crispy salmon skin make up this 十全十美 (Shi Quan Shi Mei) Yu Sheng platter, which translate to mean "perfect 10". Dressed in spring onion infused olive oil and house special wild honey yuzu dressing, the "Perfect" Yu Sheng is an unique anomaly from the usual overly-sweetened yu sheng that we are used to, and had us going at seconds (and even thirds).
Instead of the usual double-boiled herbal soups, Blue Lotus has introduced the Truffle Wanton Lobster Bisque. The vividly colored soup is rich in crustacean flavor, and the thin, silky wanton skin envelops a substantial number of crunchy fresh prawns infused with heady black truffle.
The
Steamed King Oyster with Garlic and Shallots
showcases gigantic (palm sized!) oysters steamed with soya sauce topped with garlic. The freshness of the shellfish and the rich flavors of the ocean are preserved with the gentle steaming, with the sweet and light soya sauce being a discrete supporting actor.
Blue Lotus is very proud of their signature chili pomelo crab, and rightly so. For CNY, they have on offer the Blue Lotus Chilli Pomelo Crab Claw. Chunks of crab meat are packed into a crab claw which is then drenched in their signature chili pomelo crab sauce. The prominent taste of fresh herbs and spices, and the right degree of fieriness without the overpowering sweetness from tomato sauce (a common ingredient in other chili crab sauces) would have you shoveling spoonfuls of the sauce into your mouth. Eating a whole crab is not usually a graceful or glam affair hence the crab claw makes for a great and fuss-free experience.
The Rooster is likely to cry "fowl!" that we are welcoming it by eating a member of its species- but the Salt Baked Herbal Spring Chicken with Chinese Wine & Herbs is too good to be missed. The chicken is well marinated and expertly prepared such that it absorbs all the flavors from the wine and herbs and also retains all its moisture.
No Chinese dinner is complete without the carb dish, and the Josper Grilled Jumbo King Prawn with XO Mee Pok certainly does not disappoint. The huge king prawns (filled with lots of unctuous goodness in the heads!) are grilled to perfection and served with the very local Mee Pok with a twist. In fact, the dark, sweet yet savory XO Mee Pok (reminiscent of KL hokkien mee) is so good, it's hard to tell which one was the star of this dish.
Rounding up a fantastic meal is the Double Boiled Ginger Tea with Black Sesame Rice Dumplings. The ginger tea is simple, yet comforting, while the chewy glutinous rice skin lovingly encases the black sesame filling to ensure an auspicious, sweet ending to the meal.
Dining at Blue Lotus Chinese Eating House feels a lot like eating at your favorite hipster Uncle's home. We enjoyed the creative dishes in the comfortable al-fresco setting. Check out their Chinese New Year set menus that are available till 11 Feb 2017.
Blue Lotus Chinese Eating House
31 Ocean Way #01-13
Quayside Isle, Singapore 098375