Fresh cheeses at The Mast' Of Mozzarella & Co.
​​Fresh Italian mozzarella in Singapore? HELL YEA! Be treated to fresh cheeses at The Mast' of Mozzarella & Co.'s first SEA's outpost at Frasers Tower. Originating from Rome, the concept proudly combines a cheese production laboratory with a delicatessen, osteria and bar all in one space. It is the first in Singapore to make fresh mozzarella, burrata and stracciatella daily on site.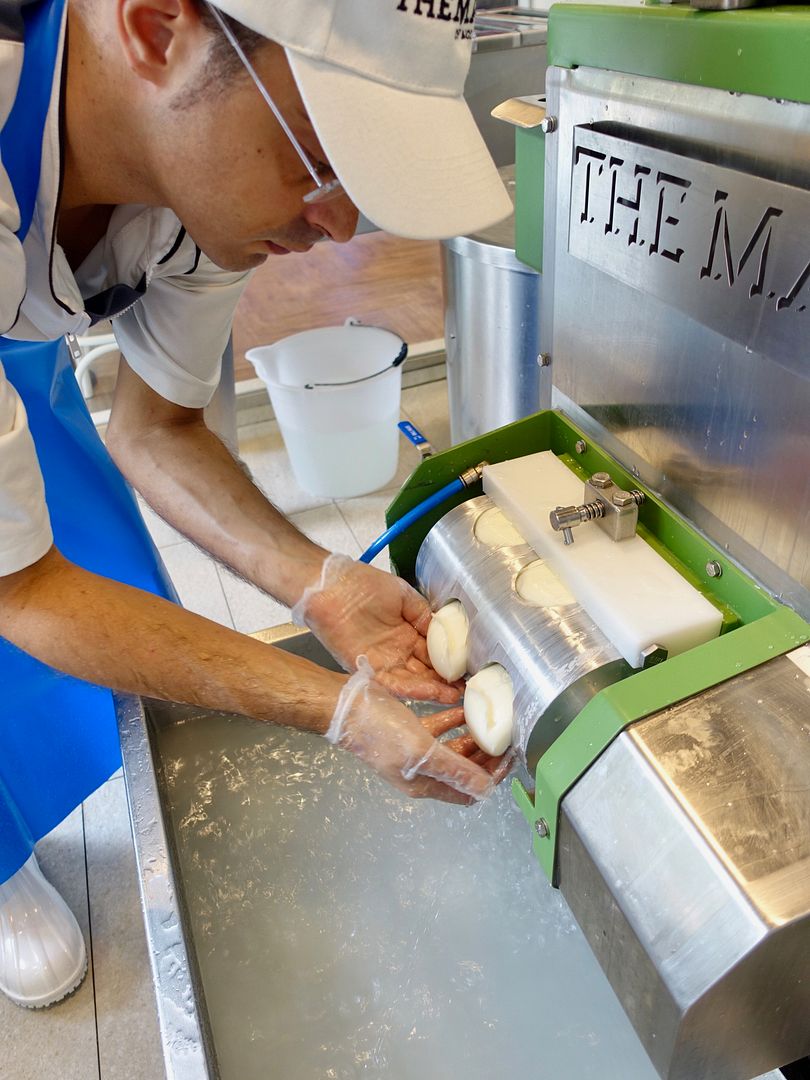 The cheese are made from high-quality milk from the osteria's very own buffalo farm in Valle dei Templi in Paestum, an area with the perfect climate conditions for buffalo breeding. Only 6kg of fresh cheese is made daily, most used at the restaurant and the rest for takeaways at a mere price of $8/12 for 125g of mozzarella/burrata.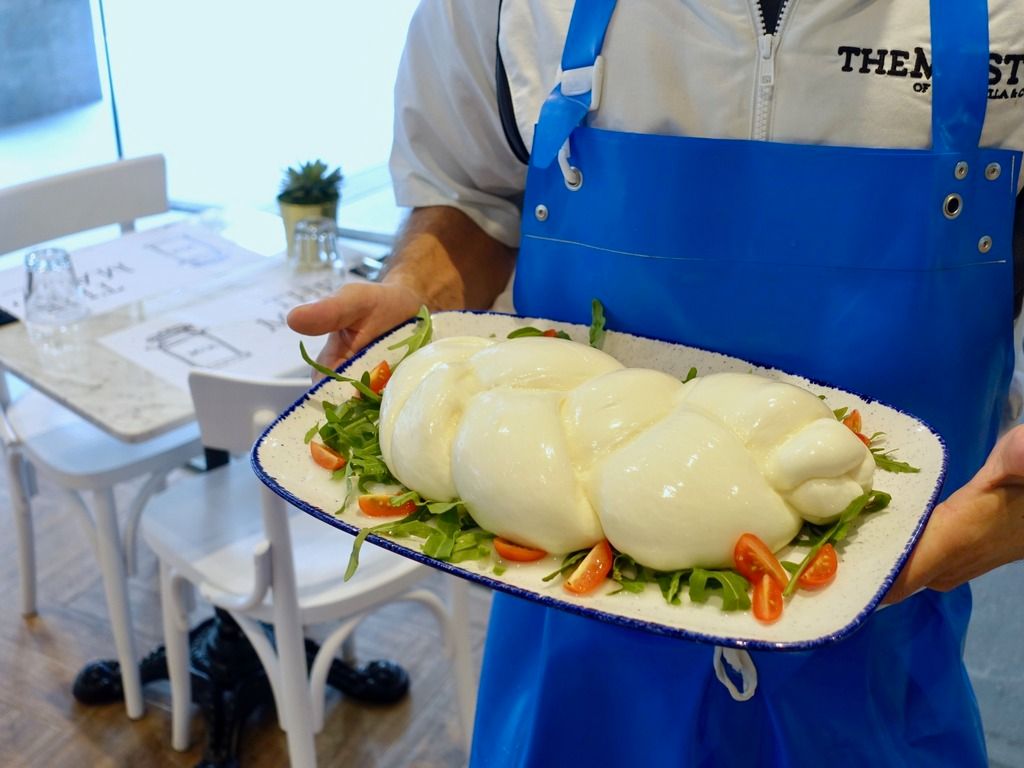 In addition to being able to purchase freshly crafted cheeses over the counter, guests can enjoy them showcased in a host of sumptuous offerings available from breakfast through to dinner. An all-day dining menu is available for both lunch and dinner.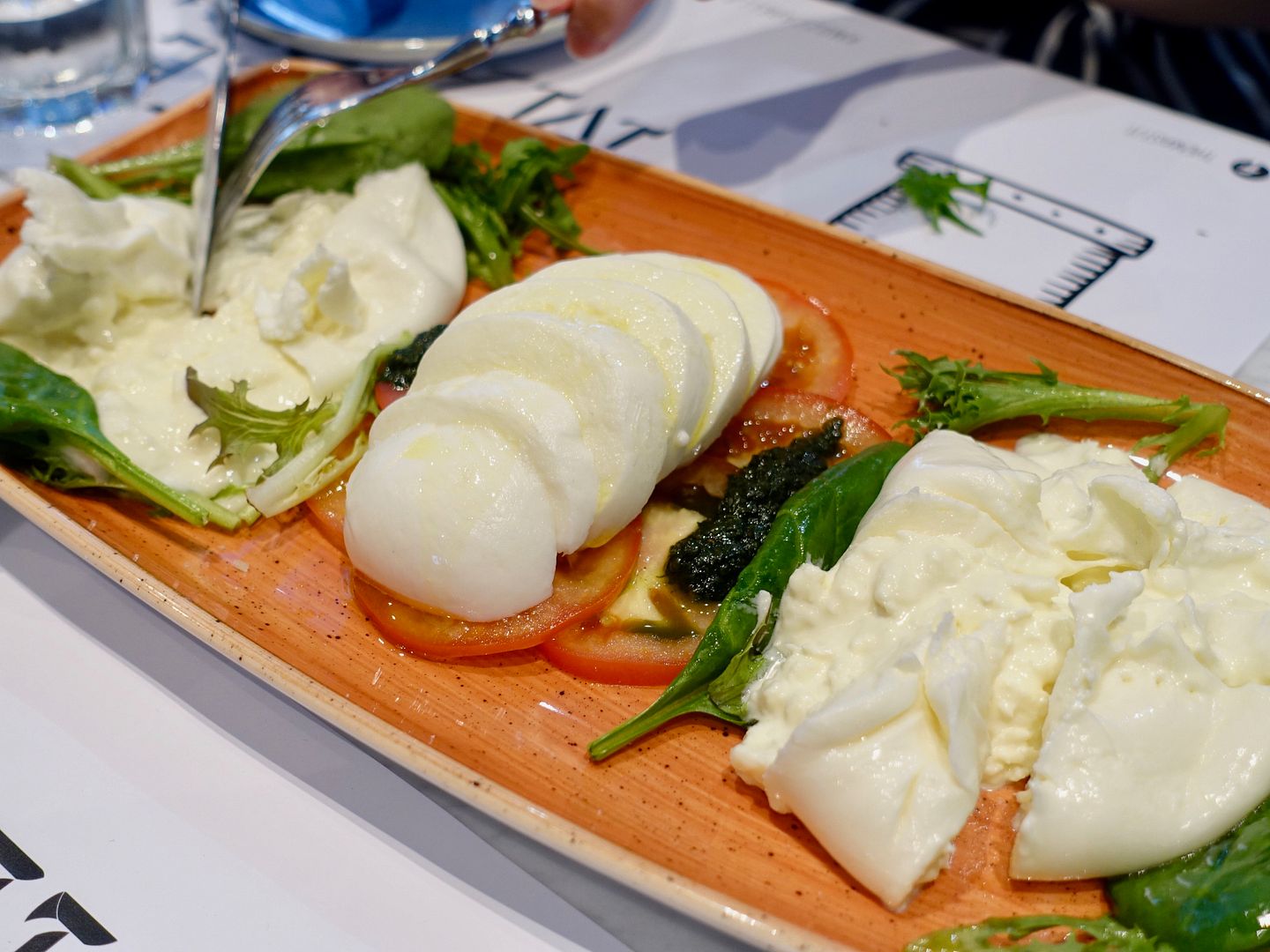 In addition to the regular menu, The Mast' will also introduce weekly specials that showcase the season's freshest offerings.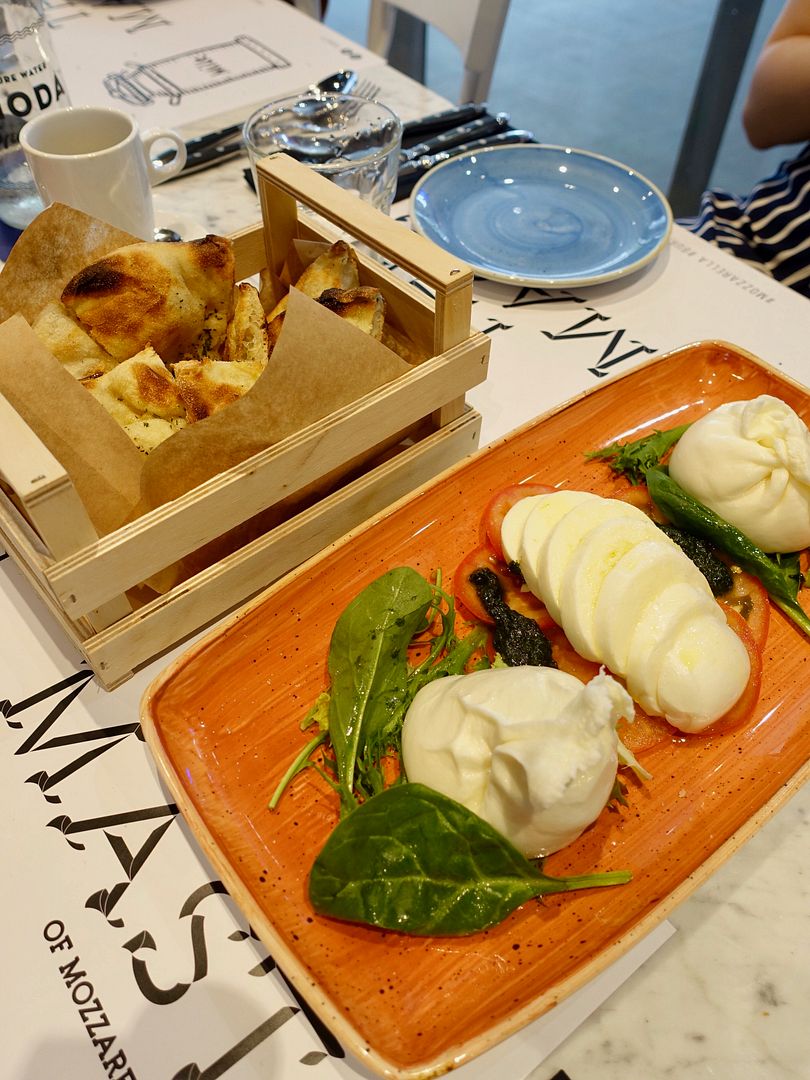 Since cheese is the highlight here, we had to have the Tris di Bufala ($28), a platter of Burrata, Mozzarella and a special burrata of the day, together with Schiacciata bread and mixed salad. The special burrata changes daily, and has different fillings. We had the Gorgonzola one which lent he creamy cheese a light sharpness. I was expecting a creamier and silkier burrata but The Mast' version isn't all that creamy..
A good pairing with the cheeses is the Verdure Grigliate ($18), an appetizer of pickled vegetables, all from Italy. These are perfect as the tartness helps to cut through the milkiness of the cheeses. I also liked that they were not super pickled, and you can still make out the original vegetable flavors.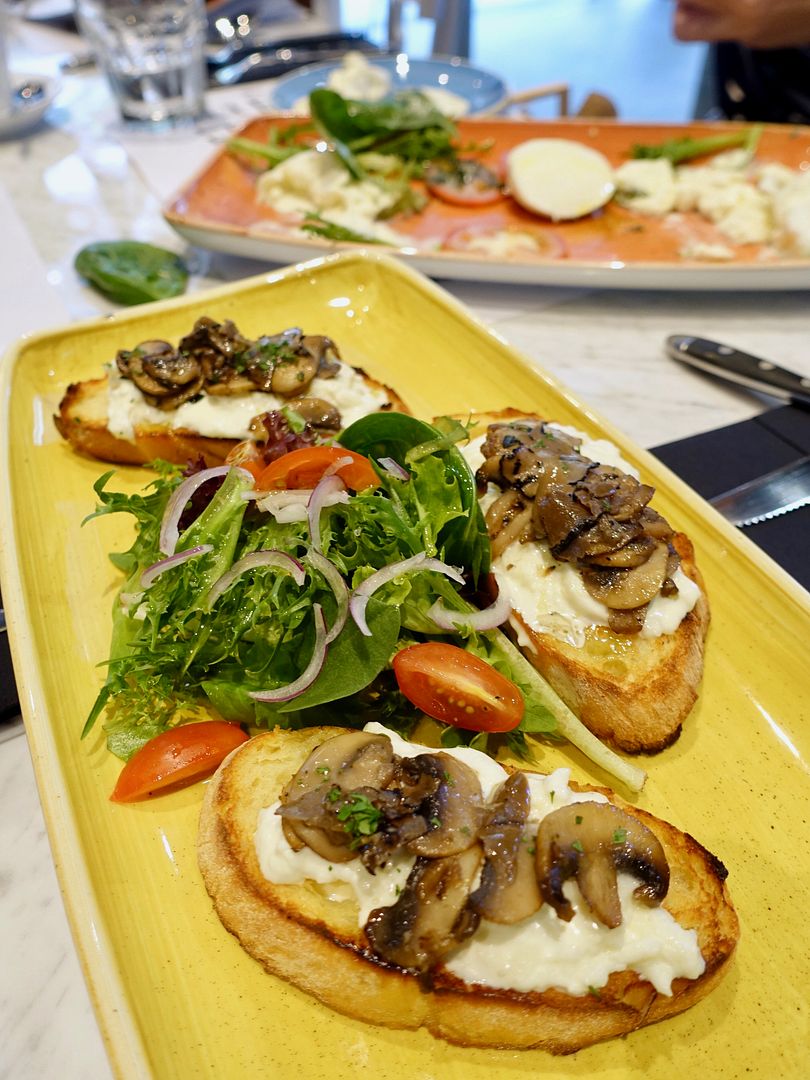 I absolutely adored the Crostini e Funghi ($16) which featured homemade shredded mozzarella with mushrooms and sliced truffles on a crusty Altamira artisanal bread. This is a perfect meal for one in my opinion and i enjoyed the earthiness which was complemented with the creamy cheese.
You could also check out some regional specialties from Rome such as the Pinse, a Roman flat bread, (similar to Pizza). The Pinse here are crowned with a variety of delicious toppings and i rather enjoyed the Salmone Scozzese E Zucchine Pinse ($18-22). The smokiness of the salmon, salty cheese, and refreshing zucchini were perfect with the chewy dough.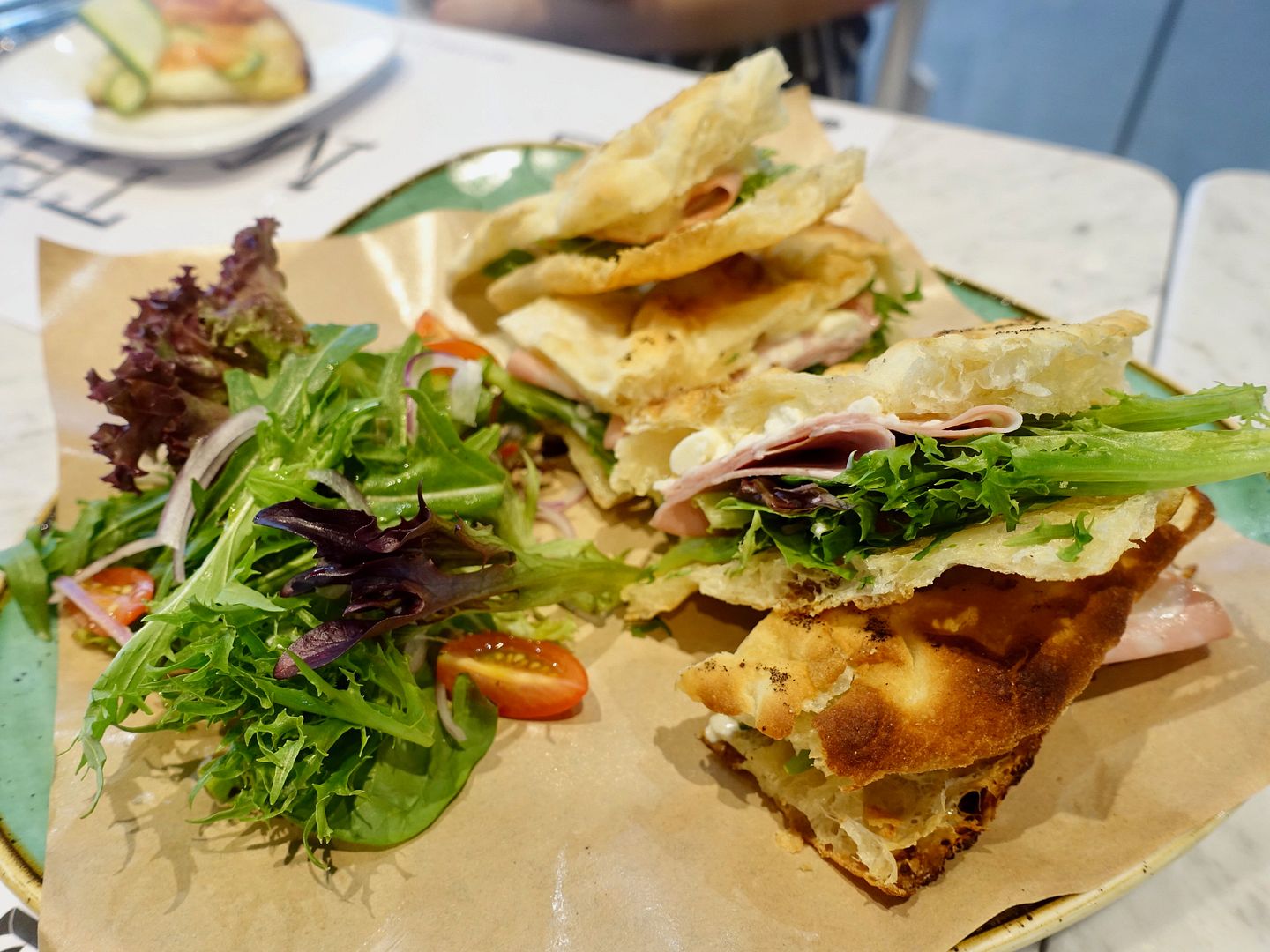 Another lunch favorite is the
Mortadella Schiacciata
($18), a stuffed Roman bread filled with Mortadella (from Italy), Stracciatella and truffle. For those who are not familiar, this is a giant flatbread with air pockets, which are sliced and stuffed with ham, vegetables and truffle oil. It's not the typical doughy flatbread- it's crispier and a little cracker-like, and worked perfectly as a cold sandwich.
The Campano burger ($22) is a giant Black Angus hamburger with buffalo mozzarella, fresh tomatoes, onions and mixed salad. It looked quite dry to me at first but i did a 180 after i bit into it. I'd suggest sharing this because it's really a lot of meat.
I'm a greedy girl and i need proteins in my pasta, but i would have the seemingly plain Bigoli Pasta ($20) because the flavors were an umami bomb. It's amazing how a simple fresh homemade tomato sauce with basil and Stracciatella could be so darn comforting.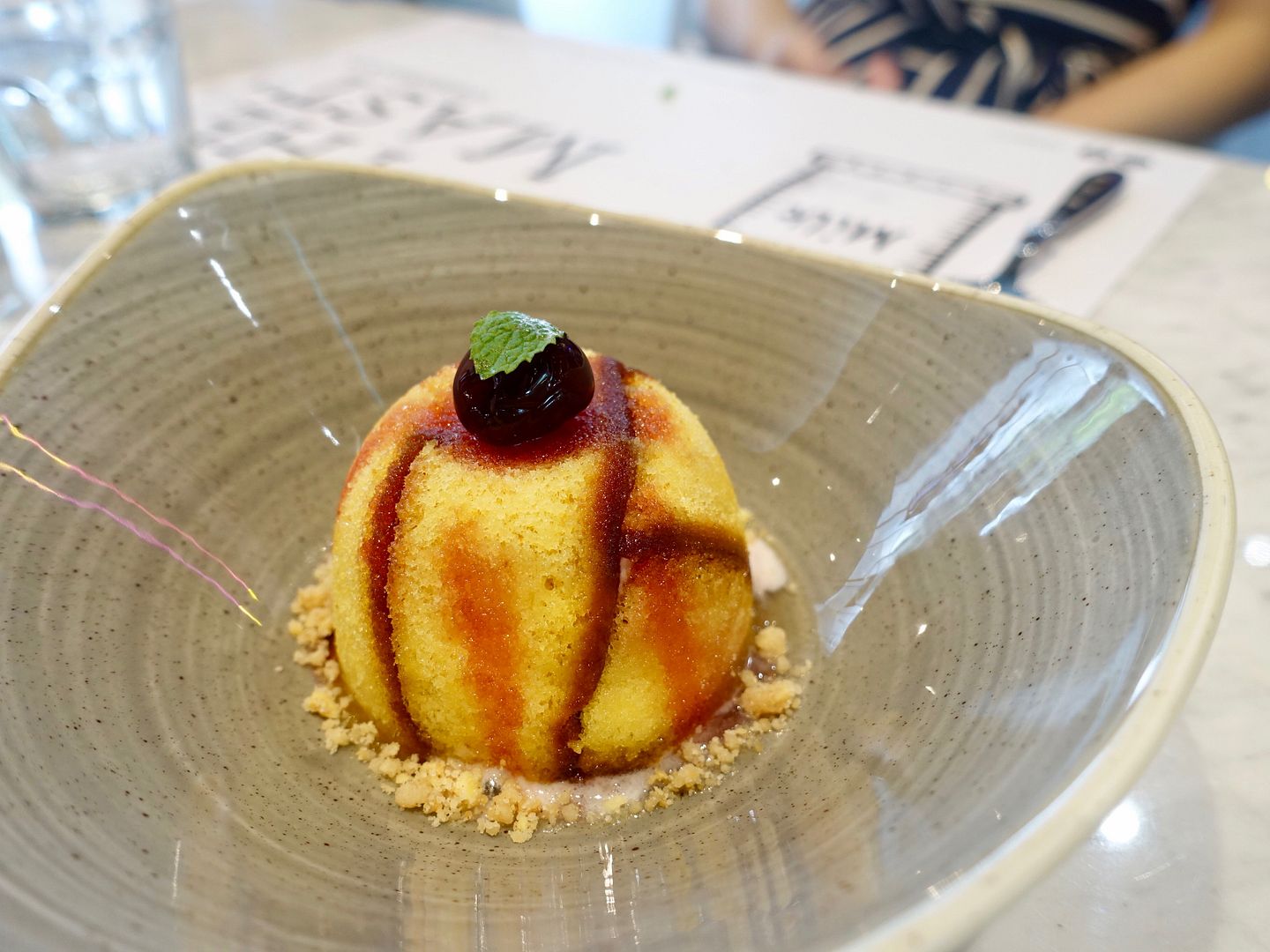 I must say i'm not a huge fan of the desserts at The Mast'. The Zuccotto Amarena is not for everyone, unless you're a fan of cough syrup. It's not fair i guess because i'm not a fan of amarena cherries.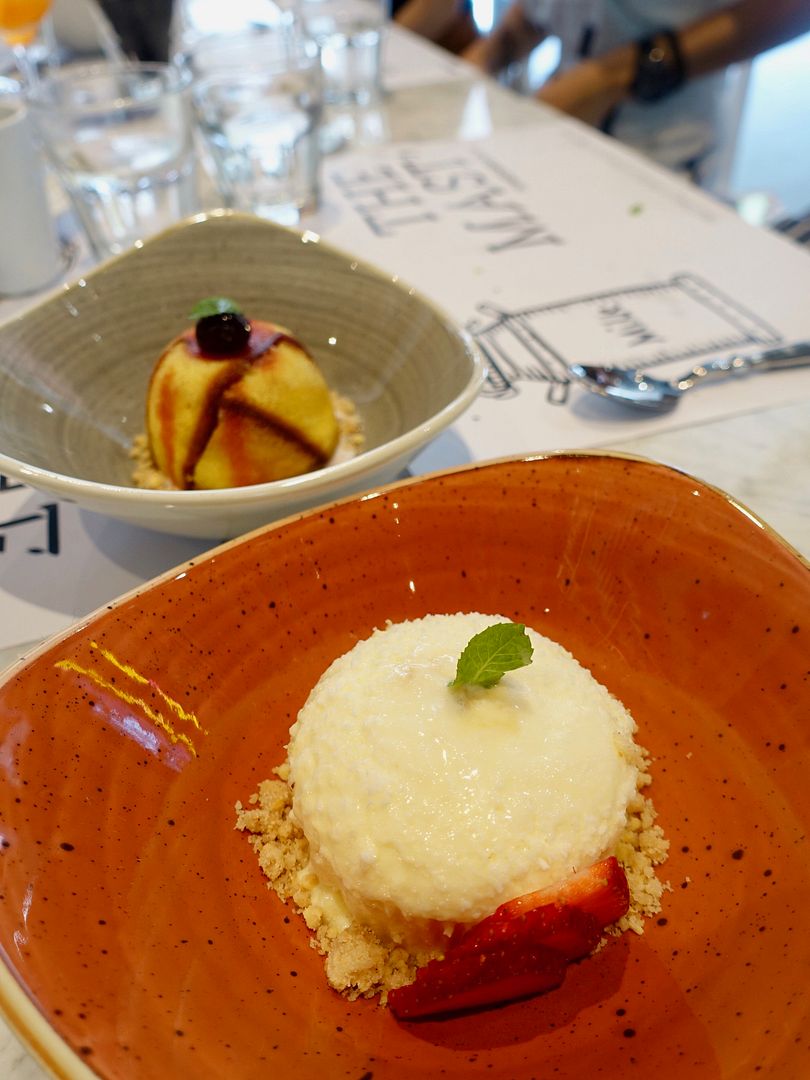 We also had the Tartufo Bianco, a tartufo Sabayon with coffee ice cream and meringue. It was quite forgettable imo.

The Mast' is quite a good spot for grabbing lunch in the Tanjong Pagar area, especially if you're into cheeses. The dishes are all good for sharing but works for a single greedy soul too.
182 Cecil Street #01-05/08 Frasers Tower Singapore 069547
Mon - Sat: 10am - 10pm
Lunch at $25/person
Dinner at $50/person (with wines)