Rakuya- Affordable Omakase in East Coast
I'm always craving for Japanese food and this is not an easy craving to satisfy given that we live in the East and there're not many decent Japanese restaurants. So when Rakuya popped up a fellow foodie's IG feed and i saw that their omakase are priced from $48 onwards, i immediately made a reservation for dinner.
Rakuya presents Japanese cuisine with an Asian twist, with signatures like Mapo Chawanmushi with Foie Gras and Ba Kut Teh Udon. The Asian flavors may sound like a marketing gimmick but the typically strong flavors were toned down to the Japanese dish profile. Just don't go there expecting traditional Japanese dishes/experience/service.

The omakase set menu, priced at $48/88/128, comprises an amuse bouche, an appetiser, a cold dish, a hot item, a hot dish, a main, rice or noodles, a soup and dessert. We gave the $48 and $88 menus a go. To accompany the food, a selection of sakes are available, including seasonal ones from various regions in Japan.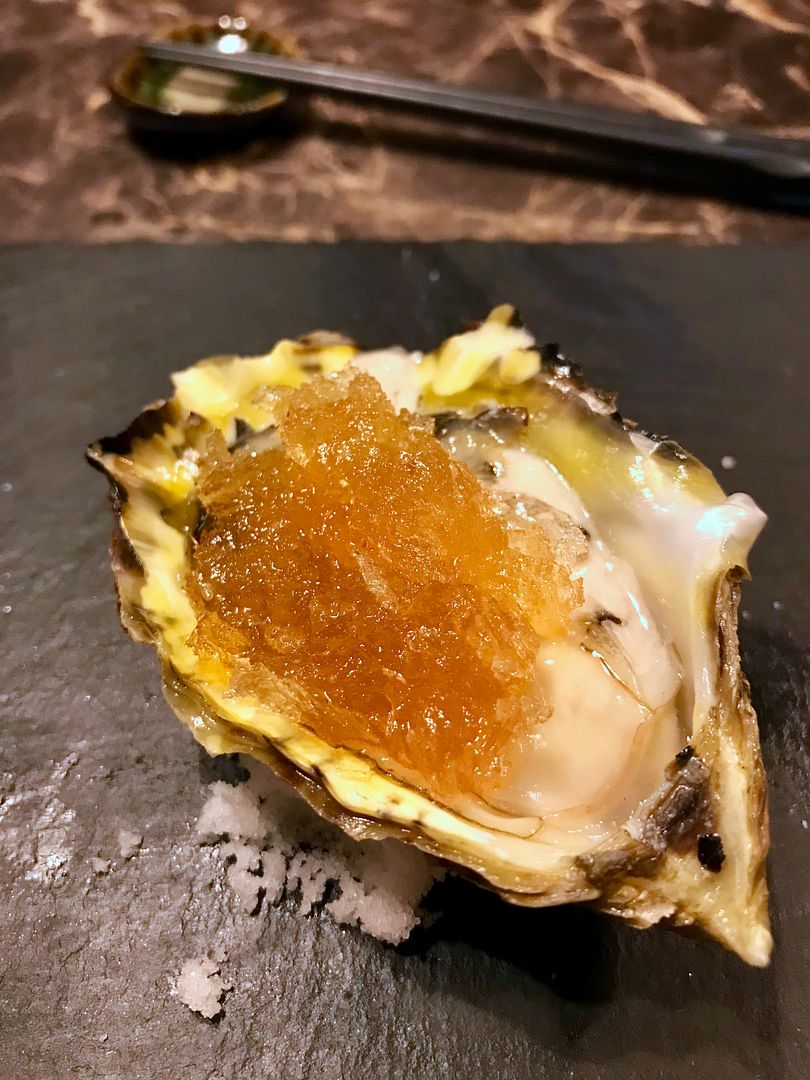 We start with an oyster with a spicy flavored ice, similar to Tobasco. The chunks of ice were quite jarring when eating the creamy and plump oyster. It would be better if the ice were more finely shaved. The appetiser was an octopus with tobiko which i can't remember anything of.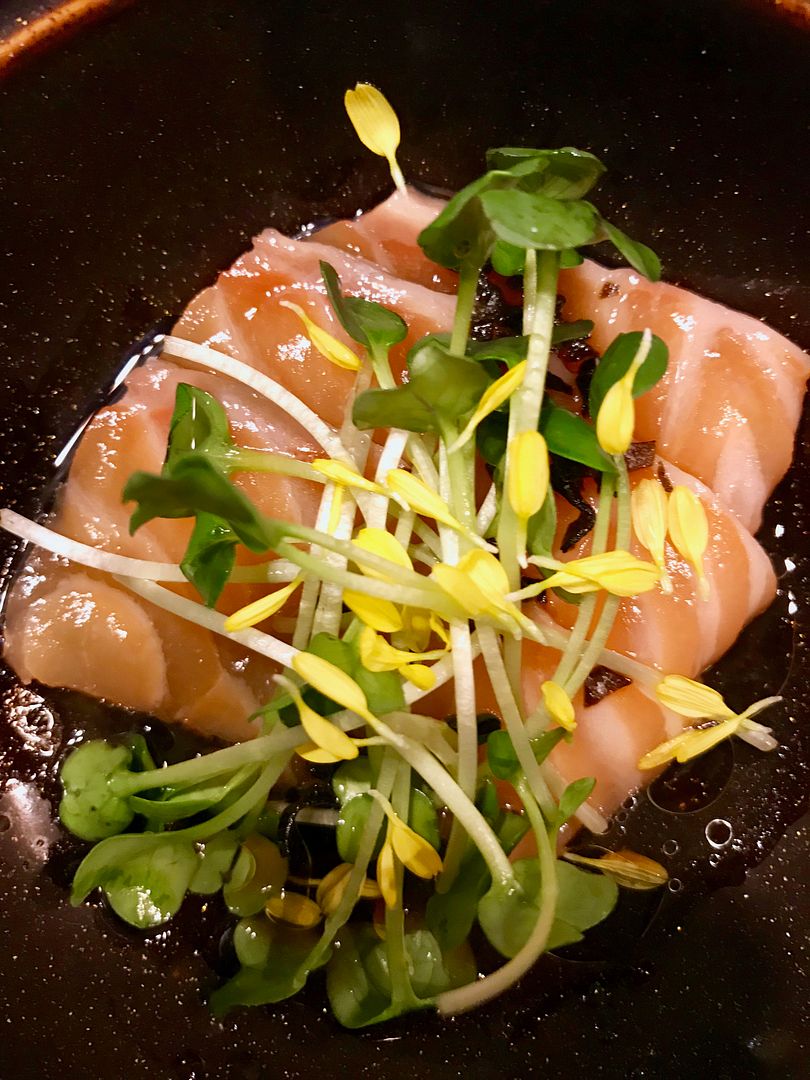 For the $48 set, salmon carpaccio with homemade ponzu and truffle oil was served. I must say that this Italian presentation was quite tasty. A mini sashimi platter was served for the $88 set, and included chutoro (my favorite tuna sashimi cut), salmon belly, scallop, and also a skipjack tuna (aka bonito) with ginger flower. The sashimi was pretty decent.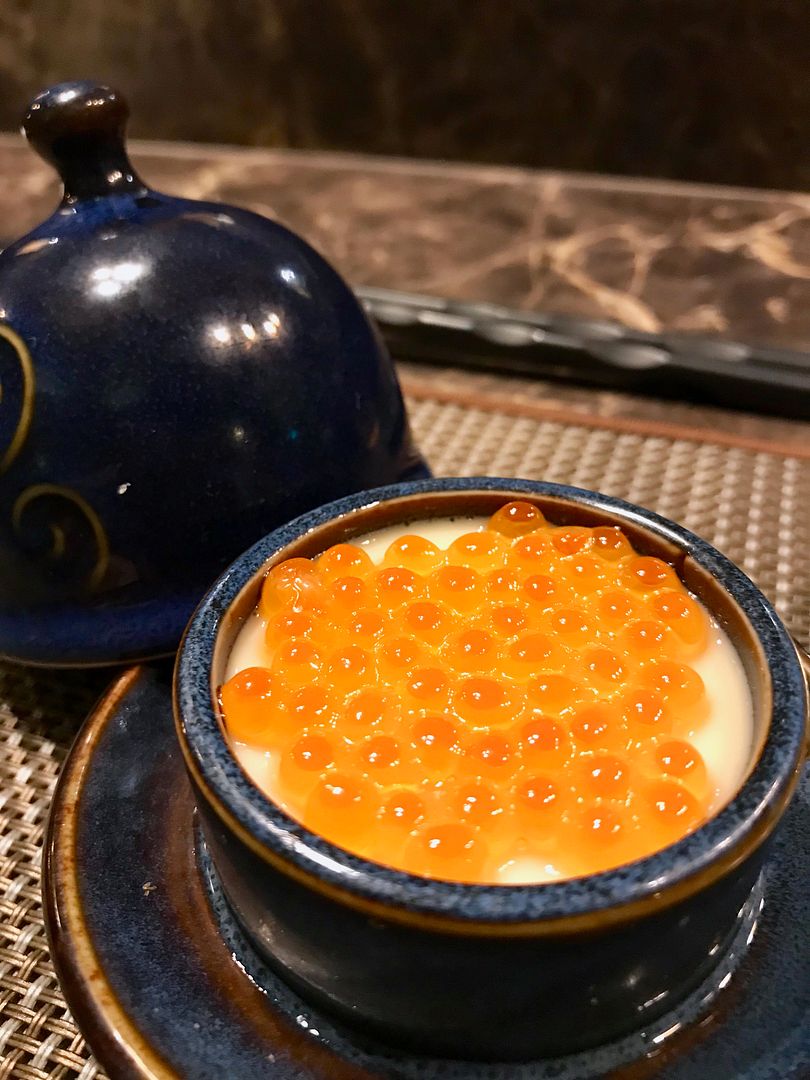 Chawanmushi was served in both sets. I preferred the one with ikura. It's simple and comforting, as compared to the super rich and confused one that is topped with pan-seared foie gras with a slightly spiced mapo tofu sauce.
We had a simple
minced chicken and vegetables cooked in dashi
for the $48 set. This is typical of Japanese home-cooking and all i needed was a bowl of Japanese rice to go with this. Think of it like a Japanese version of a Taiwanese minced meat dish. My favorite part was the brinjal that was stewed in the chicken stock!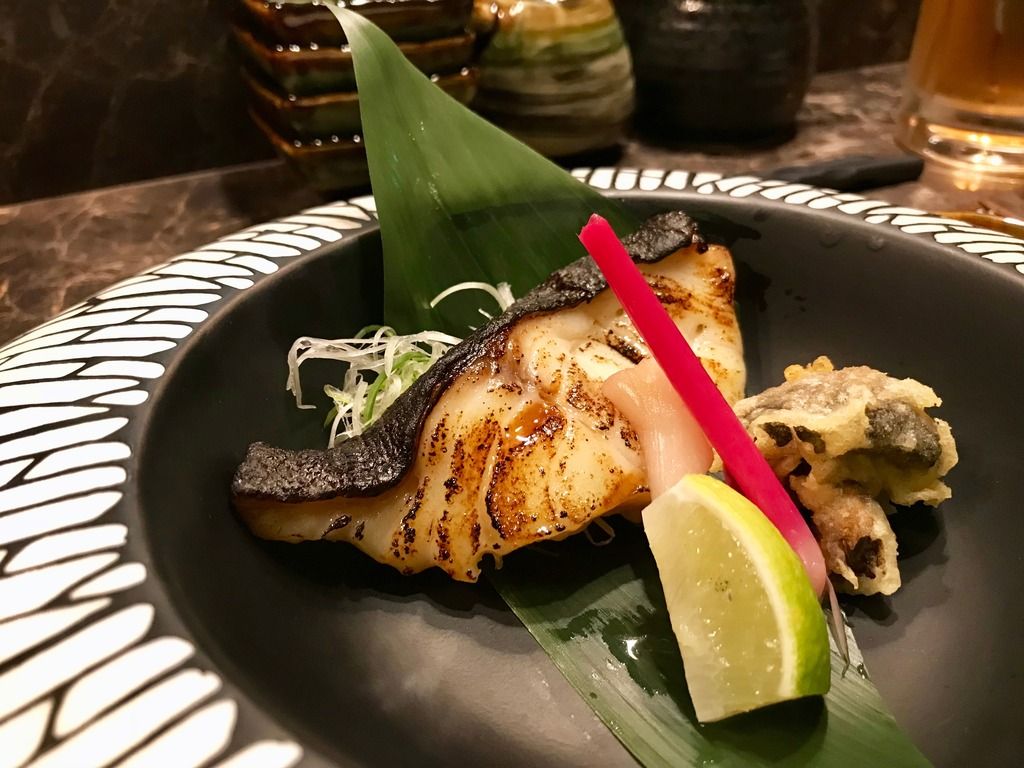 Jr really enjoyed the Gindara with miso, which was firm and fatty. Miso and cod is always a winning combination.
We had the
Kurobuta Miyazaki Black Pork Neck
marinated with ginger onion for 48h with dry chili and red miso in the $48 set. This is one of the chef's personal favorite. The first taste was kind of like the local satay, with a light sweetness from the red miso. The meat certainly has a nice bite but it was a tad dry for me.
You get what you pay for in the more expensive set, that is the A4 Hokkaido Wagyu with seaweed pepper, salt, grated wasabi. The flavor is a lot lighter in this dish, as compared to the pork neck skewers. The different condiments bring out different characteristics of the beef.
Another comforting Japanese dish was the Chicken soup with tsukune. I enjoyed the fluffy ball of meat in the light broth. A hand roll was served with this and mine had a fat scallop in it. Unfortunately, the rice was lacking in seasoning.
The signature Kurobuta Ba Kut Teh with Inaniwa udon was served for the $88 set. It smelled like the traditional pork rib soup but the flavor was a lot more subtle to complement the delicate udon. The hidden gem in this dish is the stewed daikon. Surprisingly, it worked rather well. I can see why this is a hot favorite with the guests.

We had a horrible dessert which was a berry yogurt mousse. Be glad to know that the dishes are frequently changed so you would probably get a different meal from ours altogether. The restaurant also serves set lunches and a la carte plates.

I wouldn't mind going to Rakuya occasionally for a slightly different Japanese meal but i guess the search continues for our staple Japanese meal spot in East Coast.

Rakuya
89 East Coast Road, Singapore 428790
Tel: +65 6440 7071
Daily: 12 - 3pm, 6 - 11pm