Cafe Review: Chinta Manis (MyVillage)
I was invited by the nice folks at myVillage at Serangoon Garden for a food and fashion tour some weeks back. It was a great opportunity to review some of the restaurants at myVillage; I usually only have ice cream at Udders and macarons from Obolo and tiramisu from Da Paolo. It was the first time I tried the Peranakan food at Chinta Manis. If it weren't for the invitation, i think i would have missed out on this hidden gem.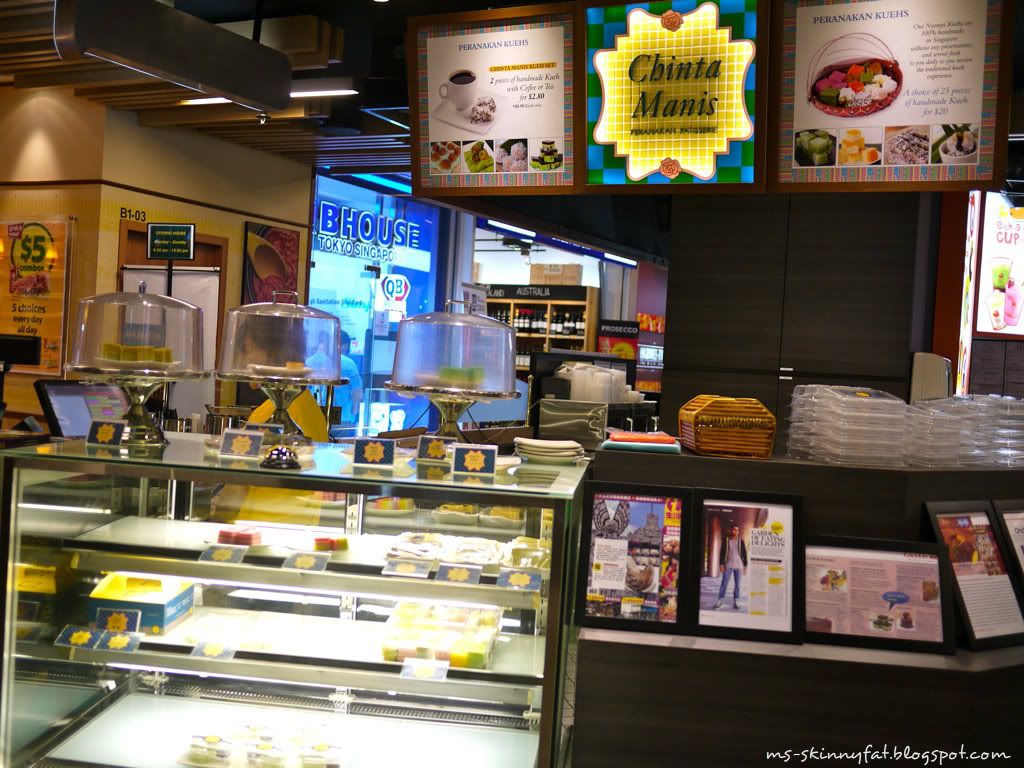 Serangoon Gardens is well known for the Singapore hawker centre Chomp Chomp, a supper haunt of many north-eastalites. Of all the cuisines available, I believe Chinta Manis is the only Peranakan offering in the immediate area. Located at Basement 1 of myVillage (just opposite Subway), Chinta Manis serves a variety of hot food as well as Kuehs (Malay cakes and desserts). Previously, CM was only a little kiosk selling kuehs but due to the overwhelming demand for more of Bibik's delectable cooking, they have taken over the next stall and now there's a small dining area for yummy Pernankan dishes.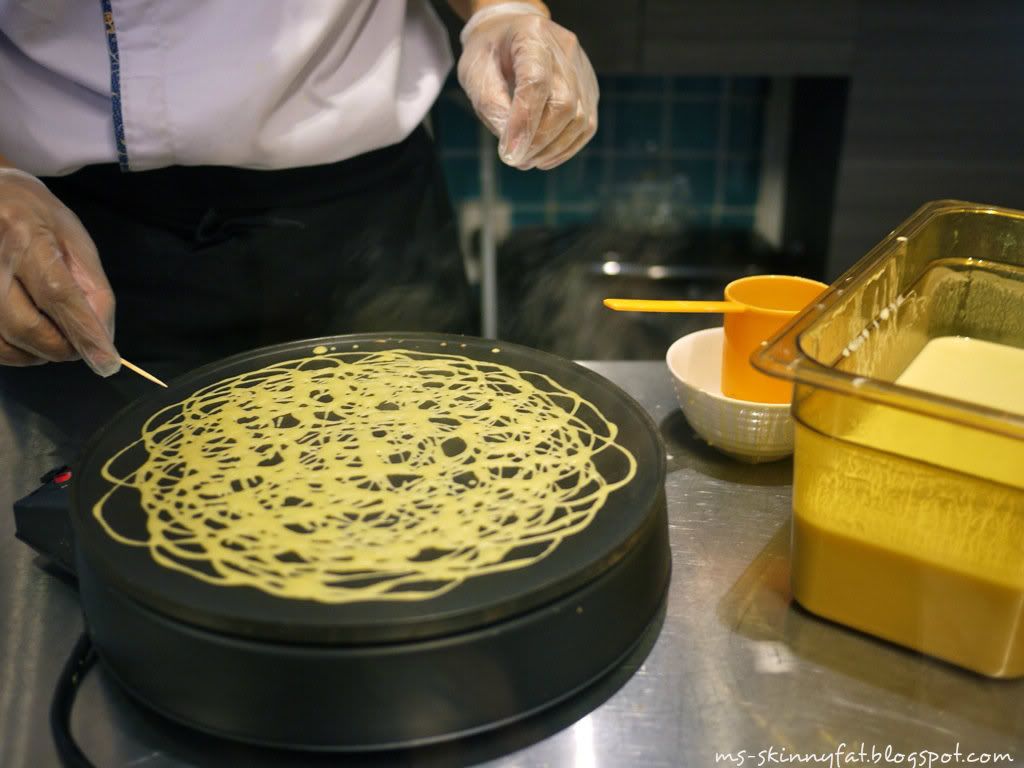 I'm a Roti Prata fan and i've never eaten Roti Jala until sometime early this year. I still wasn't a fan but that's probably because the first one i tried wasn't impressive. So what's the difference? Roti Jala is more delicate and definitely healthier than Prata. The egg and flour batter is drizzled in the form of a lattice pattern over a hot grill and then rolled into a spring roll form. Texture wise, it is like a crepe, airy, spongy and slightly chewy as well.
I really fell in love with Roti Jala after trying it at Chinta Manis. This is a perfect tea time snack in my opinion. For $3, you will get 3 rolls served with curry, half a boiled egg with sambal and Bibik Nyo's hash browns. All of the bloggers and our friends were raving about the chilli! Like any decent establishment, Chinta Manis makes their own rempah, which is a delicious and devilishly spicy mix of spices that is used in the curry. SO DAMN GOOD. The hashbrowns are slightly starchy and soft and have absorbed all the goodness of the rempah. The sambal chilli is very fragrant, you can taste the sweetness of the dried shrimps in this one. Of course, we were all scrambling for our cold drinks to douse the fire in our mouths. This snack is only available after 2pm but not to worry, there are other hot food available throughout the day.
Other savory hot meals includes their Signature Nyonya Dry Mee Siam as well as the Spicy, Sour and simply Sedap Assam Laksa ($4.80 each). Since my last adventure to Malacca (
read about it here
), my eyes would light up everything i see Assam Laksa. I'll definitely be back to try this one!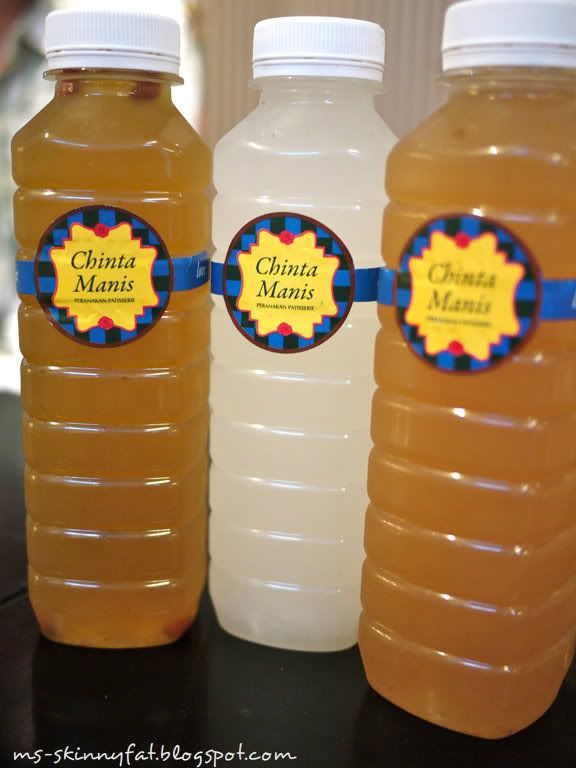 To cool our burning tongues, we had the Chinta Manis' specialty drinks. Lovingly prepared at the Chinta Manis central kitchen and bottled. There are no added preservatives and they are not very sweet as well. From left to right- Chrysanthemum Wolfberry ($2), Barley ($1.80) and Tamarind Lemongrass ($2). The Chrysanthemum reminded me of my primary school days where my mama would buy us those brewed teas at the old school Chinese medical hall. Fond memories..
I love the Pandan Chiffon Cake ($5.80) because i love to play with them. They are so squishy and spongy and you can just mould them into any shape you want. As a kid, i love to soak my cake in milo. Interesting flavor i must say. Anyway, this pandan cake is fluffy, firm and and slightly moist. Very fragrant pandan and coconut taste because it is baked with fresh Pandan juice to give it the naturally green colour and aromatic taste. There is a nice buttery saltiness to it which i simply adore. W says that they probably glazed the tin with salted butter. Love!
Just look at how airy it is, all that little pockets of air. The colour is not very uniform and according to W the baking expert, it is not that perfectly cooked. It is indeed a little drier on the edges but it is still an awesome cake. My other blogger friend
Aimakan
was telling me about the Chocolate Ecstasy cake which is dense and very rich. Make sure you reserve yourself a slice. I didn't even get to try it because all the cakes were reserved already! :((
Verdict- Recommended!
Food: 4/5
Ambience: 3.5/5 Good for a quick bite or drink. Comfortable and clean.
Basement 1, myVillage, Serangoon
1 Maju Avenue, Singapore 556679
Tel: +65 6634 5424
Weekdays: 11am - 9pm
Weekends: 10am - 9pm