Restaurant Review: Hidden Finds- Le Bistrot
Explored the Singapore Stadium Walk with the Stupidgirl just the other day to review French restaurant Le Bistrot because our original dinner plan at Open Door Policy failed (our fault for not making reservations earlier). I've never really reviewed the restaurants here partly because it is so out of the way (even though the Stadium mrt station is just a stone's throw away). Anyway, it's a great place to chill out because it's pretty quiet and there are quite a couple of dining options such as
Mushroom Pot
, Brewerkz and Vansh!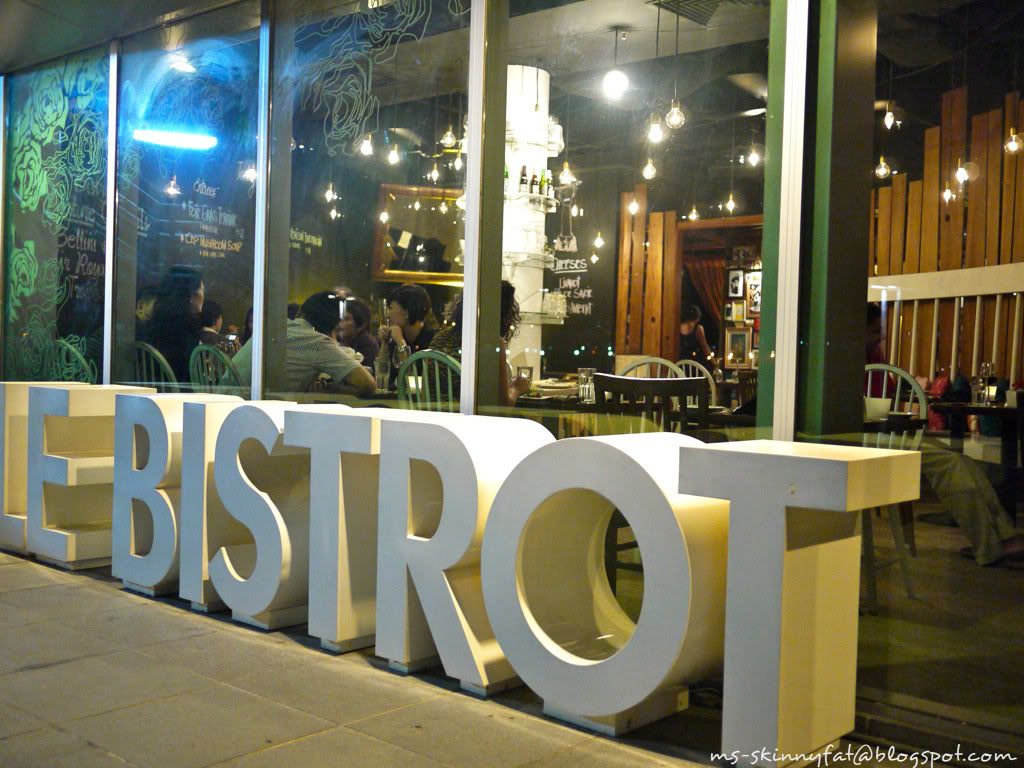 I was starving by the time we met. It was a deliberate attempt because we heard the servings here are HUMONGOUS. So yes, 2h of yoga prior to dinner in order amplify my current puny and pathetic appetite.
I love the atmosphere at Le Bistrot. There is none of that snooty French attitude. Instead, the servers' pleasant demeanor are a reflection of the cheerful and cosy ambience. They were really helpful with recommendations and were very attentive and friendly. The whimsical decor- think grass carpeted walls, picture-framed hallways, colorful cushions and tea-cosy styled seatee- puts one at home immediately.
Most people would go for the Prix Fixe menu; 2 course for $50 and 3 course for $60. It is quite a good deal considering that entree and desserts are $18 each and mains are $40. Definitely perfect for sharing IMO, bearing in mind that the portions are huge. Stupidgirl and i decided to get 1 entree, 2 mains and a desserts for sharing and we had to stop ourselves from over-ordering at the start.
For starters, we had the Oignon Farci aux Noix de Saint-Jacques Grillées et son Velouté de Maïs - char grilled Hokkaido scallops served in a salt-baked onion, with a corn velouté and toasted pine nuts. (+$8). The scallops are lightly seared and their juiciness and sweetness were locked into the succulent centre. Love the sweetness of the creamed corn. It is a perfect topping for the warm and crusty bread basket which was served. I'm not an onion fan but it wasn't too funky and had a light sweetness to it. Great dish!
Other recommendations for starters: Soupe à l'Oignon Gratinée- a traditional caramelized onion soup gratinated with Emmenthal cheese. It is more like a pot of soup than a small bowl. If you like salmon, go for their raw salmon fillet homecured with dill and gin, drizzled with white truffle oil, and served with a deep-fried soft boiled egg, mint crème fraîche and mesclun salad.
I had a hard time choosing my mains, couldn't decide which beefy dish i wanted. Bœuf Stroganoff and Bœuf à la Bourguignonne all sounded pretty good. In the end I went with the Crumble à la Joue de Bœuf Wagyu, Pommes Sarladaises (+ $8), which is a crumble of braised Wagyu beef cheek served with duck fat potatoes and mesclun salad. The meat is so tender after being braised for hours in a red wine sauce. All the fats have melted and each mouthful was collagen filled. The creamy crumble was a good balance to the savory meat. Even though the dish looked small, it was extremely filling. And Hello duck fat fried potatoes which were crispy as hell. :))
The Confit de Cuisses de Canard-duck leg confit with honey-mustard vinaigrette and creamy potato purée- was GINORMOUS. I have never been served 2 duck legs on a single plate in a restaurant setting. The skin was delicately crispy and the meat was moist and savory. Amazeballs. It didn't taste particularly salty but the both of us were really thirsty afterwards. Stupidgirl was stuffed after eating 1 leg and then she insisted the other leg belongs to me. If you are a small eater, share this dish.
For desserts we had the trio of Crème Brulée. Flavors include: bourbon vanilla bean, amaretto-griottine, bergamot (Earl Grey tea), mocha, dark chocolate, pistachio-raspberry and chestnut. We felt that the Chestnut had the best texture and taste. DO NOT get the amaretto-griottine (brandied cherries); it tasted like cough syrup. URGH. We only ordered that because the pistachio wasn't available. Earl grey was alright but it was more citrusy.
All in all, we really enjoyed our dinner. We left the place terribly stuffed but extremely satisfied. I have recommended this place to some friends and they love it too! :)) Will definitely be back on an empty stomach to try more of their dishes.

Verdict- Recommended!
Food- 4.5/5 Desserts weren't that great but the food is hearty and deli!
Service- 4/5
Atmosphere- 4/5 Perfect hangout location. It feels comfortable enough to sit cross legged on the bench (but i didn't of course).
Le Bistrot
2 Stadium Walk #01-03
Singapore Indoor Stadium
Tel : +65 6447 0018
Thu-Sun: 12pm -2.30pm
Tue-Sun: 6.30pm-11pm
(Closed on Mon & PH)