Hawker/Restaurant Review: Nakhon Kitchen
Nakhon Kitchen is a hidden gem in the Kovan neighborhood in the North-eastern corner of Singapore that serves authentic Thai cuisine in a friendly and kooky Thai atmosphere. Once you step into the shop, you'd be transported to the back alleys of Bangkok with all that upbeat Thai pop tempo, mouthwatering waft of hot delicious food and the friendly smiles and eager to please faces of the servers. Since i was sharing on my Bangkok travels, i thought it is only right to provide some great Thai food options here in Singapore. :)
I've been patronising this stall since a long time ago, before they got really famous, before they were picked up by foodies, before the queue started forming before 6pm, before they opened a branch in Bedok, before... Sharing is caring, but when my favorite food haunts are packed to the brim and the hungry me has to stand in the queue for eons while the stomach rumbles on, i kinda wish they aren't that popular. Anyhoo, this was the queue at 7.30pm. There i was happily thinking that if we show at 8pm there wouldn't be a queue. Wrong again. The queue was there the whole night. There were still people queuing when we left.
So what's so good about Nakhon that makes it worth queueing for? 1.Food 2.Service 3.Price. Even though the queue can snake down the corridor, the wait isn't that unpleasant. One takes time to pour over the pretty extensive menu of standard Thai dishes and your order is taken prior to being seated. Within moments of resting your feet, the food will be served. How awesome is that for hungry souls?
S & i finally convinced our group to move away from Holland V and town to visit this off the beaten path (for our friends) eatery and they were pleasantly surprised by the quality of food (what do you expect when you have foodies as friends right?).
Our dishes for the night. Looks a lot yea? Actually it was not enough! We ordered another set of this plus 2 other plates of rice. I would consider the side dishes to be small plates (good for 3pax).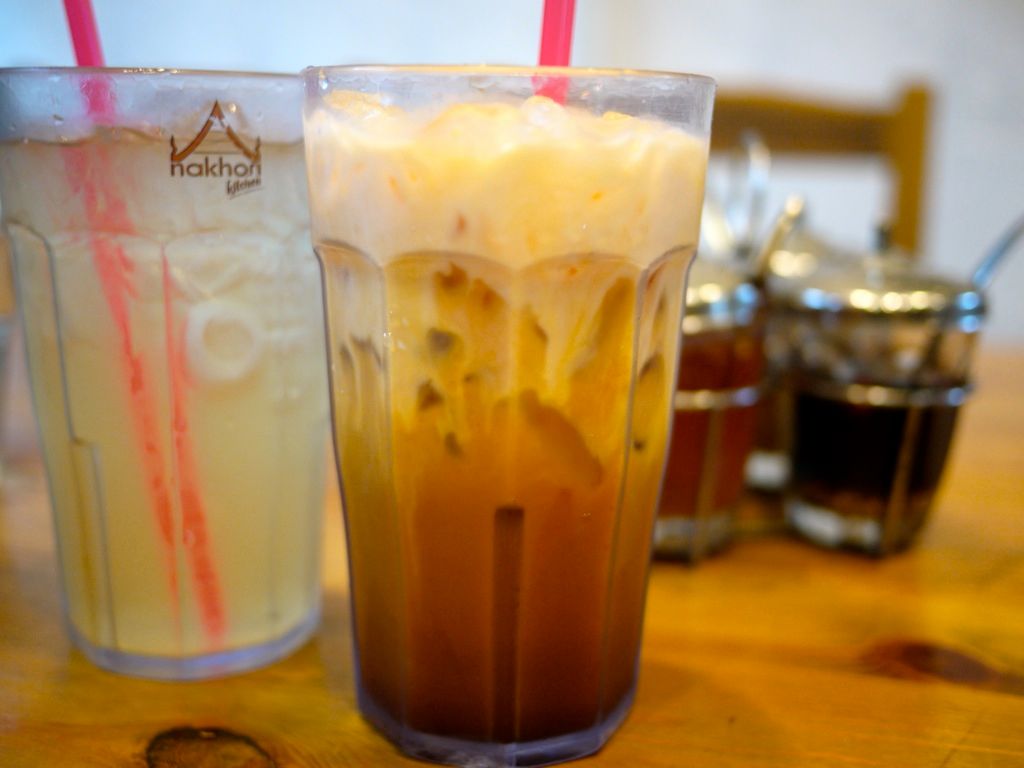 Before you start eating, get an iced drink first. Trust me, this is definitely required to douse the fire from the spices later. The Thai iced Lemongrass (S$3) is a light and refreshing drink with a lingering fragrance. Those with a sweet tooth would love the Thai iced tea (S$3) which is packed full of caffeine. The caffeine addict in me endorses this one.
The Pineapple Fried Rice (S$6) is a standard dish that i would order here. The sweetness of the pork floss goes perfectly with the slightly curried Thai rice which is slightly fluffy and chewy. I like that it is not too dry. The rice is fried with shrimps, cashew nuts and raisins and best eaten with Green curry! Almost every table had an order of this. Nakhon used to serve this in a pineapple but i guess it was too troublesome for them.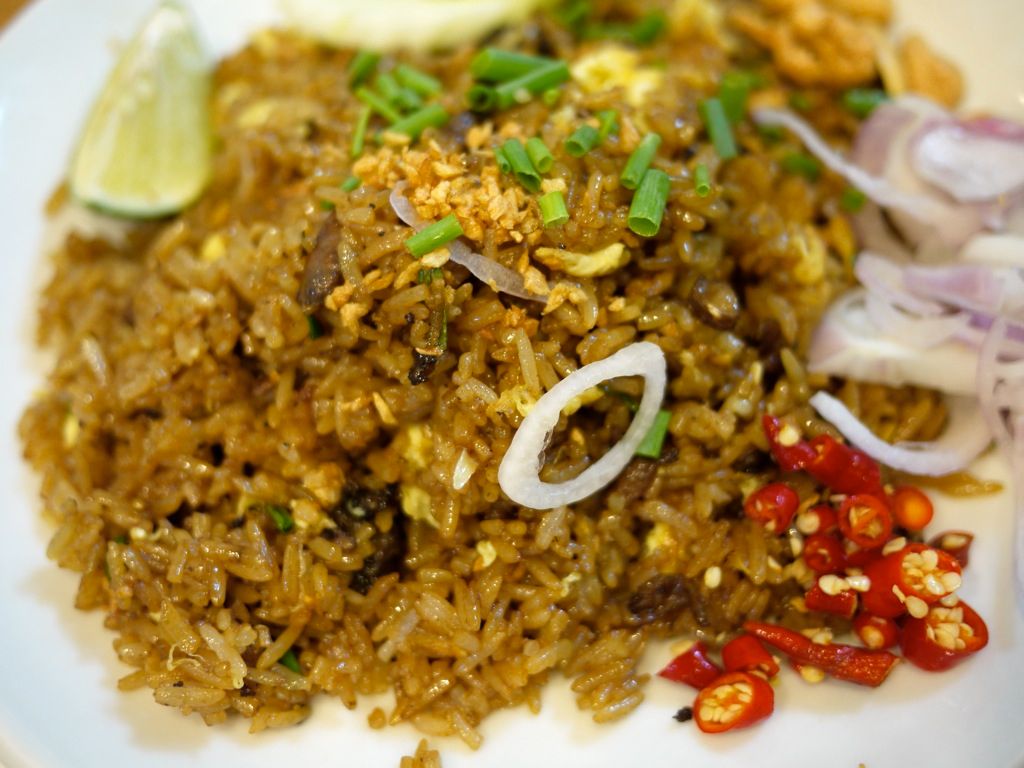 The Black Olive Fried Rice with minced chicken (S$6) was a little too oily IMO. I couldn't really taste much of the olives and the rice was a little harder because there isn't the additional pineapples to give it the extra moisture.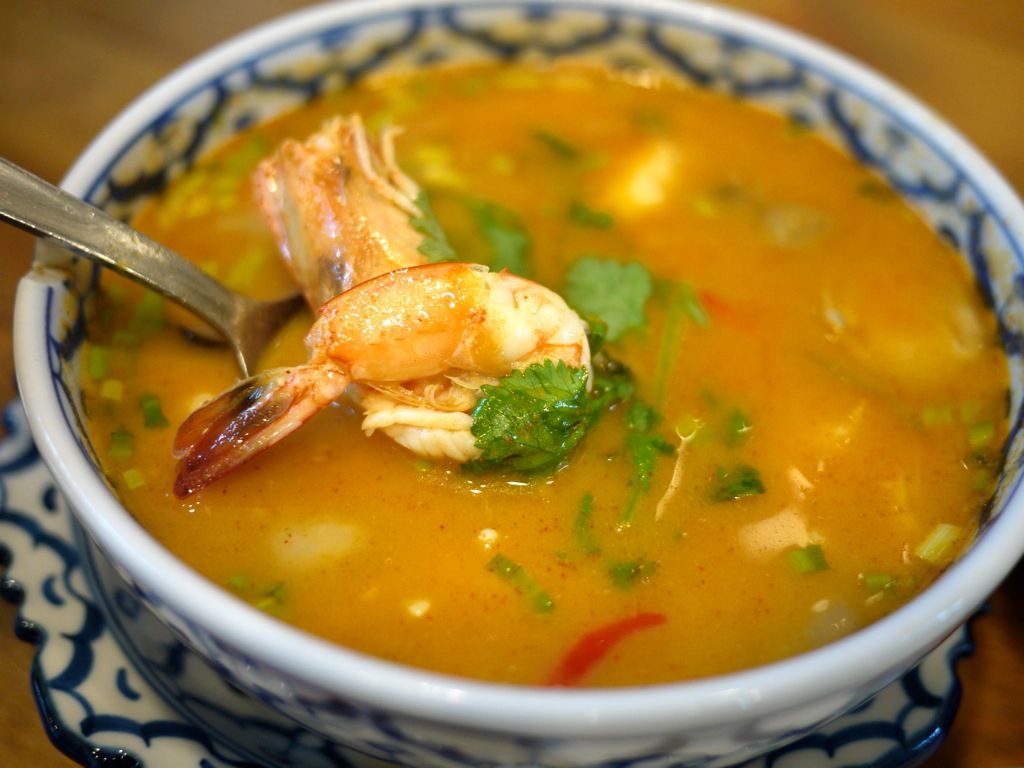 A Thai meal is never complete without Tom Yam Soup and Nakhon has 2 different types, 1 thick base and 1 clear, with the option of Seafood, Shrimp or Chicken (S$6). The milky base is the less spicy option with some tomatoes added to neutralize the acidity. I personally prefer the clear base. It looks innocuous enough but boy that chili padi in the soup can kill. It's a clean and sweet taste with tartness to it in your first mouthful. Amazingly addictive but u may feel that acid biting into your stomach after.
Unlike Tom Yum, it's easy to go wrong with Green Curry. The curry- a blend of Kaffir lime leaves, basil, lemongrass and cumin- when mixed in a random proportion will give you something that tastes funky. Nakhon's Green Curry Chicken (S$8) has just the right amount of minty flavor in it and the texture is creamy due to the addition of thick coconut milk. I actually had overly minty and cool green curry in Bangkok recently. Nasty thing. Plus green isn't the most appetizing color as well so that didn't go down at all.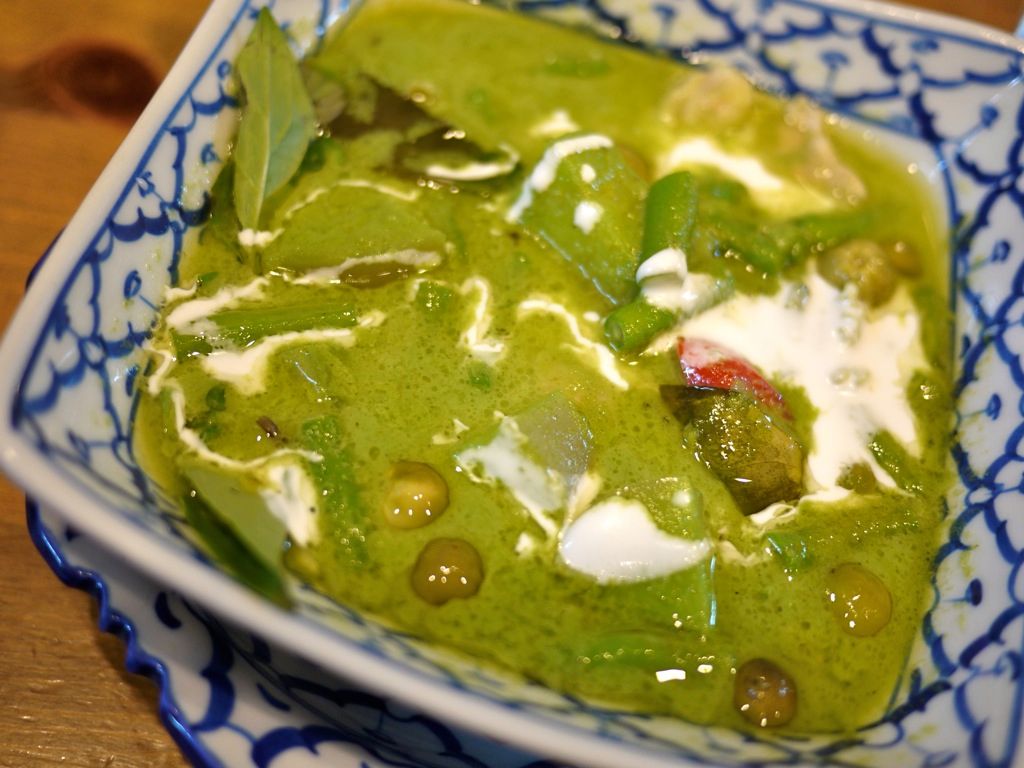 Other side dishes were ordered and we found out that you can't go wrong ordering anything from their menu. It's the first time we tried the Stir fried minced Pork with hot Basil leaves (S$8) and the dish hit the right note of sweetness and saltiness. I noticed that Thais are quite generous with their sugar. Most Thai dishes (not just at Nakhon) were a little sweet, if not very sweet. I could taste the slight sweetness in the pork. The meat is very juicy and it's great with the rice too.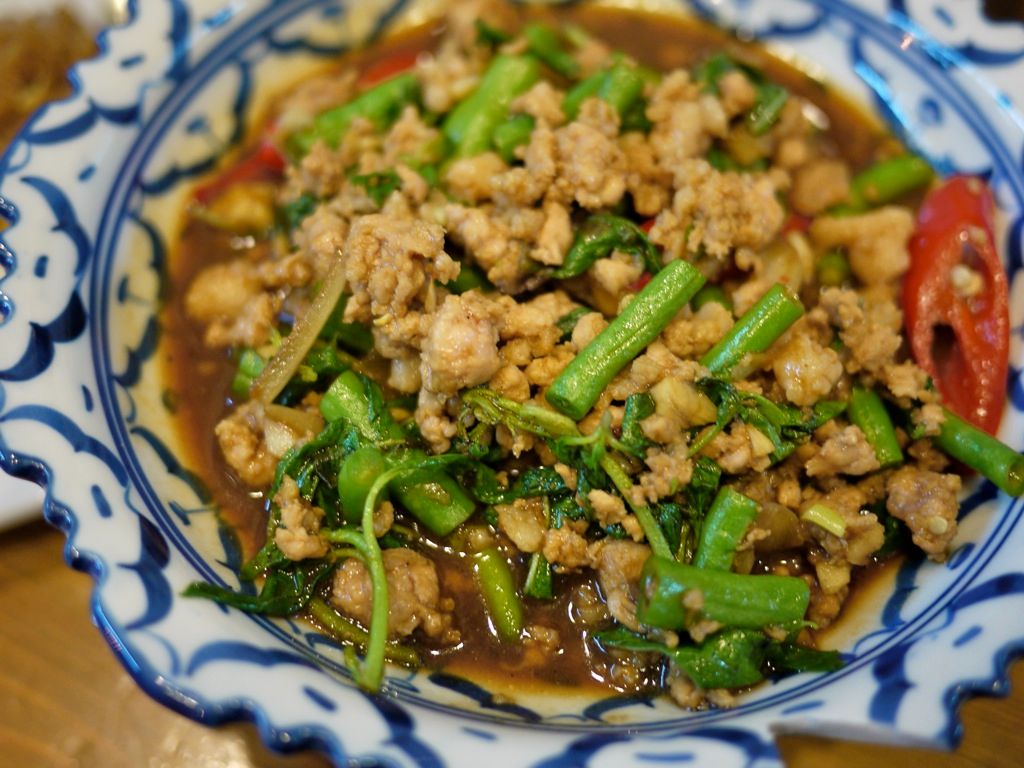 Stir fried Chicken with Cashew Nuts (S$6) was well liked by the group. The chicken slices were chunky and they were fried to a nice crisp on the exterior. The sauce has a nice soy base and i like the crunchiness the nuts bring to the dish.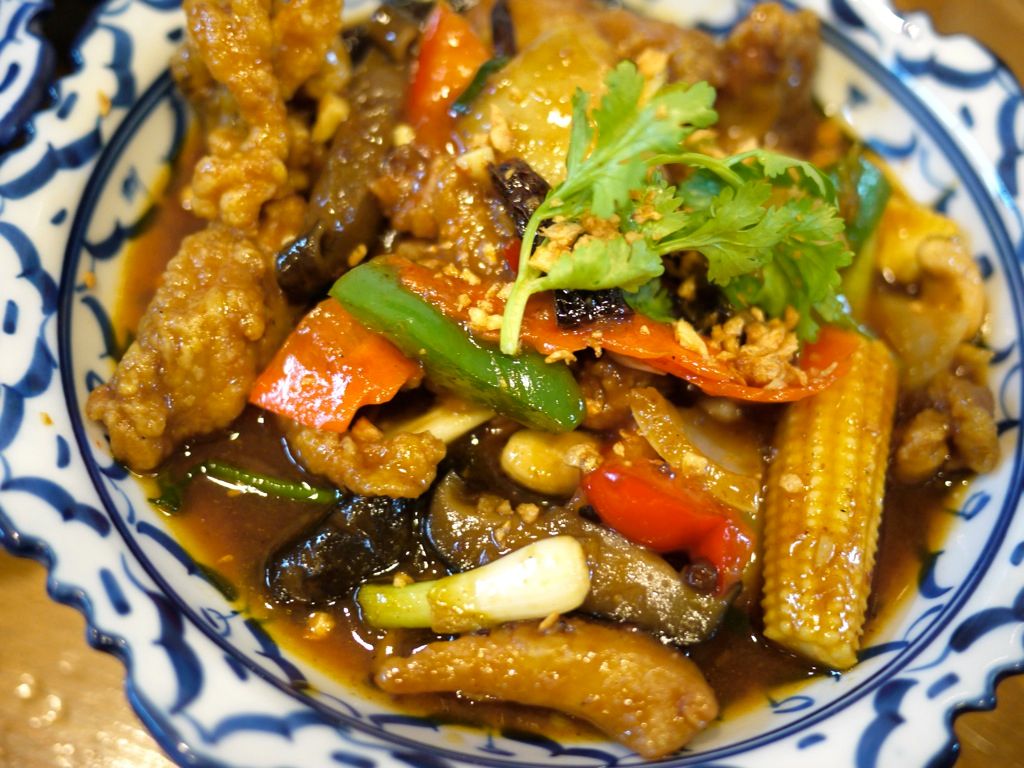 Stir fried Kang Kong Belachan (S$6) was palatable to most. This isn't like our usual Sambal Kang Kong, being the less spicy version. I thought this was a little high on the sodium content though. Not a bad dish though. Perhaps you could ask for less salt? I'm sure they would accommodate.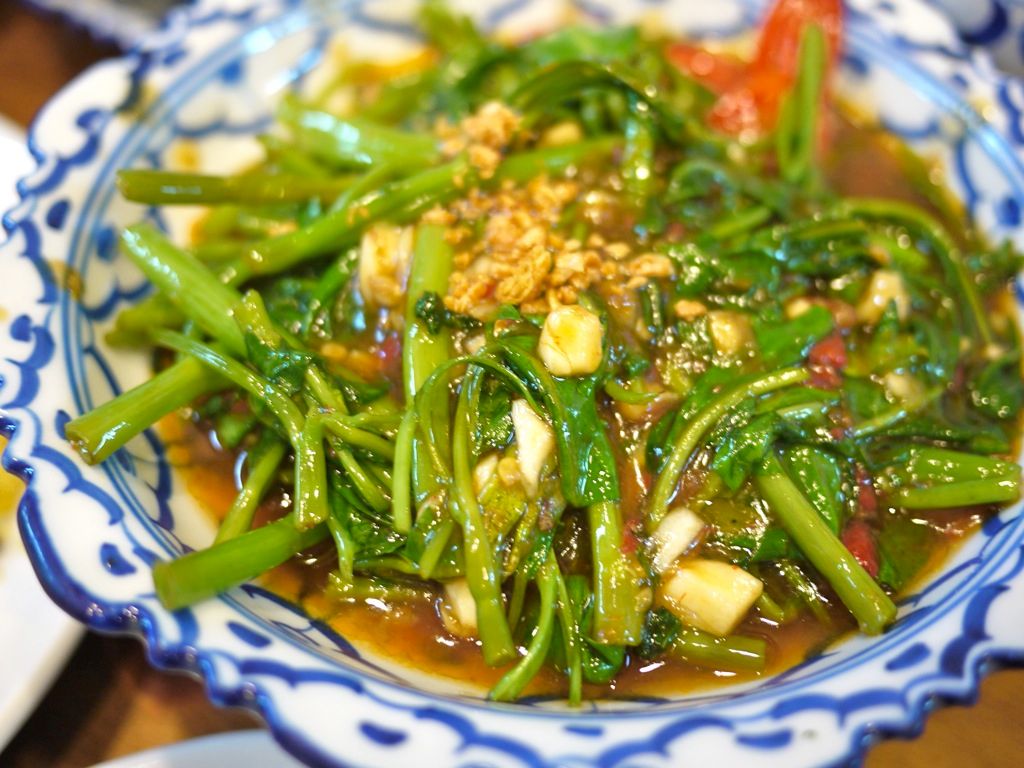 Red Ruby is my choice of Thai dessert anytime but it sells out really quickly at Nakhon. By the time we were done with our 2 rounds of food, it was swept off the shelves. BOO. We settled for the Mango sticky rice served with coconut milk (S$5). Again, really rich and viscous coconut milk with sweet juicy mango slices and glutinous rice. I don't really know the standard of this dish since i don't eat it much. Mich thought the rice wasn't sticky enough and V preferred it to be more al dente? I'm not sure if sticky rice should be done al dente though.. But overall i thought it was edible? (weird choice of descriptor i know but i really can't gauge!)
If you are here with a big group, go ahead and order more dishes for sharing. It will not be enough for sure. For a group of 8, we ordered 7 plates of rice, 3 soups, 4 meat dishes, 2 veg and 2 curries and 2 desserts.
So here it is, the secret but not so secret hearty and down to earth Thai food in the heartlands. Let me have it for the weeknights and you guys can have the weekends alright? :)
Verdict- Recommended!
Food: 5/5 My go to place for Thai in Singapore
Service: 4/5 Extremely efficient!
Ambience: 5/5 Full marks for the Thai atmosphere. I thought i was in Chatuchak market having dinner!
Nakhon Kitchen
212 Hougang Street 21, #01-341
Tel: +65 6286 8785
Daily: 12pm–3pm, 5.30pm–10pm