Healthy Fast Food: VeganBurg
If you don't already know, I'm a carnivore and i love my meat. Hell. What am i gonna do without cows seriously? That said, i don't mind the occasional vegetarian meal. There is just something weirdly appealing about fake meat. I'm really amazed at how they attempt to create the sinewy texture of the moos. Vegan Burg in Jalan Eunos takes it a step further by making vegan fast food burgers. Now that sure got my attention. Will they be able to handle that juicy and succulent patties? Read on to find out.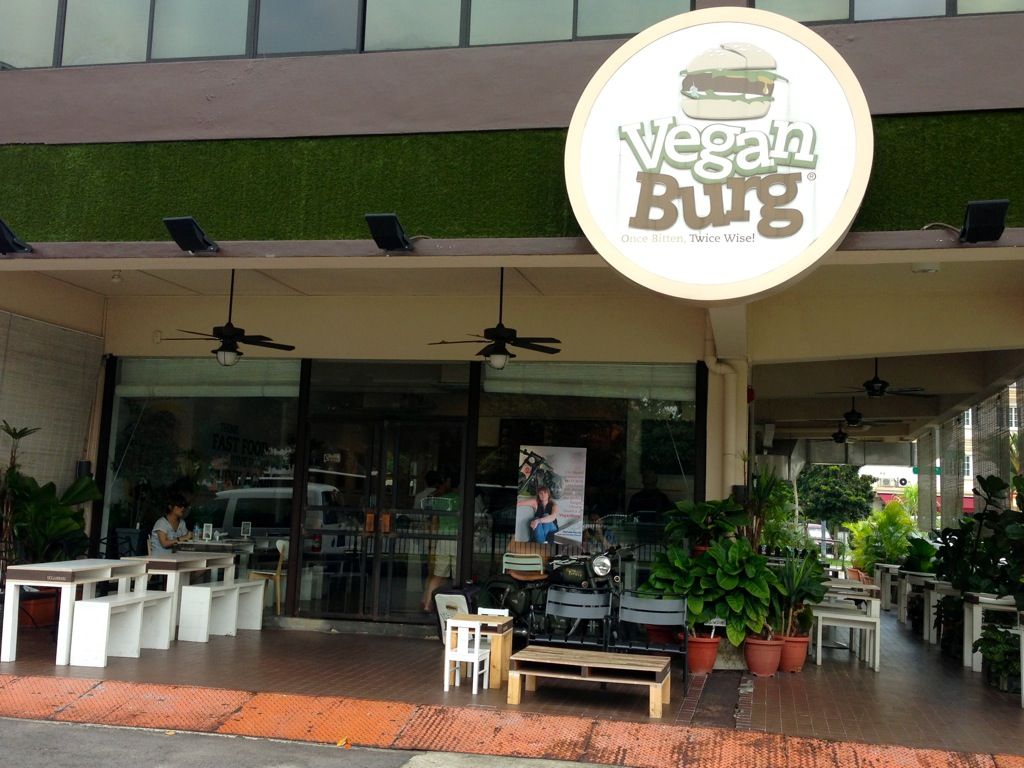 The founding joint in the East is a hippie and cheerful airy space where cows would feel at home. There's plenty of land to graze on, grass for munching (artificial though) and nobody to run after them with a butcher's knife.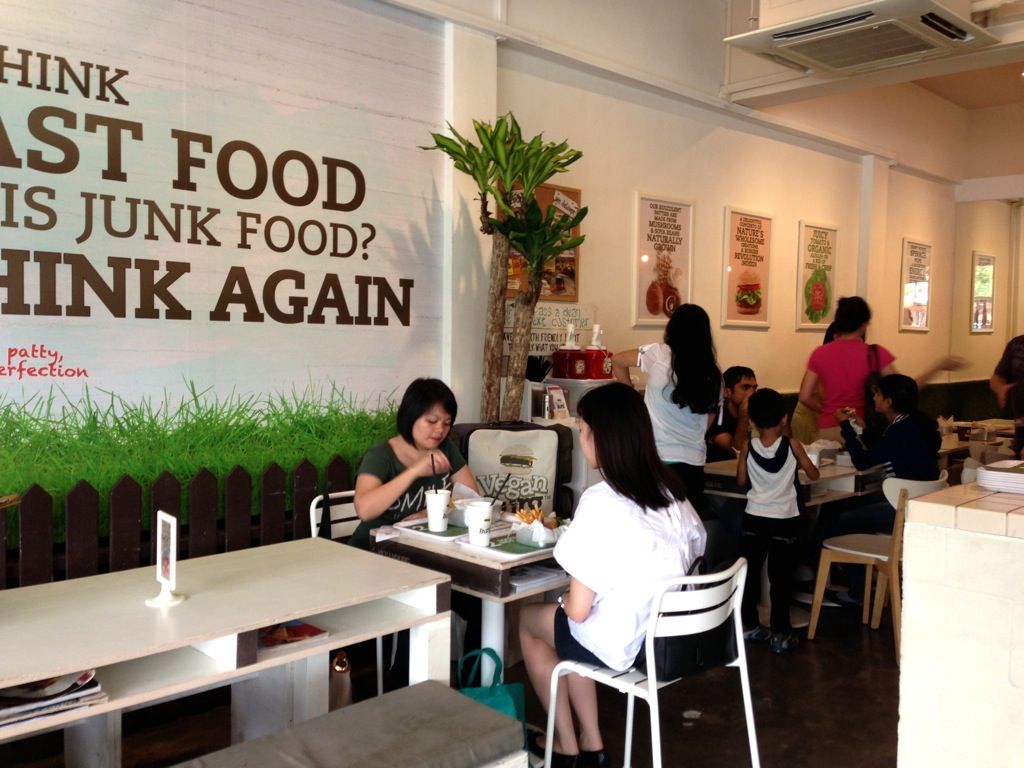 VeganBurg
is built on the foundation of respect and love for Mother Earth and the owners want to introduce a form of
sustainable and healthy diet
to you so that we can all live happily ever after. If you don't believe me/them, you can check out their '
Why VeganBurg
' page. That will be enough to scare you off eating meat for at least a day.
Even if you don't give ding dong about the global climate or animal abuse, the food is pretty decent and is a refreshing change from your typical All-American greasy, artery clogging, stroke inducing burger. VeganBurg's fast food is certainly no junk food. All their ingredients are carefully picked to provide you with essential nutrients but at the same time tantalize your taste buds. Expect wholemeal organic grains and mystery vegan patties that are free of gluten and GMOs.
There are 5 burgers on the menu and a special flavor of the month (the current is a Grilled Curry Rendang burger). Pick from Cracked Pepper Mayo, Hawaiian Pineapple, Smoky BBQ, Char-Grilled Satay and Creamy Pepper Shrooms. The patties are either pan/oven grilled or breadcrumb battered and fried and then sandwiched between VeganBurg's Signature Organic Ciabatta with sunflower seeds, pumpkin seeds and walnuts/wholemeal grains.
Cracked Pepper Mayo burger
(S$5.85 for burger/ S$9.85 for meal) which contains Omega 3, Omega 6 and Zinc (i feel so much healthier knowing that). The patty is exactly the sort of mock vegetarian 'chicken meat' that the Chinese vegetarian store sells. Interesting texture that is tender but yet it has that sinewy chew to it. I really can't complain that it's a tad dry, since it's not real meat. The mayonnaise added a little moisture to it though it didn't feel very healthy. More greens and tomatoes would be perfect for this one. Maybe the Hawaiian would fare better with the chunky slice of pineapple and grilled soya patty with a sweet plum sauce (that sounds mouthwatering already).
For an additional $4, you can make it a meal with seaweed fries and a juice. The fries were sinfully crisp and airy and went well with the garlic chili sauce. My spinach wheatgrass juice was kinda artificial though. There are other interesting sides such as Vegan franks and hotdogs, potato and spinach pops and even a guilt free ice cream if you have a small appetite.
Even if you don't dig vegetarian/vegan food, don't write off VeganBurg just yet. It is easy to forget it's a 'fake' burger and the cause is really worth it. I already feel like i shouldn't be eating so much meat. Save the cows, save the Earth, 1 ngom at a time. Cheers!
VeganBurg
44 Jalan Eunos, Singapore
Tel: +65 6844 6868
Daily: 11am - 10pm
Other Outlets
VeganBurg@Golden Shoe
VeganBurg@MBFC
VeganBurg@Marina Boulevard
VeganBurg@The Grandstand
VeganBurg@Orchard Gateway