The Vintage Room
Another restaurant checked off my Duxton list. This time it was The Vintage Room by the Deliciae Group and needless to say i'm a fan.They have their little enclave of restaurants in Duxton Hill so diners have variety to choose from. Apart from TVR, there's also L'Entrecote (just next door) and Sabio Tapas Bar.
Back to TVR, it's a vintage bar designed with an eclectic and cosy atmosphere. The design concept revolves around an Old World vibe with refurbished furniture littered around the space, from door frames to lamp shades.
Marble bar counters with customized tiles on the walls.
Beautiful nymphs toting Champagne bottles (and holding niffy cameras :P) are all over the place.
Interior designer,
The Stripe Collective
, has done a great job with the space. It's colonial, classy and yet funky at the same time. A lot of effort has been spent in acquiring an impressive collection of old-fashioned frames and antique.
TVR is more of a bar than a food place though they do have small bites as well. The selection of champagnes, wines and spirits is huge and hails from the old and new world.
I started with the
Caesar Ritz
($15), a Vodka/gin and elderflower liquor concoction. It's refreshing and lightly tangy with the lime juice base.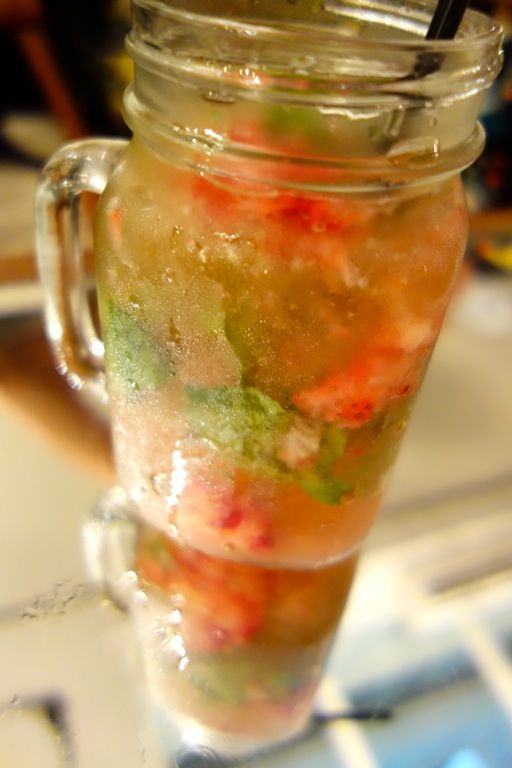 The
Strawberry Mojito
was not too bad as well.
A good selection of small bites and sharing plates are also available if you require some food to accompany your drinks.
Executive Chef Damien Le Bihan
(who also runs
Sabio by the Sea
,
read review here
) is the one who developed the menu.
Mix Of Smoked Fishes and Marinated Seafood-
Smoked Salmon, Trout and Haddock, Herrings and Anchovies ($
38).
I enjoyed the Mix of Cold Cuts ($38) served with the grilled buttered Poilane Bread. Meat lovers paradise with Bayonne Ham, Pate de Campagne (French Pork Country sStyle), Duck Rillettes (love this!), Andouille De Vire and Saucisson Sec.
The
Ceneri's Truffled Brie Cheese with Black Truffle
from The Original Creator, Ceneri Cheese Master ($
23) was my absolute favorite. This is also available on the dessert menu at L'Entrecote. It's milky, creamy and absolutely orgasmic.
From the
Tartines
section, we had the
Fresh Goat Cheese, Onion Caramelized and Bayonne Ham
Served on Poilane Toast ($17). It's a nice blend of flavors and the goat cheese was pretty mild.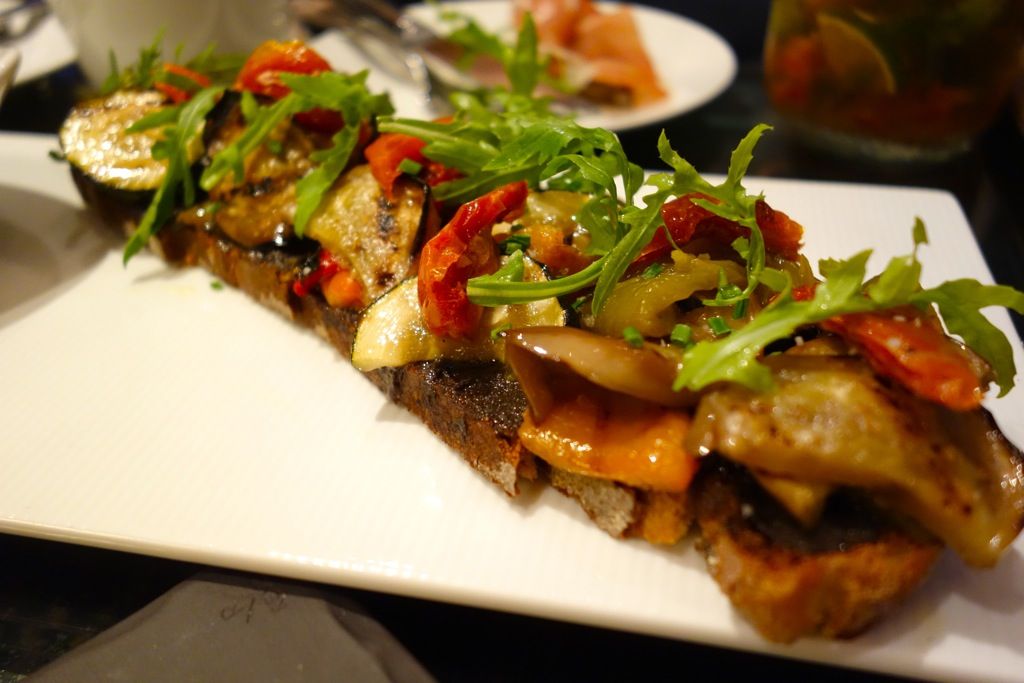 Vegetarian Tartine

Served on Poilane Toast

($13). Fresh, juicy and smoky aubergines, sundried tomatoes and zucchinis glazed with balsamic.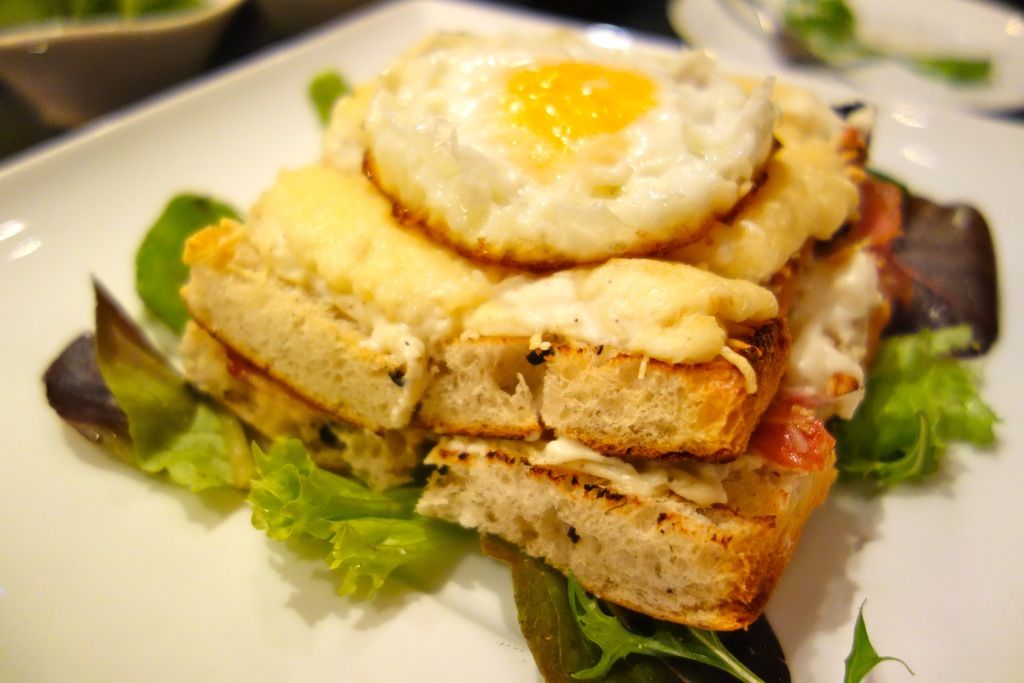 The
"Vintage" Croque Madame
(we added an egg) was a tad too dry for my liking. The cream sauce was dry and the overall flavor was too bland for me. I was disappointed at the doneness of the egg as well.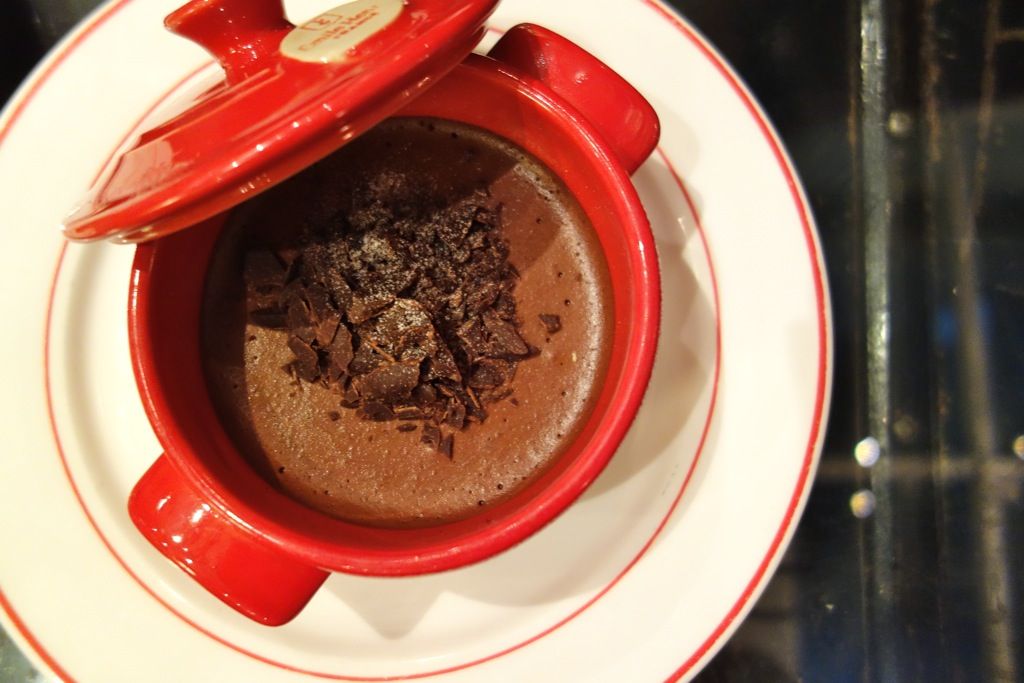 Desserts weren't too promising actually. The Mousse au Chocolat ($12) was the best of the lot that i tasted. At least the chocolate was richer than that of the Half Baked Chocolate Cake ($14). Give the Profiteroles de "L'Entrecôte" ($14) a miss. For desserts, I'd suggest you head over to Sabio for the awesome churros by Chef Damien. Now if only they do a delivery order..
There are drinks specials from Tuesdays to Fridays. Check out their promotions on their
Facebook page
for more details. Ladies, there are free bellinis on Thursday from 6-9pm! You know where you can find me on Thursdays. ;)
The Vintage Room
37 Duxton Hill Singapore 089614
Tel: +65 6690 7565
Tue-Thu: 5pm to 12am
Fri: 3pm to 1am
Sat: 5pm to 1 am