Weekend Lunch at L'Atelier de Robuchon and Joel Robuchon
Looking for a classy and indulgent meal without breaking the bank? Look no further. Joel Robuchon Restaurant and L'Atelier de Joel Robuchon, in Resorts World Sentosa Singapore, are bringing back their weekend lunch with a brand new French haute menu with an extensive selection of dishes for you to choose and customize your experience from. Diners can select a 3 to 5 course menu priced at an amazing $48 onwards at the Atelier and $78 at JR.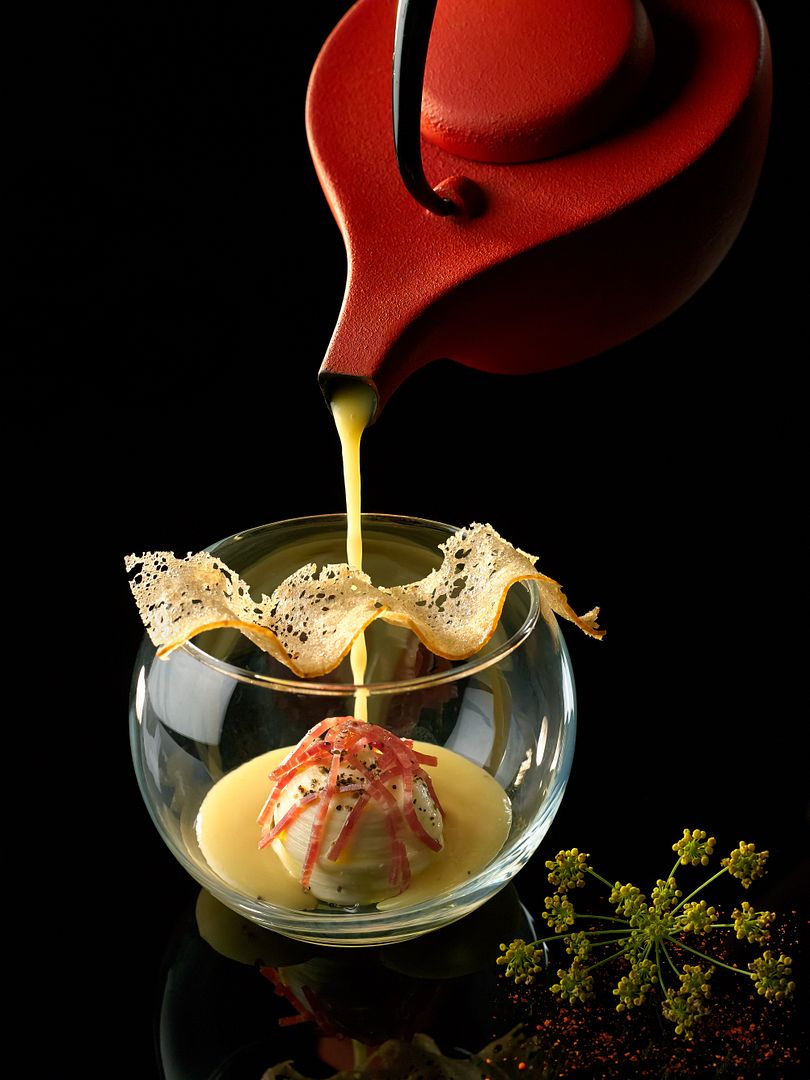 S and i headed to
L'Atelier de Joel Robuchon
, the casual and more funky of the Joel Robuchon restaurants. The reason for choosing this was also that L'Atelier has won several dining awards and is also on the
Asia's 50 Best Restaurants
list for the past few years.
We were in for an immersive dining experience, right from the comfort of our bar seats which gave us a bird's eye view of every action that happened in the open kitchen. The Spanish tapas bar dining experience was certainly more relaxing and fun than its classy sister next door but the food served was nowhere sub-par.
Our 4 course menu ($68) consisted of an amuse bouche, 2 appetizers, 1 main course, 1 dessert, and concludes with coffee and petit fours. A foie gras custard with port wine and cheese was served shortly after we were seated and it was a tangy rich start to our meal.
The breads are baked in house and i loved that salty and crusty baguette which i generously smeared with the excellent salted French butter.
From the cold appetizers, we had the LE FOIE GRAS, which consisted of buttery rolls of foie gras shavings that melted in our mouths, giving way to a tangy calamansi jelly and then balanced with the light daikon puree. Loved this one.
S had the LE SAUMON, a slightly smoked salmon, seasoned with a hint of mustard (or perhaps wasabi).
Next from the hot appetizers. S preferred my L'ASPERGE, a grilled white asparagus with light Parmesan butter sauce and Parma ham. I thought the asparagus was a little overcooked and could do with a bit more crunch.
My preference was for the L'EPINARD, a light spinach veloute, thickened by the soft poached egg and creamy "comte" cheese mousseline. This was a mix of umami in my opinion but i guess S is not a green food fan.
With 7 mains to choose from, one would be spoiled for choice. For something light, the Cod Confit in dashi broth comes recommended. I was also undecided on the Seafood spaghetti with basil and fresh tomatoes. But well, i'm a carnivore and hence...
The LE BOEOEUF (Suppl. $13), a glazed beef cheeks "Burgundy style" wrapped in cannelloni, and cumin carrots.
I'm huge on savory notes in my dishes but even this i couldn't take. I thought it was way salty for me in fact but that cannelloni was superb.
We loved the LE PORC (Suppl. $6) a grilled and then caramelised Iberique pork pluma. Tender meat flavored with herbs and citrus.
Worthy of a mention is the creamy and velvety pommes puree that came with our mains. We wiped the dish clean.
To end the meal, have some cheese (suppl. $11) and then go for the desserts. I highly recommend the Le Chocolat which was a crunchy mix of dulcey mousse, vanilla crumble and chocolate ice cream.
The LE PARFUM DES ILES is a signature (apparently) and would suffice if you prefer an icy refreshing end. This passionfruit and rum granita had all the citrusy pops and wasn't too sweet.
We enjoyed our lunch at L'Atelier Joel Robuchon and would certainly be making a trip back. Their lunch deals are too good to be missed really.
L'Atelier Joel Robuchon/ Joel Robuchon
Hotel Michael, Level 1
8 Sentosa Gateway
Tel: +65 6577 6688
Sat Lunch at JR, Sun Lunch at LJR: 12 - 2.30pm
Dinner (Thu - Mon): 5.30 – 10.30pm