Viet-Jap Bistro: Kilo at PACT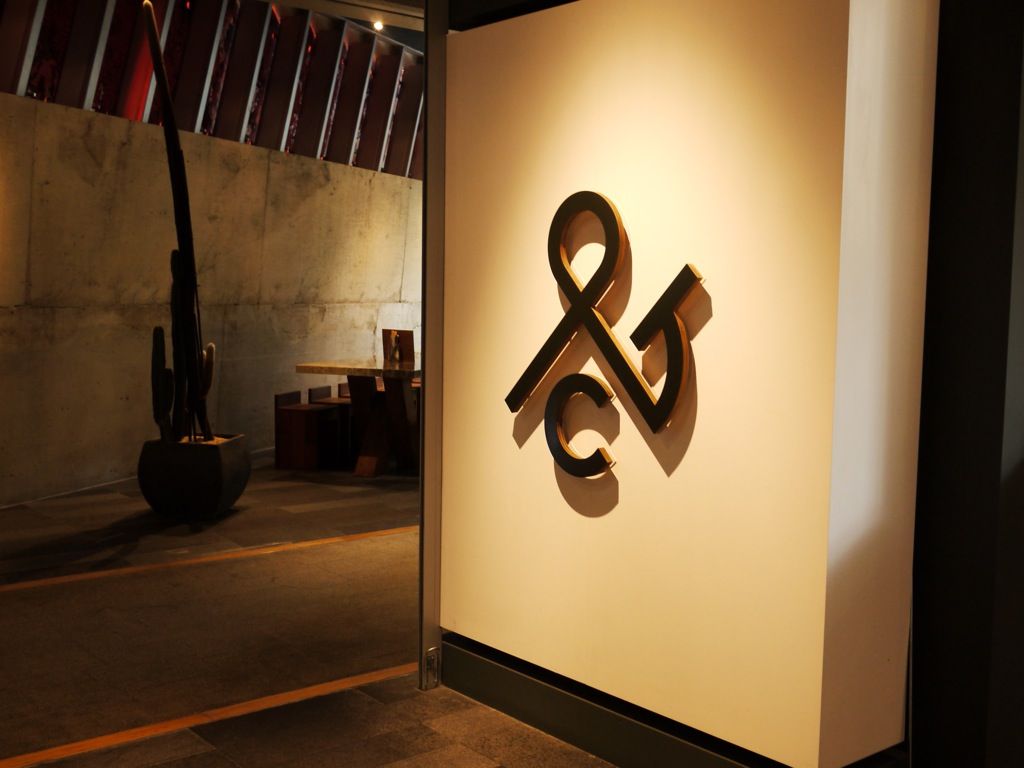 Tucked away in a hidden corner in the quiet Orchard Central mall is Kilo at PACT, a bistro-restaurant that serves Japanese-Vietnamese bites that would appeal to the healthy palate. Other than eating in the raw concrete space, take the time to experience the full retail and hair/beauty services with K.I.N and PACT +LIM. A one stop shop for a day of chilling out in town in style and peace.
Let's start off with what i like. The Japanese food here is pretty decent. Don't go there expecting a full range of Japanese meals, there are only a couple of donburi, rice bowls and sushi rolls. Ladies would love it here because of the clean tasting ingredients, mostly raw-ish. The portions are also friendlier to the waistline though i can never finish more than half a sushiro. The dishes aren't traditionally Japanese but quality Japanese ingredients are used.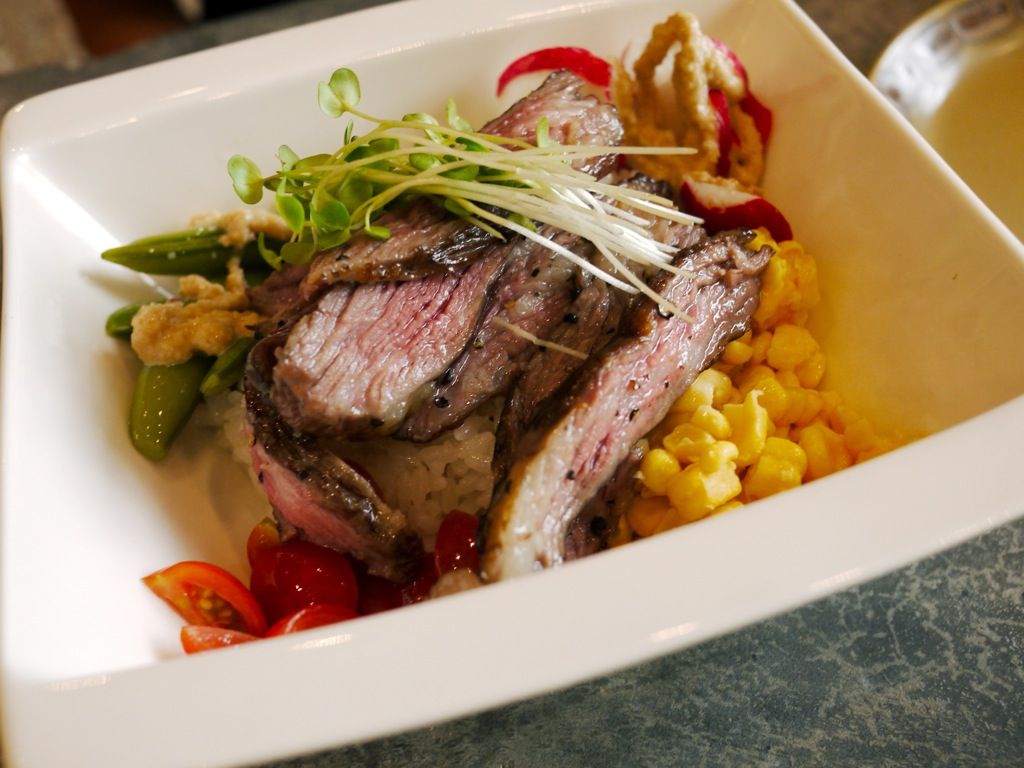 The Beef Short Ribs Bowl ($18) is one of my favorites. Think juicy and tender grilled beef short ribs on top of a myriad of colored raw veg like sweet corn, radish, sugar peas and wasabi sprouts. Every bite is fresh and refreshing and even if you don't like carbs, i bet you'd finish the nice sticky Japanese rice. The overall taste is very light, nothing like the typical beef bowl that is drenched in gravy.
I also love the Sushiros and my choice would be the Salmon Avocado Sushiro ($15). Chunky fresh buttery salmon wrapped with a generous serving of creamy avocado, Japanese cucumber and shredded carrot, prawns and Tamago. The Niigata rice that the roll is crafted from is also of the right acidity and also i love the additional crunch from the side of soy flax seed chips that is served with the huge roll. Healthy alternative to chips that satisfy the junk food craving!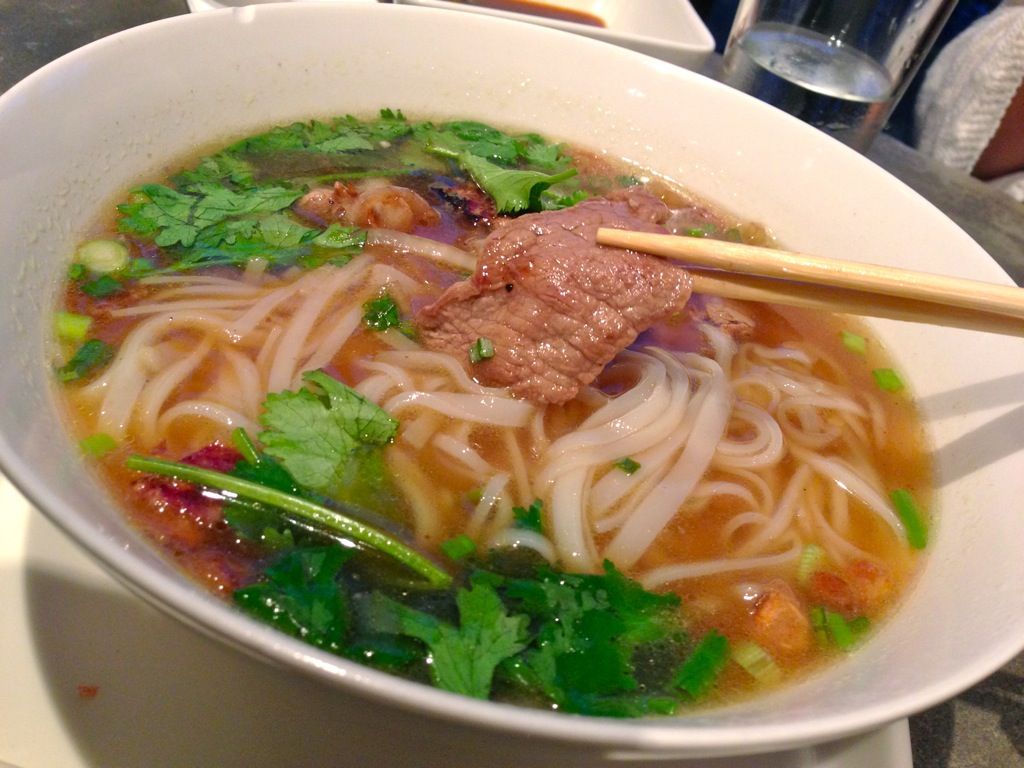 From the Vietnamese section, the items that i've tried failed to impress. Then again, i haven't tried enough to make a concrete conclusion. The Beef Pho ($16) tasted like it came out of an instant packet though. The noodles were rather hard and did not have the fresh pho texture and i found the soup overly salty and laden with MSG. Quite a pity considering that the tenderloin slices and homemade ginger beef balls were rather tasty.
The
Viet Drip coffee
($4.50 cold) was diluted and weak, totally unlike those that i get in Vietnam or at the eateries in Joo Chiat. I would definitely recommend
Long Phung
(
read it here
) for authentic and cheap Vietnamese food instead. Maybe i would give the Banh Mi here a try, but i highly doubt it would blow my mind.

Would i visit Kilo at PACT again? Probably. I do like the ambience and the Japanese meals are quite perfect pre/post yoga. Give it a try if you're in town.
Kilo at Pact
181 Orchard Road
#02-16/17/18/19 Orchard Central
Tel: 68847560
Tue - Sun: 11am - 10pm