A for Arbite: Fusion Tapas and Drinks Pairing
What do you do when you have a successful food brand? Do you replicate it or do you change it? Well for
Chef Marc Wee
and his team at
Arbite
(
read more about Arbite here
), they took the 'Go bold or Go home' approach with their second outlet,
A for Arbite
. Instead of doing the tried and tested hearty western fare, they have developed a
tapas style menu
that includes
drink pairing
.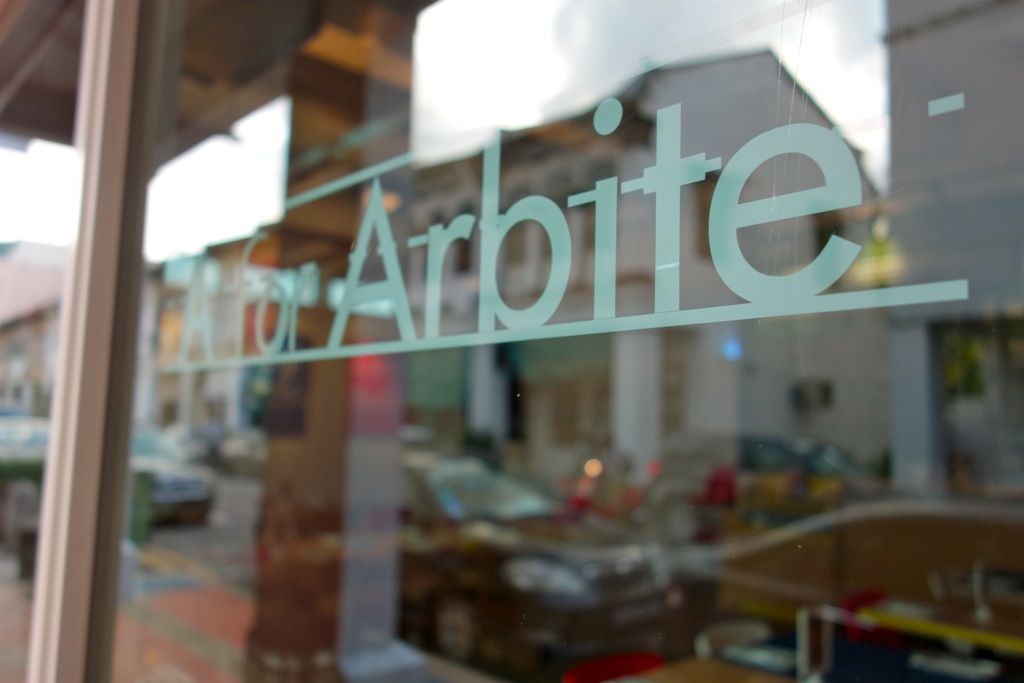 A for Arbite
aims to provide a complete dining experience that isn't too atas (no snooty sommelier) or boring (You take plain water with your food? Seriously?) Instead, some tried and tested pairing with craft beers, cocktails and even artisan teas are suggested with your meal. Do feel free to experiment with the various combinations. A for Arbite is all about fun as their decor suggests and the friendly wait staff are more than happy to provide some inspiration.
As we were set to taste a whole lot of dishes, Marc choose 2 versatile drinks that would go with most of our food.
The Belgium Peach beer ($10) was malty and sweet. This would certainly appeal to all you ladies out there, or guys if you have a sweet tooth. The Yuzu Mojito ($14) was crisp and refreshing but could do with a little more citrus.

We were advised to pick about 4-5 small dishes each and 1 or 2 bigger dishes to share. Honestly, that was a lot of food for S and me. I would say cut that by half first and then add on as you go along. Let me start off with the small plates that i like.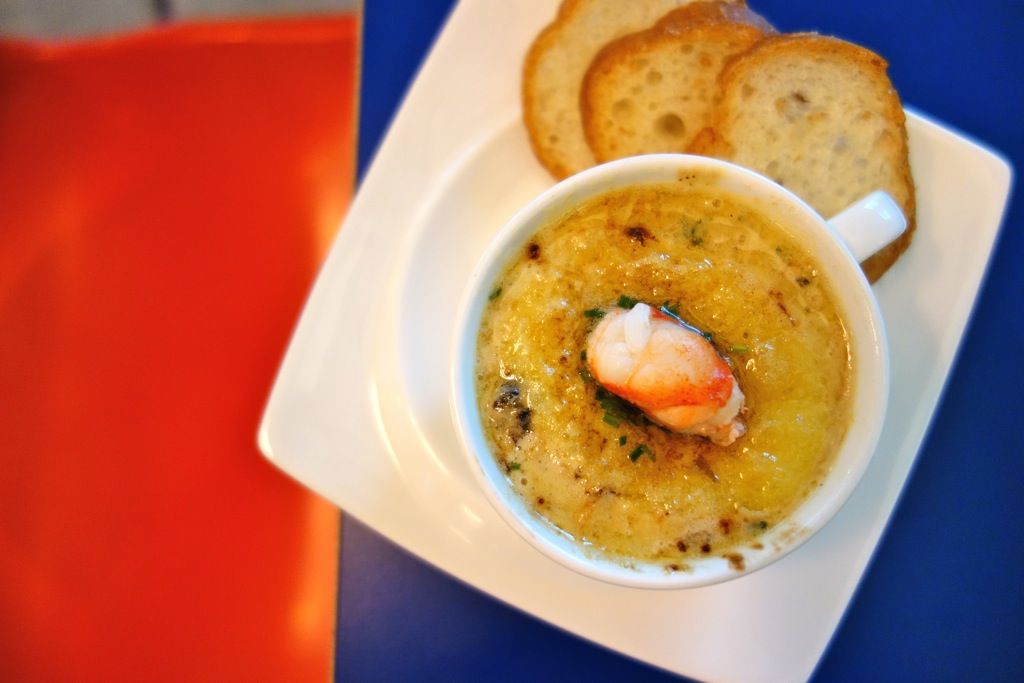 The
Lobster Thermidor
($12) was absolutely creamy, rich and delicious. Like the juicy lobster and crab meat chunks, I was swimming in delight of thec ream, mustard, brandy and parmesan cheese sauce. Oh and there's plenty of truffle oil too!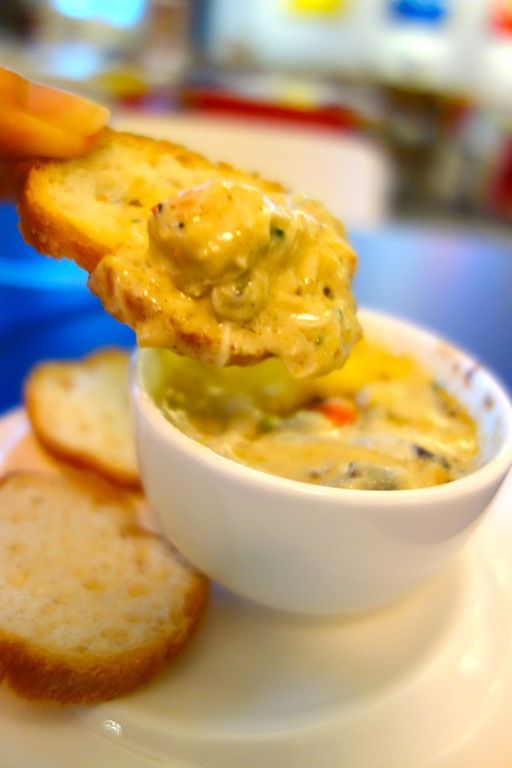 As you can tell (or maybe not), this is a baby tea cup size. I wouldn't recommend sharing this because sometimes good food are meant to be enjoyed alone. :P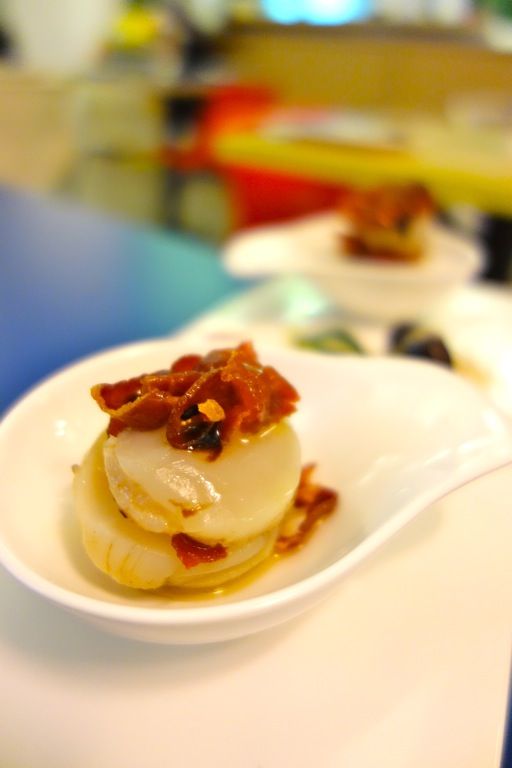 Pan fried Scallops
($8) was one of my favorite dishes as well. The texture is pretty much like the Aburi style, with a lightly charred outside and a tender raw inside. What's special was the prune and balsamic purée which gave it a sweet and sour flavor. And the icing? Crispy Parma ham. Enough said.
The
Braised Smoked Pork Belly
($7) could be my sg replacement for the
Momofuku Pork Buns
(r
ead about them here
). Rendered fats, savory braised streaky bacon with kimchi and leaf bun; a little sweet, a little fermented, a load of yum.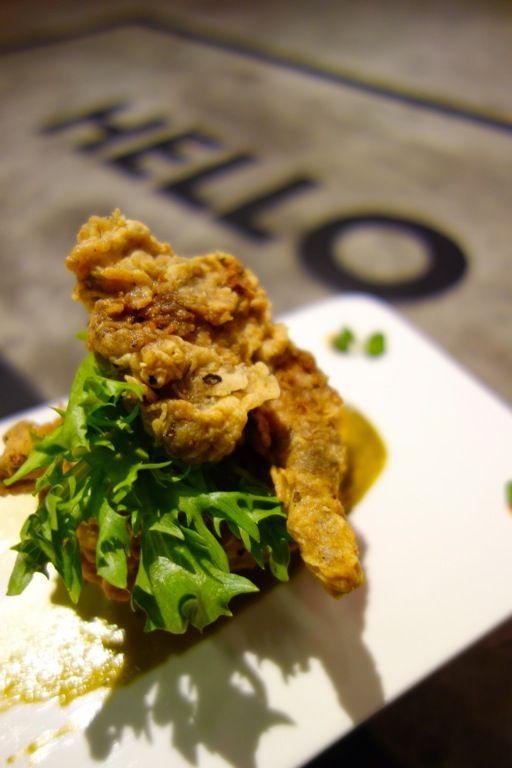 Something special to order would be the Deep Fried Quail ($8.50). The gaminess of the tender meat was overcome by the Moroccan spices. It was on the salty side but it would satisfy any fried food craving.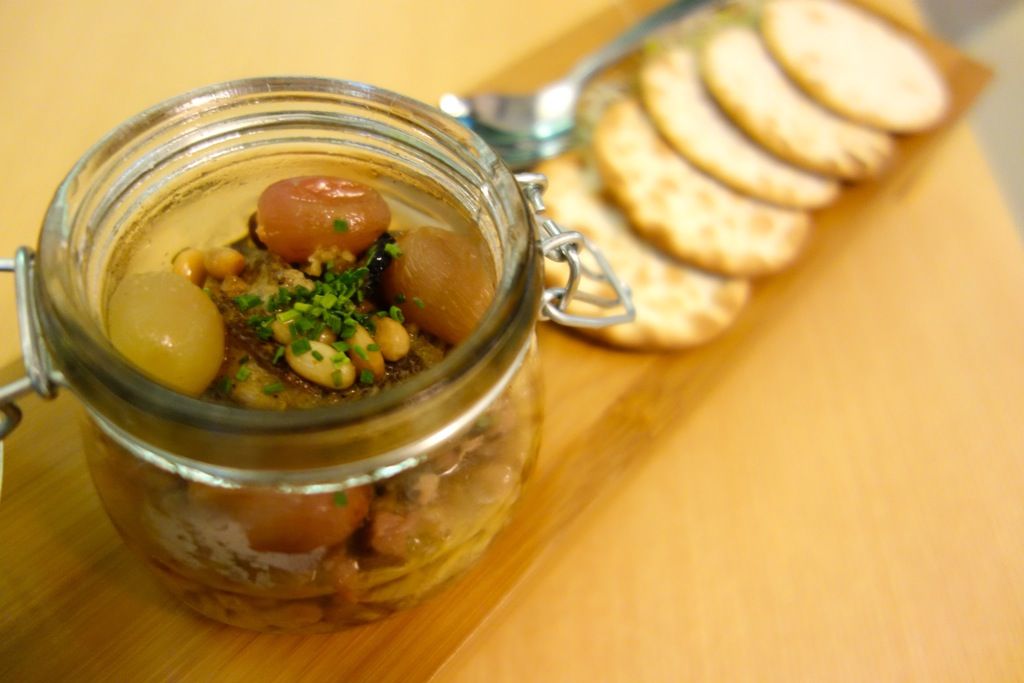 If you like duck and don't mind the oil and sodium, then the
Jar of Duck
($19.50) would do it for you. I love the ingredients; duck rillettes, black truffle, foie gras and diced smoked duck breast, but the oil was simply too distracting for me. It would have worked better if everything were chilled other than the foie gras.
The
Beef Onglet Tataki
($6) was an average dish. If you didn't notice by now, A for Arbite is quite big on the Japanese influence. This one had shoyu, sesame oil, onion soil, shiso and mushrooms, all typically Japanese condiments.
The
Green Tea Spaghettini
($7) was also made to look and taste like cold soba. Due to the similarity in presentation and taste, i can't help comparing it with the Japanese version and the texture of the pasta simply lacked the crunchy texture that i'm so fond of and the broth was bland as well.
The 2 mains that we had were heartier and great choices for sharing. The risotto is a hot favorite at Arbite and Chef decided to keep it on A's menu.
Tri Pepper Spaghettini
($10.5). The spaghettini faired better in this cooked dish and the crunch in the handmade pasta was certainly welcomed. This dish lived up to the umami Japanese flavors with a whole load of peppers in the pasta (green, pink and black!). The spring onion and chili gave it that additional zing as well. Chef Marc was also very generous with the crab meat and i loved that crispy soft shell crab tempura.
Squid Ink Risotto
($16.50). The squid ink wasn't quite smokey enough for me but the dish caught on after a few mouthfuls. Every bite was filled with prawn, squid and mussels chunks along with shreds of crab meat. The Aborio rice was done a little over al dente but still perfectly crunchy. Take note, it's a little spicy. I'm not much of a fan of the oily fried halibut though.
Cookies and Cream Cheese Cake
($8) was worth every bit of my remaining calories. The black cookies, cream cheese mascarpone and milk espuma were buttery, sweet and savory! Love love love the airy milk espuma.
If you are a Chinese dessert fan, you may enjoy the
Ginseng Panna Cotta
($7). I hate ginseng so i have nothing good to say about this dish. S thought it was rather interesting, especially after the chrysanthemum sorbet melted. The pudding was a little too set so i'm missing that creamy texture in it.
I enjoyed the meal at
A for Arbite
very much. It's laid back, charming and the service was great. I'm not saying it because it was a hosted dinner but we noticed how attentive the wait staff were to other guests as well. Great place to hang out with the pals.
Aliwal Street
is a little off the
Bugis/Haji
area but the walk is certainly worth it.
Thank you Chef Marc and Hayden for the invitation!
A for Arbite
28 Aliwal St #01-01 Singapore 199918
Tel: +65 8321 2252
Tue – Fri: 11.30am - 11pm
Sat: 11am -11pm
Sun: 9am- 9pm
Follow my blog with Bloglovin