Maggie Joan's new lunch menu
One of my top faves has given birth to something new!
Maggie Joan's
is now open for lunch with sumptuous new specials!
Chef Oliver never fails to please with his modern Mediterranean plates and I was super excited to sample their lunch offerings over dinner tasting.
Special mention to the house-baked Sourdough with beef fat butter, complimentary to all diners. Such glorious meaty creamy churned goodness on that crackly porous slice. I would be happy with that alone (with that delicious Chianti of course)!!!
I loved the Cheese Arancini ($9) which is a creamy ball of risotto held together by a blend of
cheeses (gorgonzola,
epoisse, langres, ricotta). The crunchy exterior gave way to a nice sticky and stringy pull. I thought it was great on its own, with a touch of truffle oil. The sweet Roma tomato chutney with sherry vinegar threw the dish off with its sweetness but the golden balls could be easily saved from the gravy so all's not lost.
My recommendation to start? The
Cured salmon tartare ($17)
with dill, pickled cucumber and yogurt. The rich smoky Norwegian salmon paired perfectly with the cream
cheese-like Greek yogurt and then comes the tangy pop of cucumber. There's even an element of crunch from the house made sourdough croutons (can't stop munching on them).
I was looking forward to the Gypsy style baked egg with chickpea stew & chorizo ($16) because well.. Nothing like a decadent brunch dish for lunch right? Sadly, the chickpea mix was prematurely removed from the stove and had yet to absorb the moisture and flavor of the tomatoes. The chorizo were kind of dry and disappointing as well. Flavor wise, it was a little one dimension with the Mediterranean spice.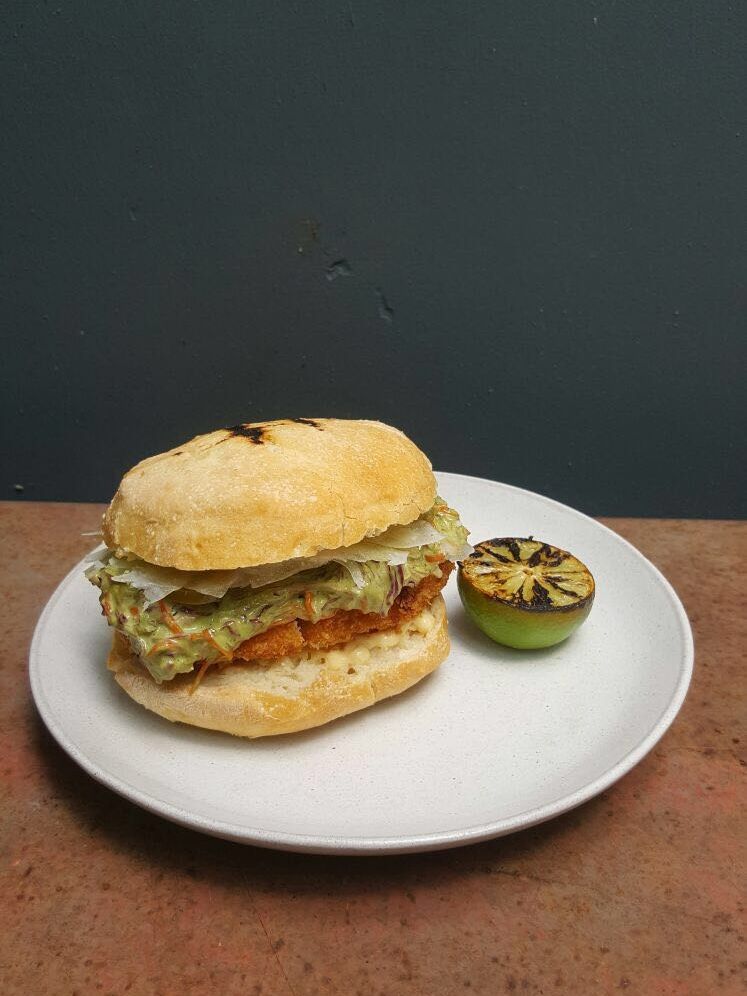 Skip right to the mains if the starters don't work for you. That
Fried Chicken Sandwich
($18) may sound blah, but dayum! The juicy
poulet jaune fillet is crusted with Japanese panko and deep-fried. Never have I had a fried chicken breast so tender and juicy without any oily taste. Dressed with a punchy green harissa coleslaw and Pecorino cheese, and sandwiched between a light poofy bread grilled in gd INKA oven, the combination was spectacular. To spruce this meal up further, add on the
hand-cut chips with rosemary salt, sherry vinegar & ricotta ($9). Such fragrant triple fried hand-cut Sebago potato chips - steamed, blanched in oil at 140 degrees and deep fried at 220 degrees for that extra crunch. My advice- leave no ricotta behind.
Now if the chicken was great, the Homemade Pappardelle, lamb ragu and Parmigiano Reggiano ($26) is better. This is perfect comfort food will make you forget your work woes for the rest of the day. The New Zealand lamb shoulder is roasted for 12h and then caramelized and tossed with the hearty chili-tomato paste, and sheets of al dente Parpardelle (one of my fav pasta, also made in house). The balance of the sauce, mint, and meat is perfect, plus there's the sourdough croutons to pick up the remaining sauce... Heavenly.
Those craving for the dinner menu will find familiar offerings for lunch – think half roasted duck with carrots and feta, or a 250g stockyard ribeye with jerk seasoning.
Finally desserts. Dessert of the day ($10) was a crumbly sugar dough lemon tart. This certainly goes on my best tart list! Cheese and wine also makes for a perfect ending to your mid day. ;)
The lunch menu is available 12pm to 2.30pm on weekdays.
This is making me wish that I work in the city. Badly.
110 Amoy Street #01-01 Singapore 068579
(Entrance from Gemmill Lane)
Weekdays: 12 - 2.30pm, 6 - 11pm
Saturday: 6 - 11pm