Alchemist Beer Lab
Put down your mugs muggles (pun fully intended) and listen up: there's a new place in town where some serious beer magic is happening! Alchemist Beer Lab lays claim to being the first and only infusion beer lab in Asia, and features a proud display of 16 visually stunning beer infusion towers to offer a wide variety of infused beers.

All the magical action happens within the infusion towers, where selected ingredients are placed in the fusion chamber followed by the release of compressed gases, before the beer is infused. With an infinite selection of ingredients that can be infused into a wide variety of ales, ciders, mead and stout, the possibilities are endless and we are sure even Severus Snape would be proud.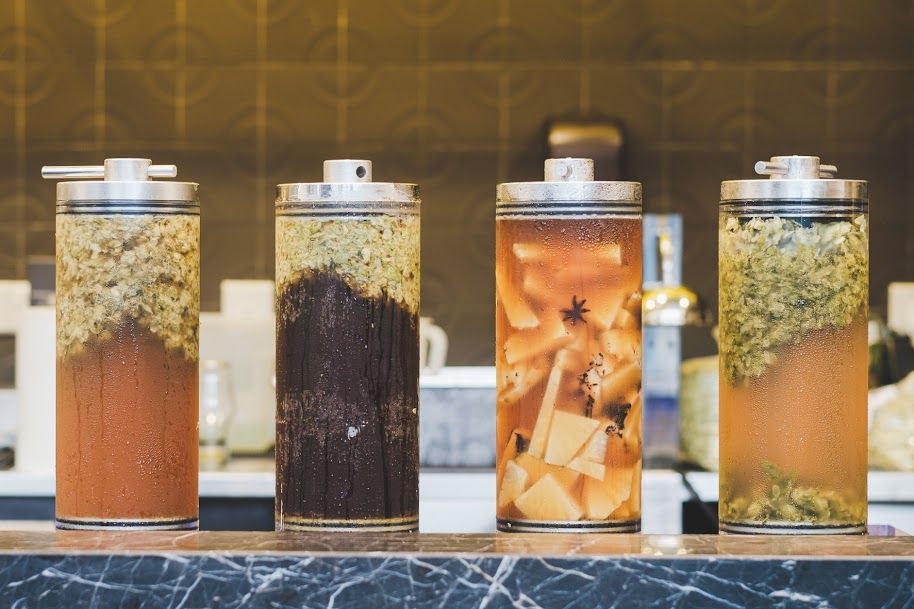 For a light start to the meal, we would highly recommend the 50 Shades of Pink

, which is a pink guava infused cider. It

conveys a mellow sweetness that cuts through the tartness of the cider. The Honey Trap would please those with a sweet tooth- honey mead is infused with hops, kaffir lime and lemongrass which immediately evoke memories of your last spa experience. The Obama (stout infused with marshmallow, vanilla pod and mint leaves) is an interesting concoction, as the bitterness of the stout competes with the sweetness of the marshmallow and refreshing mint to deliver complex flavors with each mouthful. You would either love it or hate it, much like how the Americans view their outgoing president. (FYI: I love it!)
More than just a micro-brewery, Alchemist also prides itself on its selection of modern European tapas that are not just sidekicks to the amazing beers, but are stars on their own. The Charcuterie platter is an excellent appetizer consisting of Iberico sausage, prosciutto, chicken and black truffle ballotine and duck liver parfait with calvados jelly. For some Mediterranean flavors, the smoked eggplant Falafel is wonderfully crispy and moist, and goes well with the accompanying paprika yogurt.
The mushroom & truffle croquette with raclette and aioli was a favorite of the night. The crispy croquette explodes in the mouth into an oozy cheesy mixture which fills the nose and palate with a heady fragrance of truffle and earthy flavors of mushrooms.
Meat lovers would love the fork tender slow cooked pork cheeks which sit on a bed of sweet and sour red cabbage and is topped with crispy pig ears and Cabernet syrup.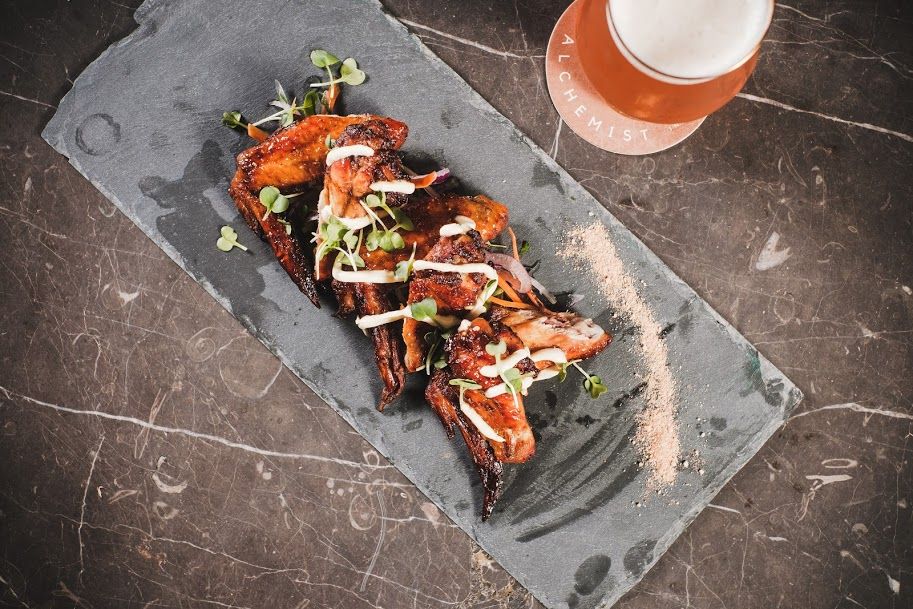 Those who prefer something more conventional can order the sweet and savory sticky Thai chicken wings. Well marinated with the distinct aroma of Thai herbs and spices, the wings went down especially well with the stout based infusions.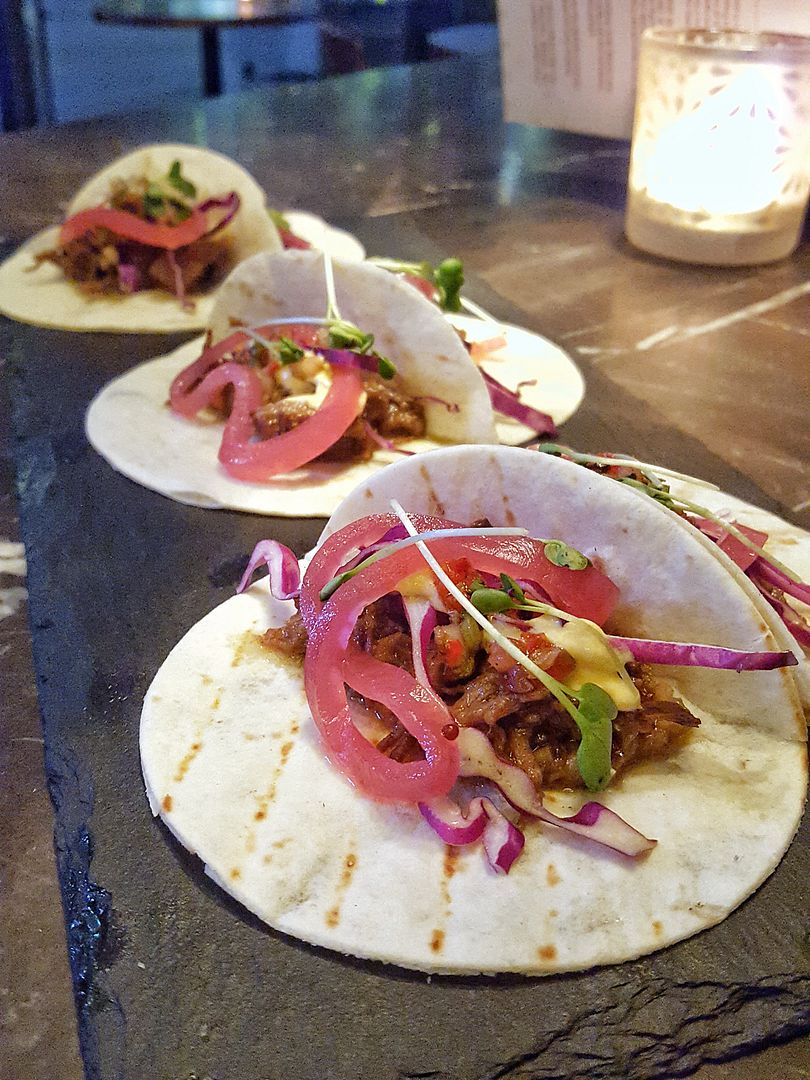 The smoked wagyu brisket tortilla served with green tomato chutney, pickled onions and sour cream was another crowd pleaser of the night. The tortilla envelopes the tender and juicy wagyu brisket, and makes for a messy but finger licking finish.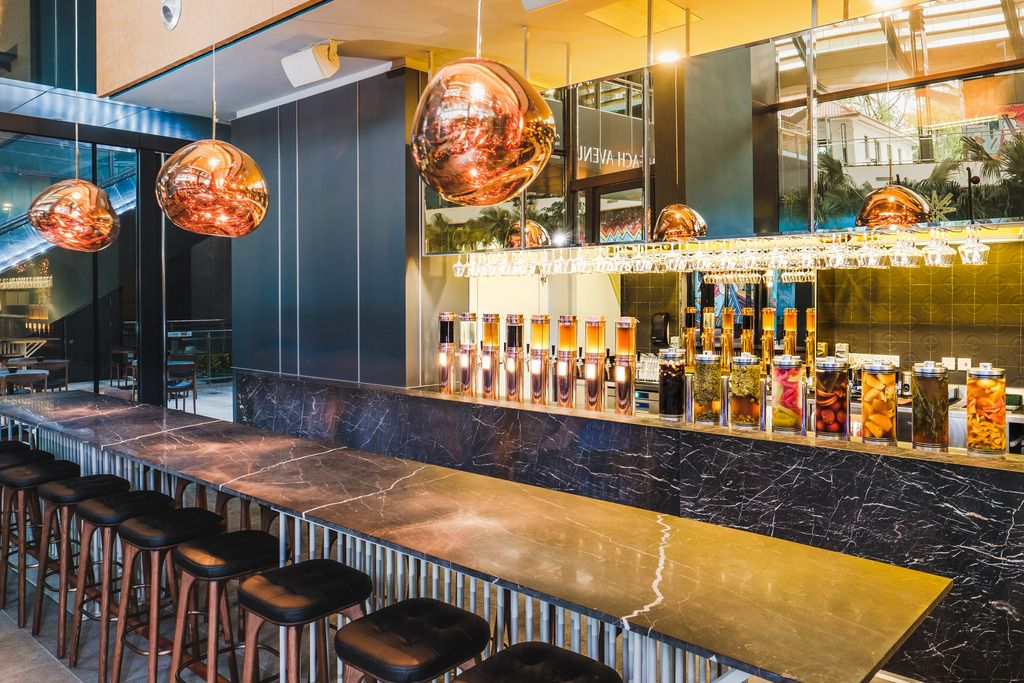 Alchemist Beer Lab
definitely deserves a shout-out for challenging convention and offering something different to standout from the other pubs. Those who love their beers, but relish a surprise who love the magical experience at Alchemist Beer Lab. For the rest of you muggles, they also have non-infused beers including some from their sister brewery Little Island Brewing Co. as well as wines and spirits. So jump on your broomsticks and zoom over!

-Truffles


Alchemist Beer Lab
26 Beach Road #B1-16
The South Beach
Singapore 189768
Tel: +65 6386 4365