Jam at Siri House
JAM at SIRI HOUSE is my home-entertaining goal. You can't beat the Dempsey location for its idyllic and lush surroundings. JAM at SIRI HOUSE's partnership with luxury property developer Sansiri also contributed to their eclectic Art Deco-Asian decor and luxurious fittings.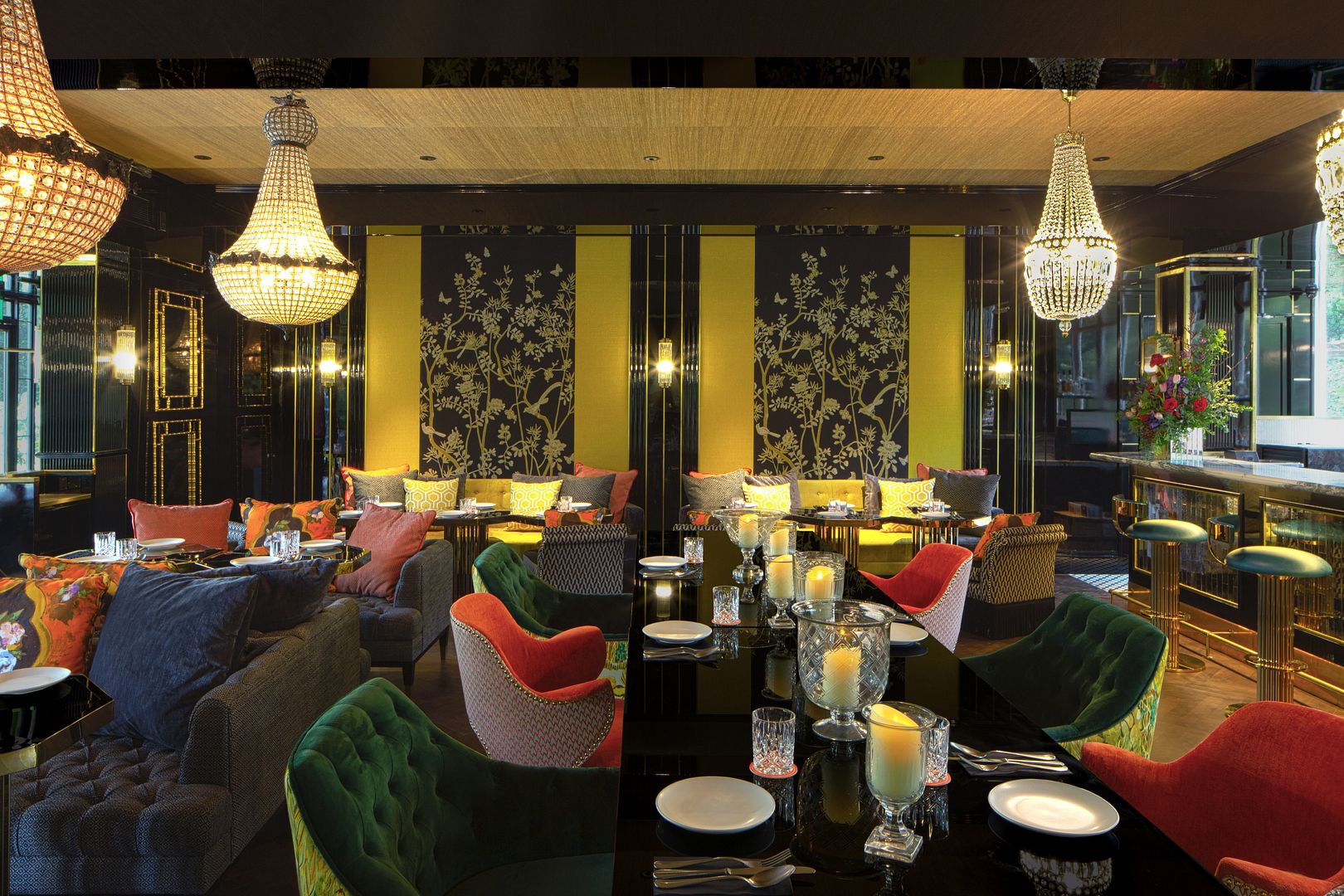 Of course, what's any good house party without great food and drinks. JAM at SIRI HOUSE has reunited former Lolla Head Chef and current co-owner of Park Bench Deli, Ming Tan with Jeremy Cheok, previously from New Ubin Seafood, for some delicious bites. Sunday Punch's Mark Tay and Yap Hwee Jen complete the team as creative forces behind the restaurant's stellar bar programme.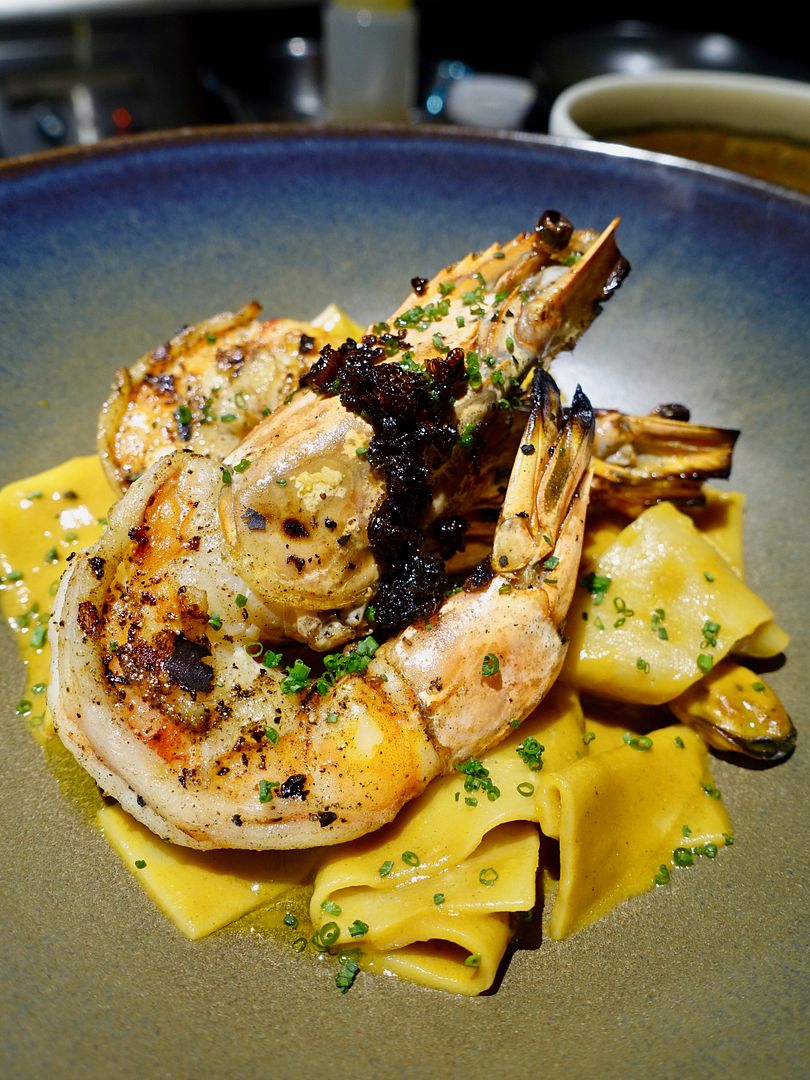 Jr and I toyed with the idea of a cocktail trolley at home (part decor but mostly for drinking) but it ended up being my snack trolley instead (oops). The thought resurfaced when i visited JAM and was served with their selection of mini bottled cocktails ($13 for 60ml) from their trolley. These bottled cocktails are handcrafted in small batches every few days, and highlights 3 different flavor profiles each time. I started with a citrusy Siri House Negroni which incorporated Thai red tea that has been infused in gin for a creamier mouthfeel and blended with a bitter sweet vermouth. A classic with a twist.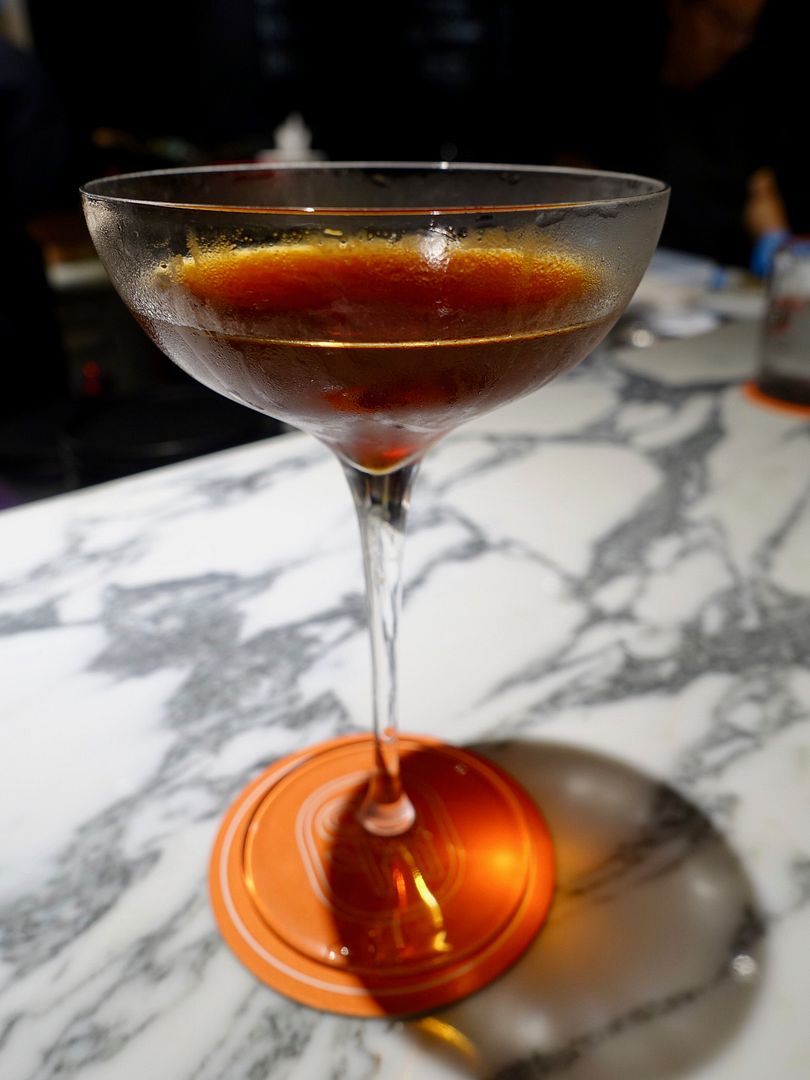 While sipping on my starter cocktail and browsing the menu, i couldn't tell what the cuisine-of-focus is at JAM, BUT that's exactly how they intend for it to be. Inspired by the modern Asian family table, dishes traverse geographical boundaries and are a mix of flavours and influences. Think about it, if you're Singaporean, does your mum only cook Singaporean/Asian dishes? Probably not. Expect some familiar flavors (like your favorite childhood snacks) but presented in a simple and playful but imaginative style. As per family table style, sharing plates are served to encourage all to have a taste of everything.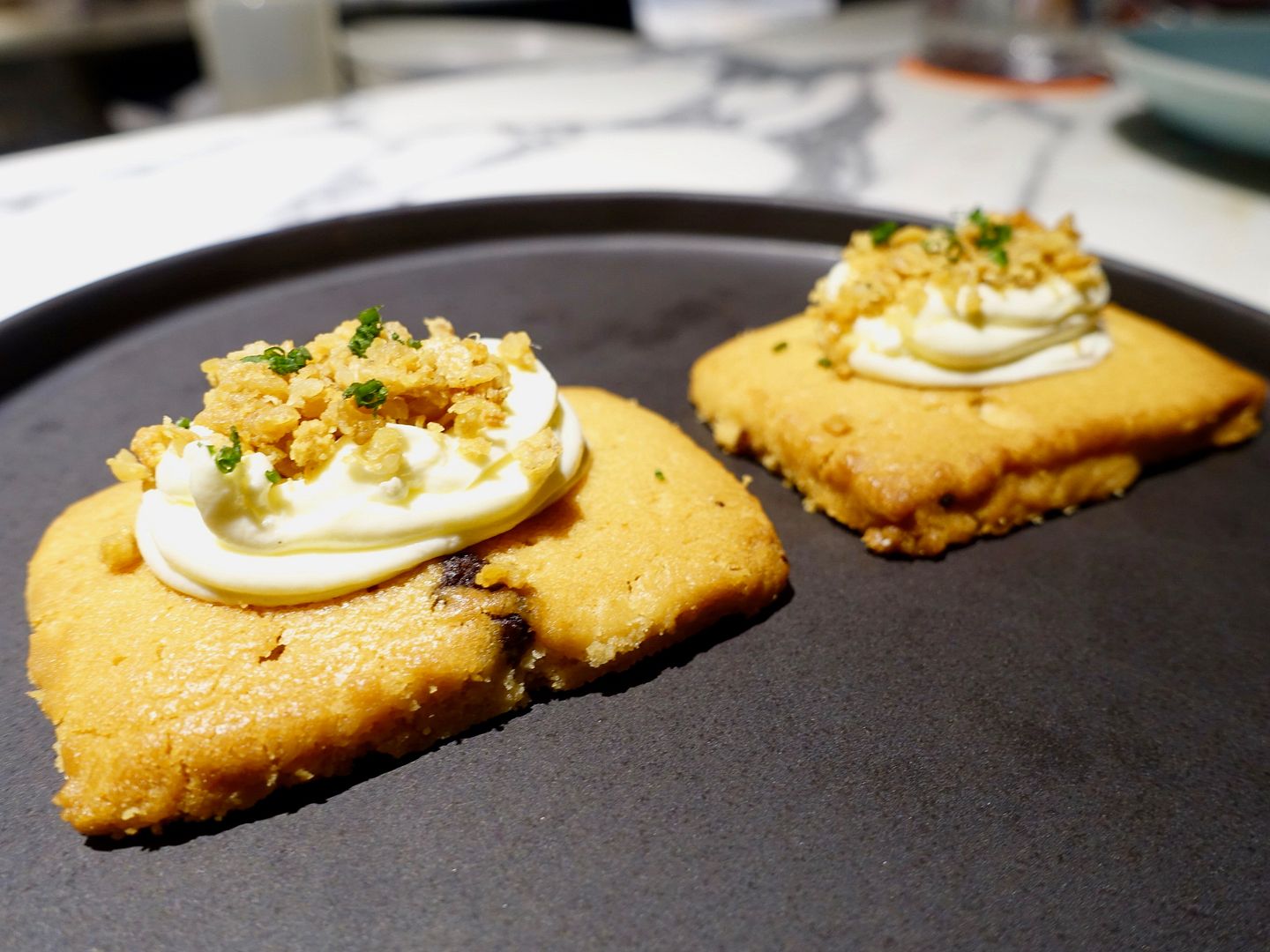 Childhood favorite snack Chicken in a Biscuit ($12) makes an appearance on JAM's menu. It's Chef Min's guilty pleasure and he loves it cold out from the fridge. It's amazing how the team managed to infuse the savory chicken essence into this biscuit (it came from the rendered chicken fat). The heart-attack cookie is topped with a spiced cream cheese flavored with ginger and garlic and some chicken skin crumble. The vivid memory of the melt-in-the-mouth chicken fat cookie caused my mouth to water every time i think about it. This is a must-order here.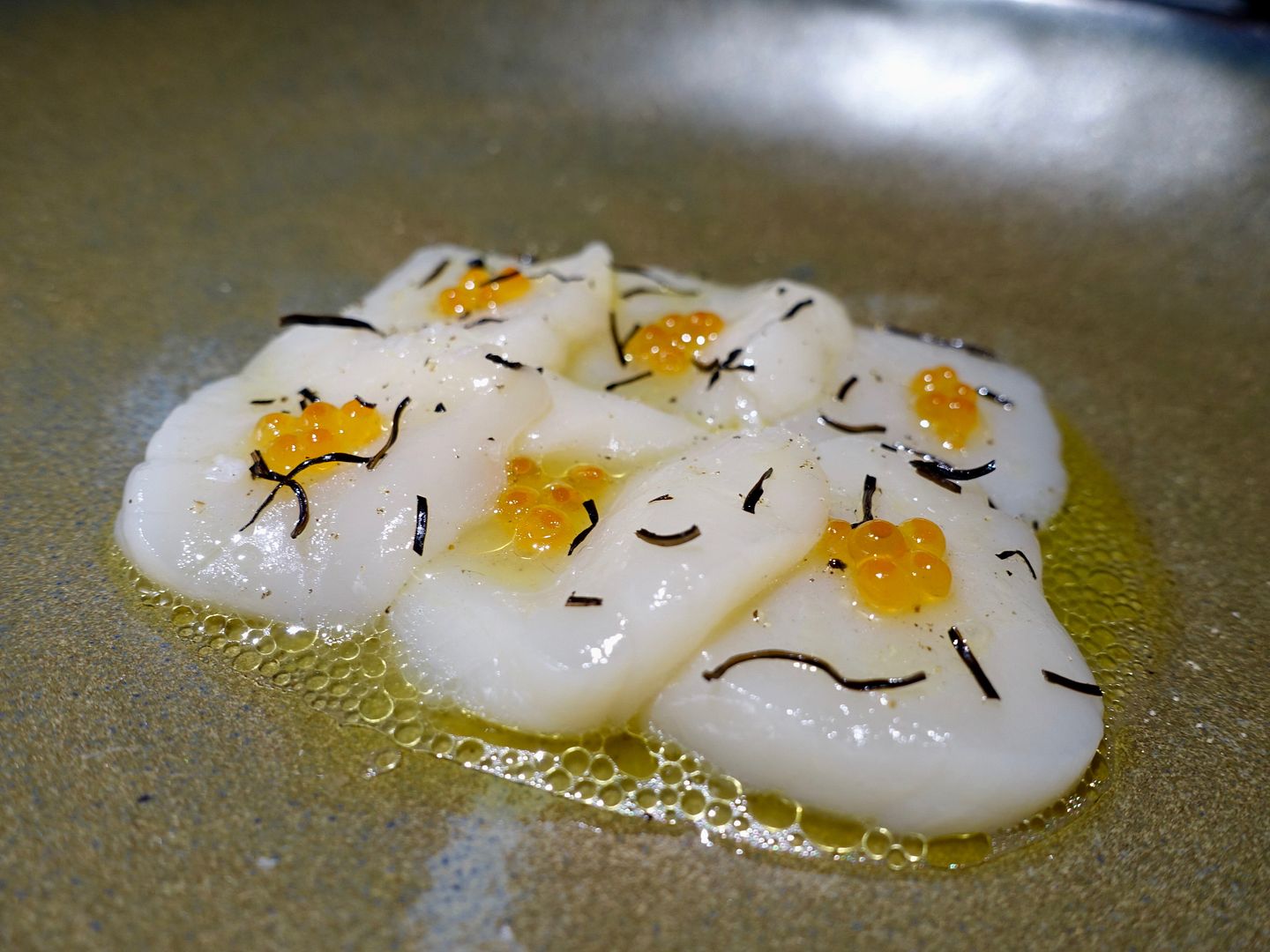 We had the wild hand-dived
Hokkaido Scallop
($30) which is sourced from an independent supplier. The grade is a cut above the other commercial quality ones available. The scallop was sweet and briny on its own but subtle savory notes were brought out further by the other ingredients on the plate, such as yuzu, EVOO, black truffle, wild trout roe and a special limited qty only Arame Kombu garnish (because it's carried back personally by Chef).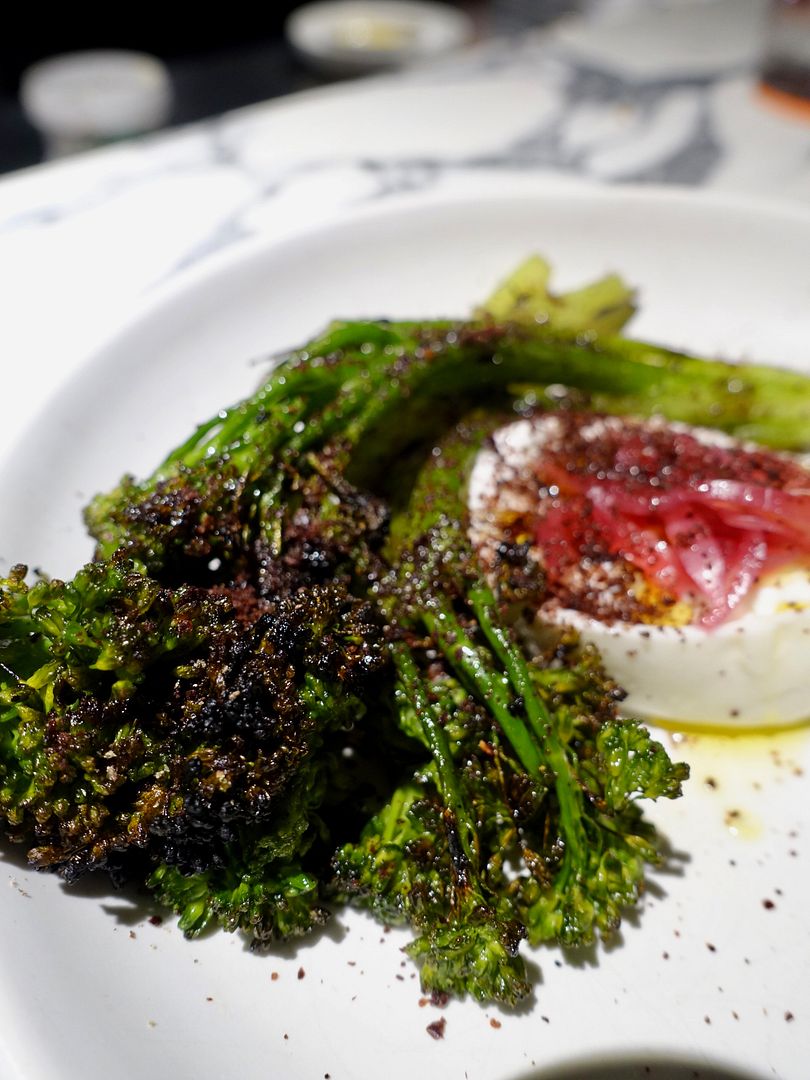 I swear Broccolini ($25) is the new kale. It's on every menu now and mostly done the same way. I mean if the wheel isn't broken why fix it right? JAM added a bit of tartness with their quick pickled onions, plus some sumac, and of course fresh burrata.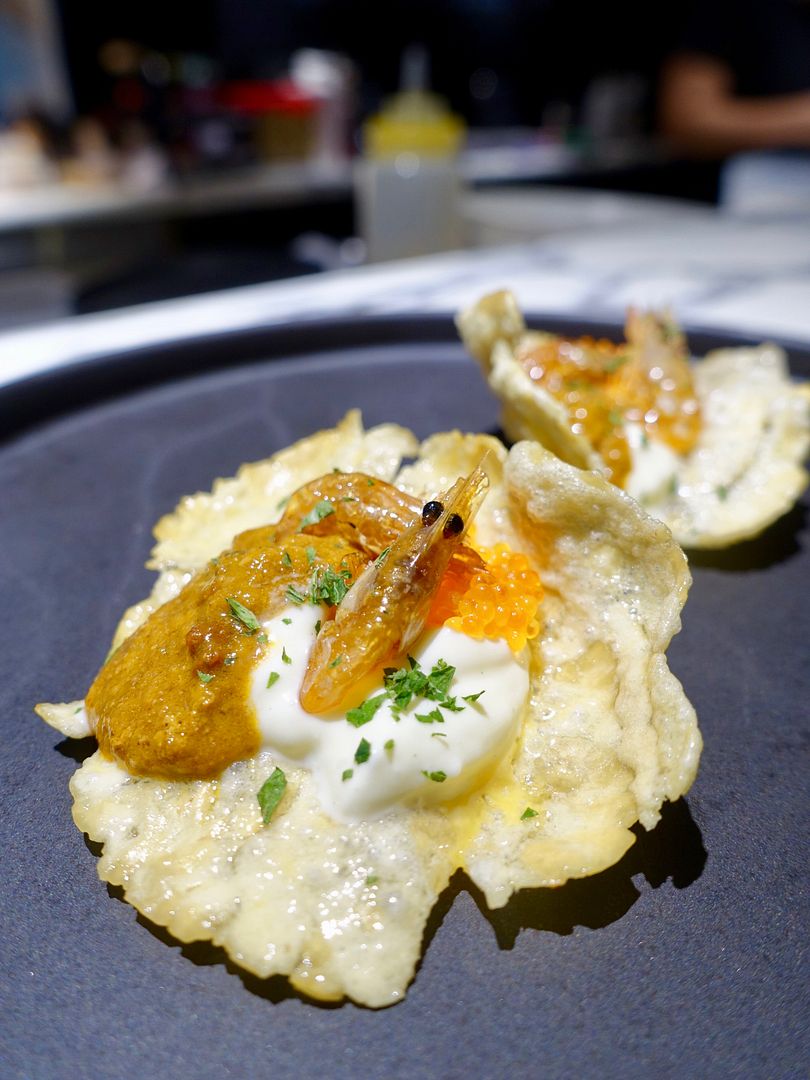 We also had another 2 items from the specials menu, which changes every few weeks. The Belinjo Crackers Crab Fat Crema ($13) featured a bitter cracker topped with a heady Filipino crab fat, tobiko and deep fried kawa ebi (small sweet shrimp), and an acidic fermented cream to cut through the richness.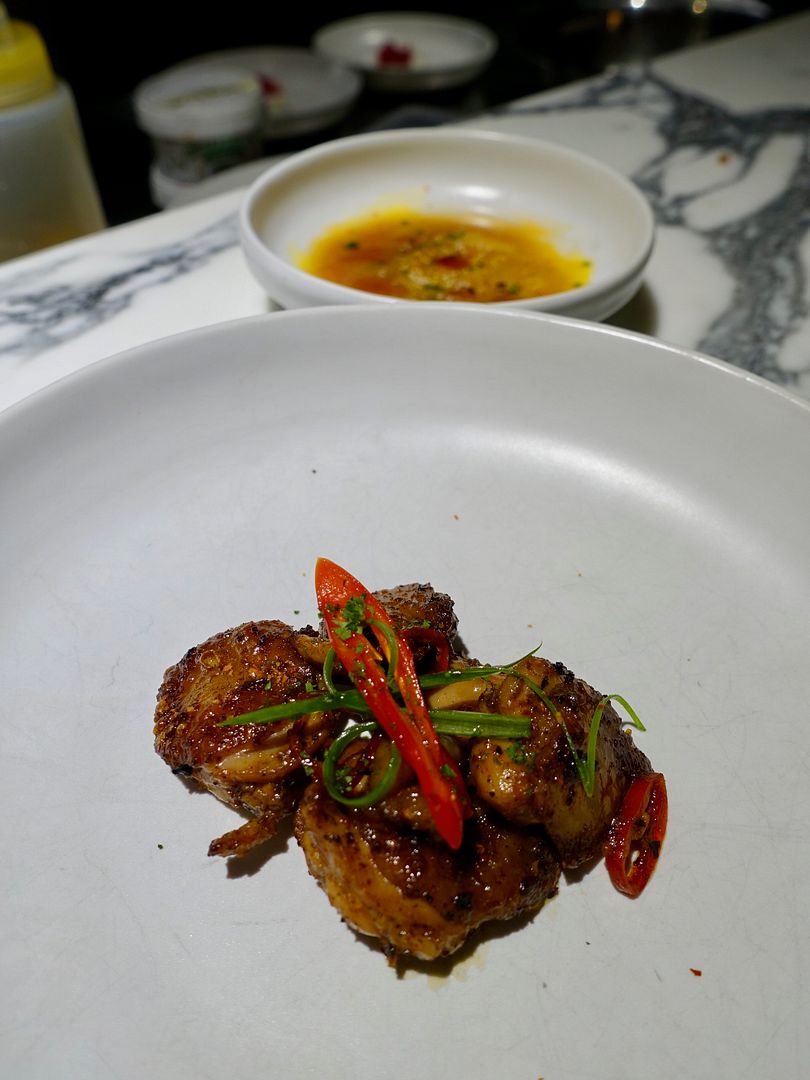 Now what should go onto the main menu is the Grilled Szechuan Chicken Oysters ($18), which is an addictive Szechuan style, smoked on bincho-tan, chicken shoulder blade meat (the prized oyster). Dip it into the sauce of pasteurized egg yolk mixed with tare to fight the heat a little. Gosh i need a bigger plate of this. There's a fried version of the chicken oyster on the regular menu and i hear it's very popular too.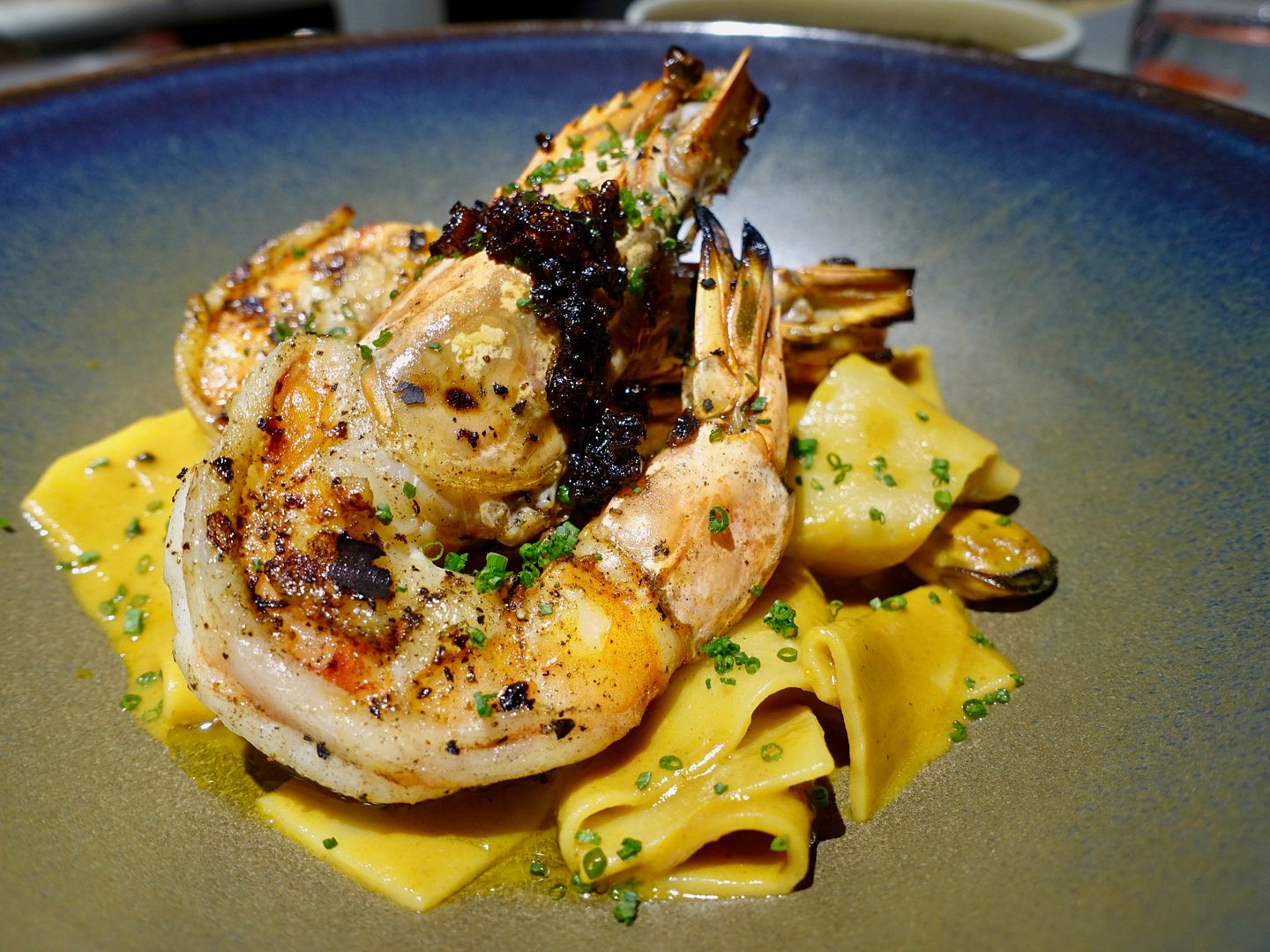 I could go on eating all the small plates but the Pappardelle ($33) awaits. Think of it as a double-reduced Western style Hae Mee Teng (prawn noodle soup). Al dente slips of hand-made pasta is tossed with a painstakingly prepared crustacean cream made with roasted prawn and lobster heads. The toppings of smoked mussels and pan-roasted tiger prawns were mere side-kicks (even though they were absolutely delightful) compared to the humble fresh egg noodles and bisque-like sauce.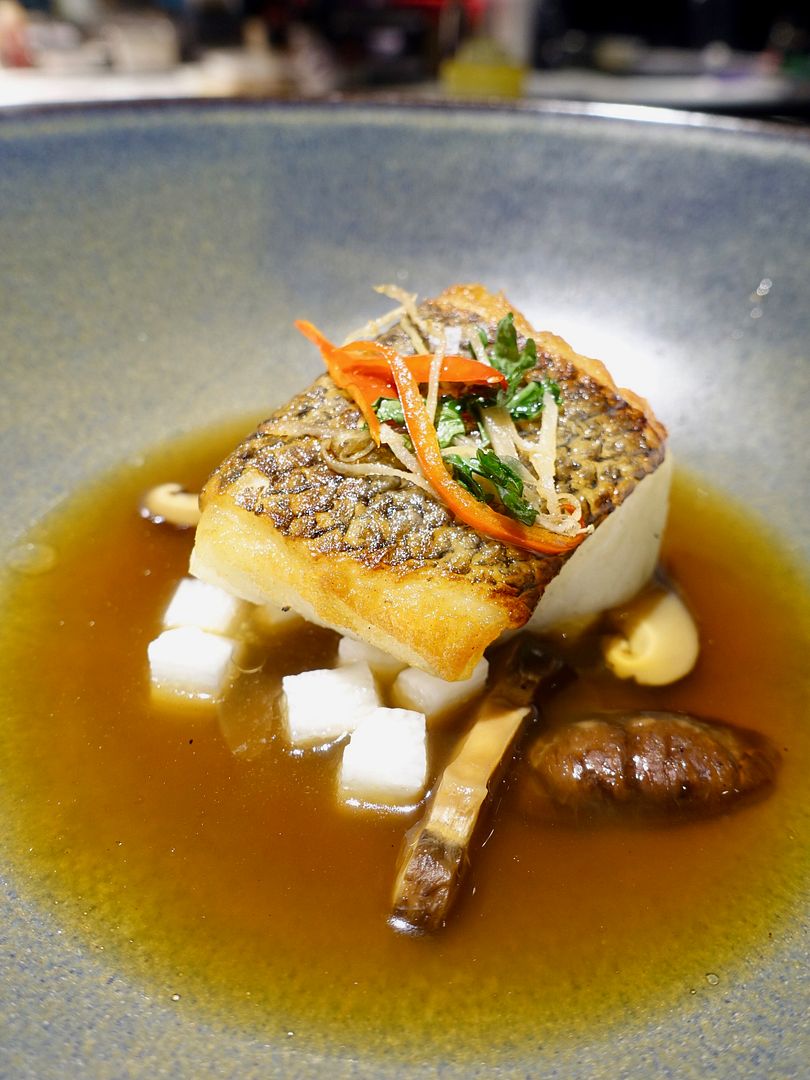 A dish truly inspired by Chinese home cooking is the Cod ($38). The Cantonese, Hokkiens, and Teochews all have different variants of this steamed fish dish. Here, Chilean sea bass is cooked low and slow in a dry pan till the skin is crisp, then oven baked before being paired with a mushroom and burnt onion dashi and cubes of burdock and shiitake. The finishing touch of fried ginger and coriander brought about that sweet familiarity of the home-cooked dish.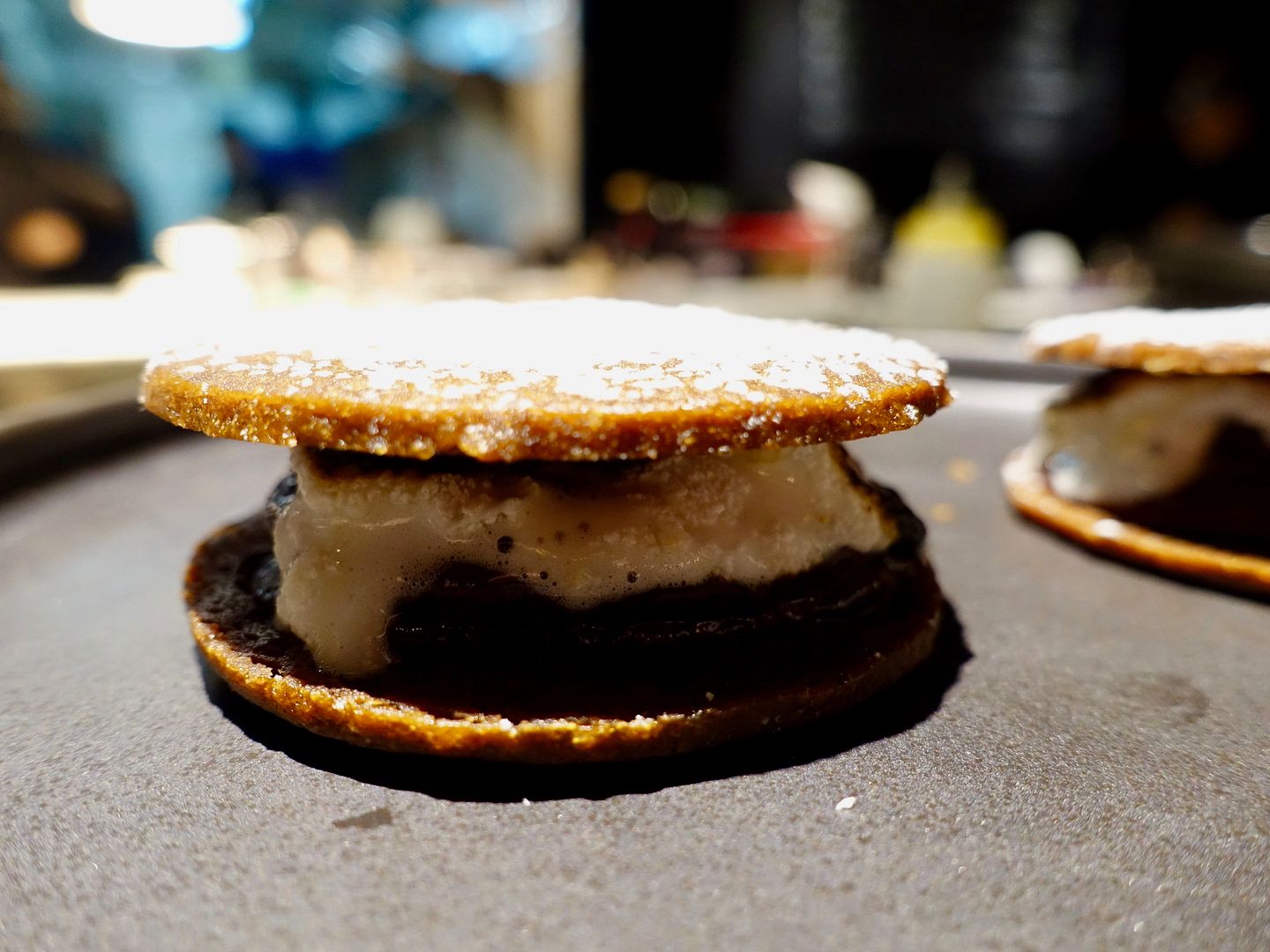 Thankfully desserts go into a different stomach so there's always space for more. Pastry Chef Charis Wong (previously trained and worked in pastry kitchens of Matt Moran's Chiswick, Pollen and Whitegrass) sweetened our night with her S'mores ($18). Boy was it the best s'mores i've eaten. I found the bitter-sweet chocolate-cinnamon graham biscuit extremely comforting. They sandwiched an egg-free marshmallow, tart raspberry ganache (made with a 64% Valrhona Manjari chocolate and raspberry puree) and a sprinkle of sea salt. It was totally not what i imagined a s'mores dessert to be (typically it's overly cloying), but that was made the eating even more pleasurable.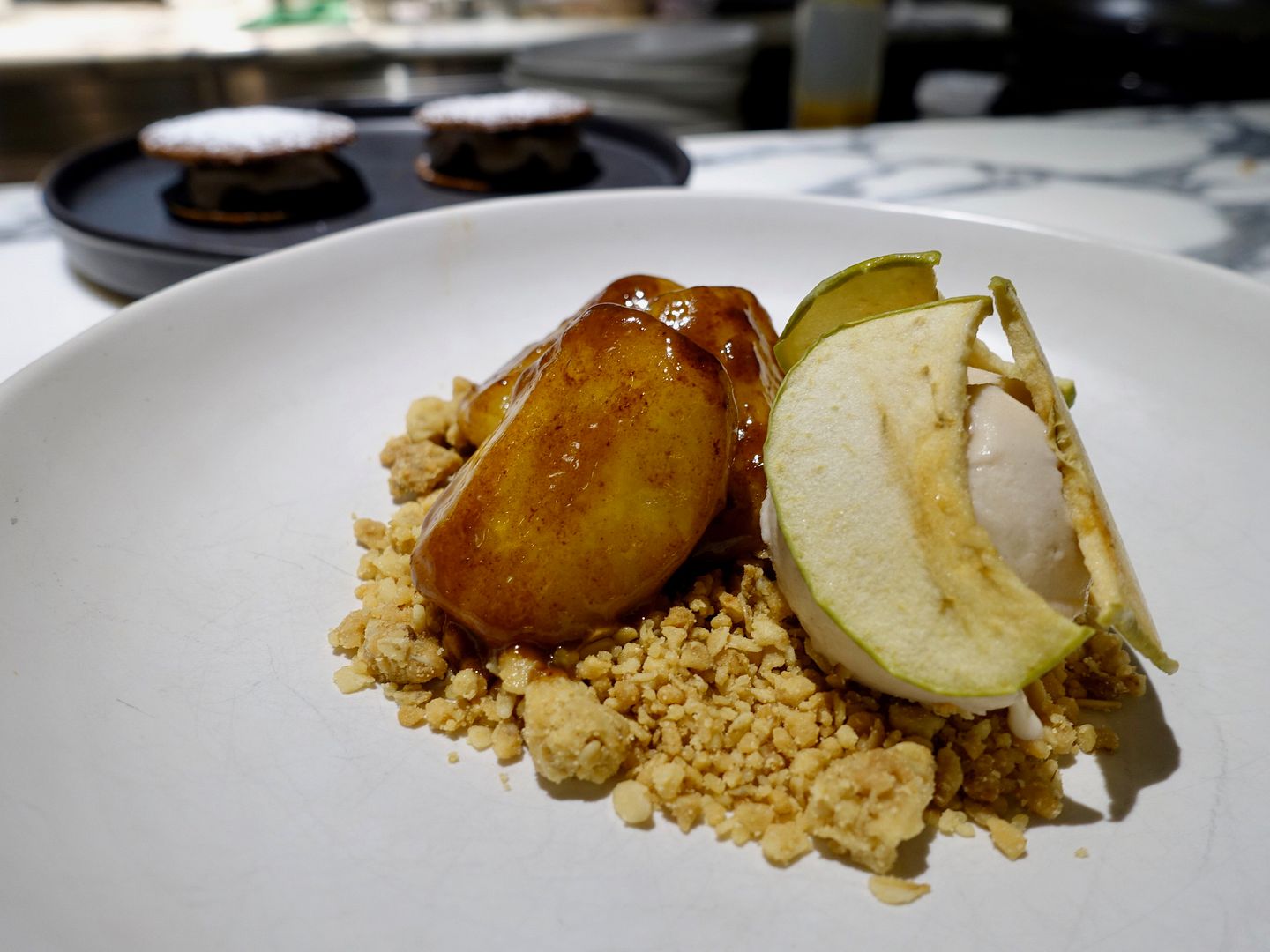 We also had the Apple and Ice Cream ($17), which is a play on apple crumble. The dessert, though sweet, was not as heavy as the traditional pie. The crunchy Granny Smiths were infused in a rosemary caramel, then browned in butter and deglazed with calvados and the same caramel sauce that they have been infused in. The ice cream was flavored with cinnamon and cloves for a more rounded flavor.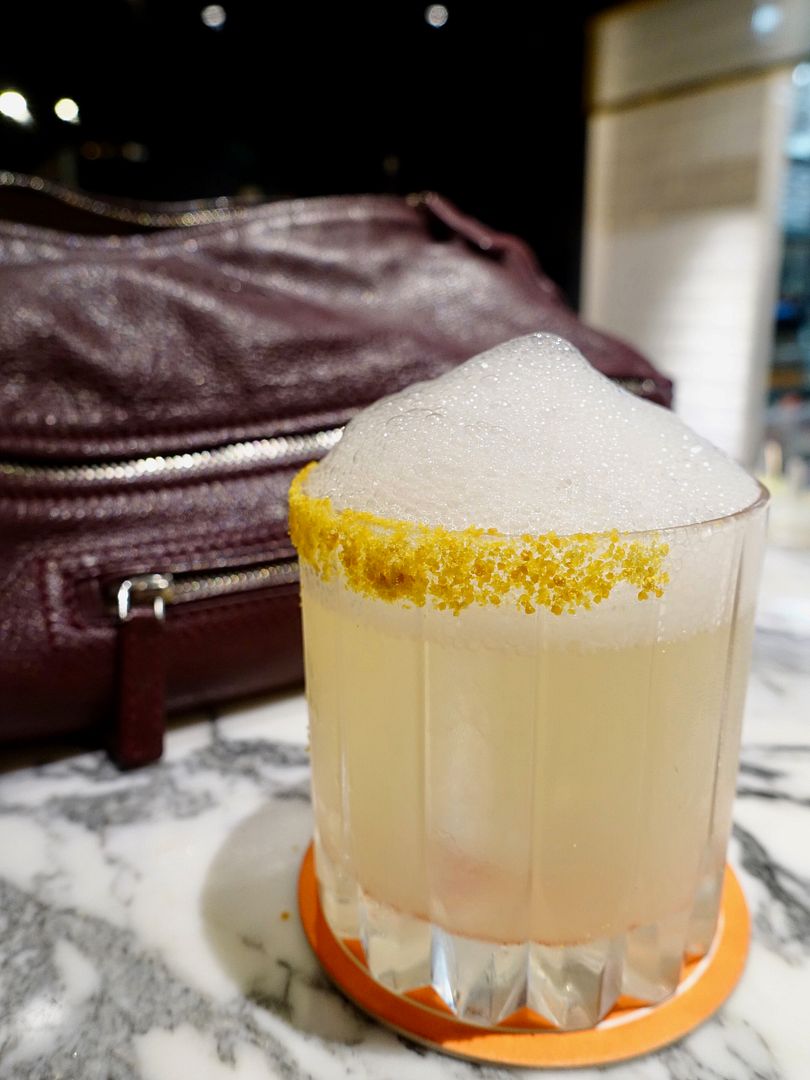 Don't worry about being thirsty through your meal. The restaurant also provides the perfect transition from sweet to savoury with a selection of dessert style libations that satiate the palate and offer a lighter end to a meal. The team's creations are one-of- a-kind, with drinks crafted from distillates and spirits made in-house using the bar's own rotary evaporator. I had the 'Maize Runner', which is a blend between the classic Whisky Sour and Old Fashioned cocktails. A housemade roasted coconut distillate is mixed with bourbon and topped with a peanut froth. The scent reminded me of the Chinese dessert soups! Oh and if you're wondering why Maize Runner, the glass is rimmed with a dehydrated corn salt and that reminded me of those childhood corn stick snack.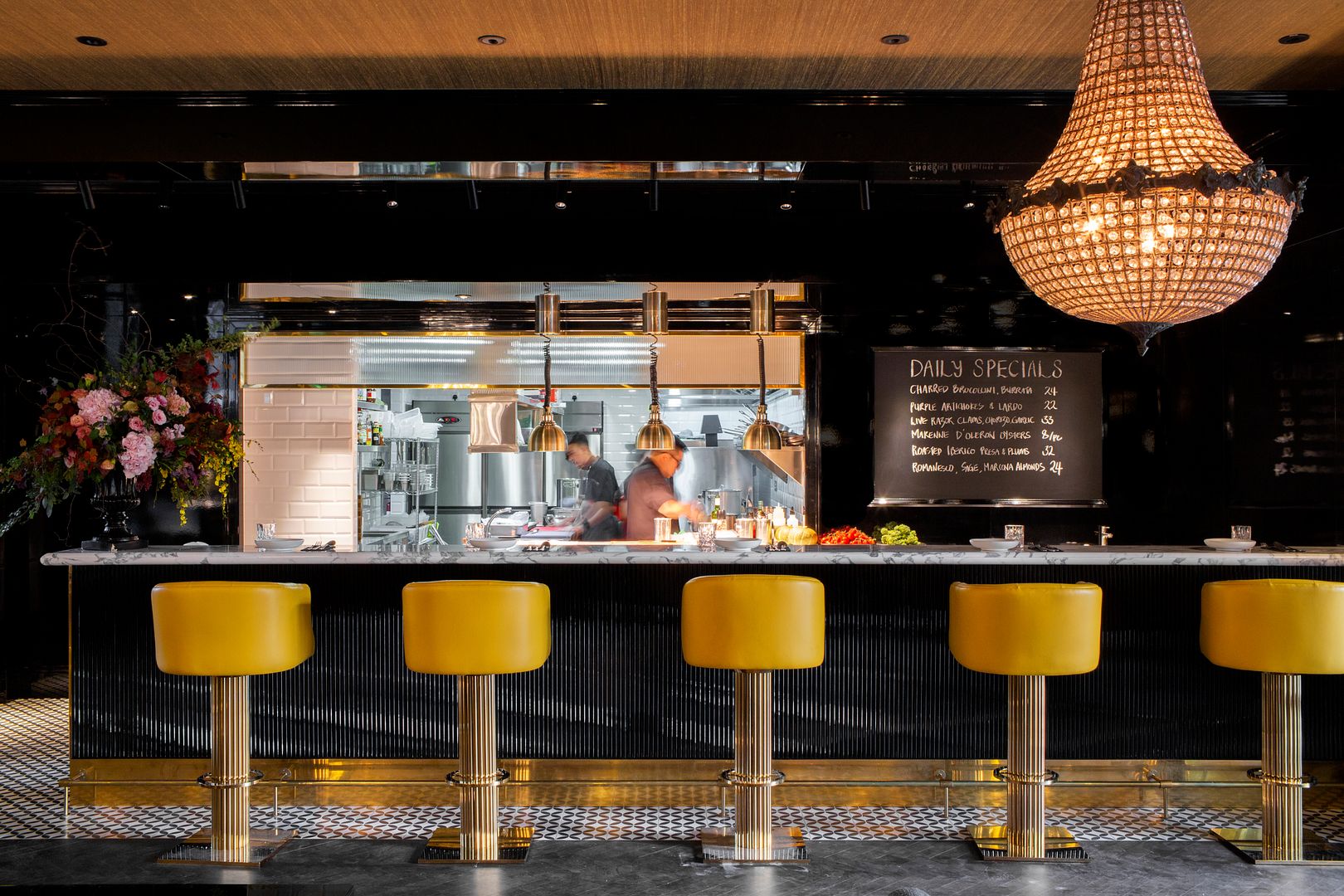 I really enjoyed my experience at JAM at SIRI HOUSE and also am inspired to be a better cook and host. In the meantime, i'll just head over to JAM for their generous hospitality.
Blk 8D, #01-02 Dempsey Hill, Dempsey Road, Singapore 249672
Tel: +65 9667 0533
Tue-Sun: 11.30am - 2.30pm, 6 - 10pm