Min Jiang at Dempsey
A newer and better Min Jiang has opened at Dempsey! The move from their Rochester Park home of 12 years is a step forward for the group and it is certainly a refreshing departure. The timber interior of the main dining hall, and the choice of materials in the furniture are at perfect harmony with the lush and teeming greenery surroundings. Stepping into the space, i immediately felt peace and lightness, much of it attributed to the airy, light-filled place, enhanced with soothing color palette of gold and green.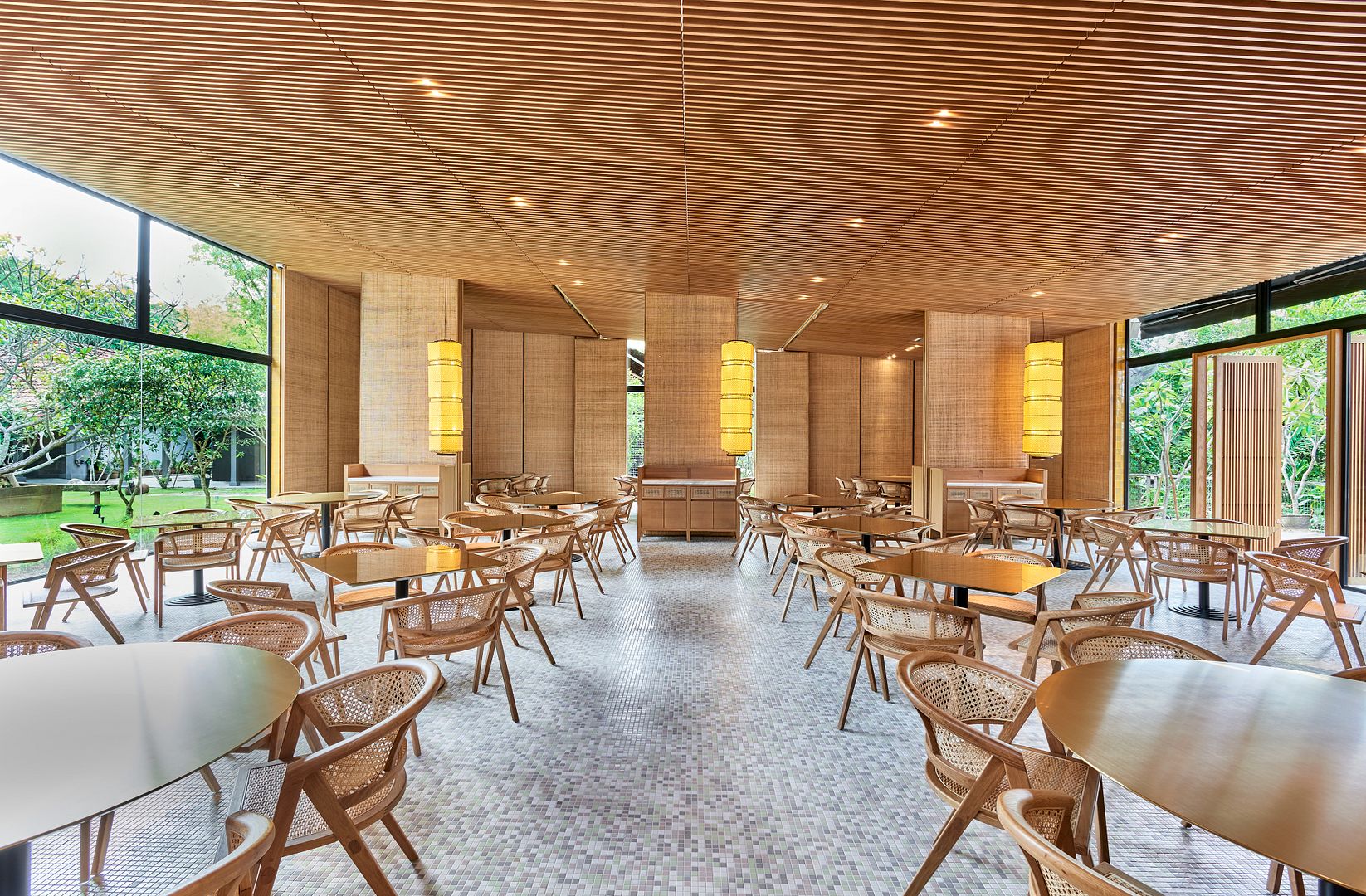 Min Jiang at Dempsey not only sees a new design concept, but diners can expect a whole new menu by Master Chef Goh Chee Kong, who has devoted more than half of his 32-year career to Min Jiang. The menu presents familiar flavors of Cantonese and Sichuan cuisines in a contemporary presentation.
Intricate handmade dimsum creations are available for lunch daily. The Steamed 'Goldfish' Prawn Dumpling ($4.80/pc) 'swimming' in a delicate egg white sauce was too pretty to be eaten. The house-made crystal dumpling skin fell apart with a light tug, revealing a succulent prawn filling. The experience was enhanced with the contrasting pops of the tobiko and the smooth chinese ham and chicken stock broth further.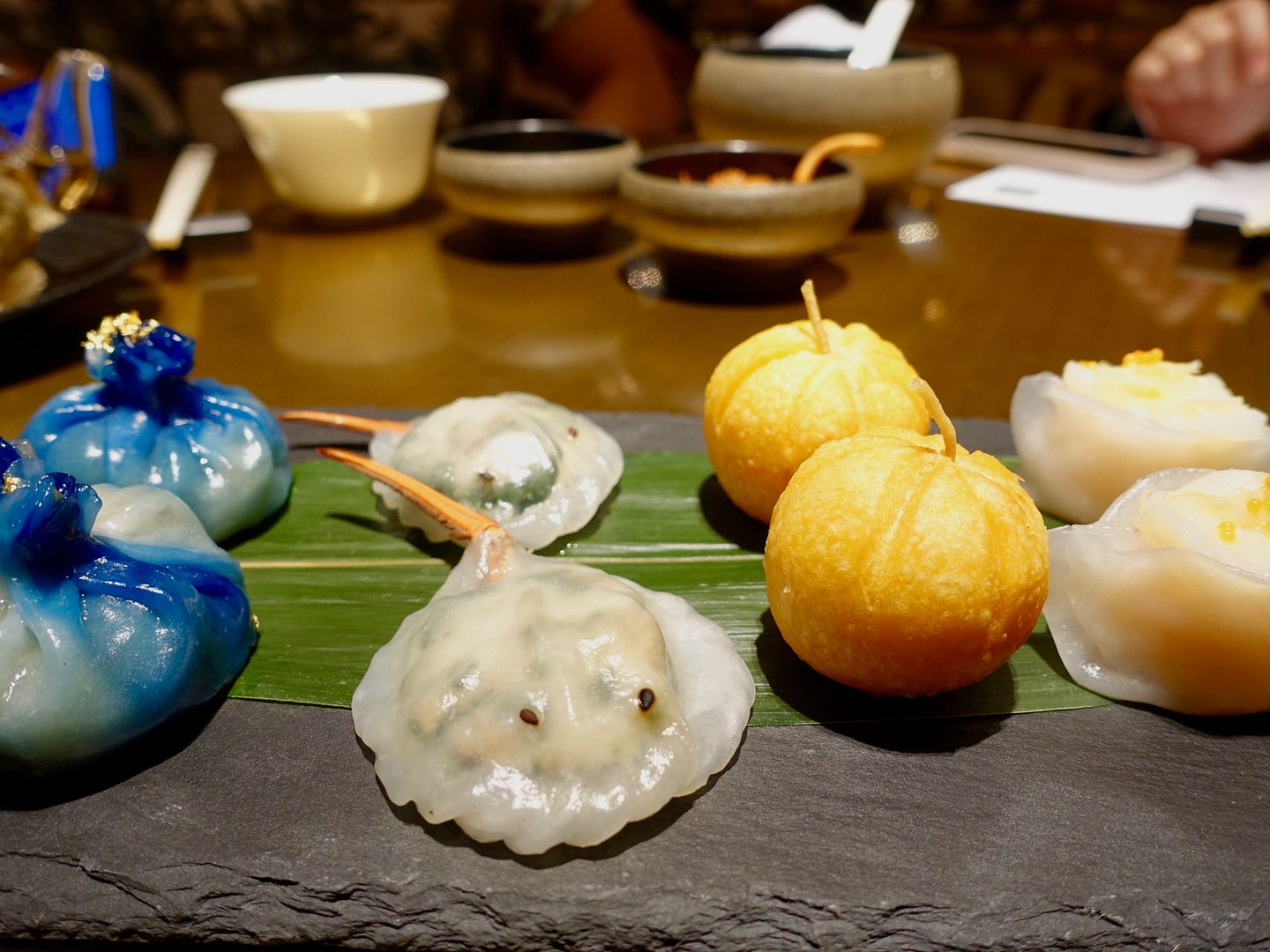 If you're dining alone or with a partner, the
Deluxe Dim Sum Platter
($38) is perfect as it features 4 pairs of bites, each with different flavors and textures. The
Steamed Blue Pea Truffle Vegetable Dumpling
is visually stunning and conceals a variety of textures- from the crunch of root vegetables, to the slippery strands of mung bean noodles. A baby stingray holds crabmeat, prawn and vegetable dumpling in its belly, while the scallop dumpling protected its delicate insides with its crystal dumpling skin. I would not have considered glutinous rice suitable for deep frying but Chef has wrapped the flavorful steamed sticky rice in a glutinous rice flour dough before frying them to golden buttery perfection. This was absolutely delightful.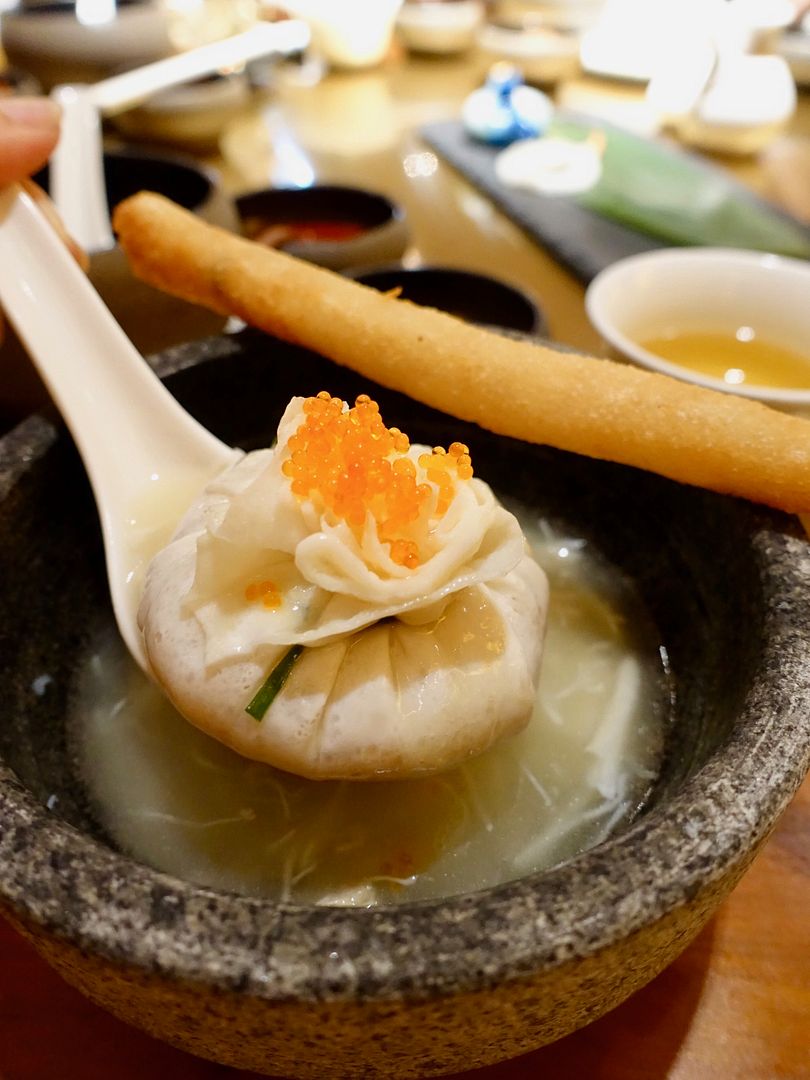 Min Jiang's soups are absolutely heavenly and i could not stop raving about the Braised Sea Treasures Soup in Pomegranate Egg White Parcel accompanied with prawn spring roll ($48/pax). The creamy broth is made from chicken bones and pork that have been cooked down into this rich collagen goodness. The fried egg white skin holds sliced Australian abalone, chopped bamboo pith and dried scallop that have been first poached in the superior stock. Min Jiang pays attention to the details, like serving their soups in a hot stone bowl to ensure they remain piping hot throughout the meal. A crunchy prawn-chicken filled spring roll is also served with each soup as a snack.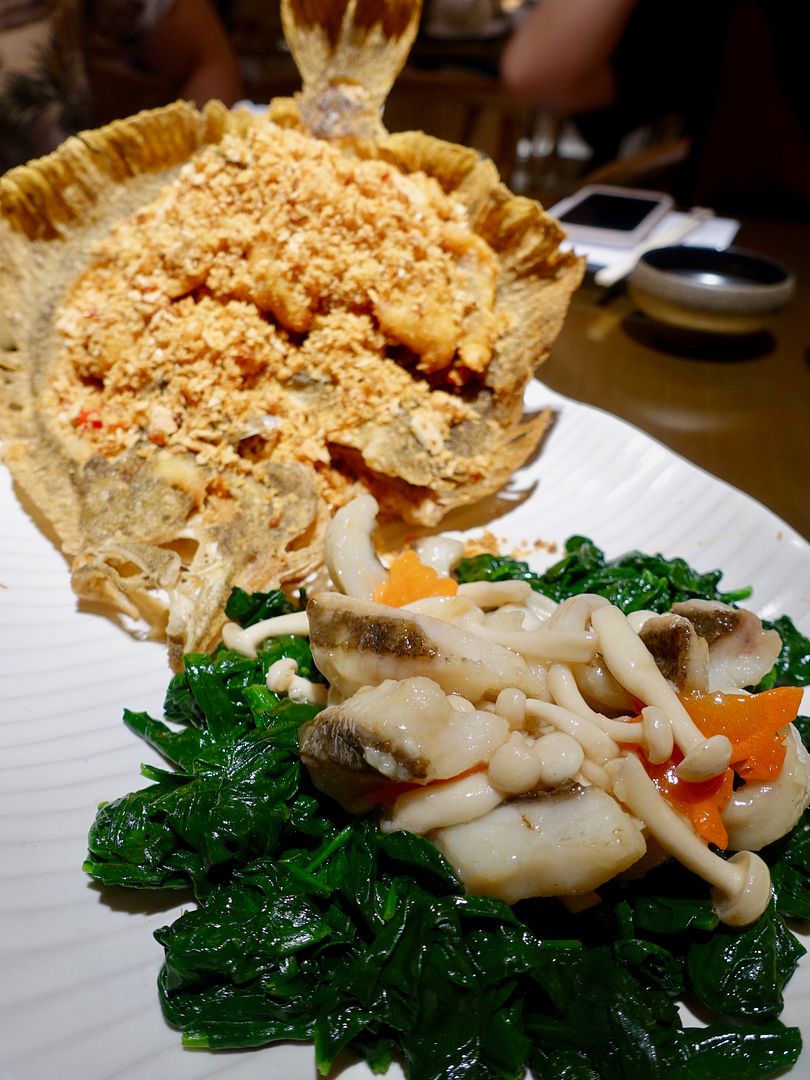 If you're out to impress your dining companions, the Turbot Fish (seasonal price) would do the job. Meat is removed from Korean turbot and the bone is deep fried and used as a backdrop to the two styles of fish- a deep-fried fish with aromatic spices, almond flakes and bread crumbs, and a stir-fried version with truffle oil, Australian spinach, and hon shimeiji mushrooms.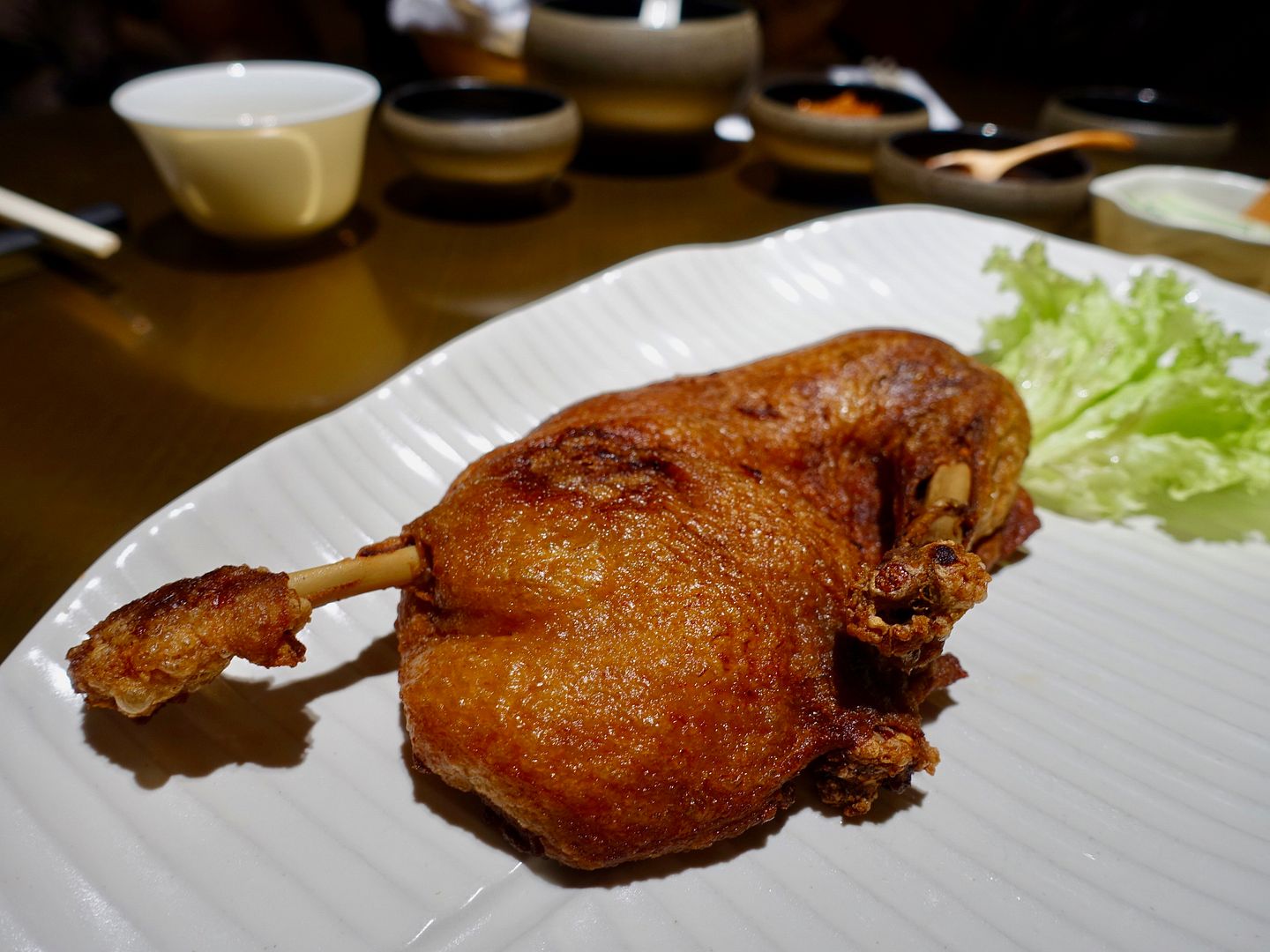 Well-loved signatures still remain on the menu, such as the Legendary Wood-Fired Beijing Duck ($68/118). If you are looking for a twist, there's also the Crispy Silver Hill Duck served with homemade crepes.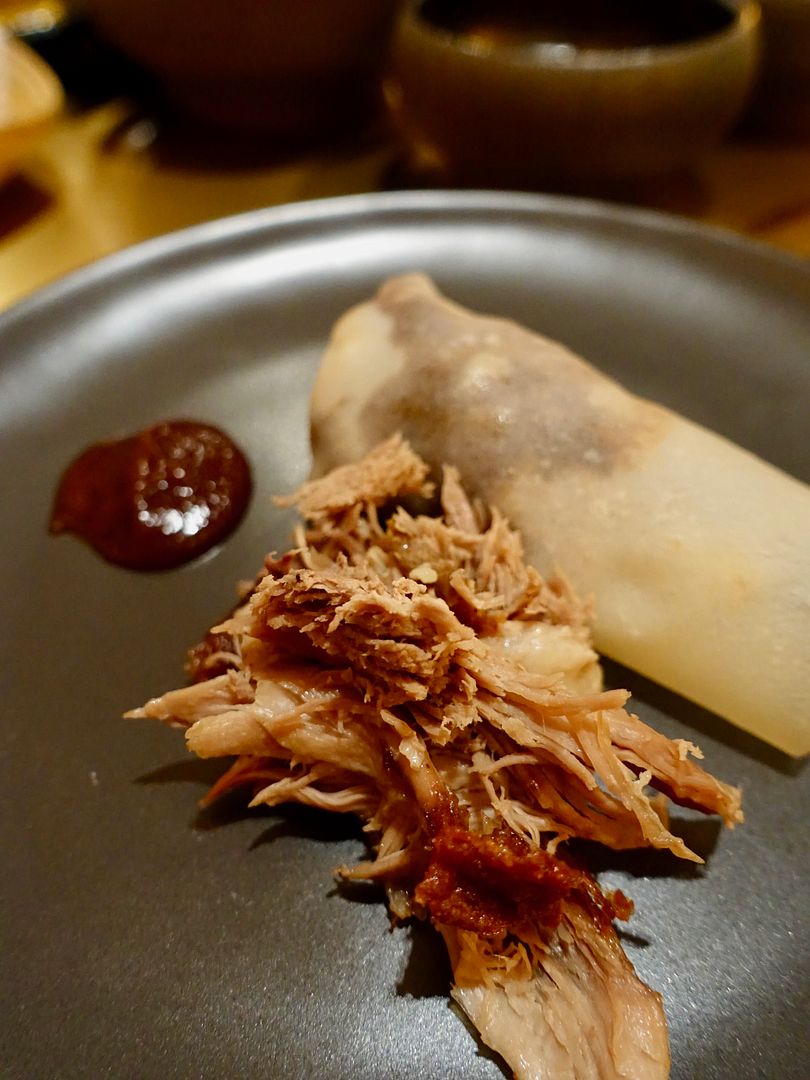 Fatty Ireland ducks are marinated then deep-fried to a crisp, before being shredded like floss and wrapped in the crepes. I much preferred to eat the crunchy meat with slightly chewy dough and pickled vegetables for a greater balance of flavor and moisture.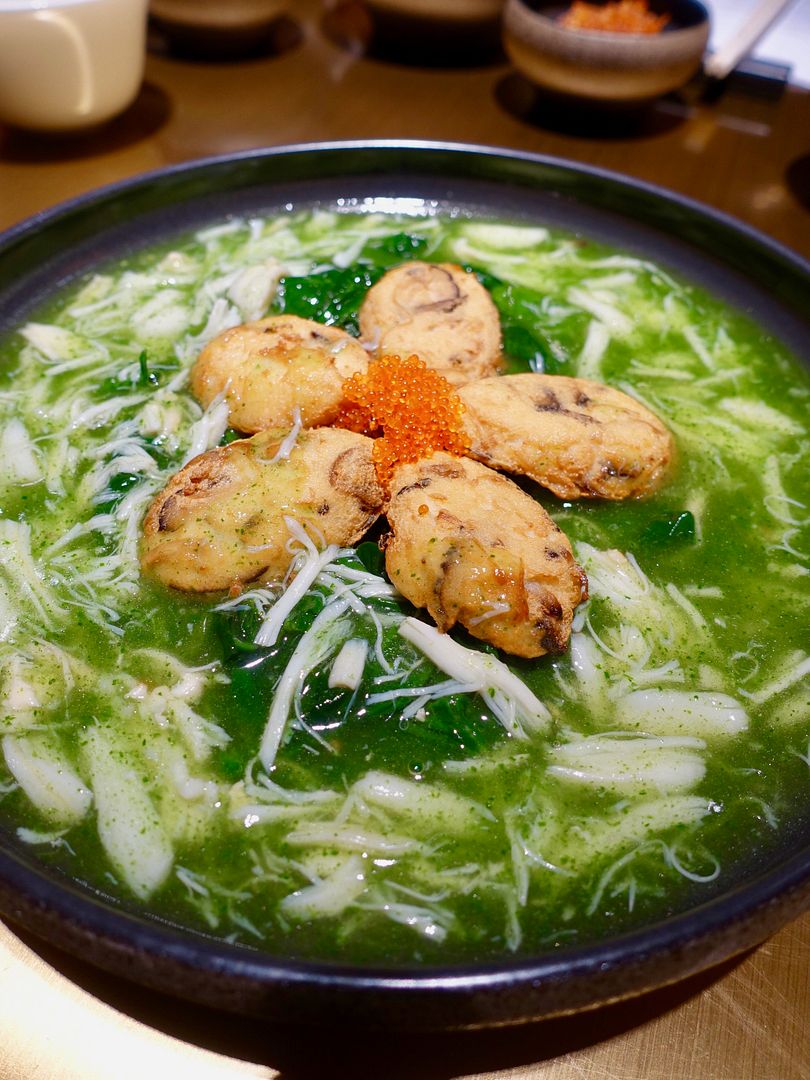 A healthy but flavorful dish is the Homemade tofu with crabmeat, assorted mushrooms and seasonal greens ($28/order). The soft tofu is packed with hand-minced tiger prawns, mushrooms, and egg before being steamed, chilled, and then deep fried. They sit in an verdant spinach 'pond' of superior stock broth, filled with fresh Sri Lankan crab meat.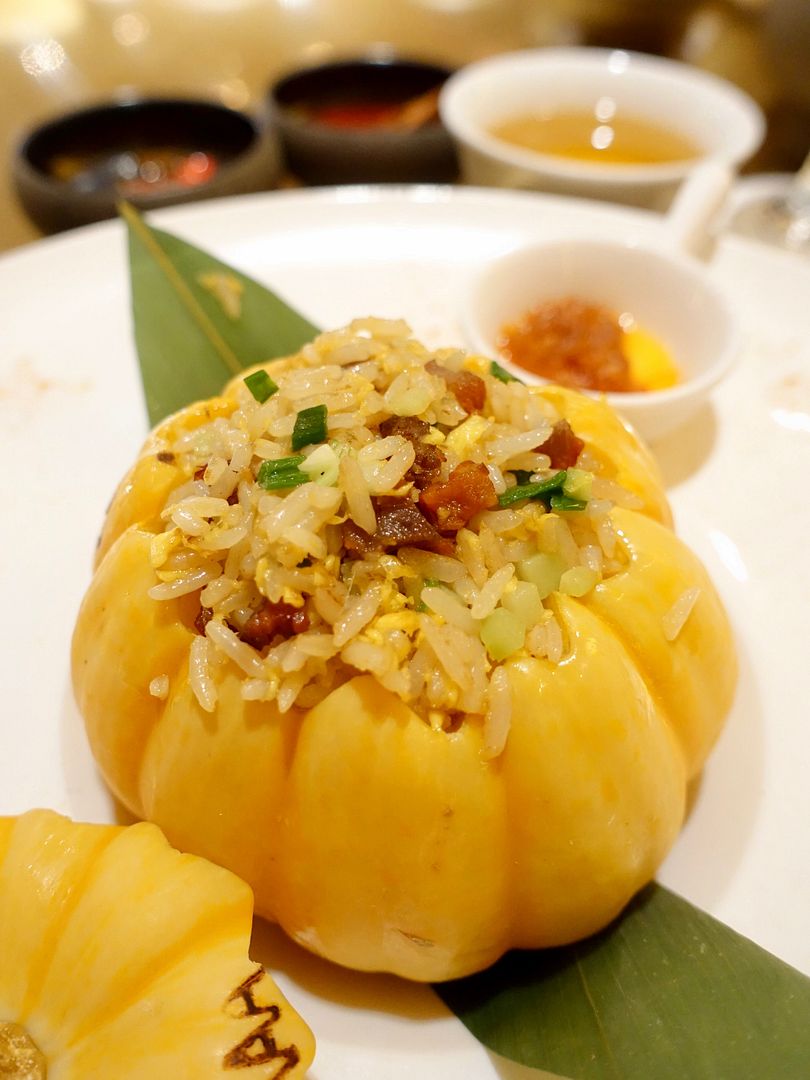 A Cinderella-worthy pumpkin carriage of Iberico Pork Fried Rice ($18/pax) serves as a filling end to the meal. The wok flavor is strong in this one, accompanied with diced broccoli stems, glazed Iberico pork cubes, and prawns. The icing on this fairy tale dream is the homemade XO sauce that we could not get enough of. The rice is certainly the best vehicle to deliver that into your mouth.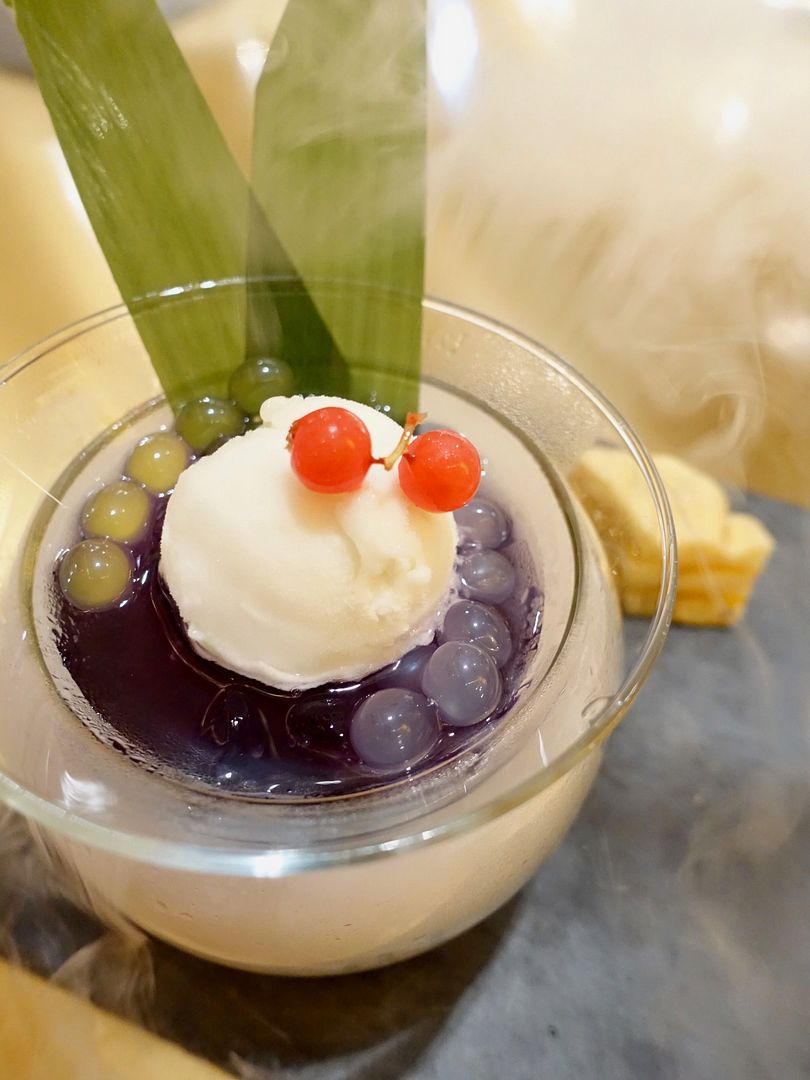 For desserts, the Chilled Blue Pea Lemongrass Jelly with lime sorbet and Malay Cake with salted egg custard ($12/pax) was a refreshing finisher. The acidity of the lime sorbat was toned down with pops of lychee and passionfruit caviar pearls. I didn't have a strong preference for the cake though.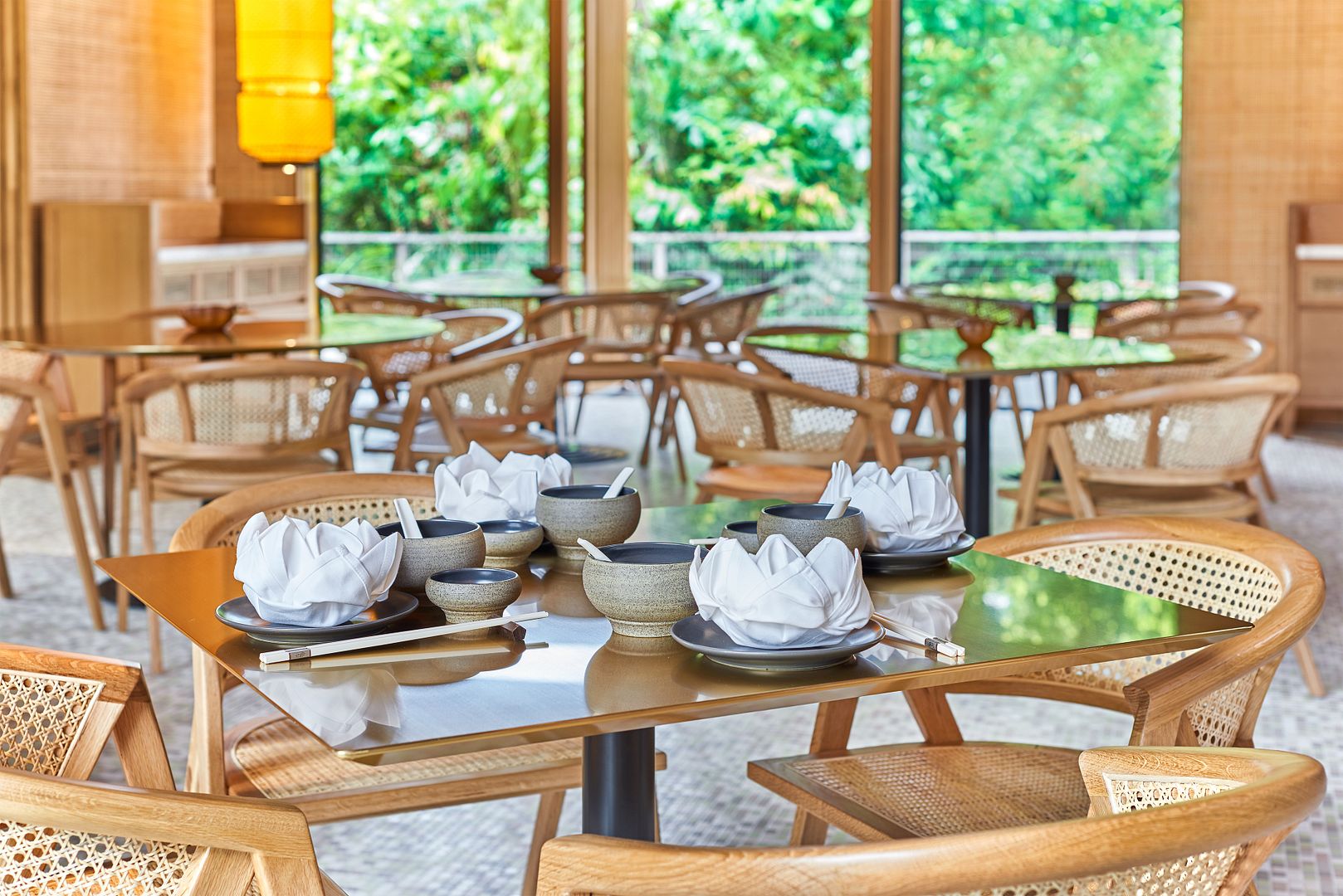 Min Jiang at Dempsey is definitely my favorite Min Jiang now.
7A and 7B Dempsey Road Singapore 249684
Tel: +65 6744 0122
Daily: 11.30am - 2.30pm, 6.30- 10.30pm