Event: Heineken Star Serve
Media Invite
Was invited by the cool folks at Heineken to learn more about their beer pouring technique coined the "Heineken Star Serve". I was quite psyched because Frank Yu, the one and only Heineken Draught Master, was going to teach us how to pour the perfect pint. I think it's every guy's dream to open a bar and a female bartender is like woah COOL? Pardon this little fantasy of mine.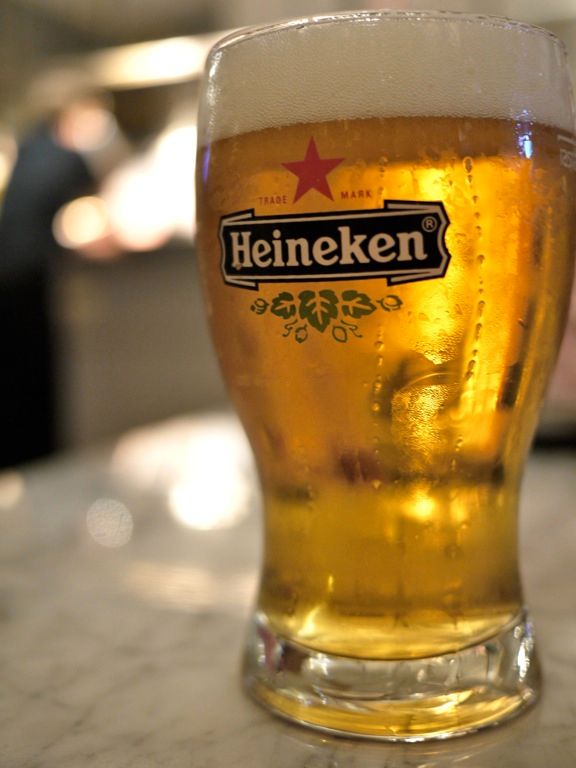 The event was held at The Exchange (more about their food later) which is located at Asia Square Tower, right smack in the CBD area. Nice place to chill out after work but not exactly conducive for teaching inebriated bloggers how to pour themselves a beer (hee hee). I swear we were all kinda dancing to the music with beer in hand. :P
Back to Frank. He's Singapore's one and only appointed draught master who has gone all the way to Amsterdam, the birthplace of Heineken to undergo intensive training sessions before he was awarded the coveted title of Heineken Draught Master. The training in Amsterdam is the first of its kind to be conducted by Heineken's Global Draught Master, Franck Evers, and only 8 were selected from all over the world to participate in the programme.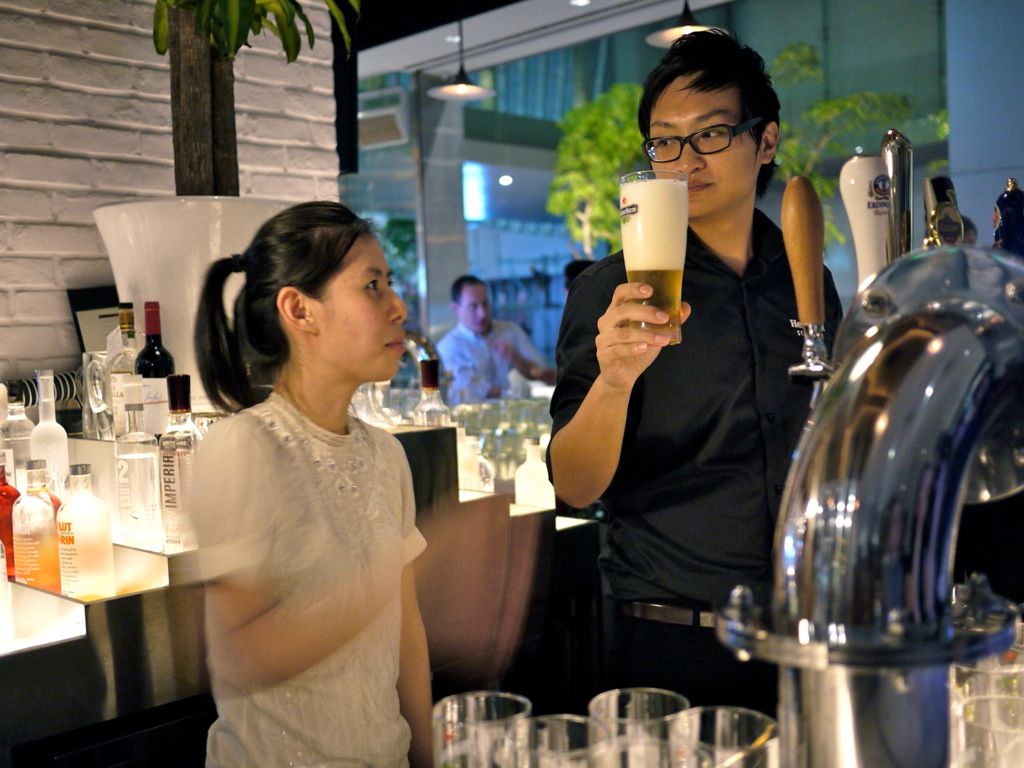 I think most of us were thinking it couldn't be THAT hard to pour a glass of beer. But as proven by the picture above, things could obviously go quite wrong. Frank was really patient with all of us as he went through the different steps. We learnt that the foam (head) is quite essential. Too much and you don't get your drink, too little and it'd be too flat. 2 cm of foam is just about right. The temperature and cleanliness of the glassware will also affect the taste of the beer. I guess i wasn't that high after all! A+ for being attentive. :))
There are 6 steps to pouring the perfect pint. 1. Rinse the glass and then tilt it 45deg to let the water drip evenly. Excess and uneven water droplets will cause the foam to collapse. 2. Tilt the glass at a 45deg and let the beer run into the glass. Make sure the nozzle isn't too far from the glass. This will prevent too much foaming. 3. When it's almost gonna overflow, gently tilt the glass up. 4. Stop the tap when the glass is about full. 5. Let the beer rest and then level the foam by a scraper (not sure what it's called). 6. Serve the pint with the Heineken logo facing the customer and place it on a Heineken coaster. 7. Shout Yum Seng! (i'm kidding about point 7).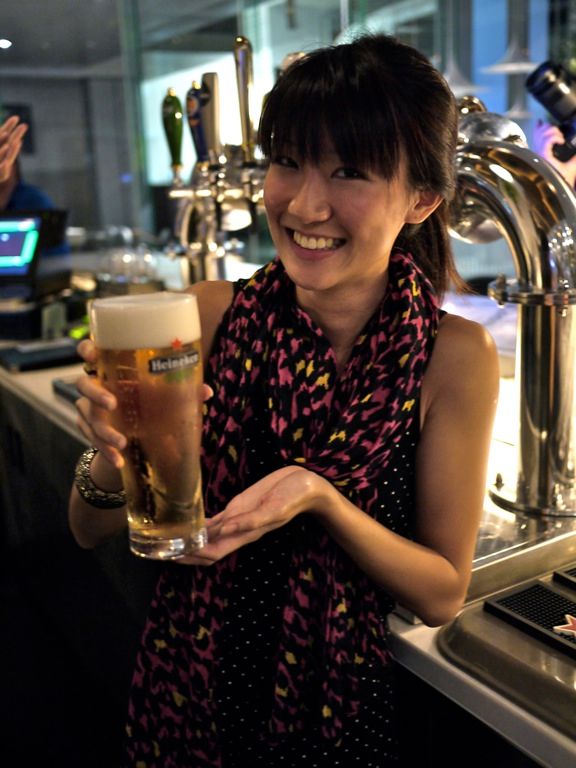 My first pint didn't have enough foam because i was too careful! Didn't want it to foam too much. Frank let me have a second go and it turned out to be the perfect serve! Whee! Now now, who wants to hire me as a bartender? ;)
I'm not trying to promote Heineken or anything. In fact, i'm not even a regular beer drinker. I think i only drank a little more when i went to Croatia because beer is so cheap and it's a lot smoother than what we have back home. Most of the time i'd have ciders in Singapore or if i have to, i'd go for Erdinger. I recently tried Heineken, prior to the event, and found that it's quite easy to drink. It goes down quite easily, isn't too gassy or bitter (unlike a popular brand in Sg). Definitely my choice of beer (if i really have to drink one).
Beer on a Monday night? Why not? Think it's the perfect way to get over the dreary Monday blues! :)) Cheers!