Cafe Review: PoTeaTo
It's the weekends again and the problem with waking up late is that all the popular brunch places would be packed. Especially so in the coveted Tiong Bahru cafe enclave. You can forget about getting a seat unless you have 1. a reservation 2. you are willing to wait. If you are unwilling to do either of the above and still want to bask in the indie ambience of Tiong Bahru, PoTeaTo may be able to satisfy your hunger pangs.
potato-based dishes and brewed teas
, hence the name PoTeaTo. Pick from a selection of hand-cut chips (made from US Russet potatoes
)
to sweet potato fries that are freshly cut and deep fried and then wash the oiliness down with a pot of freshly brewed tea. Well, at least that's what owner Debra Chan wants you to do a la cheena style.
Call me a stick in a mud but my stomach and taste buds are traditionalist when it comes to certain meals and food types. English tea with cakes and scones; Brunch with latte. The comforting combination is my food security blanket and i wouldn't wanna mess with that. Hail the tummy god.
But if you're really concerned about the 'heatiness' from the brown paper bag full of yummy chips served with nacho cheese and salsa; 'Cool' yourself down with the tea (S$7.80/pot). Locally sourced, there are several interesting blends like Raspberry mint, Peach, Oolong Berry and Persian Apple & Ginger. The Genmai Cha blended with popcorn and roasted sesame sounds like a dessert in itself.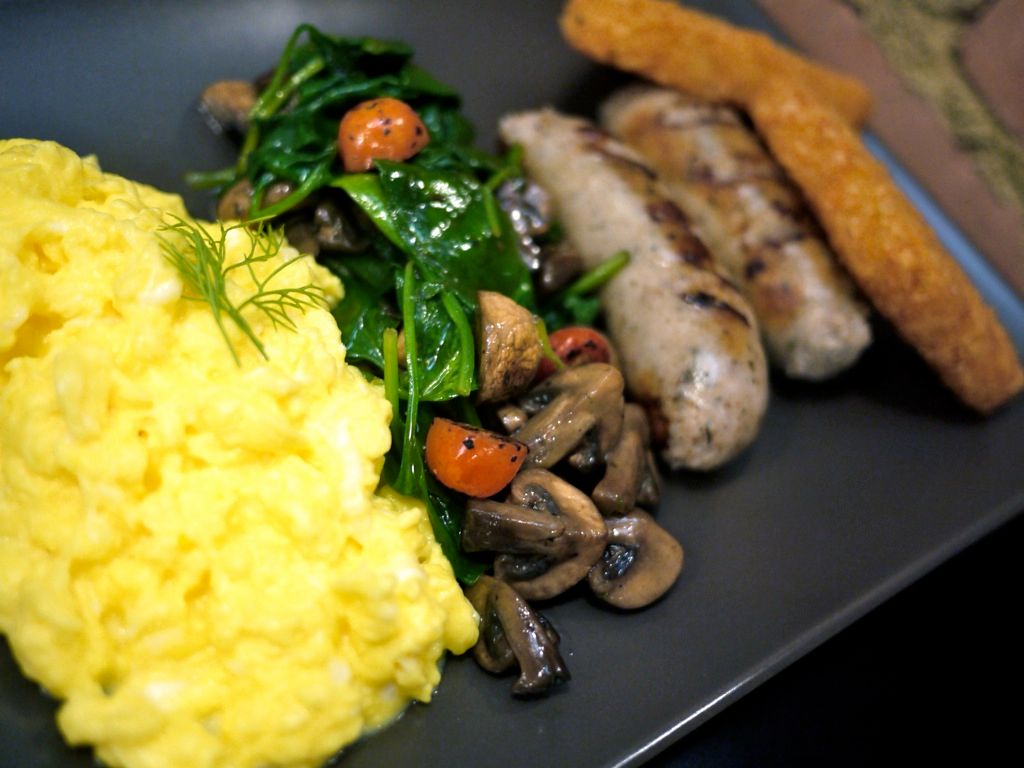 I would have the Sweet Potato fries if i were there for a tea time snack or lunch but eggs are my brunch staple and i have to make space for that. The Brekkie Platter (S$16.80) for the greedy me. Pork sausages with sauteed spinach and mushrooms, scrambled eggs and hash.
The eggs were sufficiently moist and flavored (just a dash of cracked pepper, no need for salt) but it could do with a lil more butter or cream. The first taste of the sausages was quite satisfying with the herbs blend in the mix but it had a rather powdery texture to it. I thought the sauteed mushrooms and spinach were too oily. I was expecting the English kinda spinach to be tossed with a light vinaigrette but this is the overcooked Chinese sort. NOOOOO! I left that untouched obviously. The hash was a deep fried crunchiness and i surprised myself by finishing most of it.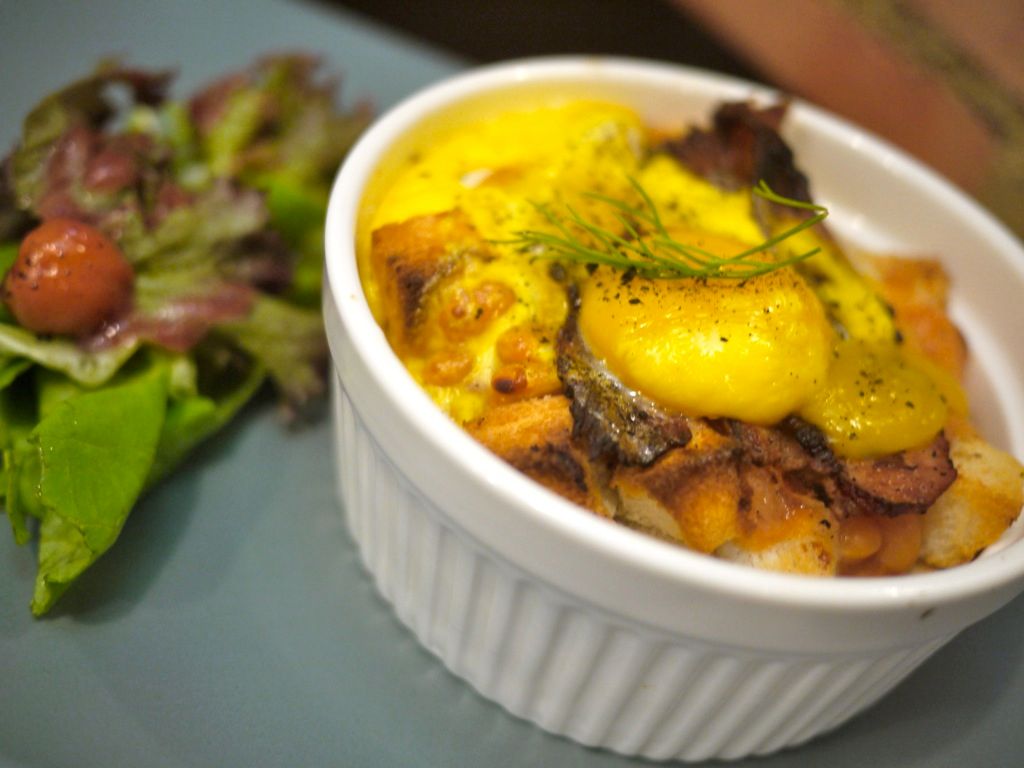 The healthy conscious could go for the Baked All American B'fast (S$14.80) which is a mix of hash, bacon, baked beans, eggs and cubed fluffy toast all in a ramekin. It's not a fantastic dish for it is simply a mix of the regular items. The baked bean sauce is simply not the thing to gel the separate ingredients for it is too weak and diluted in taste and obviously too commercial. Well, at least it's not oily.
There are 4 weekend brunch sets in all (S$14.80 - 16.80) and each is served with brewed coffee/tea and juice. W was amused at the use of the cocoa powder to create the coffee art. Well.. not everyone can do latte designs. The coffee was adequate but not comparable to
FortyHands
. It is not PoTeaTo's intention to compete with their next door neighbors on Yong Siak. Perhaps they should do what
Open Door Policy
does, get their coffee from them.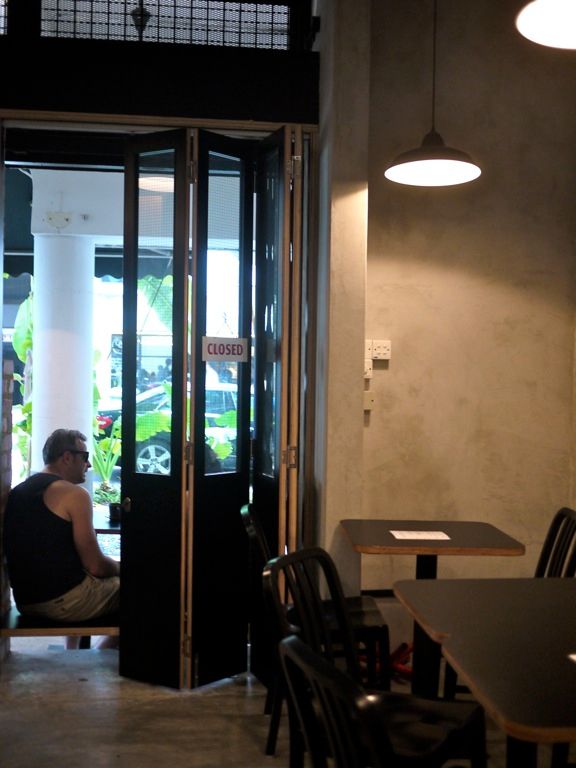 PoTeaTo
was awfully quiet during the Sunday brunch hour whereas the other cafes were packed. I suppose publicity hasn't been drummed up yet. Average food but at least it's well priced and very relaxing in fact (thanks to the lack of customers). However, i think they need to up the ante with the potato based dishes. It does seem like the brown fellas are still sides dishes rather than main courses. That said, I'll be back to give the fries a shot after my brunch at
Tiong Bahru Bakery
perhaps.
PoTeaTo
78 Yong Siak Street
#01-18 Tiong Bahru Estate
Tel: +65 6221 2488
Tue-Fri: 11am-10pm
Sat: 10am-10pm
Sun: 10am-9pm