Cafe Review: Freshly Baked by Le Bijoux
I knew all along that there are some cafes/bakeries along Killiney Road but i was always too lazy to explore the area. That was till S dragged me over to Freshly Baked by Le Bijoux one afternoon before yoga. That was when i realized how much i've been missing out on this whole time! Freshly Baked does a good quality brunch at a central but yet low key location and at a ridiculously reasonable price. I guess that's the end of my loyalty to Wild Honey (nah.. kidding).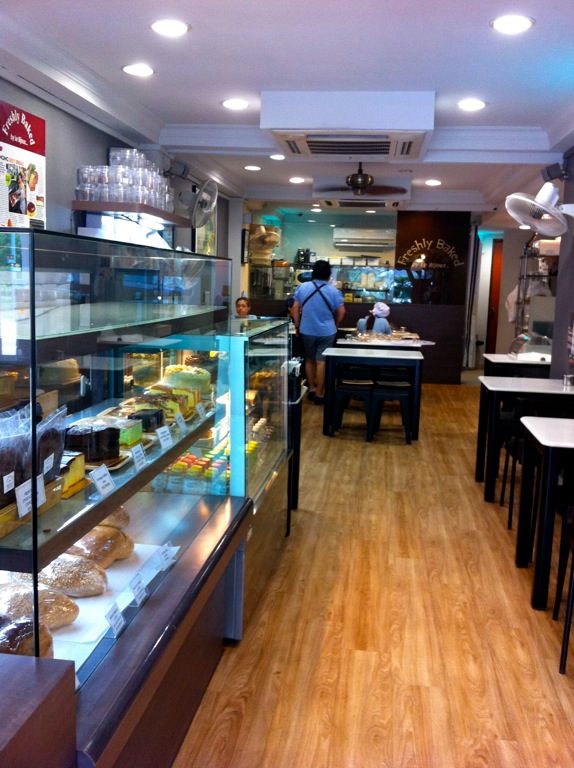 The Bakery Cafe has been opened since late 2007 and it offers a variety of Artisan Breads, cakes and pastries. Audrey, Chef/Owner of "Freshly Baked" is a baker who is not much into style but more into substance and that could be seen by the really simple decor and fuss free dining space at FB.
What is really good here is their breads. They are so addictive; they were all i could think about after dining here the first time. I just wanna eat bread all my life if they were this good.
Sandwiches, breads and cakes are available all day (till they run out and they do run out fast). There are 3 Brunch Sets (S$10.90-12.90). but i'm not sure what time they end. The most popular order is the
deli corned beef
from
Huber's Butchery
paired with baked beans, a fried egg and burger bag bread. While i was there, i tried the Fresh
deli Salami served with Emmental cheese
, scrambled eggs and olive oil bread (S$12.90).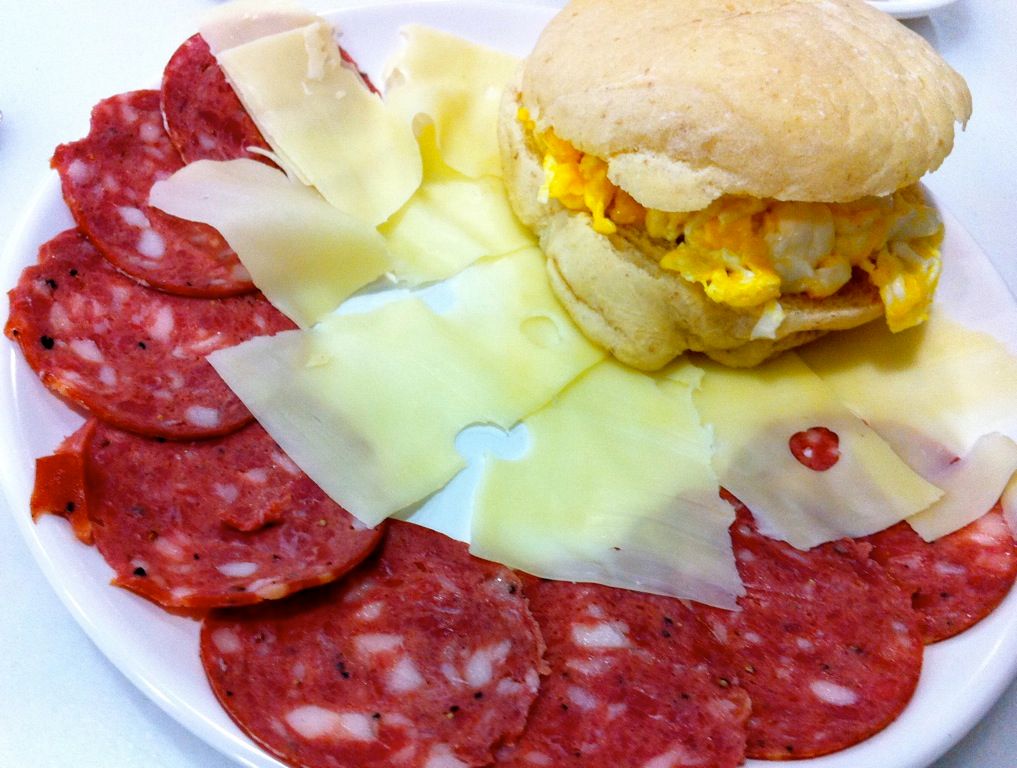 Even though the scrambled egg was more like omelette (and a little bland), the bread was faultless. It's kinda like an English muffin with the slightly rough exterior but it's moist and dense on the inside and yet it still maintains the slightly fluffiness. I suppose the salami is also from Huber's. I tried stuffing all the ingredients into the bun but failed because there's too much of everything (not complaining)!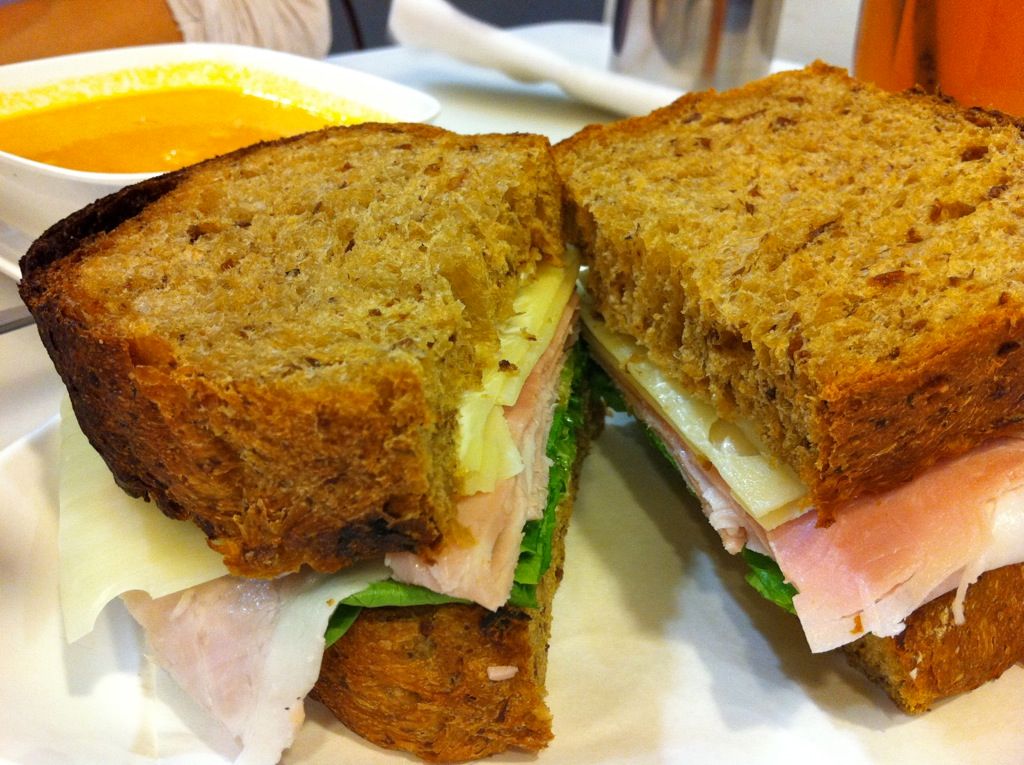 Ham and Cheese Sandwich
(S$7.50) It looks very dry and hard but in fact it's so fluffy! The
Walnut Raisins bread
is airy and light and squishy! The towering 10cm tall sandwich is daunting at first but every bite was a juicy delight. The light sweetness of the raisins complements the savory ham shavings really well. Perfect sweet and savory sandwich. Absolutely delightful!
The
Cranberry Scone
(S$2.80) is a winner. The crumbly exterior breaks apart to unveil a moist and buttery center. I love how much cranberries are added to it. I still love WH's scone but this is cheaper and an almost-as-good substitute. Spread it with the silver of salted butter and you would have arrived at scones heaven.
All the breads are made without any preservatives and thus they only have a shelf-life of 2 to 3 days. It really wouldn't last that long anyway because they are so good! Don't the
Banana walnut
and
Chocolate loaves
look so alluring? Just wanna eat 'em all!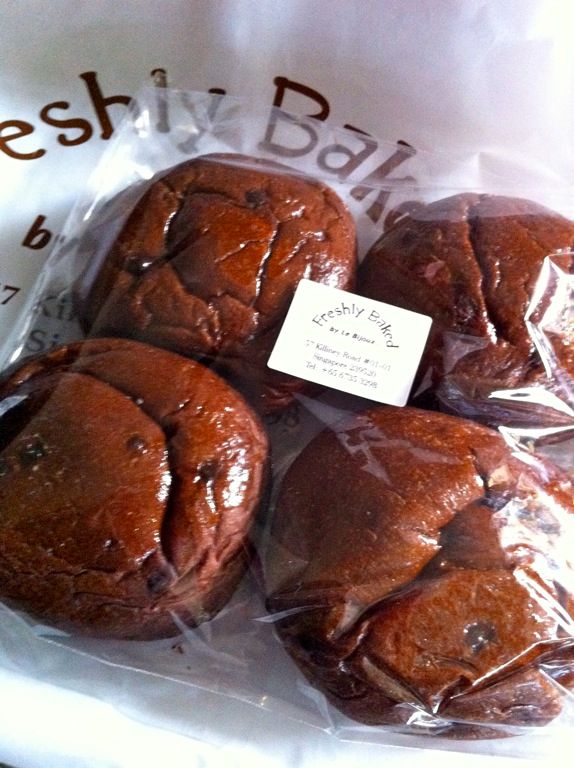 Bought home the
Chocolate custard buns
(4 for S$5.50) which were not bad. They were gone in less than a day. The chocolate taste is quite rich but if you have a sweet tooth, this is not gonna satisfy you. It is also lacking in the custard filling too.
Verdict- Recommended!
My current favorite Bakery.
Food: 4.5/5
Service: 3/5 The person in charge (not Audrey) was quite the no nonsense sort. I felt rushed into having to place my order. Z felt equally uneasy as well. Not sure if this would stop me from going again but the people really need to be friendlier.
Atmosphere: 3.5/5 Fuss free dining
Freshly Baked
57 Killiney Road #01-01
(Just a 2min walk from Orchard Central, farther down from KPO)
Tel: +65 6735 3298
Weekdays: 8am – 7pm
Weekends: 8am – 4pm