FIJIWater Signature Creations: A decadent food tour
I was invited to FIJIWater Signature Creations food expedition some time back in September and had a blast traveling around Singapore to sample some delicious degustation plates endorsed by leading food critics in Singapore. It was a full 6 hour of eating, drinking and having fun with friends (old and new). So here is what we sampled at the various restaurants and you could do the same food itinerary if you wish!

First stop was Absinthe. We started off with some bubbly and a lot of FIJIWater!
Our first dish was the Foie Gras Terrine with Warm Brioche by Chef Francois Mermilliod.
The brioche was fluffy and buttery and i had to repeatedly remind myself that this is only the first dish and i shouldn't be gorging myself! The brioche was great on its own but even better with the smooth Foie Gras. In fact, there was more than enough to spread on the brioche. Slices of cured meat layered the terrine, giving it some additional flavors. This dish was paired with Konrad Gewurztraminer 2010.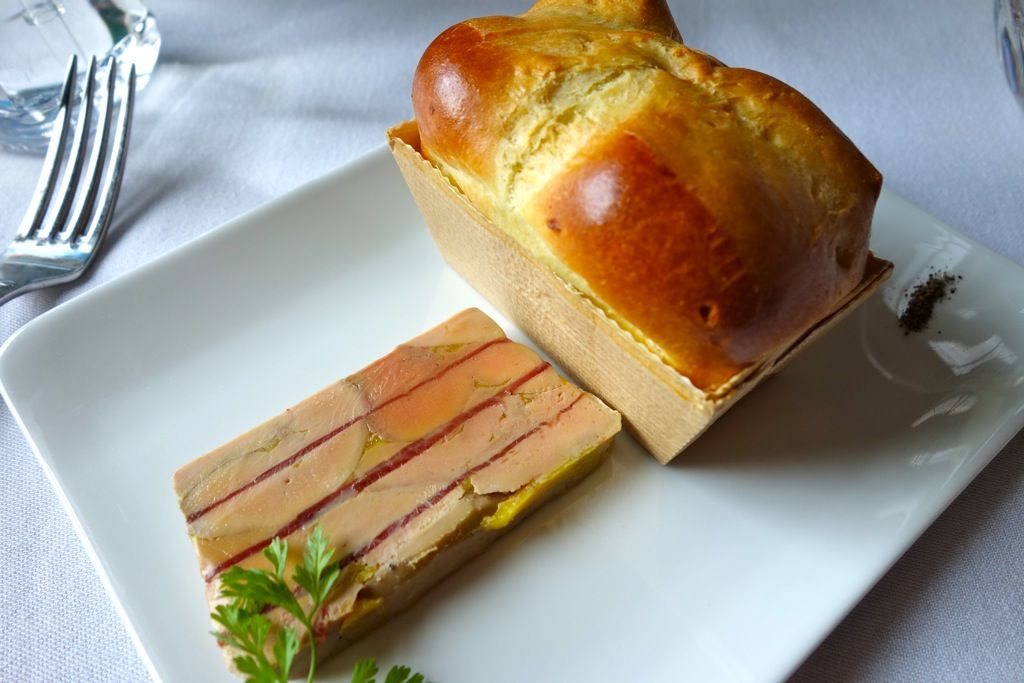 2nd Stop was
Hashi
.
We had the
Fresh Live Prawn, Hokkaido Scallop and Mixed Vegetable with Japanese Jelly
by
Chef Tadashi Takahashi
. Paired with Evolucion Chardonnay 2011.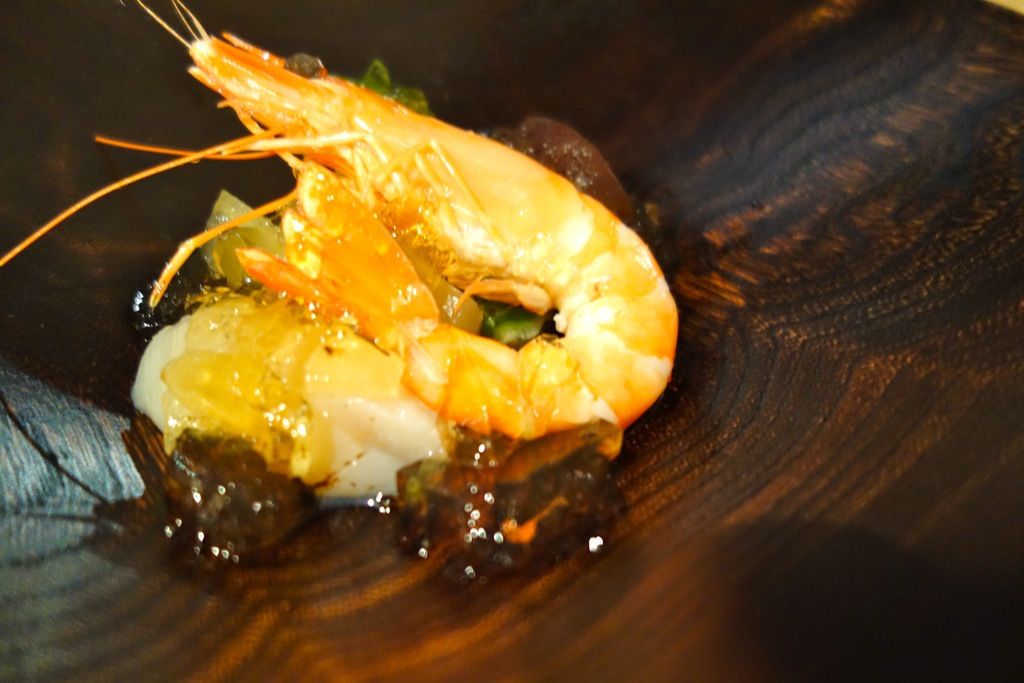 Refreshing dish it was, with interesting textures and savory taste. The cold jelly is made of dashi stock which surprised our palates. The dish on the whole was a little on the bland side and i didn't think the prawn was particularly fresh. Perhaps you could try something else on their extensive menu. The lunch sets and omakase menu are rather affordably priced.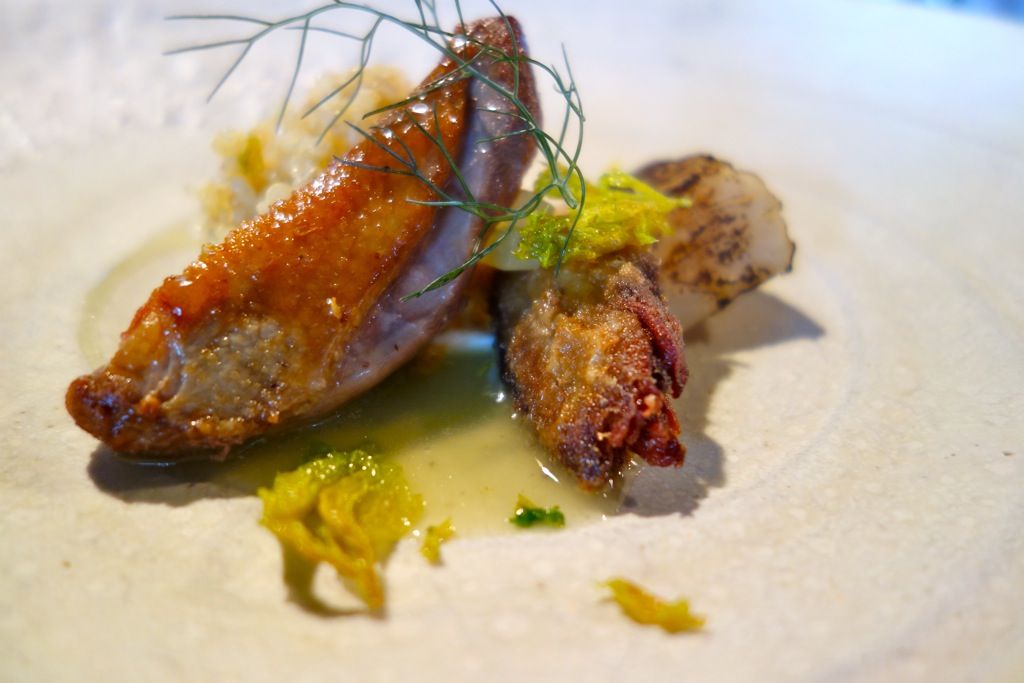 We headed down to Dempsey to check out
Tippling Club
next.
The Pigeon, Celery, Quinoa, Goats Curd
is
Chef Ryan Clift
's signature style. Great texture with well balanced flavors. I'm fearful of pigeon ever since i had the bloody disaster at London's Hibiscus but this was well cooked, crispy golden brown exterior with a pink center that was tender and juicy. Pair this with Mount Fishtail Pinot Noir 2008.
The Pelican
at Fullerton where we had
The Pelican Lobster Thermidor
by
Chef Issac Tan
.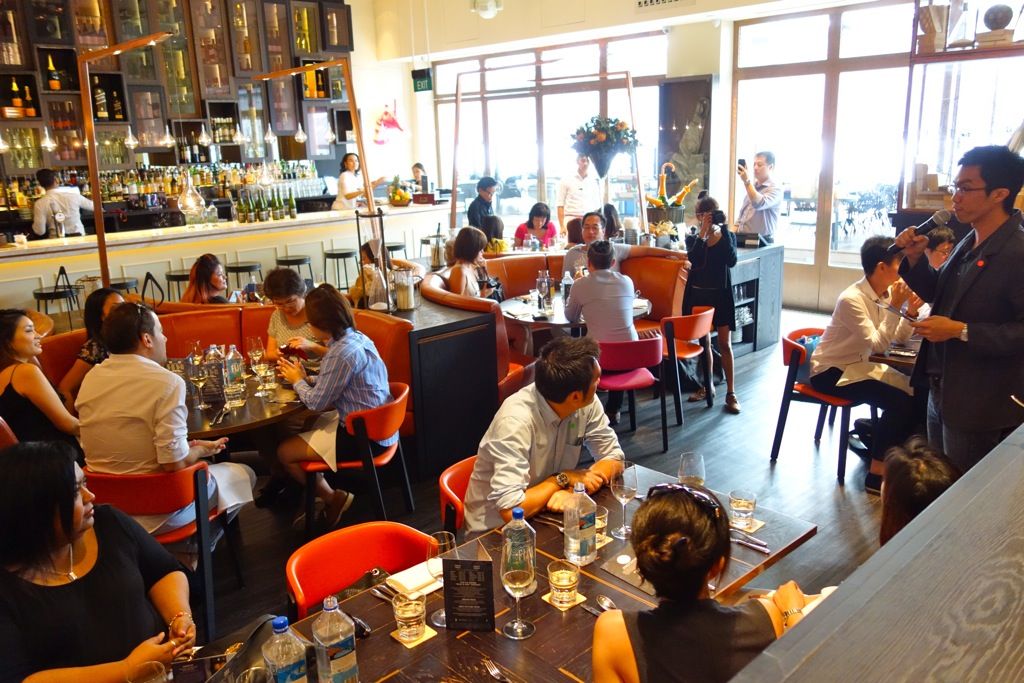 Maximum flavor was teased out of this dish. The succulent lobster meat was baked with double cream and Parmesan cheese.
The highlight of the dish however , was the bomba rice cooked in a rich and savory brandy and lobster stock. The rice wasn't done al dente as promised, instead it had a mui fan texture ie. soggy, but it was better this way imho.
Fat Cow
was next. I've heard great things about
Chef Dan Segall
's
Wagyu No Kakuni
and was looking forward to it the entire expedition. I wasn't disappointed. The Japanese wagyu rib meat was simmered in a sweet ginger soy with fresh Yuzu.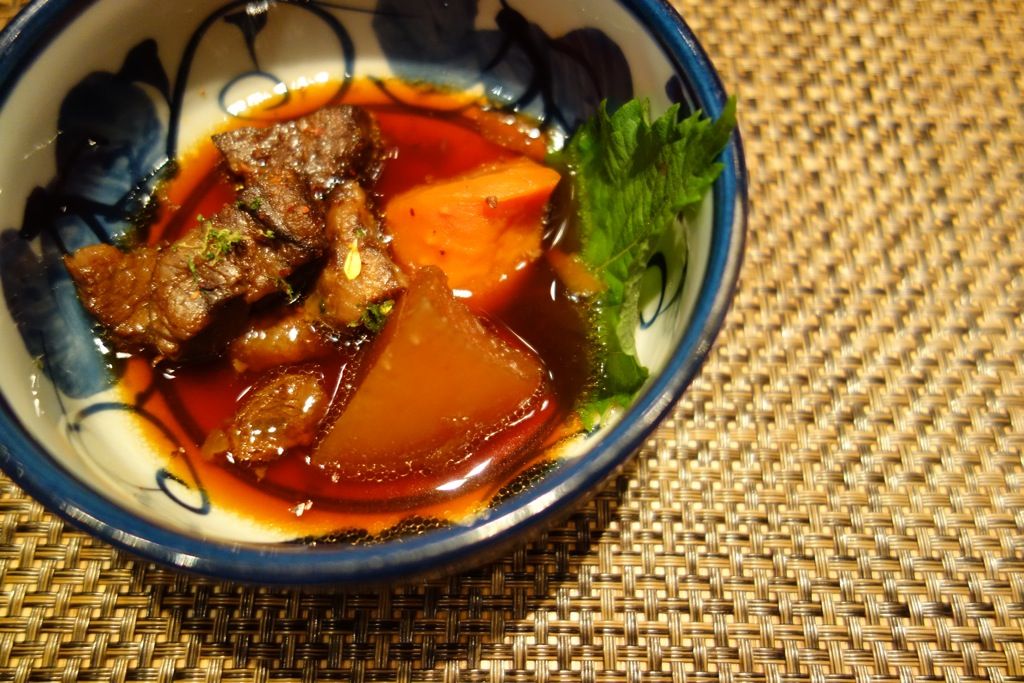 Tender beef but not soft till it completely melts. I loved the stewed vegetables in this one. Now where is my rice! Pair this with Chateau Timberlay Rouge 2008.