Cafe Review: Wheat Baumkuchen
After a long yoga session(s), i often crave for light and clean tasting food. My all time favorite? Cold udon or cha soba (if the former is unavailable). I suppose it's due to the fact there isn't too much seasoning or oil used in preparing them. It's kinda bland if you only have the noodles and i do wish for a little more flavors in them. And that's when i discovered Wheat Baumkuchen.
Tucked away in the hot and humid neighborhood of Toa Payoh, this cafe is a cool breath of air serving cold tossed Japanese style noodles amidst all that hawker food. It is easy to miss this because you wouldn't be expecting it next to all the duck rice and nasi lemak stalls. I wouldn't say that it's the best place to dine at because it's really stuffy. Thank god for the air conditioned interior.
The dishes are cutely named after artic animals. Thank god they are not serving us whale or penguin meat. We had a whale of a time trying to figure out if the Whale set serves pork or chicken.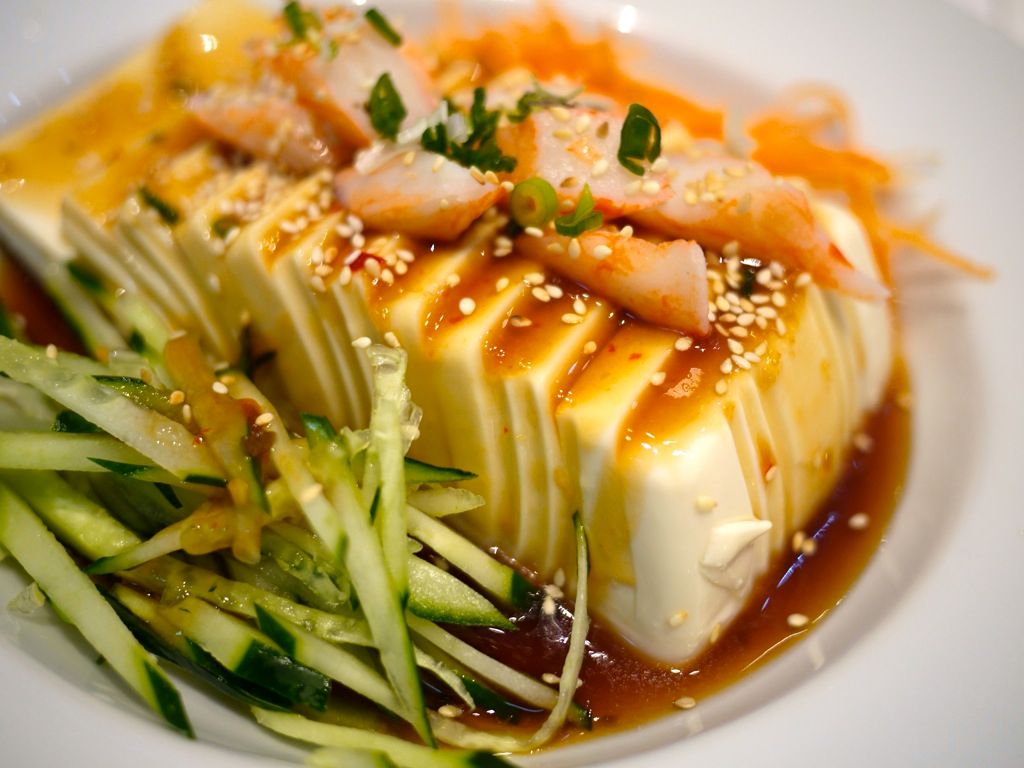 We started with the Ice Cube (S$3), a huge chunk of Silkened tofu with a Thai Chili Sweet Sauce. It came with very simple garnishes like shredded Japanese cucumber and crab sticks. This dish is very appetizing and we kept going back to this in between bites of our noodles. Highly recommended.
The Whale Set (S$6.20)- White noodles in roasted sesame sauce with black pepper chicken and mushrooms. The white noodles are actually Yang Chun noodles, a flat white chinese noodles. This dish packs a peppery punch that is quite fiery but oh so addictive. I love the crunch of the al dente noodles of this one.
The Penguin Set (S$6)- Green soba noodles in roasted sesame sauce with shredded chicken, lettuce and quail eggs. Love the presentation of all their noodles dishes. They are really very particular about how the dishes are served. Each is like a piece of art. I like the fragrant sesame taste though i wish for a little more flavoring. Not a fan of the soba noodles here because it feels kinda overcooked. You can request to change the type of noodles that come with the set.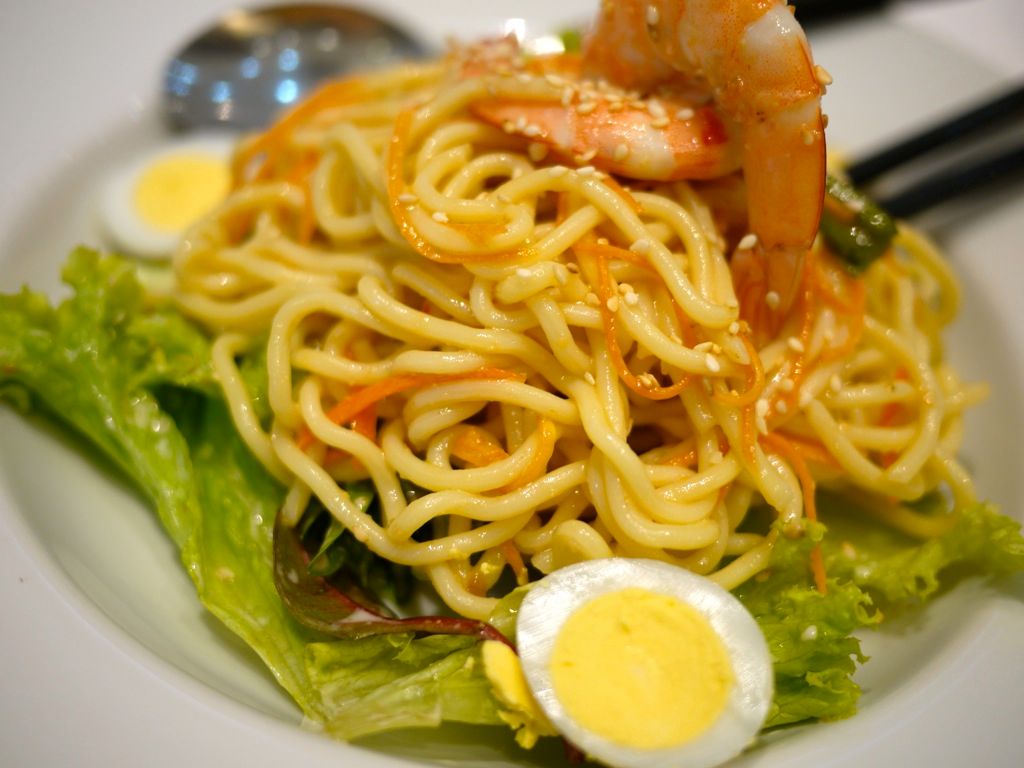 The Dolphin set (S$6)- Ramen noodles in miso sauce with prawns, lettuce and quail eggs. I was half expecting my beloved prawn pasta salad from Fish & Co. but other than the similarity in the noodles, the taste was very different. The miso taste is very subtle in this one. I do prefer the bite of the ramen noodles.
For a pastry store that accidentally ventured into selling Japanese cold noodles, i have to say that Wheat Baumkuchen does it well, surprisingly. I believe that the noodles are more popular than the traditional
European layered cake
made famous in Japan. These cakes are like kueh lapis but the healthier version of it. The taste is also 'healthier' ie. dry and bland.
The
Almond Nutella
cake has the aromatic smokiness of the nuts which we love. The
Valrhona Chocolate
was not rich enough and tasted too dry. Go for something with a little cream e.g.
Tiramisu
. I find that this was more moist and had a nice creamy cheese flavor to it as well. The
Coffee flavored
one sat well with my family too.
This would be where i'd head to if i want a twist to my regular soba. It's healthy but extremely satisfying. Thanks
Lilian
for introducing me a new pre/post yoga meal. And you lucky CBD folks can also enjoy the noodles at
One Raffles Place
. I'd pick this over salads anytime. ;)
Wheat Baumkuchen
190 Toa Payoh Lorong 6
#01-530 HDB Hub
Tel: +65 6356 5529
Daily: 10am - 9pm
(Closed PH)
1 Raffles Place, #B1-15 One Raffles Place (OUB Centre)
Tel: +65 6535 0277
Weekdays: 8am – 8pm