Restaurant: &Made
Burgers, one of the world's best food invention. Think toasted buttery buns with sesame sprinkled on top, gushing juices from the meat patty and the refreshing crunch of greens. The sweet, savory, acidic and caramel taste assaulting your taste buds all at once. And the fries. Oh the fries. I love my burgers. After missing out on the
short lived 5 minute In-n-Out
excitement recently, i headed over to
&Made
by
Bruno Menard
to satisfy my burger craving.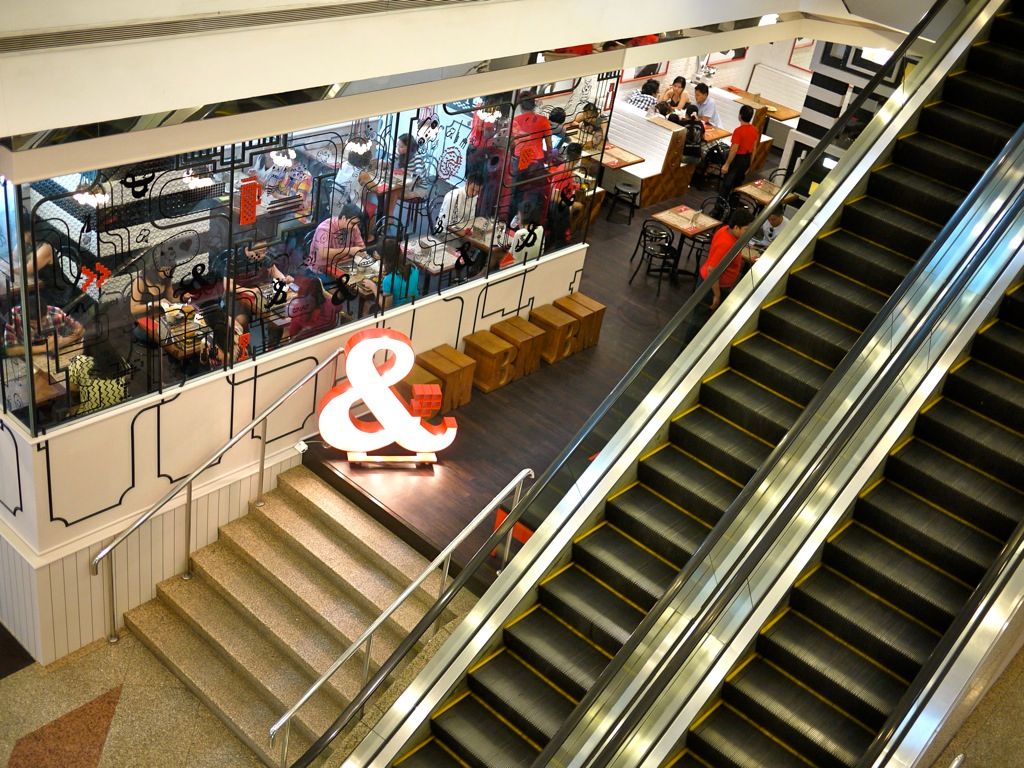 If you have no idea who Bruno is, well, he's most popularly known as the guy who helmed L'Osier, a 3 Michelin star Japanese-French restaurant in Tokyo. Don't worry about having to know which fork or knife to use first or where to place your cutlery because &Made is a casual, playful and quirky Diner. The whole place spells fun really. It's like stepping into an 80s video game with cartoon robots and PAC Man with black, white and red Lego boxes. What's missing is probably that polyphonic tune in the background. I was expecting the servers to break into a robot dance in the middle of my meal. That didn't happen really.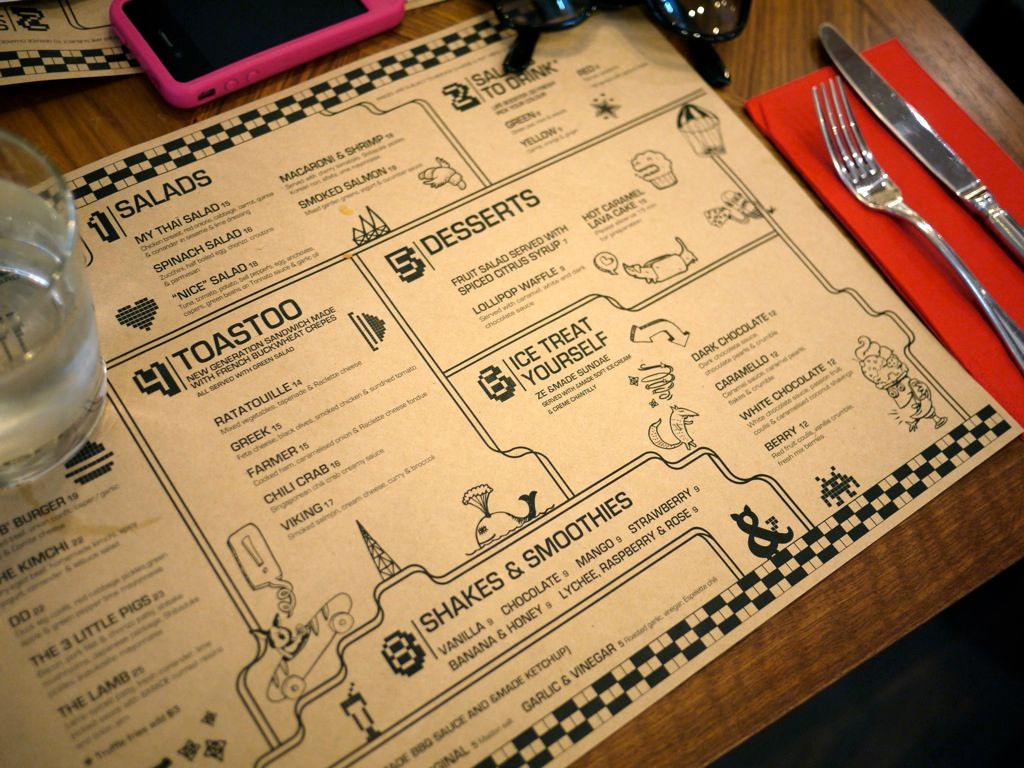 Even though it's a diner, much thought has been put into the menu. It may look pedestrian on the first look- some burgers, sandwiches, fries and milkshakes; but if you look closer, it's actually French cuisine, with some Japanese influence, made to look like American food.
And American it was for me. The
3 Little Pigs
(S$23) was my choice of artery clogging happiness- bacon, pork fillet and chorizo patty, smoky shiitake mushrooms, Japanese cabbage, Shibazuke pickles and Yuzu-kosho mayonnaise which is lightly spiced. Splendid burger. This was sensational and each bite was a juicy burst of flavors. All these were sandwiched between these toasted buttery brioche buns. I say throw away the fork and knife. Use your bear paws, grab them, squeeze them and squash the burger into your mouth.
The burgers come with a side of fries. I opted for the
truffle fries
(+S$3) and they were crisp and fresh. There are other flavored salts like Maldon, Smoked and Garlic and Vinegar. Worthy of a mention is the tangy &Made BBQ sauce that accompanied the fries. It was blended with tomatoes and onion to give it that tangy acidity which is really refreshing.
We gave the Farmer Toastoo (S$15) a go as well. This is a traditional buckwheat crepe pressed in a toastee machine to give it that crispy crunch. If only it has a spongebob print on it. :) This is absolutely tres French with a twist in presentation. I'm not such a fan of the Farmer which contains cooked ham, caramelized onion and Racelette cheese fondue. The onion kinda overpowered the entire dish. The portion is also really small. :(
While we were busy eating, I spotted the neighbor's Salad drink order. The Red, Green and Yellow order (S$9) is served in a mini-glass pitcher with a side of savoury mini gougères. Think of it as a fruit juice or a raw gazpacho but with more vitamins. Green would pack a punch with the use of wasabi though. Sadly, our choice of drink didn't look as attractive. We ordered the Lychee, Raspberry and Rose Smoothie (S$9). I was expecting a thicker yogurt shake but this was very watery and diluted. Nay.
To wrap things up, we order the sinfully delicious Hot Caramel Lava Cake (S$15). This takes 15mins to prepare but it's definitely worth the wait. Once served, the waiter would make a precise incision and all that bitter caramel sauce will ooze out like a volcanic eruption. This is accompanied by a scoop of vanilla ice-cream. I like the extra touch of French Gavottes Crepe Dentelle Cookies that gives the dessert a needed crunch. The cake has a steamed cake quality, which reminded me of the Chinese Huat Kueh.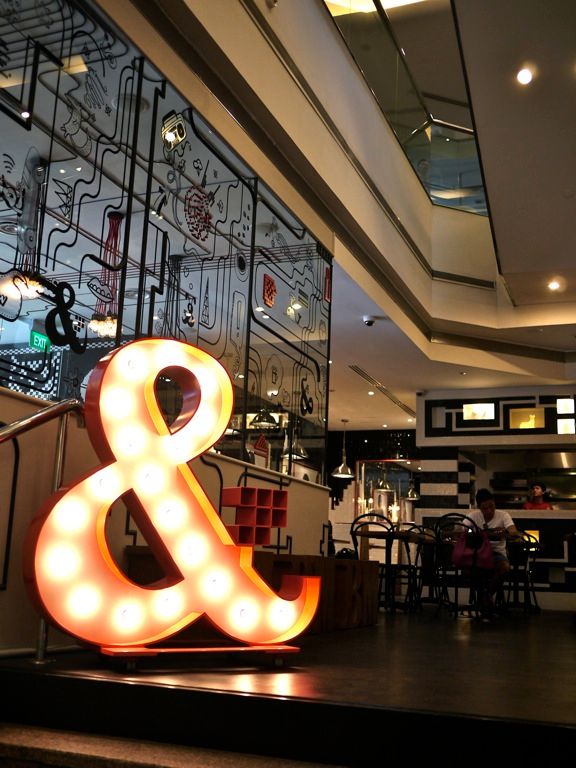 I really enjoyed dining at
&Made
. It's not just the food or the ambience but i think the service is impeccable. I felt so pampered by the friendly servers who took care of our every need even without us asking. Plates were immediately cleared once they sensed that we're done. Love love love the people there. This is definitely a place i'll go back to again, again and again. :)
&Made

by Bruno Ménard
#01-04/05/06 Pacific Plaza
9 Scotts Road, Singapore 228210
Tel: +65 6732 9808
Sun-Thu: 10am -10pm
Fri-Sat: 10am - 12am
No reservations